When I heard about it the first time, I always wanted to see Minalungao National Park. However, I wasn't able to find time or a willing companion. Well, my other impediment was the expense since going solo is costlier, which is definitely not a good idea.
Monday last week, I prepared an itinerary with the corresponding expenses and presented it to my officemates. Included destinations were Minalungao National Park and Baler. Five confirmed to join me in the entire trip, while two others promised to follow us in our next destination.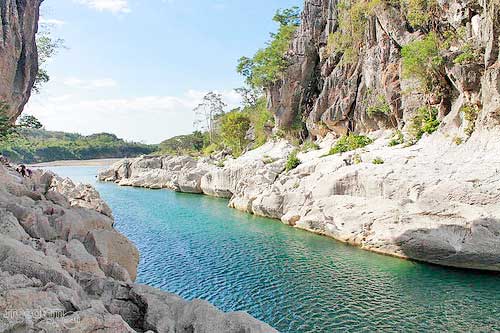 How to get to Minalungao National Park
On January 31, 2014 (Chinese New Year and a Philippine Holiday), we boarded a Five Star bus bound for Cabanatuan City in Nueva Ecija. After 4 hours, we alighted at Gapan City. We paid ₱160 each for the fare.
After our lunch at some random food stalls within the city, we headed to the terminal of Gen Tinio-bound PUJs. Unfortunately, we found no jeepneys, so we asked our tricycle driver to bring us directly to Gen Tinio (a.k.a Papaya). The asking price was ₱200 per trike that can take 3 passengers each. We were five in the group but Kuya driver insisted to carry all of us. We did not haggle when we reached Gen Tinio proper because it really wasn't a short ride.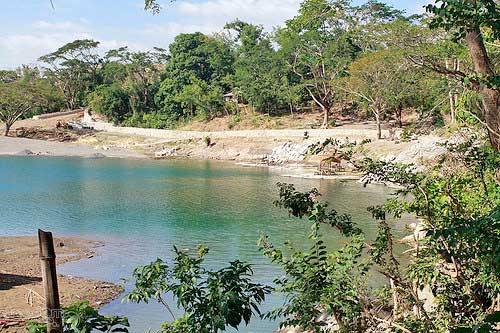 From the town, we looked for another trike that could bring us to the national park. One offered to bring all of us for ₱500.00 (two-way trip).
The Stunning Minalungao
When we finally saw Minalungao, we were utterly stunned. The vivid emerald river, the impressive limestone massifs it divided, the gray mountain sand, and the green foliage worked together to give the natural park a distinct and extraordinary beauty.
We forgot all the downsides we encountered along the way. The 45-minute cramped and bumpy tricycle ride seemed not worth complaining. The bunch of dust we ate was then a negligible repercussion.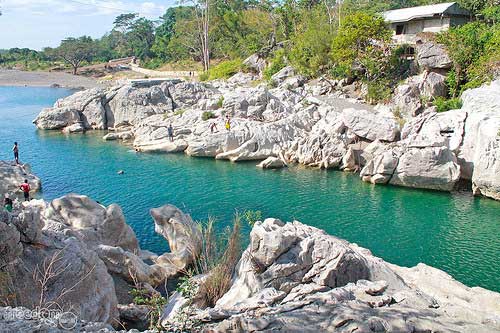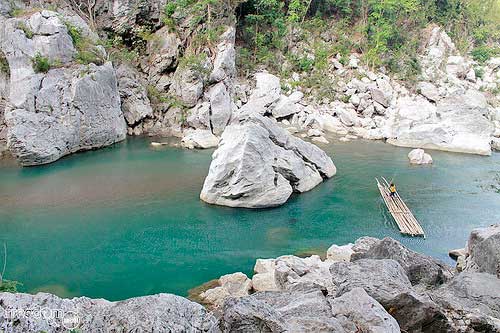 The Peñaranda Rivers cuts through the magnificent rock walls and emanates an impressive blue-green depth—seemingly inviting every visitors to take a dip. It was also perfect for cliff diving.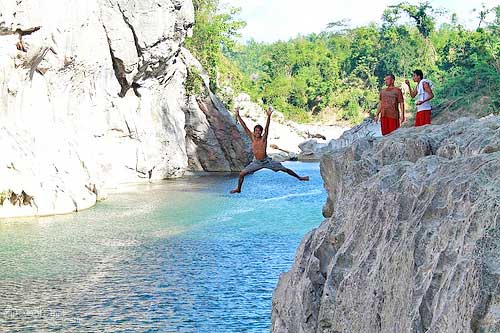 Trekking along the gigantic rocks on the riverside is tricky and dangerous, but it's an activity worth the risk. The other end of the park is a cave where you can do a little spelunking activity.
We had no plans to stay longer in Minalungao since a friend was waiting for us in Cabanatuan but we couldn't resist the temptation and overstayed, making Queennie to wait for two more hours.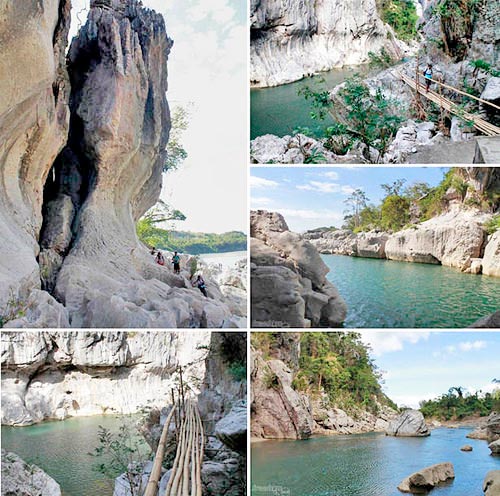 By the way, according to the local I talked to, Minalungao is compound word of mina which literally means mines and lungao, a local term for cave(s).