That elusive photo chasing a sardine run, that priced selfie with a marine testudine, and that noteworthy beach camp gracing the sunset are just few of the expectations listed on every Moalboal goer.
Moalboal, a once sleepy town seating 90 kilometers southwest of Cebu City, offers a laid-back vibe. Stunning white strips adorn its edges, where clear and calm ripples regularly wash off the shore.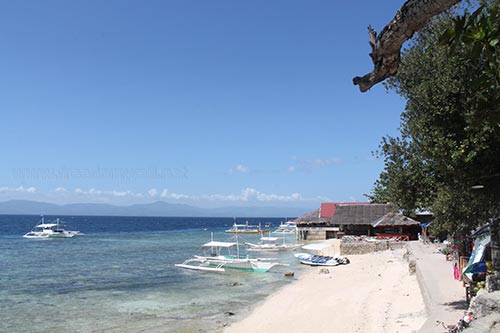 Beneath are unassuming underwater wonders. Sea turtles are frequently seen feeding on seaweeds, not minding the snorkelers hovering over as they search for nutrition.
A bit further is a conglomeration of coral blooms, resembling an underwater meadow. Surrounding these stationary creatures are fishes of different colors, vividness, and stripes. And just sneaking around are invertebrates of different shapes and sizes.
For daredevil swimmers who are unafraid of the blue, a plethora of marine swimmers might greet you. A sardine run regularly graces near the edge of the abyss.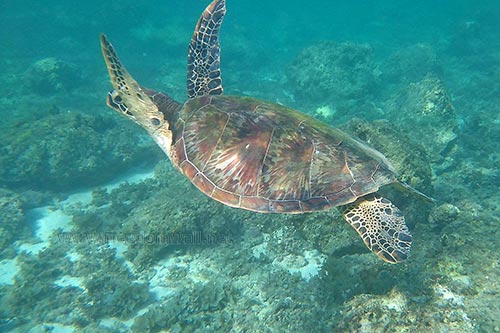 How to Get There
Via Cebu City
From any point of the Philippines, take a flight to Cebu, and then a cab or any means of public transport to Cebu South Terminal.
MyBus operates from Mactan Cebu International Airport to SM City Cebu every hour from 07:00AM to 09:00PM. The fare is ₱25. From SM City Cebu, take a jeepney to Labangon, Bulacao, or Pardo, and then get off at Caltex Gas Station fronting Cebu South Terminal (fare is ∼₱8.00).
From Cebu South Terminal, hop on a Ceres Bus to Bato via Barili, and then disembark at Moalboal bus stop. Note that there are two bus routes to Bato, one is via Oslob, which takes the East Arterial Road and one is via Barili, which passes along the West Arterial Road. Make sure you take the via Barili route. Travel time is 2-3 hours depending on traffic conditions.
From Moalboal bus stop, trikes and motorcycle taxi (habal-habal) will bring you to either Panagsama (Basdiot) or Basdaku Whitebeach for only ₱150 per way. Trikes can carry up to 5 passengers while the habal-habal can carry two.
If you are coming from Kawasan Falls or from the canyoneering area, return to the highway, and then wait for a bus to Cebu City. Moalboal is less than an hour away.
If you visit Moalboal after your waterfall hopping in Samboan, return to the highway, and then hop on a Cebu-bound bus.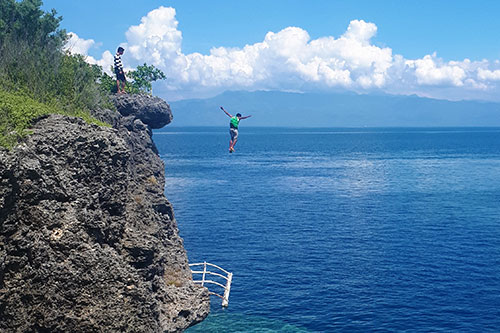 Via Dumaguete (Sibulan-Liloan)
From Manila or Cebu, you may take a flight to Dumaguete [DGT]. Take a Sibulan-bound multicab from the highway just outside the airport. Walk towards Sibulan Ferry Terminal, and then board a fast craft to Liloan (fare ₱62).
From Liloan, hop on a trike or habal-habal to Bato Terminal (fare ₱25). From Bato Terminal, board a Ceres Bus to Cebu via Barili, and then get off at Moalboal bus stop.
Via Dumaguete (Tampi-Bato)
From Manila or Cebu, you may take a flight to Dumaguete [DGT]. Take any Northbound-bus from the highway just outside the airport and get off at Tampi Port. You can hop on any bus to Mabinay, Tanjay, Bais, Manjuyod, or Canlaon.
Take a Ro-Ro boat or Ferry to Bato. Walk towards to Bato Terminal from Bato Port, and then board a bus to Moalboal.
Via Oslob
Take a bus to Bato Terminal, and then transfer to a Cebu-bound bus with via Barili route.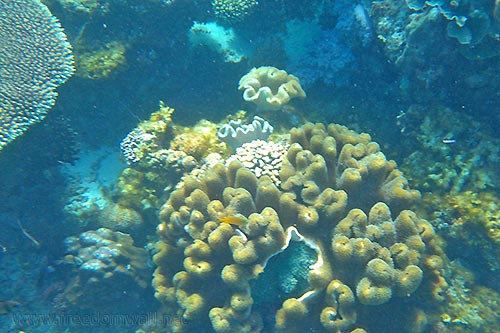 Where to stay in Moalboal
A beach camp along Basdaku white beach is a great experience. Sleeping on the sand with easy access to the beach is something every backpacker dreams of. However, access to fresh water is a bit of a challenge.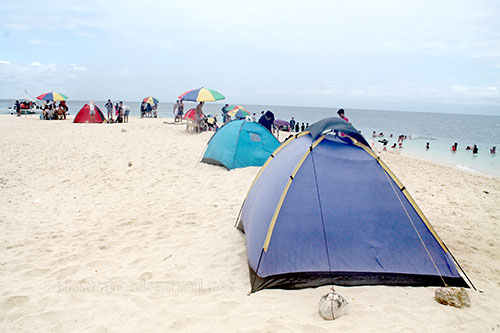 If the beach camp is not among your options, you may choose from the list below:
Places to stay in Basdiot (Panagsama Beach)
Turtle Bay Dive Resort – Turtle Bay Dive Resort is a premium accommodation near Panagsama Beach. Its location is quite isolated, thus giving the resort guests an exclusive feel. A short beach strip fronting it is exclusive for those who are checked in. Turtle Bay is also manned with PADI-certified instructors for your diving needs. The well-landscaped resort also houses a nice pool.
Online Booking: www.Agoda.com/TurtleBay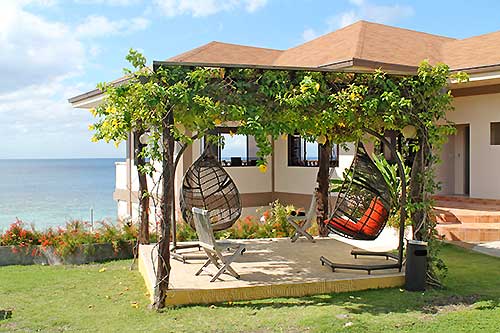 Quo Vadis Dive Resort – Quo Vadis is located along Panagsama beach, and is pretty accessible to restaurants and PADI-Certified dive centers in Moalboal.
Online Booking: www.Agoda.com/QuoVadis
Marcosas Cottages Resort – Marcosas offers rooms and suites equipped with amenities that cater utmost comfort. Being located along Panagsama Beach, the resort has easy access to food and entertainment spots. It has a nice pool too.
Online Booking: www.Agoda.com/Marcosas
Dacozy Beach Resort – Dacozy Beach Resort features a pool, furnished rooms, and easy access to Panagsama beach. Food spots and dive centers are also walking-distance away.
Online Booking: www.Agoda.com/Dacozy
Cabana Beach Club Resort – Cabana, aside from its comfortable and cozy beachfront accommodation, the resort is also the closest spot to Moalboal's main attraction, the sardine run. A room for two starts at ₱3,000, while the suites for three starts at ₱4,000.
Marina Village – Marina Village is the sister resort of Cabana Beach Club catering the mid-range market. If you are checked in at Marina Village, you can use and access the facilities of Cabana.
Places to stay in Basdaku
HK Beach Resort – HK resort offers a stunning beachfront view and rooms equipped with LCD TV and oher basic amenities. A restaurant is also open to serve guests with delectable meals.
Rates:
Cottages ₱600/day
Tables ₱500/day
A/C Room for two – ₱2,500/night
A/C Room for four – ₱3,500/night
Family Room (good for eight) – ₱5,000/night
Booking: +63 919 476 6385 | (032) 511 2499 | hkbeachresort@yahoo.com
Asian Belgian Resort – Asian Belgian Resort sits on a rock cliff with awesome view of the ocean and easy access to the underwater wonders below it.
Online Booking: www.Agoda.com/AsianBelgianResort
You may also check our trusted accommodations partner, Agoda.com, for more hotel options.
Things to Do in Moalboal
Snorkeling at Talisay Point – Witness the wonders below the water of Moalboal. Corals are protected, and so with the other marine organisms that depend on it. Make sure you do your part in protecting them as well. No touching and stepping on the corals, please!
Chasing a Sardine Run – Moalboal's main attraction is its million swimmers, synchronizing their movements near the coral edge of Basdiot. For convenience, you may book your accommodation at Cabana Beach Club Resort or to any of their affiliate resorts. The sardine run is a mainstay just below the water gazebo of Cabana.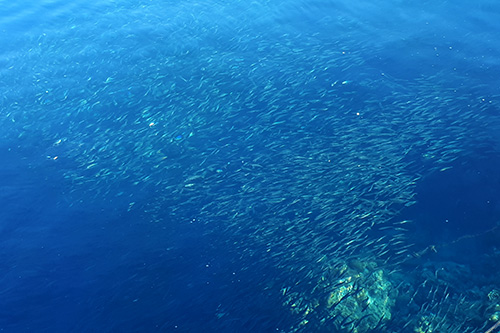 Pescador Island – With just a short boat ride away, be amazed with the amazing underwater creatures of Pescador Island. If you are game for an adrenaline rush, try cliff jumping. Do it only when it is high tide though. Boat rentals to Pescador Island starts at ₱3,000.
Beach Bumming – You can simply go swimming on the shallow water or just feel the sand and the heat along Panagsama Beach in Basdiot or Whitebeach in Basdaku.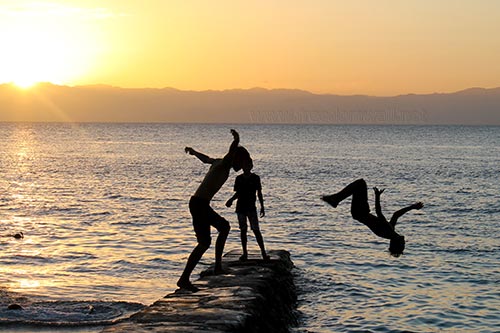 Gracing the Sunset – Moalboal is one of the Philippine beachfronts that face the sunset. See how the sky bursts in colors as the sun disappears from the horizon.
Important Tips, Notes, and Reminders
Cellphone signal is stable in Panagsama Beach. However, in Basdaku, the reception is intermittent. Getting a data could be worrisome sometimes.
ATMs are available in the town proper. Transportation to the town proper could be expensive, so bring enough cash.
Transportation within Moalboal is serviced only by habal-habal and tricycles.
To save on your trip to Pescador Island, travel as a group or merge with smaller groups so you could divide the boat rental.
If you camp at Basdaku Whitebeach, make sure you collect and dispose your garbage properly. Don't make someone do it for you, and never throw any of your waste to the sea. Be a RESPONSIBLE camper.
---
First posted on May 18, 2016