Laid-back vibe, slow-paced lifestyle, and rustic feels albeit the bustling concrete jungle and contiguous crossroads, Dumaguete City keeps its countryside impression despite the urban classification. Not to mention, the city is also a provincial capital.
The crowd is concentrated within the downtown, while other areas remain almost still and bare.
Staying in Dumaguete gives you extraordinary escape that is away from unending gridlock, pesky stressors, and galling expectations of everyday life.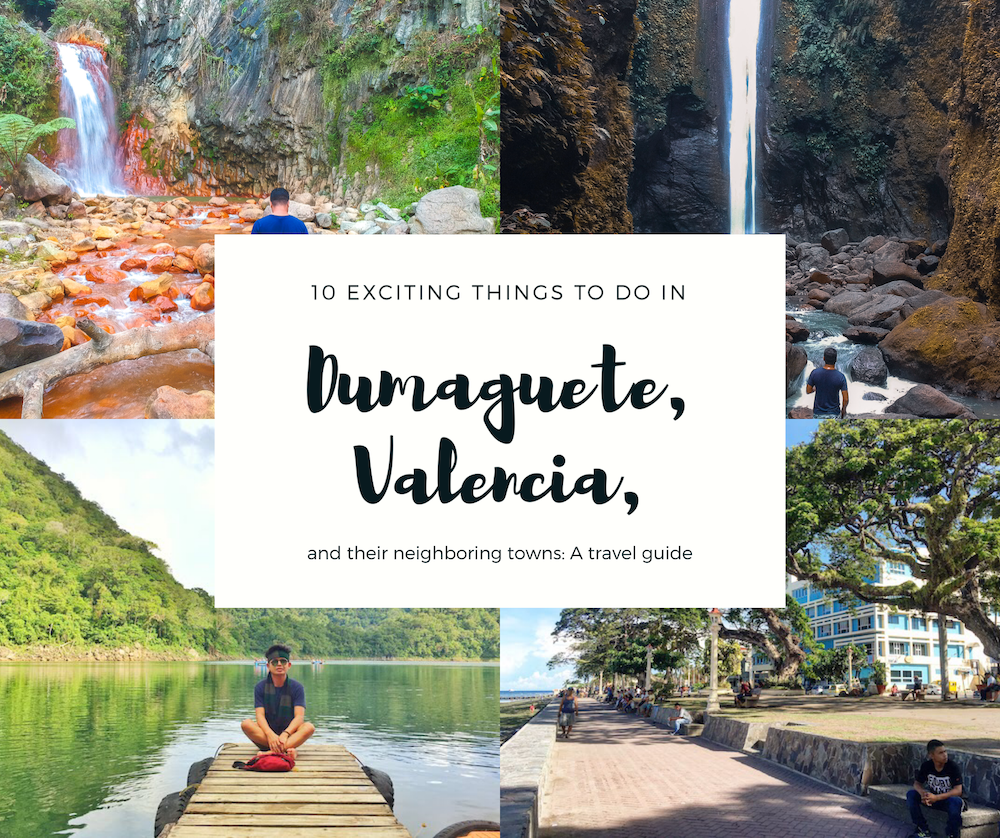 If you see Dumaguete within range of your travel horizon, here's a list of things that you may consider when preparing your itinerary. Also, if you are from another country and planning a road trip, then you need to get an International Driver's Permit.
1 & 2. Food trip and Walking tour (Dumaguete)
You can explore the city by foot and indulge to its exciting flavors and delicacies.
Start your day with a short jog along Rizal Boulevard.
For your breakfast, head to Painitan within the public market complex, and then enjoy the locals' favorite puto maya, steamed glutinous rice in coconut cream; budbud, flavored or sweetened glutinous rice wrapped in banana leaves; and tsokolate, a tablea-based drink.
Next, proceed to the St. Catherine of Alexandria Cathedral to pay your respect or appreciate the oldest stone church in Negros Island. The historic belfry tower sits next to the cathedral.
When you are done with the spiritual appreciation, head to Hibbard Avenue, and then explore the scenic Silliman University, the first American-established university in Asia. You may join a guided tour that is organized by selected campus ambassadors to visit the school's cultural sites, halls, anthropology museum, gardens, and even the marine science laboratory.
For your lunch, you may check Sans Rival Cakes and Pastries, Scoobys, Hayahay Treehouse Bar, and Casablanca Restaurant.
Before sunset, stroll back to the boulevard, and then check out tempurahan near the pier for a savory late-afternoon snack.
3. Casaroro Falls (Valencia)
Casaroro Falls is a beautiful cascade that is situated at the foot of Mount Talinis. However, getting to this beauty is not an easy task. You have to take a multi-cab from Dumaguete to Valencia, and then hire a habal-habal to the drop off point in Casaroro. From the drop off point, you will need to brave the 300 plus-step staircase and the 20- to 30-minute trek that includes climbing boulders and multiple river crossings.
Make sure that you wear comfortable clothing and footwear, and don't forget to bring enough water for hydration.
4. Pulang bato Falls (Valencia)
Another majestic waterfall in Valencia is Pulang Bato Falls. Named after the brick-red and orange rocks that cut its downstream flow, Pulang Bato Falls is a host to a country-side resort and cold-spring pool.
The suspension footbridge that hangs across its plunge pool adds excitement to your sightseeing experience.
On the way to the Pulang Bato Falls, you will pass a road where geothermal gas come out from the fissures on the side of the cliff. Check that out as well.
5. Forest Camp Nature Resort (Valencia)
Forest camp is a nice venue for your elusive retreat. The water supply of the pools are sourced from a cold spring, so it is perfect to beat the tropical heat.
You can also spend a night or two at their humble abodes. Rooms made from native materials give you a true rustic vibe. The resort also has camping grounds for those who prefer to pitch their own tents.
6. Tierra Alta Residential Resort (Valencia)
Tierra Alta is a beautiful property that sits on the slopes of Palinpinon, Valencia. Surrounded by lush vegetations, the masterfully landscaped resort offers breathtaking sights, romantic event venues, and satisfying taste of adventure.
The Rush Zipline at Tierra Alta is the longest facility of its kind in Negros Oriental. Experience flying upside down or even like superman.
You can also spend a night at the resort. Rooms are available for couples and families alike.
To get to Tierra Alta, you may hire a tricycle from Dumaguete or Valencia town proper. If you can drive a motorcycle, you can rent one in Dumaguete, and then drive your way to the highland resort. Rentals start at 350 pesos a day.

7. Twin Lakes of Balinsasayao and Danao (Sibulan and San Jose)
The majestic twin lakes of Balinsasayao and Danao is situated within the protected landscape. The scenic uphill drive added a sense of excitement to the beautiful wonders of the Curenos de Negros mountain range.
When you reach the site, you need to brave the downhill stairway to reach the breathtaking bank of Balinsasayao. From there, you can rent a boat or kayak to cross to the other side, and then trek a bit to the view deck where you can see Lake Danao.
If you prefer to skip the boat, you can follow the trail to Lake Danao.
Moreover, there is a restaurant that serves meals and refreshments. Some locals also sell fruits.
To get there, you may rent a motorcycle, and then follow the Waze app to the mountain. You may also hop on a north-bound bus, alight at La-laan junction, and then take a habal-habal to the twin lakes. The round trip habal-habal rate is normally 400 pesos for two people. Sometimes, however, riders overcharge and may ask you to pay 300 pesos per person for the round trip.
8. Mount Talinis Camp (Valencia)
At 1903 MASL and 6/9 difficulty level, Mount Talinis is a favorite training mountain for seasoned campers. When you join the hike, prepare to get awed by the magical wonders of Lakes Nailig, Mabilog, and Yagumyum and the enchanting beauty of the mossy Maribuhok forest.
Depending on your trail, you may also get a chance to see the spectacular Casaroro Falls.
The hike may cost you up to two days, so you must prepare yourself before you decide to conquer the summit. You may contact Cuernos de Negros Mountaineering Club, Inc. to express your interest.
9. Apo Island (Dauin)
Apo Island is a marine sanctuary and a popular dive spot. The surrounding water of the island is a host to a vibrant marine ecosystem. In fact, the island was listed on the 2008 version of Sport Diver Magazine's top 100 diving spots in the world. Despite the fame, the island remains rustic and underrated.
There are trekking trails that offer bewitching views of the island's beautiful landscape and rock formations. The rock point view deck gives and unhindered view of the translucent water below it.
To get there, see Apo Island Travel Guide: From a Non-diver's Perspective.
10. Dolphin Watching and Manjuyod Sandbar (Bais City and Majuyod)
Watch the graceful creatures as they hunt their prey at Tanon Strait. Make sure to be there early. Your chances of seeing them are high at daybreak or a moment before sunrise.
Dolphin watching is long been offered in Bais City. The tour also includes stops at Majuyod Sandbar and coral reefs and Talabong Mangrove Forest and bird sanctuary.
For more information, see Travel Guide: Dolphin Watching, Manjuyod Sandbar, and Talabong Mangrove Forest.
If you have extra time, you can also check the attractions in the Municipality of Siaton, which is just one hour away from Dumaguete.