A forsaken island, which receives less attention and less infrastructure development funding, is seating idly at the north of Cebu. Its wonders are unexplored, its beauty is rarely appreciated, and its potential is constantly overlooked.

I don't want to make this article political, but in an island that can only grow cassava and noni, and is highly dependent on fishing, the local government must explore on sustainable tourism development as an alternative source of income for the residents.
I heard that Ms Gina Lopez kicked off the project but the implementation phase isn't underway yet.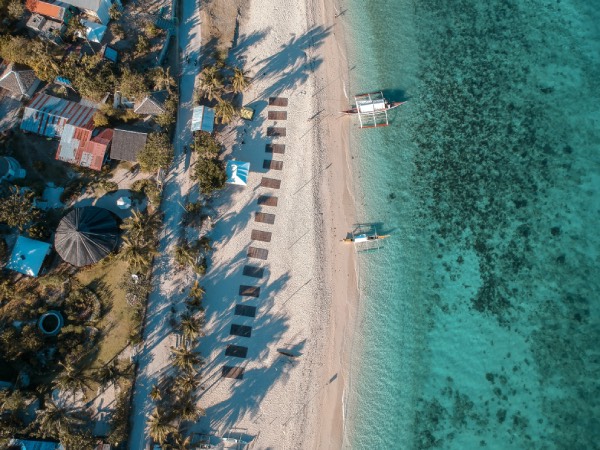 Ecotourism could put Kinatarcan island on Cebu's tourism map. Aloguinsan, a recognized ecotourism destination of Cebu, could be a perfect business model.
Kinatarcan (Guintacan) Island
Kinatarcan or Guintacan Island is the home to three barangays—Bitoon, Hagdan, and Langub—under the jurisdiction of the municipality of Santa Fe, whose focus seems unidirectional to its Bantayan territory alone.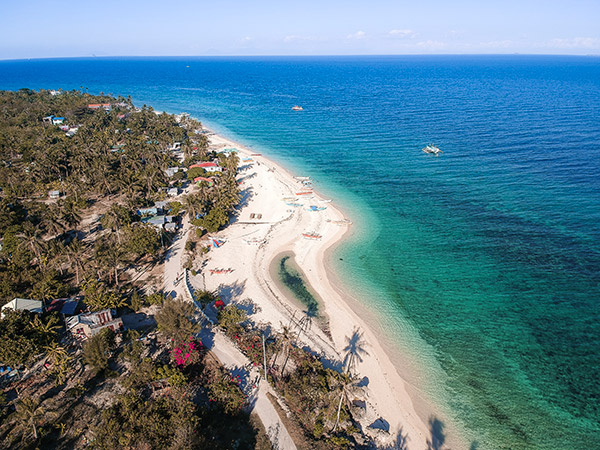 Awesome cliffs, fascinating coves, stunning white beaches, and a mysterious lagoon dot the edges of Kinatarcan.
The gentle summer breeze, the exuberant faces, the slow-paced lifestyle, and the warm sunshine kiss complimented well with the homy, rustic reception.
Things to do in Kinatarcan
Motorcycles are the only mode of transportation in Kinatarcan. You can rent a motorbike to tour around the entire island for only 500 pesos. If you are going to one destination only, for example, Laaw Lagoon, then the two-way fare is 150 pesos.
Byaring, a cliff-side wonder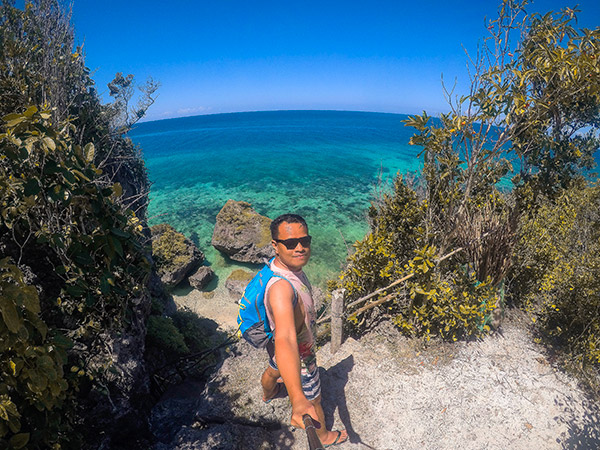 Byaring offers a stunning cliff-side view, interesting rock formations, and clear aquamarine deep. The stairway down to this wonder added more excitement to the seemingly laid-back adventure.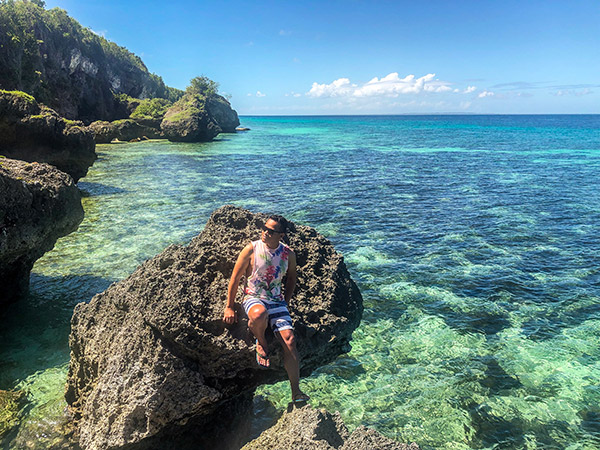 Laaw Lagoon, a mysterious stunner
The brackish water of Laaw Lagoon serves as a breeding ground to mothering fishes. Green caviars (Caulerpa lentillifera), lató in local language, grow unhindered at the bottom.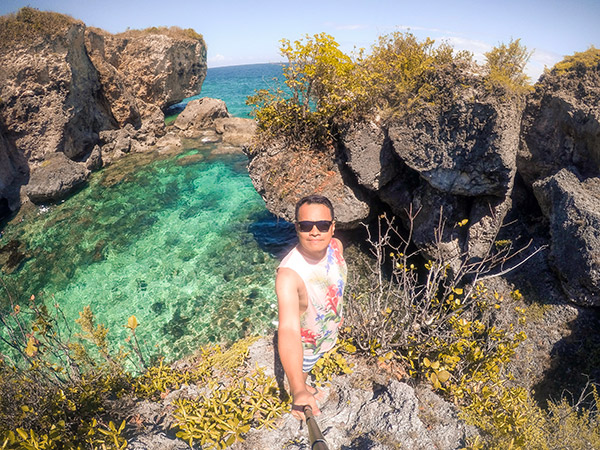 If you walk further, a breathtaking cove awaits every guests. You have plenty of spaces for photo ops and buwis-buhay selfies.
As of February 2019, Laaw Lagoon is closed to recuperate. However, some guides still include Laaw Lagoon in the itinerary.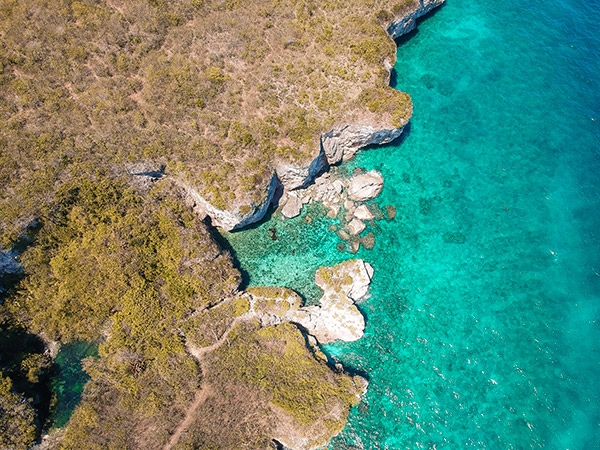 The land entrance is closed but those who opt for the boat tour can still enter the unguarded beauty.
Pasil, Langub, and Bitoon Beaches
Kinatarcan is a host to three beautiful white strips, namely: Pasil, Langub, and Bitoon Beaches.
If you arrive from Daanbantayan, you will be greeted with the fine and pebbly sand of Pasil Beach. It is the home of the expensive Kinatarcan Wellness Resort.
Pasil is also a favorite camping beach of many backpackers.
Langub Beach is just five-minute, motorcycle-ride away from Pasil. You may find the floating pier and the floating cottage there.
Langub offers an unhindered view of the sunset.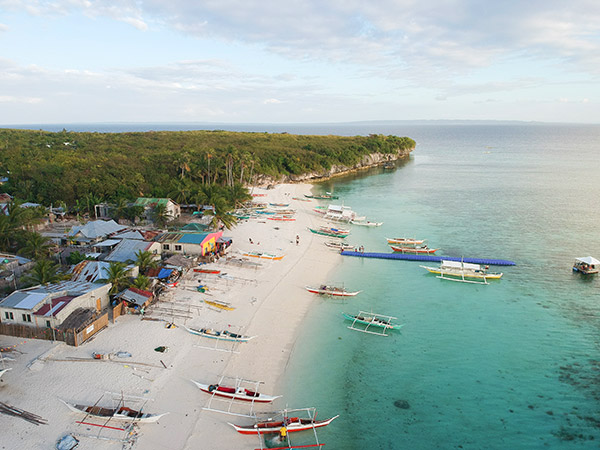 If you are coming from Santa Fe in Bantayan Island, Bitoon Beach is your arriving port. It seats next to a fishing village, so pump boats of various colors and sizes adorn its shore.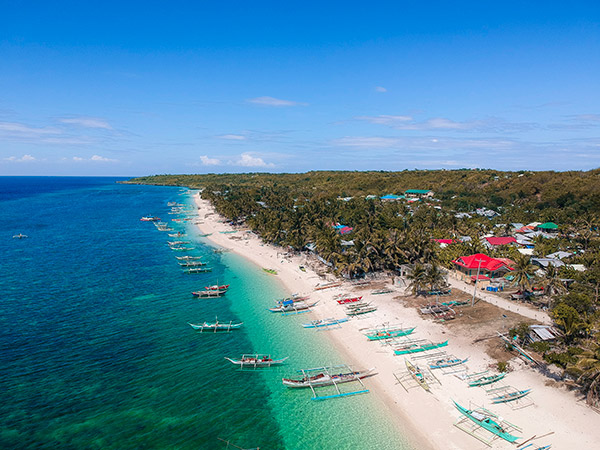 Perched on its south is Forest Beach.
Forest Beach, have a dose of adrenaline
If you are looking for an adrenaline rush, wait for the high tide, and then head to Forest Beach. Wooden, makeshift platforms are installed to aid your cliff diving experience.
Forest Beach, by the way, seats at the southern tip of Bitoon Beach. So technically, it is not a beach but a cliff-side resort.
Hagdanan and its beautiful vantage
See the beautiful panoramic view of Barangay Hagdan's beach-side community.
The stairway or hagdanan gives access to the fishing village below. White pebbles wrap the shoreline. The cliff, on the other hand, provides shade to the swimmers from the radiating afternoon sun.
Hagdan also provides a stunning vantage point to grace the sunrise.
Where to Stay in Kinatarcan Island

Beach Camp
You can just pitch your tent at any beach of choice. If you want a more secure area, you can camp at Willie's Beach Resort. It charges 200 per head, and that includes the use of the comfort room, water for bathing, and charging of mobile phones.
You have Kuya Willie as caretaker of your stuff when you go out for a tour.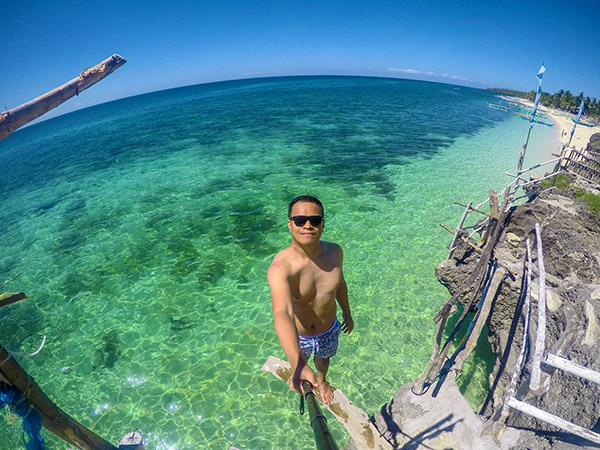 Forest Beach
If you want a more comfortable yet affordable stay, then go to Forest Beach. For only 250 per person a night, you can cook your own food, use the shared comfort room, and sleep in a comfortable bed. Kuya Berlito Mantao, the owner, will assist you in any way they can.
During our stay, they also share us some of their food. For bookings, contact him at +63 920 380 4640.
Kinatarcan Wellness Resort
If you can spend more, check in at Kinatarcan Wellness Resort. Rooms with A/C and glamping tents are available for guests who can afford the hefty price.
If you have inquiries, you may contact the resort at (032) 238 2672 or email them at kinatarcanwellnessresort@gmail.com.
How to Get There
From Cebu City North Bus Terminal, hop on a Bus to Daanbantayan. Note that Daanbantayan is different from Bantayan, so make sure that you hop on the correct bus. Fare is around 200 pesos.
From Daanbantayan Pier, take a boat to Kinatarcan Island. Passenger boats leave Daanbantayan around 11AM and 12noon. The one-way fare is 50 pesos.
If you are a large group, you can also rent the entire boat for exclusive use. One-way boat rentals start at 1000 pesos.
Return boat leaves Pasil Beach in Kinatarcan Island around 7AM the following day.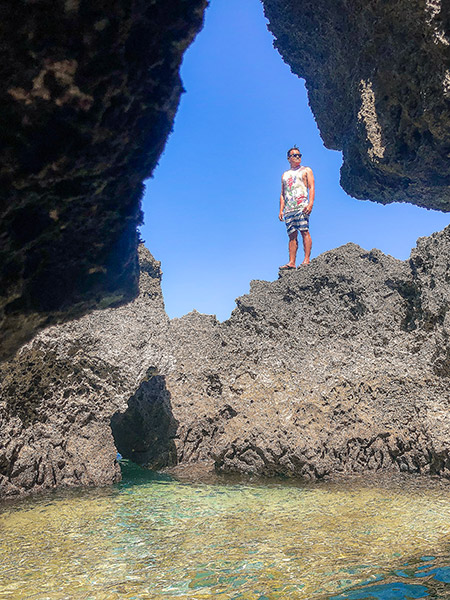 From Carnaza Island, hop on a boat to Tapilon Port, and then take any public transportation to Daanbantayan.
From Malapascua Island, return to Maya Port, and then take a bus that will pass Daanbantayan. Make sure that you ask the conductor.
From Bantayan Island, a passenger boat leaves Yooneek Beach around 1PM to Bitoon Beach in Kinatarcan Island. Fare is 70 pesos and travel time is around 2 hours. The same outrigger boat, named JR, leaves Bitoon Beach to Yooneek Beach the following day at 7AM.
Tips, Notes, and Reminders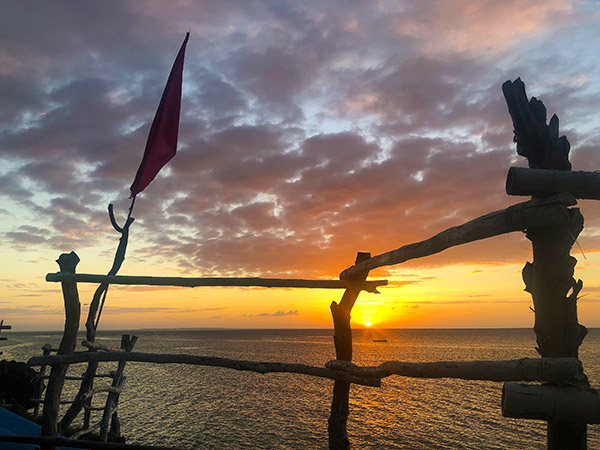 Wait for the beautiful sunset at Forest, Bitoon, or Langub Beach.
Cellular phone reception is decent around Pasil Beach and intermittent in other areas.
Electricity, which is serviced by a centralized generator, is available 24/7.
Bring enough cash. You will never know when you need it. There is a Landbank ATM at Daanbantayan Municipal Hall, but none in the island.
If you decide to camp, bring enough food and drinking water. Water is pretty scarce in the island and there is no public market. However, if you stay at Forest Beach, Kuya Berlito can order water for you. We stayed at Forest Beach for two nights, and it was all worth it.
BE A RESPONSIBLE TRAVELER OR TOURIST. Always remember to internalize and follow the "traveler's creed": Leave nothing but footprints, take nothing but pictures, and kill nothing but time.
Watch Video Summary of Our Adventure