We'd barely slept the night before. A friend and her daughter missed their flight so they had to re-book an alternative route. Aside from the extra chunk of cash that they needed to shell out for re-booking, the hassle of transferring to another airport and the struggle to get a seat at the busiest time of the busiest day at Cebu South Bus Terminal was a hell of peskiness. I could understand the troubles of the mother trying to secure her child a comfortable journey while keeping all the cumbersome backpacks.
While the first batch arrived early in Oslob, where they would spend their night, they could not rest until Nalie and her daughter arrive from the metro, as I pleaded. They were all gathered only after midnight.
In a parallel time at a different location, I was busy closing my projects for the week while keeping in constant communication with Nalie to guide her. From work, I immediately headed home, packed my stuff for the long weekend trip, and tried to have a power nap before taking the 2:30AM bus to Oslob.
I met the team at their hotel in Oslob around 6:30AM. The other batch from Dumaguete joined us after 30 minutes. We had our breakfast before moving to our first stop, whale shark watching in Barangay Tan-awan. Yes we did, and it was because we were too curious. I will tell you more about it in my future article.
Canyoneering was already part of our plan, but getting to the drop off point from Tan-awan wasn't fixed yet. We thought of trying our luck with public transport. But later, we realized that it could cause us delays.
We asked around for options. With the help of some accommodating folks from BCD's Place, we were able to rent a multicab, which was enough to carry the ten of us, for only ₱2,500. By the way, I ask the driver's contact number but he wasn't able to provide me one. He's probably not interested of getting blogged.
Anyway, we met Kuya Ronald's team, around 11:00AM. He, Cyrus, and one Kuya (sorry, I forgot his name) would be our guides for the canyoneering. We headed to his place to put on our life jackets, helmets, and trekking shoes. These stuff are already included in the package. You can also bring your own trekking sandals or shoes. Finding a suitable and comfortable size may not be easy.
Cebu Canyoneering or Canyoning: Traversing Canlaob, Alegria and Matutinao, Badian
I met Kuya Ronald during my previous attempt to do the canyoneering. It was cancelled because of the typhoon that struck Visayas days prior my arrival. So, when I got a new schedule, I contacted him again.
After the preparation, we took a habal-habal (extended motorcycle) to the drop off point. No one was allowed to go canyoning without undergoing the safety orientation. We had it at the drop off point.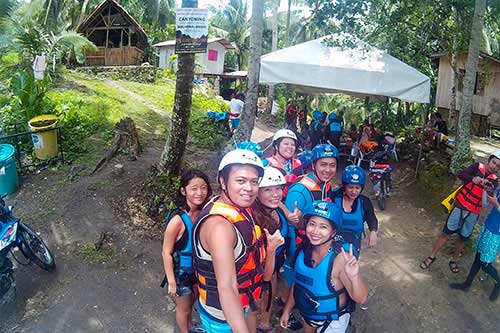 The First Waterfall Jump
From the drop off, we trekked for about 15 minutes to get to the first jump off. All the ladies were reluctant, so I gathered all my courage to take the first leap. It was about 15 feet high but the narrow waterway below it made others doubt. Teddy followed me later while the rest were brought to another jump off area for them to get into the river.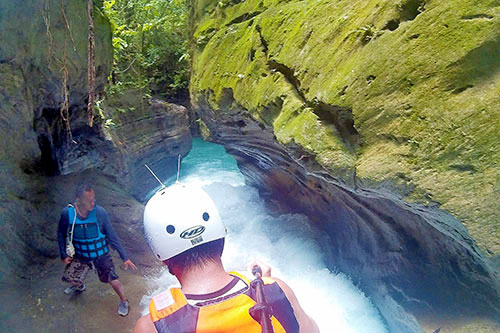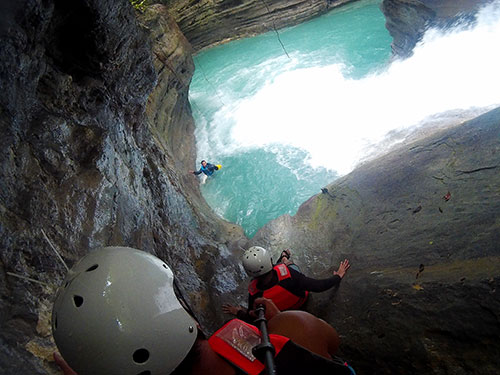 After that awesome jump, we carefully followed the current downstream. We climbed on a slippery rock, managed to get to the higher portion, and then slid. Again, that was awesome! Watch the video below.
Our guide was waiting for us below to teach us on how to counter the current. The waterfall beside the slide could imperil us if we would not execute the escape tactic properly. The undercut of the opposing rock was menacing. It was rainy season by the way, so the river current and waterfall plunges were double in strength.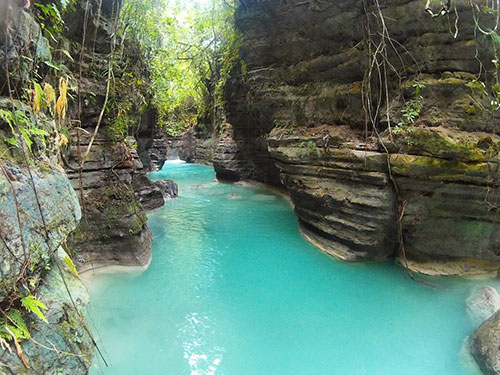 The Canyons
After surviving the slide was an enchanting scenery. The foliage-rich canyons blended perfectly with the blue water that cut through it. If pixies and nymphs do exist, they would probably prefer to reside there.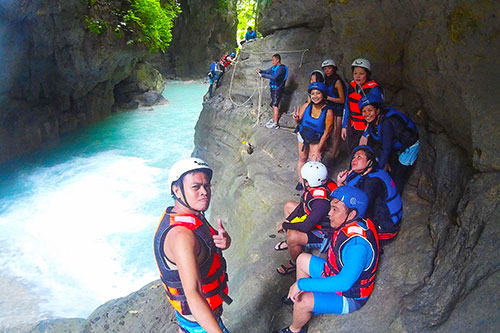 There was an area where our guides had to set up ropes for us to hold while getting to the steeper section of the cliff; for us to land safely in the water once we jumped. We had inexperienced members in the group, and jumping off a sloping cliff could be very risky. Those who couldn't push themselves to a perfect projectile might hit the rocks below.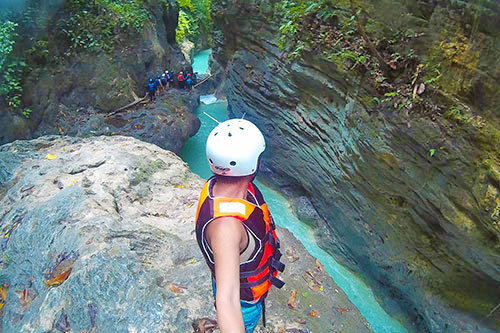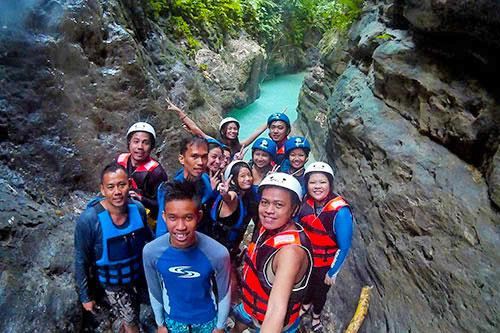 We jumped four waterfalls, climbed challenging boulders, swam across strong currents, trekked on the edge of a cliff, and crawled on a makeshift bridge.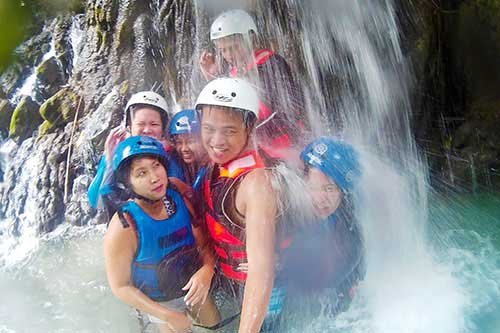 The Sumptuous Treat at Kawasan Falls 
We actually finished the canyoning or canyoneering for almost 4 hours, which is quite reasonable because we are a large group. We were dog-tired, thirsty, and hungry. Good thing that a meal was waiting for us at the end of the trail. And yes, it was also included in our package. We had a feast at Kawasan Falls after that escape.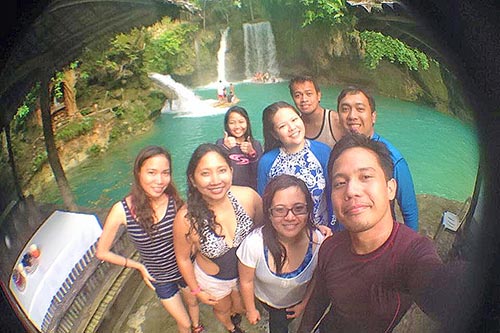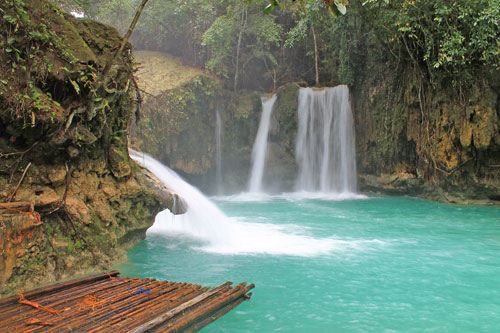 Kuya Ronald allowed us to fix and wash at his humble abode. When everybody was ready, we boarded the multicab that brought us in Matutinao to bring us to Liloan Port in Santander. We went to Dumaguete afterwards where the continuation of our adventure was waiting.
Kawasan Canyoneering Guide
Kawasan Deep Blue Canyoneering Services
Contact Person: Kuya Ronald Diluvio
Contact Number: +63 905 968 2225 | +63 916 988 7319
Package Fee: ₱1,500/pax
Package inclusions: Life vest, helmet, guide, environmental fees, habal-habal ride to the drop off point, dry bag, trekking shoes (if you forgot to bring one), drinking water, and a set meal
Travel Expenses
Transport Fee: Bus from Cebu City to Matutinao, Badian is more or less ₱140 per person per way. Double that for a two-way fare. Transportation from Matutinao to Canlaob, Alegria is already included in the Canyoneering package.
Guide and Environmental fee [as of May 2016]: ₱1,500/pax and that also includes lunch [or late lunch] and life vest, helmet, and trekking shoes rental.
Meal: ₱100, just an estimate on how much to spend for breakfast. If you want, you can contact your guide to prepare a breakfast for you for an additional fee.
Suggested Itinerary
04:00AM   Leave Cebu City. Take a Bato-bound bus with via Barili Route at Cebu South Terminal
07:00AM   Arrival in Matutinao, meet up with your guide, and breakfast. Note that breakfast is not included in the package.
08:30AM   Proceed to Canlaob to start with Canyoneering
12:30PM    Finish Canyoneering and lunch at Kawasan Falls
02:00PM   Enjoy rafting at Kawasan Falls.
04:00PM   Take a Bus back to Cebu City.
Tips, Notes, and Reminders
Matutinao is a rural area. There are no ATMs for cash withdrawals available. The closest bank is 40 minutes away and that is in Moalboal.
There is a decent cellphone signal in the village.
Accommodation are available at Kawasan if you plan to stay overnight. Fan room rentals start at ₱900/night.
Before you do the canyoneering, make sure that you are fully hydrated – there is higher risk to cramps when you spend more time in the canyon.
Follow your guides instructions at all times. They know exactly how to get you to safety. Remember, overconfidence could cause you harm.