Being stressed and angled for minutes, my elbow pit started to feel uncomfortable. My palms were itching too, yet I couldn't let go of my grip. I could also feel my calf and feet trembling, but resting them was not among the choices.
For some reasons, commuting was pretty difficult on that part of Samar on Holy Week. I was hanging at the back of the jeepney, breaking a leg, while on my way to Allen from Calbayog's Maguino-o Pier. Since I shared space of the narrow metal extension with another passenger, my torment did not end there. I had to maintain a firm clutch to survive that trip.
The unhindered summer sun, too, wasn't convincing at all.
Though every road bump inflicts me pain, it ironically excited me. I loved the feeling of being abruptly tossed. The weight drag on every curve maneuver felt good too. It wasn't all about commuting misfortune after all.
I sustain that situation for an hour and a half. Just to be clear, I did not regret doing it at all. In fact, it became one of my fondest travel memories.
From Allen, I took a tricycle to Lavezares Fish Port and Public market, and then boarded a pump boat to Biri Island.
The travel time was approximately one hour, and it costed me ₱60.
From Biri Port, I headed to the tourism office. It is a municipal ordinance mandate that all tourists must register and book their tours at the tourism office. I found it really convenient. Rates and habal-habal (motorcycle) fares are standardized to avoid overcharging. Every package includes the fare, tour guide, and ecological fees.
The tour will bring you to different rock formations and to other interesting places within Biri Island.
Biri Island Rock Formations
The Biri Rock Formations are composed of six distinct rock islands namely: Magasang, Masapad, Macadlaw, Puhunan, Bel-at, and Caranas Rock Formations. These six islands float just off the coast of northeastern Biri, where San Benandino Straight and Pacific Ocean converge. The strong tidal forces that repeatedly smashed these islands for the past 23 million years formed fascinating natural monuments, with some featuring distinct patterns.
Though Magasang, Masapad, Macadlaw, Puhunan, Bel-at, and Caranas Rock Formations are separate islands of their own right, they are accessible by foot from the main island during low tide.
If you want to enjoy the water, you can take a dip at Bel-at tidal pool. Its calm and cool aquamarine deep relaxes your legs and muscles after a long day of exploring and climbing the rock formations.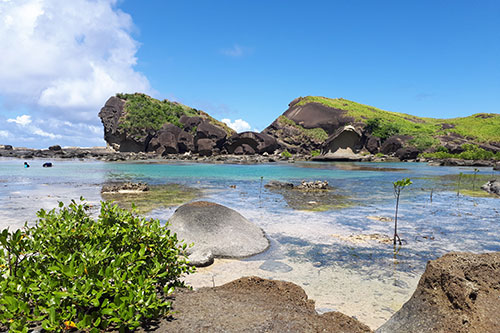 During Northeast Monsoon (Amihan) season, the waves are really huge, and getting near the edges of these formations could be perilous. That is why; the tourism office requires guests to get a tour guide to avoid any accidents.  Note that accidents could be detrimental to you and to the livelihood of the island which depends on tourism.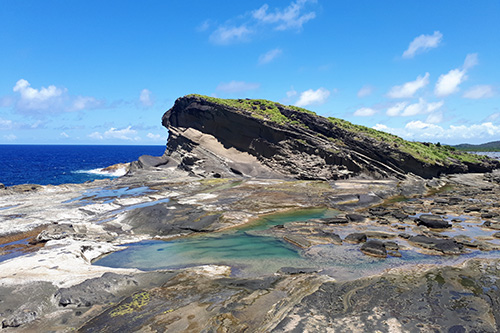 If you are a surfing fan, Giron is a go-to place.
How to Get There
You have two options if you are coming from Manila. You may take a flight to either Catarman, Northern Samar or Calbayog in Eastern Samar or hop on a bus to Matnog, Sorsogon.
If you choose to fly, note that only Philippine Airlines flies to Catarman (4 times weekly) or Calbayog (3 times weekly). From Catarman, board on a jeepney or bus bound for Allen or Calbayog, alight at Lavezares town proper, and then walk towards the fish port or public market where you can find pump boats bound for Biri. From Calbayog, take a jeepney or van to Allen, and then transfer to a trike to Lavezares.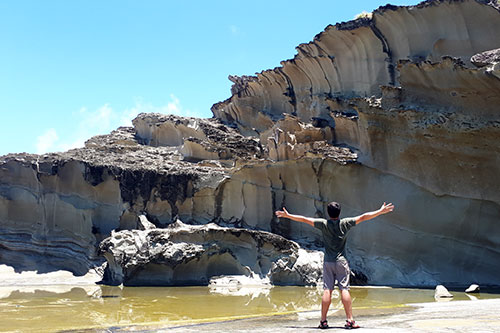 If you choose to travel by bus, hop on a bus to Matnog, Sorsogon, and then board a ferry to Allen. From Allen, transfer to a trike bound for Lavezares. There you can hop on a passenger boat to Biri.
From Cebu City, take a ferry to Calbayog. Cokaliong Shipping Lines, for instance, leaves Cebu's Pier 1 at 7PM and arrives at Maguino-o Pier in Calbayog at 7AM the next day. Jeepneys are waiting at Maguino-o to bring guests to Allen, Northern Samar.
From Tacloban, hop on a GT Express van to Allen, and then transfer to a trike to Lavezares. Note that this may cost you five hours of travel time.
If Biri Island is your next stop from Paranas TORPEDO ride, return to Buray Junction, and then hop on a van to Allen. From Allen, take a trike to Lavezares port where you can ride a boat to Biri Island.
Biri Island Fees
The one-way boat fare from Lavezares to Biri is ₱60. Senior citizens and students do have discounted rates. If you want a special trip, you can rent an entire boat for ₱750.
Biri also collects ₱50 as Environmental Usage Fee (EUF) per individual.
Standard habal-habal fare for three people is ₱195. This will bring you to the rock formations, and then back to your accommodation if you stay overnight or to the port if you are only on a day tour.
Having a tour guide is required when you visit Biri. This will cost you ₱300 for a group of five.
For a sample tour computation, check this link.
Jay-ar was my habal-habal driver/tour guide during that visit. You may contact him if you want him to arrange your accommodation and tour at +63 915 390 3429 | +63 917 142 6213 | +63 930 744 4716.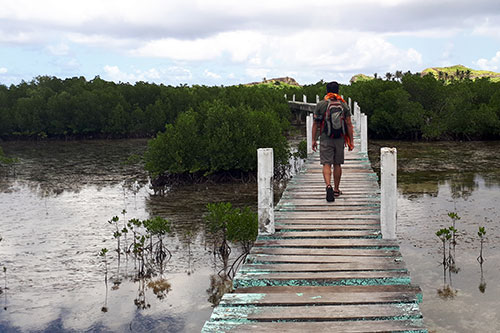 Where to Stay in Biri Island
You can finish your tour in Biri in one day but spending a night and watching both the sunset and sunrise are also good things to experience.
Balay sa Baybay | Contact No.: +63 917 628 3895
Biri Resort and Dive Center | Contact No.: +63 999 682 0565
Room starts at ₱1,000
Glenda's Bed n' Breakfast | Contact No.: +63 926 743 5479
Villa Amor | Contact No.: +63 935 366 1415 | +63 977 656 3973
Fan rooms: ₱900 for two | ₱1,200 for four persons
Aircon rooms: ₱1,400 for two | 1,700 for four persons
Important Tips and Reminders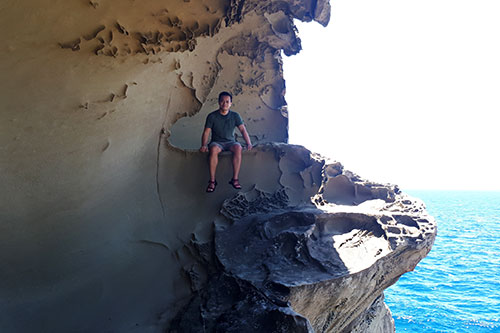 Always register and pay your tour fees at the tourism office. Fees are standardized, so for this case, overcharging is avoided. You can always give your guide a tip.
Always follow your guides. They are well-versed about the risks and the red zones around these rock formations.
Travel in group for you to save on your transport and tour guide fees.
Globe has 4G/LTE reception in the town proper. 3G with intermittent LTE signal is available within the rock formation premises.
Though Biri is town, you cannot find an ATM nearby. Bring enough cash for your trip. But just in case you need one, you can go to Allen to withdraw cash.
BE A RESPONSIBLE TRAVELER OR TOURIST. Always remember to internalize and follow the "traveler's creed": Leave nothing but footprints, take nothing but pictures, and kill nothing but time.