Are you planning a quick getaway before the year ends? Are you after sandy beaches or are you feeling sporty enough to go hiking and climbing up volcanoes? Do you fancy historical sites to learn about ancient civilizations? Well, you might start considering El Salvador, a small, but gorgeous country in Central America that is ready to serve.
The end of the year comes with some treats up its leave and it grants us a black Friday to save as much as we can. Make sure you check all the Black Friday 2022 Hotel Deals | Barceló Hotels & Resorts has to offer in this wonderful destination.
Get to know El Salvador
This country is part of Central America and its main attraction are the Mayan Ruins. Compared to neighboring countries that also have part of the ancient civilization's history, these ruins are less visited, making them not only cheaper, but more enjoyable.
The country that sits across the Pacific Ocean is blessed with astounding natural sights as it offers a combination of beaches, volcanic landscapes, lakes, forests and the ruins. Even though it is a rather small country, you'll find plenty of options of activities to do during your trip.
The official language of the country is Spanish and, because of the ancient civilizations that lived there, you'll also encounter indigenous languages like Nawat and Q'eqchi.
One last detail about this country: it is the first nation to accept Bitcoin as their official currency, together with the dollar and, of course, the local Colón.
What to do in the country
In this list, you'll find a variety of options that includes all the landscapes from you to choose depending on the kind of trip you're planning. Note that most tours and landscapes include a little effort so you should always pack an extra pair of snickers!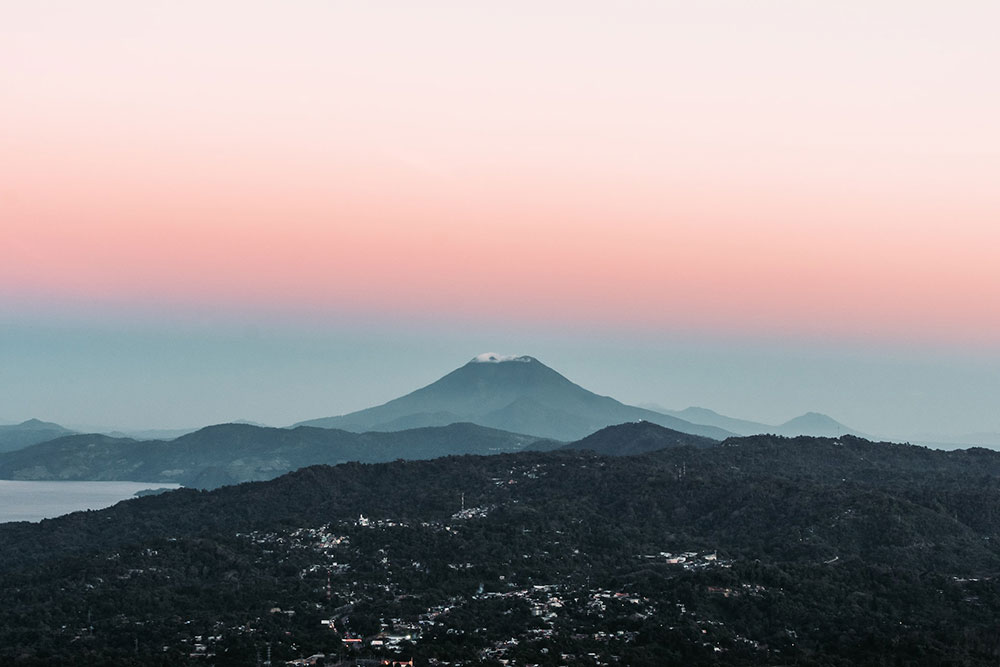 Tazumal
As it is the main attraction in the country, you could start by visiting the ruins. Tazumal in particular is an archeological site located in Chalchuapa, in the department of Santa Ana, one of the biggest and most important departments. It's an hour away from the capital so it's easily accessible.
In Tazumal, you'll find ancient structures belonging to the Maya and the Tolteker civilizations. Besides, you can visit the museum located right next to the ruins, the Stanley Boggs museum. Being a part of a bigger archeological site, if you go to Tazumal, you can also visit the other areas: El Trapiche, Casa Blanca and Laguna de Cuzcachapa.
Lake Ilopango
This lake combines water with volcanic landscapes. It is outside the city of El Salvador and it is, basically, a volcanic crater in which a crystal-water lake was formed. Only the sight makes the visit worthy. As if that wasn't enough, you can swim, and even practice some water sports such as fishing and sailing and diving. It is the second largest lake in the country and also offers the possibility of visiting the Ilopango Volcano.
El Boquerón National Park
Being a volcanic crater, this also mixes two landscapes, but instead of water, a forest can be found here. It is only twenty minutes away from the city and it is a great place for hiking and climbing. It is located at the top of the San Salvador Volcano and it is 5,905 feet above sea level. Besides, the bigger crater contains a smaller one called Boqueroncito and it's a true gem!
Mizata and El Tunco
If you're feeling like going to the beach and enjoying a sunset, these two are great options. Mizata is a small beach town perfect for a laidback day at the beach. Even though it is rather small, it's a great spot to practice surfing.
El Tunco is Mizata's big brother, it's not only bigger, but better-known and highly chosen by tourists. Its waters are also great for surfing, but that's not all. You'll also find markets, restaurants and a waterfall!
Santa Ana and San Miguel
These two are the second and biggest cities after the country's capital, El Salvador, respectively. Both cities offer a true immersion on the country's lifestyle and they are highly recommended if you're after a unique Salvadorian experience.
As cities they offer historical sites to visit. For example, in Santa Ana, you could go to the Cathedral located in the historical downtown. You can also take a stroll around the squares, visit the markets and get to know the locals.
What about gastronomy in El Salvador?
Now that you have some to do, let's talk about one of the best things the country has: its cuisine. Being a country coming from ancient civilizations, Salvadorian cuisine offers flavor-packed dishes based on their seasoning, rice and beans. Just these three elements are used in a wide variety of ways to bring about the most delicious meals. One of the things you must try is pupusas, a rice flour based flatbread that can be stuffed with pork meat or cheese. Another typical meal is yuca frita, fries made of cassava usually served with dips as an appetizer.
As you can see, El Salvador has everything and more. Come visit!