Sipalay was a long ride from Cebu City. I had to wake up around one at dawn to hop on the 2AM bus that travels to the southern tip of Cebu Island, and then catch the earliest ferry ride to Dumaguete. Despite leaving early, it was already 5PM when I reached Sipalay City proper. That included my 2-hour stopover at our humble abode in Siaton.
I actually celebrated my birthday on the road. Solitary and hungry. Because of the long trip, busy holiday traffic, and jam-packed terminals, I skipped some meals just to keep my travel arrangements and schedule.
Sipalay City
Sipalay, in spite of being a city, emanates a rustic feel. Only a small proportion of its total land area is urban, while the rest are farmlands, forest, and rural villages.
Anyway, people frequent the place not for its urban jungle, but because of the fine natural jewels that lurk on its waterfronts.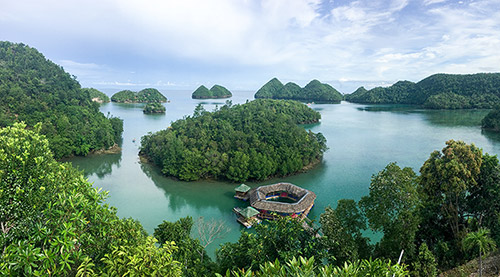 Verdant karst massifs dot the city edges forming a photogenic conglomeration of land masses. Surrounding these mounds are clear and calm aquamarine waters that are perfect for kayaking activities.
Sipalay is also a home to awesome ivory and white strips, such as Punta Ballo Beach, Campoquino Bay, and Sugar Beach. All these beaches are perfect spots to grace beautiful sunsets.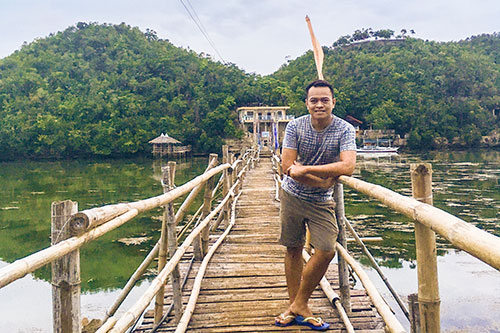 Furthermore, the beauty of Sipalay is not limited to what is readily visible at a normal vantage point. When you dive deep below its seas, wonderful underwater communities awaits to give you an awe.
How to Commute to Sipalay
From Manila or any point of the Philippines, take a flight or ferry to either Bacolod or Dumaguete City.
From Bacolod, hop on a bus or van to Sipalay. You can also take a bus to Hinoba-an, and then get off at Sipalay bus stop. Fare is around ₱300 and travel time is 4 – 5 hours.
You have two options if you are coming from Dumaguete. You can take a Bayawan- or Hinoba-an-bound bus and then transfer to a bus for Sipalay. The fare from Dumaguete to Bayawan is ₱120, Bayawan to Hinoba-an is ₱80, while Hinoba-an to Sipalay is ₱50. Travel time is 4 – 5 hours, and that excludes the waiting time at terminals when making bus transfers.
The other option from Dumaguete is to take a bus to Bacolod (via Mabinay), and then alight at Kabankalan City terminal. Travel time is up to 3 hours and the fare is ₱190 – ₱230, depending on the type of bus you hopped on. From Kabankalan, transfer to a van or bus to Sipalay. Travel time is up to 2 hours and the fare is less than a hundred pesos.
If you are coming from Apo Island, return to Barangay Malatapay and then wait for a bus to either Bayawan or Dumaguete City.
From Cebu City, the easiest way is to take a bus to Liloan, Santander, embark on a ferry to Sibulan, and then hop on a multicab (jeepney) to Dumaguete.
By the way, there's an island that sounds like Sipalay. You may also check Sipaway, also in Negros Occidental.
Things to Do in Sipalay
To make the best of your stay in Sipalay, it would be nice to cross out everything from the list below. If not possible, you can choose a couple and it would be equally fun.
1. Join the DiveSafari
The DiveSafari is exclusively offered by Easy Diving and Beach Resort. It is a 5- or 6-day diving experience to the famed dive spots in the Visayas, such as Apo, Sumilon, Pescador, Balicasag, Panglao, and Sunken Islands. Depending on the package you book, your accommodation will be at the nearest resort or on the deck of the DiveSafari boat.
However, you must be a certified diver to join the tour. If you need one, Easy Diving and Beach Resort has in-house dive center for your PADI training and certification needs. The resort has over 40 dive spots on its list including the ones in Sipalay.
2. Tinagong Dagat
Tinagong-dagat offers a stunning view of the island clusters at the south of Sipalay City proper. The green mounds rising from the turquoise deep creates a complementing charm to the waters around it.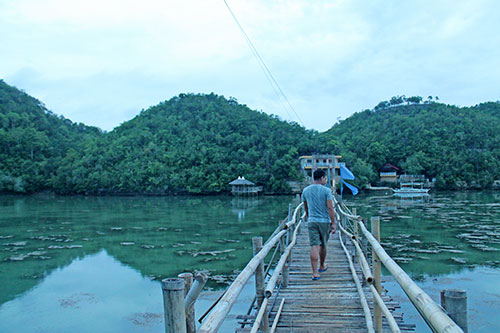 Since the property is operated by private individuals, the resort standing on it collects ₱30 as entrance or viewing fee.
3. Campoquino Bay
Campoquino is a gorgeous strip that offers spacious space for beach bummers and good shade for campers.
Hi-jo Beach Resort, a budget resort in Sipalay, is the closest accommodation option.
4. Danjugan Island (Must-Do)
Danjugan Island is not located within the jurisdiction of Sipalay. However, the boat station to the island is just 20 minutes away from the city. So when you visit Sipalay, it would be perfect to include Danjugan in your itinerary.
Danjugan Island is actually a protected marine sanctuary which provides asylum to a veritable cornucopia of wildlife species. The island operates under the care and supervision of the Philippine Reef and Rain Forest Conservation Foundation, Inc. or PRRFCFI.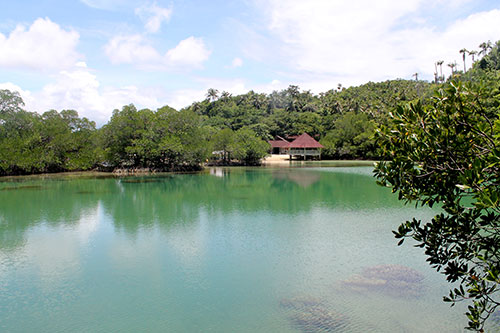 Aside from the wildlife encounter, you can make the most of your visit by checking its five lagoons, four white beach strips, and a number of makeshift watch towers.
5. Punta Ballo Beach
Punta Ballo is one of the most amazing place to grace the sunset in Sipalay. The sand is ivory on a gloomy day but is white under a bright sunlight.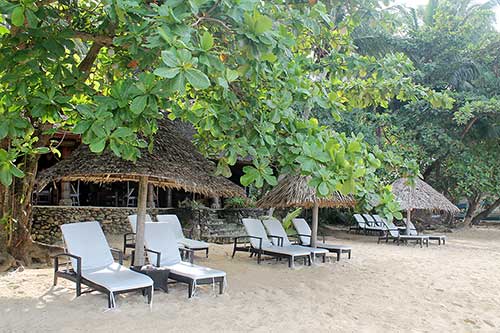 Not far from the beach are remarkable reefs which are homes to colourful marine life.
6. Sugar Beach
Sugar beach is another gorgeous strip in Sipalay and is a home to a number of resorts that host regular beach parties and other gimmicks.
7. Punta Ballo Parrot Farm
Punta Ballo Parrot Farm is located within the Easy Diving Resort complex. Meet and greet with their collections of parrots and hornbills. The farm is a licensed exotic birds breeder and conservationist. It serves as a satellite conservation site of Talarak Foundation.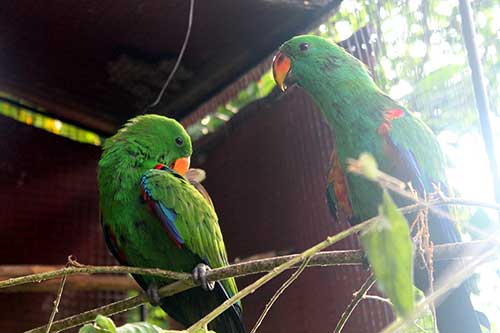 8. Poblacion Beach and Sipalay Food Park
Poblacion Beach is the wide strip on the west edge of the city proper. It is the most accessible beach of the city.
Sipalay Food Park is one of the best spot to taste the local food. Seating adjacent to Poblacion beach, getting there is pretty easy.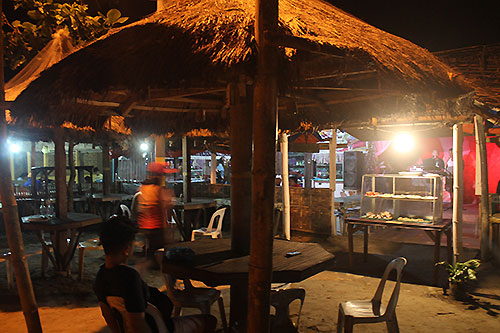 Food stalls start grilling at sundown. Chicken inasal and barbecue are usual mainstays.
Live bands and karaoke are also available.
9. Perth Paradise Resort Infinity Pool
The overlooking scenery at the infinity pool of Perth Paradise Resort is undeniably one of the most picturesque spot in Sipalay.
If you are not a guest, you can access the infinity pool with a fee. Viewing will cost you ₱80/pax. If you can to take a dip to its famed pool, you have to shell an additional ₱100/pax.
10. Learn the Art of Archery with Archery-Asia
Learn the art of archery at Archery-Asia Sipalay. If it is your first time, you will be trained with the basics and practice your first arrow release at their target range.
Afterwards, you will be brought to the parkour course to test what you have learned. The parkour has 23 stops and each stops has inanimate targets for you to shoot.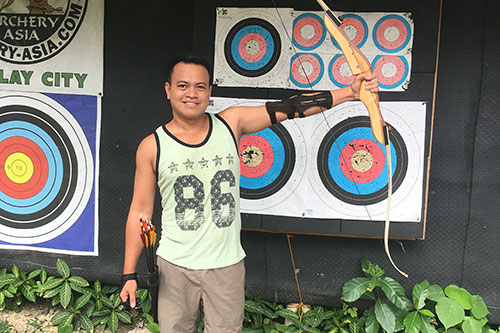 Where to Stay in Sipalay
Your Sipalay getaway wouldn't be complete without booking your resort of choice that fits your budget. The list below will give you an idea.
Easy Diving Beach Resort offers premium accommodations. It seats on a sloped terrain along Punta Ballo Beach. The resorts offers a stunning sunset view, a gorgeous beachfront, and a scenic neighborhood. Standard fan starts ₱1,600 for two while the standard airconditioned room starts at ₱1,950 for two.
Tinagong Dagat Island Resort seats on a cliff that is overlooking a charmed setting. An overnight stay at Tinagong Dagat for two individuals starts at ₱1,200.
Perth Paradise Resort is nestled at one of Sipalay's most picturesque scenery. Peak season rate for a standard room that can accommodate two individuals will cost you ₱2,000 while the cabana room with two single beds and fan starts at ₱1,000. Family rooms are also available.
Artistic Diving Resort seats at an amazing beachfront of Barangay Puntaballo. Room rates start at ₱1800.
Other places to stay in Sipalay are:
Jamont Hotel, Manna Pension House, and Tourism Lodging Center within the city proper;
Drift Wood Village, Takatuka Lodge, Big Bamboo Beach Resort, and Sulu Sunset Beach Resort along Sugar Beach; and
C View Haven, Hi-jo Beach Resort and Nataasan Beach Resort at the city's south.
If you have questions or suggestions, let us know by commenting below.
---
This article was first published on September 17, 2016 and has been republished to include updates.