Mahabang Buhangin beach of Calaguas is perhaps the most awesome and gorgeous beach in Philippines (with Boracay and Malcapuya trailing behind). Apart from the long strip of fine, powdery, white sand, it also features a luxuriant green backdrop, fresh air, unobstructed lying space for star gazing, squeaky-clean water to swim,  wide beachfront to hangout, and many more.
You may have plenty of reasons to see the place, but the effort to reach the island group discouraged some. Good thing that travel agencies offer assisted-tour packages. However, if you want the experience to be more solitary, exclusive, and noteworthy, I suggest you to do a DIY.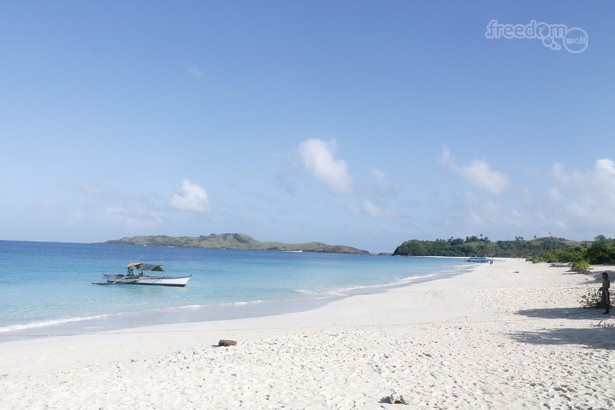 One of these days, you may be planning to see this wonder and below is the (do-it-yourself) DIY guide for you.
How to get there
You can access Calaguas either through the Municipality of Vinsons or Paracale in Camarines Norte Province.
From Manila, you can take DLTB, Isarog Bus Lines, Penafrancia Travel and Tours, Superlines, or Philtranco bus to Daet from either Pasay or Cubao terminal. Bus fare ranges from ₱580-650 and the travel time is 8-9 hours.
From Daet, ask around for jeepneys or tricycles that travel to Vinsons.
If you prefer Paracale over Vinsons, then get off at Talobatib junction (before reaching Daet) and wait for the ordinary bus to Paracale.
If you don't have the luxury of time, you can book a flight to Naga, and then take a van to Daet (₱190.00, 2 hours).
Accredited tourists boats await in Vinsons while some fishermen offer equally safe transfer from Paracale. Navigation time to Calaguas, however, is shorter from Paracale.
Boat Transfer to Calaguas
Chartered boats are available at Vinsons for ₱3500 -5000 that can accommodate up to 10 persons. Use your haggling skills to earn some discounts.
If you choose Paracale, that means that you already have pre-contacted a boatman. You can also take a passenger boat to Bgry. Mangcawayan in Tinaga Island and walk towards Mahabang Buhangin. Note that the Paracale-Mangcawayan boat leaves Paracale at 1:00PM and returns at 07:00AM the next day. There is only one trip per way per day. Since the weather is predictable, the passenger boat schedule is not always followed.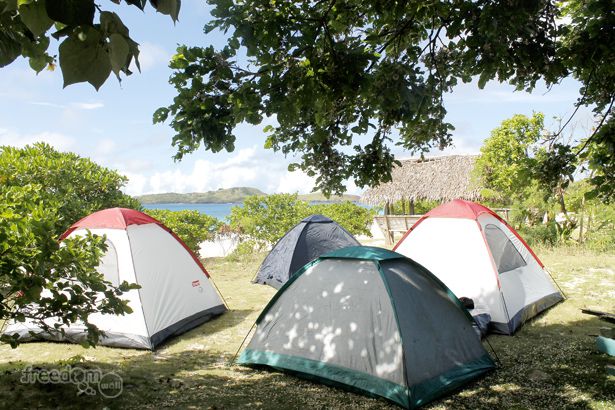 Things to bring
Tent, hammock, or blanket for shelter. Couples can rent a cottage with room (₱450/day) but vacancies are not guaranteed.
Enough food and water for your entire stay in the island.
Charcoal and/or portable stove with enough fuel
Cooking and cutting kit
Flash lights
Sunblock
Camera
First-aid kit
Personal kit
Garbage bag for your trash and to waterproof your stuff while navigating.
Notes, Tips, and Reminders
Restrooms and shower rooms are available in Calaguas but the water is for sale at ₱10 per bucket.
Cottages are available for rent. Regular (without room) is ₱300 while the one with a small room for two individuals cost around ₱450 per day.
Buy all your supplies in the town prior to boarding a boat to Calaguas. There is a sari-sari store in Calaguas but it's not guaranteed that they have the item/s you need. It's a bit pricey too.
Waterproof your bags and stuff while on board the boat from Vinsons or Paracale to Calaguas.
The sea is rough sometimes, so check PAG-ASA's gale warning bulletin before heading to your getaway.
Someone collects ₱20/person for environmental fee in the beach.
No electricity nor cellular signal in Mahabang Buhangin beach premises.
Bonfire is no longer allowed.
You can sleep on the beach (like we did on our last visit).
You can hike to one of Tinaga Island's hills, and then see the panoramic view of the beach.
There is a resort in the island called Waling-waling. Rooms start at 3,500 per night.
BE A RESPONSIBLE TRAVELER. Always remember to internalize and follow the "traveler's creed": Leave nothing but footprints, take nothing but pictures, and kill nothing but time.
I also leave some notes and tips in my other article which may be helpful.
Unang nilathalaha noong Abril 2014.