Waking up wrapped in a dawn chill, on a hill that is thousand meters above, overlooking a seemingly natural man-made creation, which size is as colossal as the mountain that holds it is truly remarkable. Reaching it may be a frowner to some, however, you'll forget all about the difficulties when you finally see Batad Rice Terraces, the most popular among the rice terraces of the Cordilleras.
Batad, along with 4 other rices terraces in Ifugao, are considered as national cultural treasures with great historical significance. These rice terraces (Batad, Bangaan, Hungduan, Mayoyao Central, and Nagacadan) are listed in the UNESCO World Heritage Sites.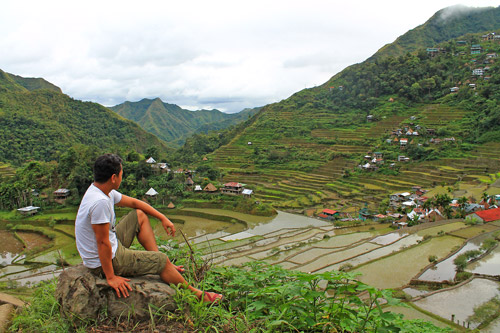 How to Get There
From Manila, take a bus to Banaue.
Ohayami Transit [Address: J. Fajardo St. cor Lacson Ave., Sampaloc, Manila | contact: +63 927 649 3055 / (02) 516 0501] leaves Manila at 10:00PM daily. Additional trips are added during peak seasons. It is advisable that you book your tickets in advance. It will cost you up to ₱450.
Dangwa Tranco Inc. [Address: Dimasalang Street (near Dangwa Flower Market), Sampaloc, Manila] also has trips to Banaue. Please visit their terminal or call (02) 781 5849 / (02) 743 3809 for more details.
From Banaue town proper or jeepney terminal, you can ask for jeepneys going to Saddle Point. I believe there are two trips available for this route; one in the morning and one in the afternoon. Sorry, there are no fixed timeline. Travel time is 30-45 minutes and the fare is ₱50.
If you miss the direct trip, you can hire a jeepney to Saddle for ₱1500, and that is good for 20 individuals. Alternatively, People's Lodge and Restaurant can arrange a trip for you or include you to another group traveling to Batad. You contact Marcial at +63 916 864 2988 for inquiry.
From Saddle Point, you need to trek for an hour or less to Batad. The trail is quite easy though. Make sure that follow all the signs, especially the precautionary ones.
There are also buses that offers Baguio-Banaue route and vice versa.
If you are coming from Sagada, you can take a jeepney to Bontoc, and then hop on a bus or jeepney from Bontoc to Banaue.
Where to stay in Batad
You can't find any flashy hotels in Batad. Remember that it is a remote, hillside village. However, there are hospitable residents who offer humble home stays. We stayed at Ramon's Native Home Stay and Restaurant during our visit. Some rooms offer a majestic view of the terraces, including the restaurant. At ₱250/person, you can have a decent place to keep you from cold at night. If you are lucky, you can also join their activities.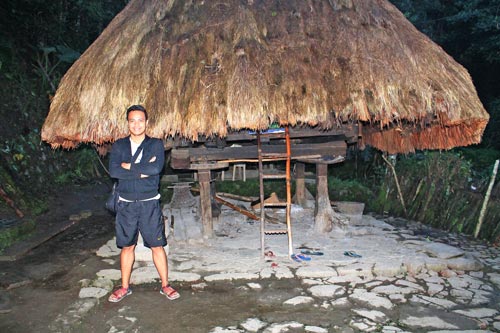 For bookings, you can contact +63 935 130 2911 / +63 930 962 7348.
If you want your stay to be lot noteworthy, you can sleep at their native Ifugao huts, which can house up to 4 individuals. To reserve, book it via Agoda.
Other places to stay in Batad are:
Batad Pension and Restaurant: +63 916 488 8141 / +63 918 964 3368 | Online Booking: www.Agoda.com/BatadPension
Batad Top View Point Home Stay and Restaurant: +63 935 130 2911 | Online Booking: www.Agoda.com/BatadTopView
Cristina Inn: +63 906 977 3771
Foreigner's Inn: +63 905 397 2317
Hillside Inn and Restaurant: +63 927 761 6176 / +63 905 769 9796 / +63 919 379 9599
Rita's Mount View Inn and Restaurant: +63 921 273 3051 / +63 910 842 3076
Simon's Inn: +63 919 261 9566
How to get around
Batad is a mountainous terrain, so you can't get any transport to move around. You can reach every spot by foot. Get yourself ready with a lot of walk, trek, and some uphill climb.
For safety, you need to get a guide especially if you want to experience Tappiya Falls, Bangaan Rice Terraces, Awa View Deck, etc. Guide fee starts at ₱700. You can also ask the caretaker of you home stay to get one for you.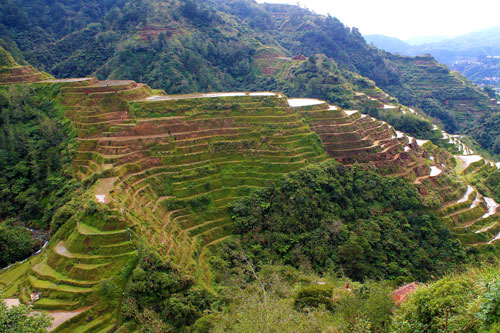 Some Notes and Tips
The last area with a cellular signal is Saddle Point. You will be disconnected once you reach Batad.
Bring enough cash; you can't find any money dispenser or ATM in the area.
Most home stays offer good meal options. They are a bit pricey though.
Bring comfortable layers (jackets, jogging pants, and socks) if you are not used to temperatures below 20°C.
Allocate time to explore the other rice terraces in Banaue. The main view deck of Banaue Rice Terraces offers an awesome view.
---
This article was first published on January 21, 2015 and has been revised to include updates.