As a home to pristine beachfronts, awesome rock formations, and scenic countryside, Pagudpud awes every travelers, first timers or not. The inviting Saud Beach and Blue Lagoon are more than enough to entice you to visit. Likewise, the Kapurpurawan rock formations, the Kabigan Falls, the wind farm in Bangui, and the secrets of past of the neighboring towns are equally intriguing – you will surely find your way to the northernmost municipality of Luzon island.
Pagudpud Travel Guide
Pagudpud, by the way, is a coastal resort town of Ilocos Norte. When you visit Pagudpud, make sure that you also make stop at the top spots in the province. You can pose in front of the facade of Paoay Church or with the antiques displayed at Malacañang of the North. You must not skip sand surfing at the Sand Dunes or view the other angles of the martial law years at Marcos Museum and Mausoleum.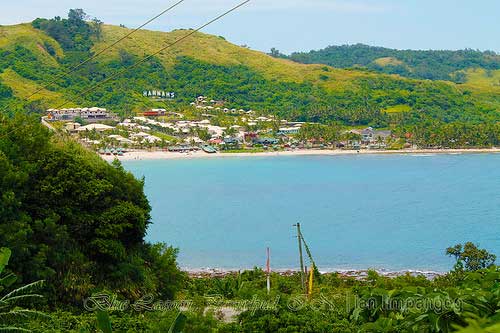 Now, when you are planning to experience Pagudpud, here's a travel guide for you. The contents of this article are divided into the following sections:
How to Get There
By Air
From Manila [MNL], you can take a 45-minute flight to Laoag [LAO], and then board a Pagudpud-bound bus from Laoag City. Travel time is around 1 hour and 30 minutes.
By Land
Travelling through the road may cost you up to 12 hours of travel time. Florida Bus Line Transit, Maria Deleon Transit, Partas Transit, and RCJ Transit offers Manila-Pagudpud direct route. For more information about their respective schedule, please contact their Manila terminals.
GV FLORIDA BUS LINE TRANSIT: Manila – Pagudpud
Location: West Kamias, Cubao | Sampaloc, Manila |
Contact Number: (+632) 912 5354
MARIA DELEON TRANSIT: Manila – Pagudpud
Location: Dapitan cor. Gelinos Sts., Sampaloc, Manila
Contact Number: (+632) 731 4473 | (+632) 781 5894
PARTAS TRANSIT: Manila – Laoag City
Location: Aurora Blvd. cor. Bernardo St., Cubao | Aurora Blvd., Pasay City | Sampaloc, Manila
Contact Number: (+632) 725 7303 | (+632) 725 1740 | (+632) 725 1256
The Pagudpud-bound bus of Partas Transit leaves their Cubao terminal at 07:00PM and 10:00PM. Likewise, the bus from their Sampaloc, Manila terminal departs at 10:30PM.
RCJ TRANSIT: Manila – Pagudpud
Location: 1558 Lacson St., España, Manila
Contact Number: (+632) 741 2994
Daily trips to Laoag leaves at 8:30PM. The fare starts at ₱550.
Just in case your itinerary requires you to make a stop at Laoag, then you can opt to take the Manila-Laoag route and then transfer to another bus later from Laoag to Pagudpud. Below is the list of bus companies that offer Laoag-bound trips from Manila.
GV FLORIDA BUS LINE TRANSIT: Manila – Pagudpud
Location: West Kamias, Cubao | Sampaloc, Manila |
Contact Number: (+632) 912 5354
GV Florida offers trips to Laoag from their Sampaloc terminal in Manila at 08:45PM for the deluxe bus and 10:00PM for the sleeper bus.
BALIWAG TRANSIT
Location: EDSA, Cubao, Quezon City | Caloocan City
Contact Number: (+632) 912 3343| (+632) 524 7111 | (+632) 525 1067
PARTAS TRANSIT: Manila – Laoag City
Location: Aurora Blvd. cor. Bernardo St.Cubao, Quezon City
Contact Number: (+632) 725 7303 | (+632) 725 1740 | (+632) 725 1256
PHILIPPINE RABBIT TRANSIT: Manila – Laoag City
Location: Balintawak, EDSA, Quezon City
Contact Number: (+632) 364 3477 | (+632) 456 7659
FARIÑAS TRANSIT: Manila – Laoag City
Location: Lacson cor. Dapitan St., Sampaloc, Manila
Contact Number: (+632) 743 8580 loc. 103 & 105
Fariñas offers first class bus with comfort room on their 06:00AM, 07:00AM, 06:30PM, 07:30PM, 08:00PM, 09:00PM, 09:30PM, 10:30PM, and 11:30PM trips. If you want your travel more pampering, you can take their super deluxe with lazy boy seats and comfort room. Fare starts at ₱550 per way.
Things to Do in Pagudpud
Pagudpud is one of the top destinations for beach goers from the north of the country. As it gains popularity, it captures the interests of the travel buffs from the rest of the country or even from abroad. Along side with the rise of Pagudpud to fame are the discovery of other fascinating places around thus delimiting the number of things to do in the municipality.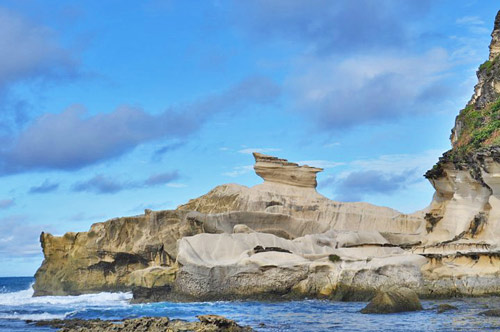 Plan your travels ahead and cross out the items in the list below on your Pagudpud visit.
Blue Lagoon (Maira-ira Beach) and Hannah's Zip line—The blue lagoon is more of a cove or bay than a lagoon. It is a host to a long strip of white shoreline named Maira-ira beach. Hovering it is the 1.2-kilometer Hannah's zip line, famed to be the world's longest in the "over water" category.
Patapat Viaduct—Patapat Viaduct bridges the highway that connects the provinces of the North. Patapat stands 31 meters and is 1.3 kilometers long. It is an architectural prowess built on a rocky beach.
Saud Beach—Saud beach is popular for its long strip of powdery, white-sand beach and calm and squeaky-clean water fronting it. Yes, Saud Beach is one of the most stunning shorelines in Luzon. Open up your beach umbrella, lay on your tanning bed (sunbed), take a glass of piña colada, and forget about everything else – then your Saud beach experience will be all about relaxation and happiness.
Kapurpurawan Rock Formation—The postcard-perfect Kapurpurawan Rock Formation is the most-photographed spot in Pagudpud. These rocks had been chiseled naturally by strong tidal forces. This monumental calcium carbonate figure glows white under a strong sunlight and turns ivory in a gloomy day. Whatever the weather is, Kapurpurawan will always be a perfect backdrop of your selfies and groupies.
Bangui Windmills—At first, this is just a noble government project. There's no greener than harvesting wind energy and eventually turning it to electricity. Truly noble, truly renewable. However, the proponents of this project never expected that this wind farm would turn into a major tourist attraction. I know, you also wanted a photo beside these gigantic electricity-generating fans.
Cape Bojeador Lighthouse—Built in 1887 by Martin Pers, the Cape Bojeador Lighthouse stands 20 meters. The octagonal main tower is made of stones and bricks and is topped with bronze dome or copula. It also has a viewing gallery that is surrounded with decorative iron grill railings.
Kabigan Falls—A 1.8 kilometer trek may disappoint some but if you are persistent to see the waterfalls, I assure you that it has more to offer than the photos. You will forget all the efforts once you take a dip to its cold and indulging waters beneath.
Bantay Abot Cave and Timmangtang Rocks—Bantay Abot Cave is not a cave but an opening created by two leaning rocks or hills. The hole was formed from an earthquake that happened decades ago. Just few meters from Bantay Abot is Timmangtang Rock which you may find intriguing and mysterious.
Dos Hermanos Islands—The twin islands of Dos Hermanos protrude from the shallow sea at the end of the Maira-ira beach. Having a photo with them as your backdrop is worth a page on your memory books.
Paoay and Batac—You may include in your things to do the must-visit places in the municipalities south of Laoag. In Paoay, you can go sand surfing; pay a visit to San Agustin Church, a word heritage site; or explore within the corners of Malacañang of the North. You can also get a glimpse of history at Marcos Museum and Mausoleum in the municipality of Batac.
How to Move Around Pagudpud
It would be very convenient if you have your own car to hop around Pagudpud and visit the top tourist spots. Vans are also available for rental. However, if you want a more remarkable experience, then you should try Pagudpud Tour Cycle.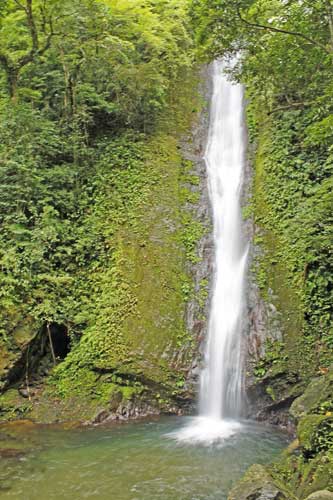 The Pagudpud Tour Cycle costs ₱600 per tour and this is good for 3 persons for one whole day of awesome experience. It is divided into two major tour routes and the stops are as follows:
Pagudpud Tour Cycle – Northbound Tour
Patapat Viaduct
Agua Grande
Patapat Viaduct
Timmangtang Rock
Bantay Abot Cave
Blue Lagoon
Dos Hermanos Islands
Pagudpud Tour Cycle – Southbound Tour
Bangui Windmills
Bangui View Deck
Cape Bojeador Lighthouse
If you want to go to Kapurpurawan Rock Formations, you can ask your southbound tour cycle guide/driver to bring you there but this w should be compensated with an extra cost. You may add ₱100 to ₱200 to the standard ₱600 tour fee.
Where to Stay in Pagudpud
[xyz-ihs snippet="AgodaSearchPagudpud"]
A resort near the strip of white beach would be a perfect place to stay in Pagudpud. If you have no plans to frolic around the town, then a staycation near the shore would be the best choice. Nothing beats the sojourn bliss of having your own beachfront sunbed under the shade of palm trees complimented with a glass of your favorite cocktail.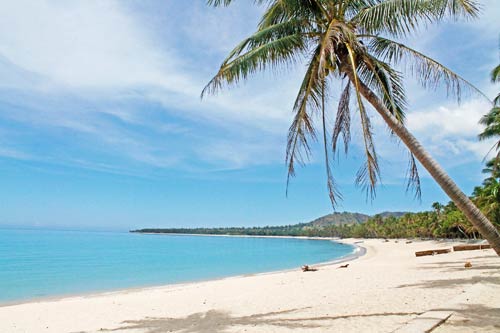 Here are the recommended resorts and hotels in Pagudpud:
Near Blue Lagoon
Casa Consuelo Resort – Island reef – Stay in a relaxing and elegant beachfront casas of Casa Consuelo. Their accommodations are built from native materials but of modern interiors and designs, a pretty sophisticated contrast. If you are looking for a quiet yet noteworthy stay, then Casa Consuelo Resort would be best for you.
Address: P. Paterno St., Sitio Baniaran, Balaoi, Pagudpud
Hannah's Beach Resort and Convention Center – Location-wise, Hannah is quite a perfect choice. Fronting it is the Blue Lagoon at the stunning Maira-ira Beach. It also offers a ride to world's longest zip line over water at 1.2 kilometers.
Dos Hermanos Island Emprise Beach House – At the farther end of Blue Lagoon it seats, offering you a noteworthy stay. Fronting the resort is the famed Dos Hermanos Islands and is pretty close to the stunning Maira-ira Beach. A room for 4 starts at ₱3,000. However, you can find competitive rates at Agoda when you book in advance during off-peak season.
Address: Sitio Baniaran, Balaoi, Pagudpud
Near Saud Beach
Palm Grove Saud Holiday Complex Hotel – Just few meters from Saud Beach, Palm Grove is a good choice for group or family travelers on a tight budget.
Address: Sitio Jupiter, Barangay Saud, Pagudpud
Terra Rikka Beach & Dive Resort – The resort is designed for both business and leisure. Terra Rikka stands pretty close to Saud beach so beach bumming is just footsteps away.
Address: Saud, Pagudpud
Near the Surfing Area
Kingfisher Sand Sea Surf Resort – Located in an area that is a constant target of the north wind, Kingfisher is a resort of choice for surfing enthusiasts. They have ocean view huts and casitas available to answer your discriminating accommodation needs. Room rate starts at ₱2,500. You can also get discounts at Agoda.
Address: Sitio Ayoyo, Brgy. Caparispisan, Pagudpud
Villa del Nico Beach Resort – Villa del Nico is bit far from the beach but they have one of the most competitive rates. They also have a nice swimming pool. A room for 4 starts at ₱2,000 per night.
Address: Sitio Aprot, Caparispisan, Pagudpud
If you plan to visit Laoag, Paoay, and Batac, you can also book your accommodation in Laoag. Competitive rates and advance bookings are available at Agoda.
Isabel Suites
Address: Brgy. 11, Gen Segundo Ave., Laoag City Proper
Pamulinawen Hotel
Address: National Highway, Brgy. 22, 2901 San Nicholas (near the airport)
Suggested Itinerary
Day 0
Night trip from Manila to Laoag or Pagudpud. If arriving via Laoag, board another bus to Pagudpud.
Day 1
Take Pagudpud Tour Cycle northbound tour.
Have an awesome beach bumming at Maira-ira beach in Blue Lagoon.
Try Hannah's zip line. Peak season rate may soar to ₱900.
Spend a night in Pagudpud.
Day 2
Take the southbound tour of Pagudpud Tour Cycle.
Board a bus to Laoag from Pagudpud bus terminal.
Have your dinner in Laoag. You may try the city's delicacy, such as bagnet or deep-fried pork with fish bagoong paired with a cup of steamed rice.
Day 3
Take a jeepney to Batac from Laoag.
Learn some history from the side or angle of the former first family at Marcos Museum and Mausoleum.
Take another jeepney from Batac to Paoay.
Visit Malacañang of the North.
Try sand surfing at Paoay Sand Dunes.
Visit to Paoay Church or San Agustin Church. The afternoon sun reflects an orange light to the church façade makes it more majestic.
Try Pinakbet Pizza at Herencia Café located behind Paoay Church.
Hop on a jeepney from Paoay back to Laoag City.
Take the night from Laoag to Manila.
If you still have a time to spend, then board a bus to Vigan from Laoag.
Day 4
Have a tour around Vigan and its neighboring towns. If you need a list of things to do in Vigan, you can check the article entitled: "Things to do in Vigan, Ilocos Sur". If you arrive early in Vigan, you immediately check Calle Crisologo. It is more awesome at night. Better yet, book a hotel near the historical street.
Return to Manila
Unang nilathala noong Mayo 2015.