It was azure at first. But as we approached the shallow water of Pandanon Island, the tint of the water slowly turned viridescent. We all witnessed how the water gradually shifted from all the shades in between blue and green.
The squeaky-clean sea makes the corals 10 feet below pretty evident. And as the corally feature morphed to sand, the 6-feet looked more like a knee deep.
Pandanon island, by the way, is one of the stops of Mactan Island hopping. Other interesting islands include: Nalusuan, Hilutungan, Caohagan, Olango, and Sulpa Islands.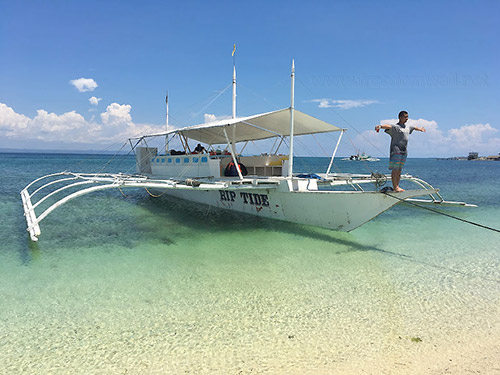 How to get there
From any point of the Philippines, you can take either a plane or ferry to Cebu City.
Regular flights to Cebu are available from Manila, Caticlan, Iloilo, Davao, Dumaguete, Puerto Princesa, Kalibo, Cagayan de Oro, Tacloban, General Santos, and even Zamboanga. You can also access Cebu City by ferry or Ro-Ro from Leyte, Bohol, Negros Occidental, Negros Oriental, or from major northern Mindanao sea ports.
International guests can also take a direct flight to Cebu from China (Xiamen), Hong Kong, Japan (Tokyo-Narita, Osaka Kansai, and Nagoya-Centrair), Malaysia (Kuala Lumpur), Singapore, South Korea (Busan and Seoul-Incheon), Taiwan (Taipei), and UAE (Dubai).
From Cebu City, take a taxi to Maribago Port where you can deal directly with the boatman for your island hopping adventure. To save on transport fare, you may take a GT Express van or MyBus from SM City Cebu to Lapu Lapu City. The fare ranges from ₱25 to ₱30. You can start your jeepney or taxi ride from Lapu-lapu City to Maribago Port.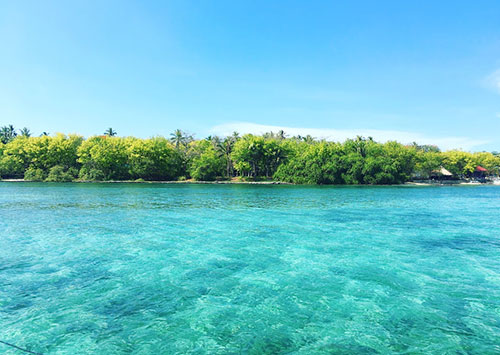 Island Hopping Package or Boat Deal
If you want to book in advance, visit or contact one of  the following merchants:
Klook
Klook offers an island hopping tour to Hilutungan, Nalusuan, and Pandanon Islands. For only 2,300 pesos per person, you can snorkel at Hilutungan marine reserves, enjoy the pristine and shallow waters of Nalusuan, and dose yourself with unlimited vitamin sea at Pandanon island. A barbecue lunch is also included in the tour.
To book your island hopping tour, go to the Hilutungan, Nalusuan and Pandanon Island Hopping page of Klook.com. Get more savings if avail the tour as a group.
You can also book the Cebu Hilutungan, Nalusuan, and Caohagan Island Hopping Day Tour.
Arlei Travel and Tours
Website: arleitravelandtours.com
Contact numbers: +63 917 777 0045 | +63 942 557 0141
E-mail: arleitravelandtours@gmail.com
For a hassle-free island hopping, Arlei offers an all-in tour package. Each package includes hotel pick up, environmental fees, lunch, life jacket, and snorkeling gears.
The rate per person depends on the number on individuals you have in the group. You can save if you travel as a big group. Visit their website or contact them if you have other inquiries.
Ms Merly Ompad
Contact numbers: +63 933 615 2484 | +63 906 314 8101
Boat for up to 30 pax – ₱3,000 – ₱4,000
Boat for up to 30 pax (Pandanon)- ₱6,000
*The rates above covers three islands only. You can select from Hilutungan, Caohagan, Sulpa, Nalusuan, and Olango Fish Sanctuary
*If you choose the boat to Pandanon, you can also make a stop to any three closer island mentioned above provided you still have enough travel time.
Island Hopping Cebu Tours
Contact Numbers: +63 919 776 1941 | +63 922 836 1941 | +63 (32) 491 4090
Boat with 15 pax capacity – ₱2,700
Boat with 20 pax capacity – ₱3,000 (medium) and 3,700 (large)
Boat with 30 pax capacity – ₱4,500
*The rates above covers three islands only. You can select from Hilutungan, Caohagan, Sulpa, Nalusuan, and Olango Fish Sanctuary
*The rates excludes individual island fees
If you are going to Pandanon Island, the rates will be different. Please contact them directly for the details. You can bring your own food for free or avail their buffet service.
Islands Banca Cruises
Website: www.islandsbanca.com
Contact Numbers: +63 917 630 0736 | +63 (32) 516 1903
Hilutungan and Pandanon Islands (10 pax max) – ₱6,500
Nalusuan and Pandanon Islands (10 pax max) – ₱6,500
Nalusuan and Hilutungan Islands (10 pax max) – ₱4,850
*Corkage fee if you bring your own food – ₱1,000
*Packed lunch (per pax) – ₱210
*Seafood lunch (per pax) – ₱450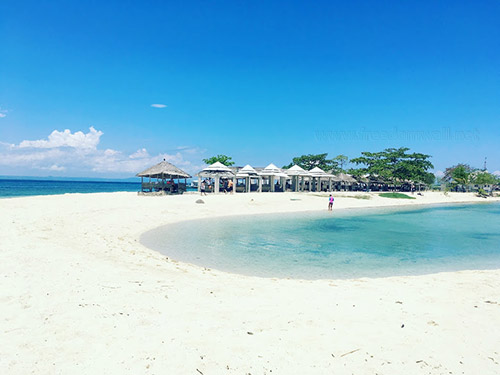 Island Stops and Fees
Depending on the boat deal or tour package that you availed, you may be able to visit the following islands.
The ecological fees are sometimes excluded from the boat rental. Clarify with your boatman about these details before heading to your island hopping tour. Island ecological fees range from ₱100 to ₱200 per individual.
Pandanon Island
Pandanon Island, which features a stunning white sand bar and clear aquamarine, surrounding water, is geographically located in Bohol Province. The main island where the sand bar is attached is a thriving fishing community. Fishermen offer affordable fresh seafood deals to visitors.
A small resort operates in the sand bar where cottages are available for rent. The entrance fee is ₱150 per person, while cottage rentals start at ₱250.
You can spend half of your day on beach bumming and snorkeling activities.
The area near the main island is trashy though.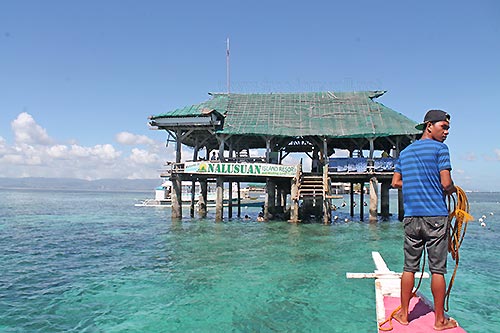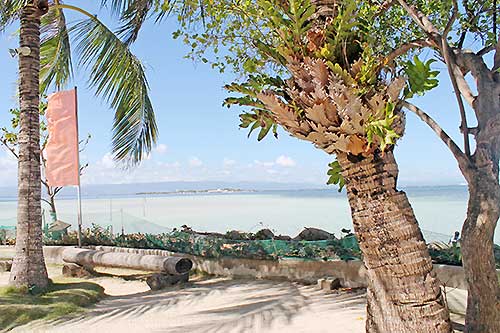 Nalusuan Island
Nalusuan is actually a fish sanctuary. The resort that operates in Nalusuan maintains and regulates the activities in the island. Nalusuan is a good choice for snorkeling as well as beach bumming activities. Not only that, the northwestern side of the island is a host to a gorgeous, shallow flat.
You can also rent a room if you want to spend a night in the island. A restaurant is also available to serve meals.
The island's landing fee is ₱200/pax.
Hilutungan Island
Like Nalusuan Island, Hilutungan Island is also a fish sanctuary where guests can enjoy swimming with the inhabitants of the deep. Entrance fee to the island is ₱100/pax. Scuba divers will have to shell out 200-peso more to explore the marine communities down below its fluvial domain.
Sulpa Island
Sulpa Island is a also a priced snorkeling site in Mactan. The island is mostly corally with a very small white strip on the east. You just need to pay ₱100 if you want to set foot in the island though.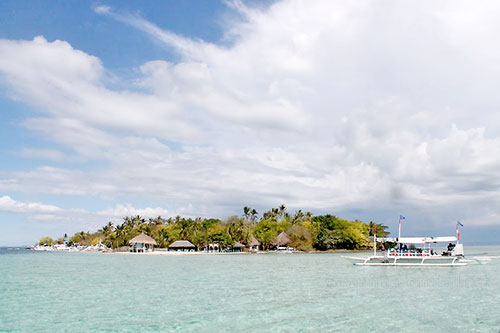 Caohagan Island
Caohagan features a shallow, beautiful, white flat on the one of its edge. The locality collects a landing fee. But, if your boat stays afloat while you swim around, you do not have to pay any amount.
Olango Marine Sanctuary
Olango Marin Sanctuary is also a popular snorkeling site in Mactan. Unfortunately, during our visit, there were very few live corals left. Fish were quite rare too, despite being a sanctuary. Visit fee is ₱50.
Find your accommodation in Mactan
Tips, Notes, and Reminders
Food and island fees are usually not included in your boat rental. You can communicate with your boatman beforehand if he can prepare or arrange the food for you.
You can also ask your boatman for the updated entrance fees to each island stop so you can bring enough cash.
Some locals in the island sell fresh seafood, but that is not always guaranteed. If you are lucky, your boatman can grill them for you, so better have the extra condiments ready.
If you book via Klook, make sure that you read and understand the terms and inclusions.
ATMs are only available at Lapu lapu City.
Closer islands have decent cellular signal.
Other interesting beach spots in Cebu Province are: Moalboal, Sumilon, Camotes, Aloguinsan, Bantayan, and Malapascua.
BE A RESPONSIBLE TRAVELER. Always remember to follow and internalize the "traveler's creed": Leave nothing but footprints, take nothing but pictures, and kill nothing but time.
Video Summary of our Trip