The Labor Day weekend altered the hushed atmosphere of Inopacan. Travelers and tourists flocked the boulevard to get a slot of the first batch of boat departures, which at that time, ran out really fast. It was still six in the morning, yet the dispatcher's booth was overwhelmed with the swarm of excited as well as incited individuals. We were fortunate to be the first ones on the queue.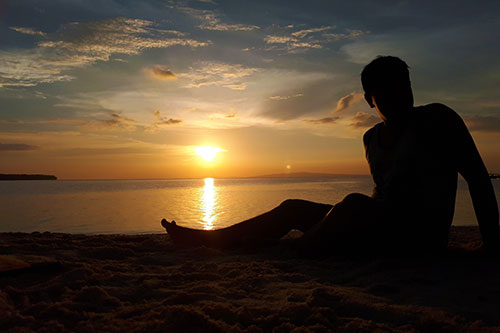 Cuatro Islas: The Four Scenic Islands of Leyte
Immediately after our market quest to shop for our two-day survival provisions, we found ourselves navigating to Mahaba Island, one of the four scenic islands of Cuatro Islas.
Mahaba Island
The surface was almost placid. Only the fine ripples disturbed the clear view of the sea floor. If it wasn't because of the outriggers approaching, the surrounding waters of Mahaba Island would appear as a vast, well-maintained aquarium.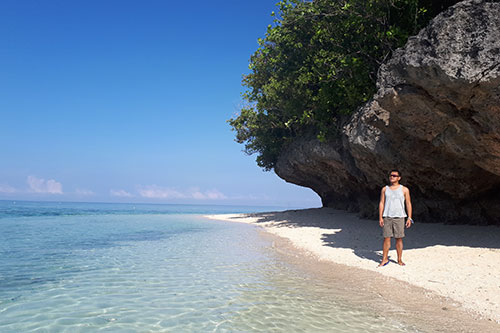 The white beach, the blue sky, the green foliage, and the aquamarine deep worked faultlessly to lure travelers into its dungeon, a gorgeous one. Sentineled with gentle underwater creatures, getting locked in the island seems a beautiful punishment—I would gladly commit a sin.
Apid Island
Apid Island was our next stop. A small fisherman village thrived there without hurting nature. The water around it looks translucent and unadulterated. The beach sand may not be as fine as your expectation, but is uniquely good-looking through any grateful eyes.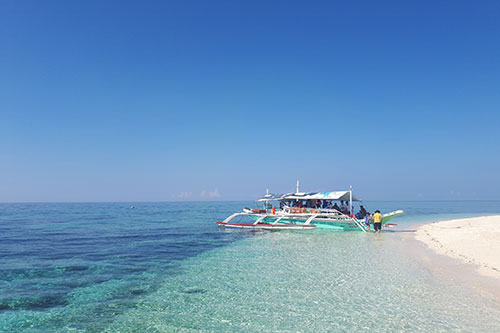 Digyo Island
Third stop was Digyo Island. A white sandbar protrudes to its southeastern tip, which is why; it is a common favorite among the sojourners.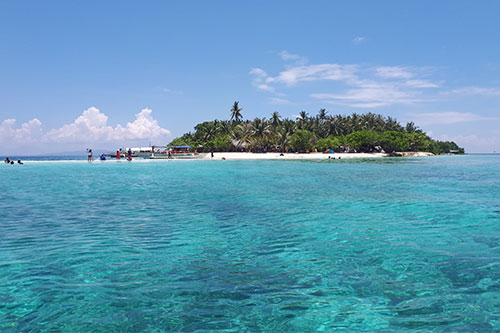 The good mix of white sand and rocky shorelines added supplementary excitement. It wasn't all about the white sand after all. The interesting beachrock, which was naturally cemented by the tide, adorns the other side of the island. And then, during good season, you'll have an exceptional vantage of the stunning sunsets and sunrises. The underwater community around Digyo display extraordinary surprises as well.
Himokilan Island
From afar, Himokilan Island looks promising. It was a big frowner when our boatman said that we could not make a stop there. We can actually navigate closer to the island for an additional fee of ₱500. However, we found it not worth the time and money.
Himokilan is no longer part of Inopacan. Thus, if we want to visit the island, we need to book for a separate boat at Hindang, an adjacent municipality. We also heard that Inopacan enforces the same policy for guests coming from Hindang—that if you book a boat via Hindang, you are not allowed to visit Mahaba, Apid, and Digyo Islands, which are under the jurisdiction of the Municipality of Inopacan.
I haven't verified the truthfulness of the boatman's story, but it appeared that it was the information communicated to them by the tourism proponents of Inopacan. They were more likely true, since they underwent seminars and accreditation before they can offer their services.
We were hoping that the Provincial government of Leyte will step in to settle the differences of these two municipalities and reach a memorandum of understanding. In the first place, we visited Cuatro Islas to experience, not just one, two, or three, but all the four islands.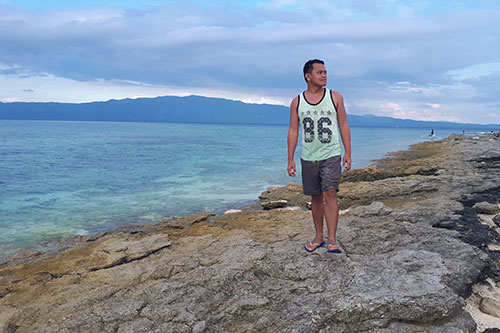 How to Get There
From Manila, take a flight to Tacloban, and then transfer to a van bound for Inopacan. You can also take a Baybay-bound van, and then take another van from Baybay to Inopacan. Travel time is up to 2.5 hours and may cost you ₱250.
From Cebu, hop on a ferry to either Hilongos or Baybay in Leyte, and then take a jeepney to Inopacan. Roble Shipping leaves Cebu's Pier 3 at 09PM and arrives in Hilongos or Baybay around three in the morning. The regular economy fare is ₱275.
You can also take a fast craft from Cebu City's Pier 1 to Ormoc or Maasin, and then transfer to a van bound for Inopacan. The earliest trip, however, is 05:30AM for Super Cat or 06:00AM for OceanJet. Travel time is 3 hours and the one-way fare starts at ₱600.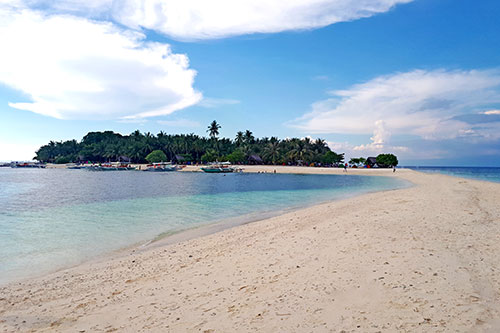 From Kalanggaman Island, return to Palompon town proper, and then board a van to Ormoc. When in Ormoc, transfer to another van bound for Inopacan. Total travel time is up to 3 hours and it will cost you ₱250 for the transportation.
If you are coming from Canigao Island, Karap-Agan Falls, or Hitoog Cave, return to Matalom town proper, and then hop on a jeepney or bus to Inopacan. Note that there are very few public transport that ply this route. As an alternative, take a trike to Bato from Matalom, and then transfer to a Baybay-bound van. Make sure that you alight at Inopacan. Travel time is usually one hour.
Cuatro Islas Fees
Boat Rentals
₱2,500 – up to 10 persons (includes island hopping)
₱3,000 – 11 to 20 persons (includes island hopping)
₱4,000 – 21 to 30 persons (includes island hopping)
₱500 – overnight surcharge
Cottage Rentals
₱500 – closed cottage (day use)
₱300 – open cottage (day use)
₱200 – tent
₱50 – overnight surcharge
Entry Fees
₱50 – maintenance fee (LGU)
₱10 – environmental fee (DENR)
₱10 – maintenance fee (Barangay)
Other Fees
₱30 – Container of fresh water for bathing or cleaning
₱50 – Space for tent
₱50 – Cooking charge (if you hate the hassle of cooking your own food)
Notes, Tips, and Reminders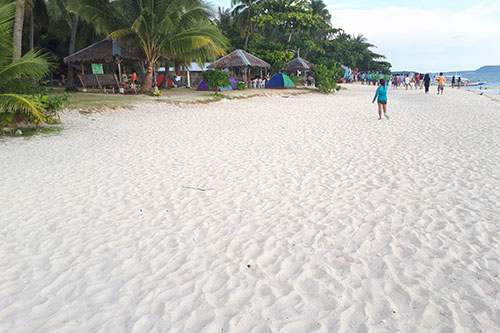 You can bring your own provisions that would suffice your entire stay. However, if you hate the peskiness associated with carrying too much stuff, you can buy your food and drinking water in the island at prices way higher than recommended.
Some fisher folks sell their fresh catch. They can also cook them for you for an additional fee of ₱50.
Cellular signal for basic services in the island is decent but connecting to the internet is completely sluggish.
If possible, travel on weekdays. Digyo Island, where most travelers spend the night, usually go really crowded on holidays and weekends. Big crowd means long queue on comfort rooms and shower areas and uncontrolled photo bombers.
If you still have time, you may include Canigao Island, Karap-agan Falls, and Hitoog Cave in your itinerary.
Though not an island policy, I suggest you bring your garbage with you back in the mainland for proper disposal.
BE A RESPONSIBLE TRAVELER OR TOURIST. Always remember to internalize and follow the "traveler's creed": Leave nothing but footprints, take nothing but pictures, and kill nothing but time.