As the sun alternately hid and peeked from the moving, scattered cumuli, the morning breeze blew gently to our dopey visage. Though there were intermittent drizzles, the weather, somehow, pepped up our tired, sinful souls. It was, indeed, an awesome day to explore new places.
The Turbulent Sea
However, as we approach the jetty of Tapilon, things became quite unsettling. The coast was disturbed with breakwater, and the surface of the sea was apparently rough. You could see small boats disappear and reappear within few seconds, displaying the morbid force of nature and reminding us our frailties. We were just tiny speck of dust in this huge, cruel, yet fascinating universe. Worries aside, that scenario did not cause us a bit of hesitation. No one raised a white flag.
We weren't able to catch the last passenger boat departure to Carnaza Island, so our option was to rent a smaller boat. With the turbulent sea up ahead, our excitement slowly shifted to reluctance, and the gut gradually turned to cowardice. That, in some way, weakened our resolve to get to Carnaza.
Yet, we did not think of abandoning the plan. We reset our priorities and reconsidered all our options, and then we heard a real good news. One passenger boat, which was relatively larger, was on its way to Tapilon. With lots of passengers waited at our end, we thought that it more likely ferries back to island. That was a breather. It brought us back to our excited selves.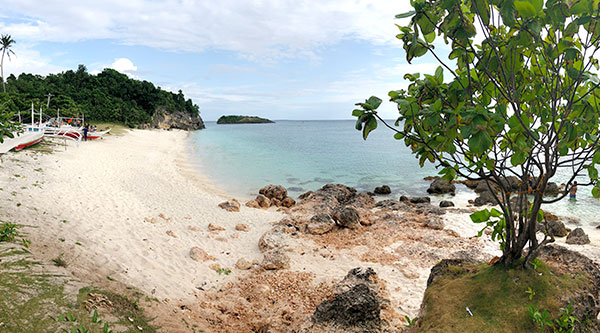 We had our brunch at a nearby cafeteria before battling for the perfect spot on the boat. Though the sun sometimes hid from the clouds, it was relatively sunny, so we had to secure seats that are under a good shade and receive less water splashes.
It was high noon when we started navigating. The rough seas prompted us to move at poky speed. We reach Carnaza Island after three hours, which is an hour longer than the normal travel time.
Setting up our Humble Abode at Kailina Beach
We planned to pitch our tents at Carnaza Eco Park. When we heard that the place was full, we started looking for alternatives. Sir Gigi, a local politician who happened to travel with us during the Tapilon-Carnaza crossing, recommended to set up our camp at Kailina Beach.
With the friendly locals' assistance, we were able to reach the place by foot. We were stunned when we saw the powdery, white strip and the calm, turquoise deep fronting our campsite. We set up our tents with all openings facing the coast.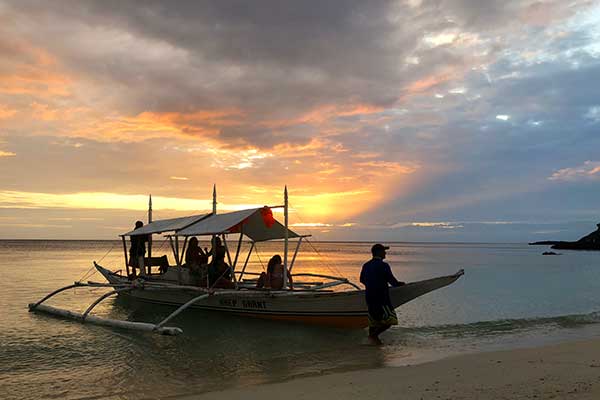 Later, we realized that it was a good spot to watch the sunset.
Since we arrived late in the afternoon, we decided to spend the rest of the day at Kailina, exploring its corners, rock formations, and underwater wonders.
The following day we rented motorcycle taxis or habal-habal for an island tour. That brought us to the enchanting realms of Carnaza.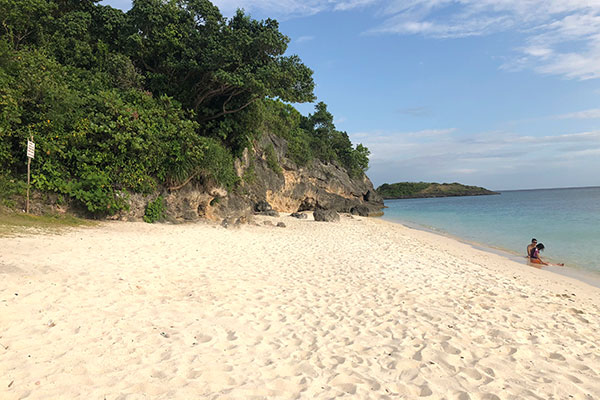 Liog-liog Cove
We checked Liog-liog Cove first. The twin beach that connects to the huge rock forms a neck. That probably explains the etymology of the cove's name. Liog-liog translates to Neck-neck. In the Philippines, doubling the name means either a smaller version of the original or it resembles like the original.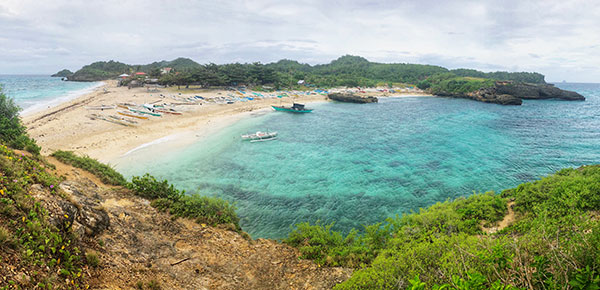 The fascinating features of Liog-liog Cove is not the twin beach, but the hidden wonders on the edges of the huge rock attached to the twin beach. If you have the courage to explore further, you will find Donna Cave and Angel Pool.
Donna Cave
Donna Cave got its name from Donna Mae, a local lass who brought us there. When we search about Carnaza, there's no mention about the cave hidden in Liog-liog. We asked the residents about it, some were aware but some were not. The cave has no name, so we christened it after Donna Mae as a gratitude for bringing us there. Getting to Donna Cave is a bit of a challenge though.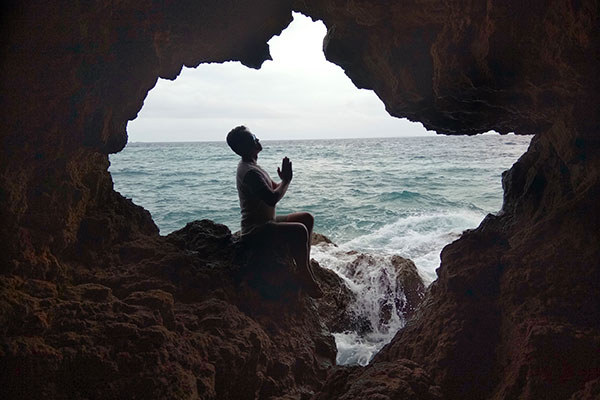 Angel Pool
Few steps from Donna Cave is Angel Pool. It looks like a mini lagoon that is surrounded with sharp barnacles. The water is deep even at low tide, so make sure that you are confident swimmer before you take a dip. You can also swim towards the open water.
Like Donna Cave, the pool got its name from the local who brought us there.
So, when you are going to Liog-liog, look for the Donna and Angel, so they can guide you down to two of Carnaza's Stunning spots.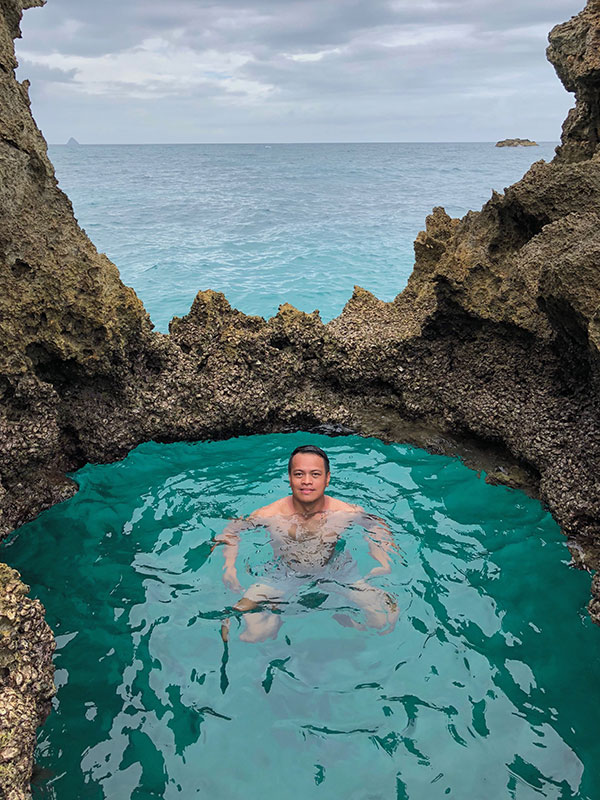 Skull Cove
From Liog-liog, we headed to Skull Cove. A beautiful white strip for beach bumming, a stunning aquamarine deep for snorkeling and swimming, extraordinary rock formations for cliff diving, and mysterious caverns for photo shoots blended flawlessly to give every visitor a noteworthy experience.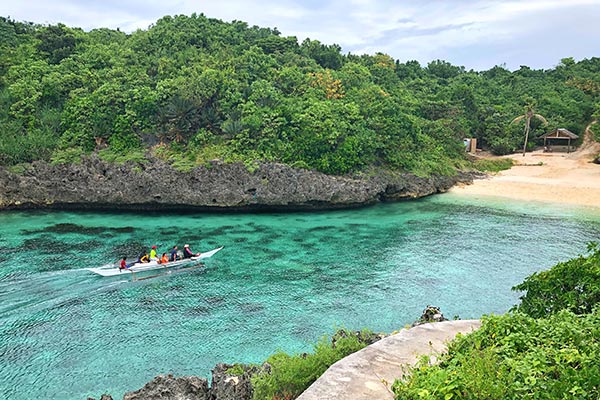 La Manok Island
We then rented a boat for island hopping. For ₱1,700, we were able to reach La Manok and Dakit dakit islands.
La Manok island floats near the southern tip of Masbate. It is actually two small islands that are connected with a white sandbar. The pebbly white strip only appears when the tide is low.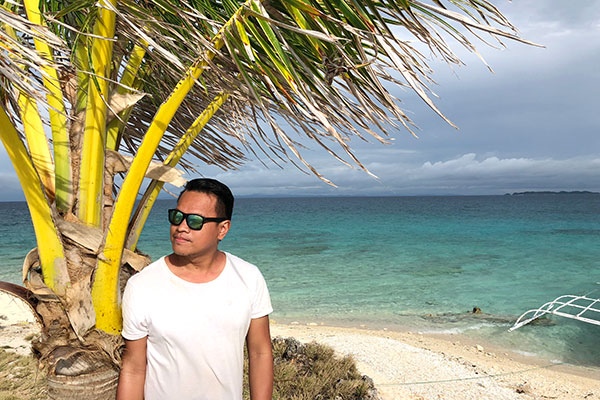 Sadly, some portion of the island has been mined. You can see some rocks were broken by unknown scavengers. Some guests also left their garbage in the island.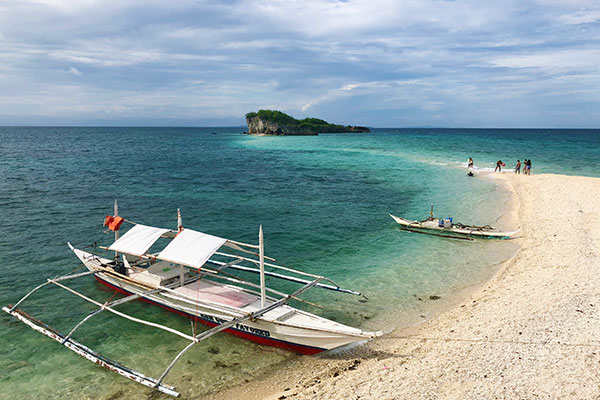 Dakit dakit (Maria) Island
From La Manok that floats northwest of Carnaza, we traveled to Dakit dakit Island that is located on Carnaza's southeast. The island that is made entirely of rocks—the weathered and sharp ones—is surprisingly picturesque. We were lucky to visit in time of the sunset, which made the island a lot more magical.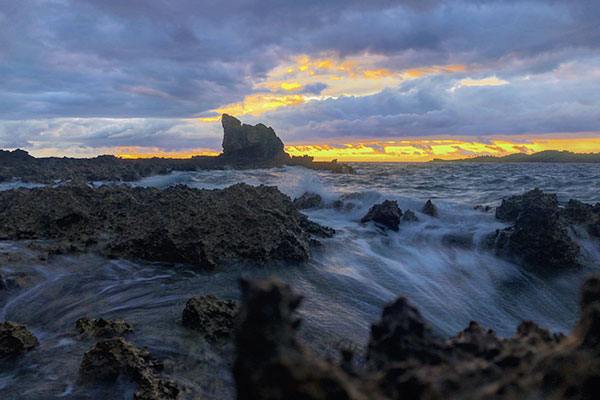 We spotted few venomous sea snakes in the area, so make sure that you always watch your steps. These creatures are gentle, but when aggravated, say you accidentally step on them, they might attack. When that happens, you only have either 8 seconds or 8 minutes left on earth.
Dakit dakit, by the way, is also called Maria Island.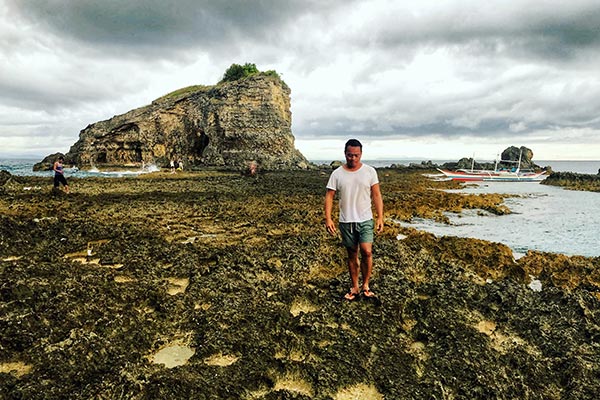 Carnaza Eco Park
We did not visit Carnaza Eco Park, but it deserves a mention. The island's lone resort seats on a fine white strip on the eastern side. It features an array of triangular accommodations and a white beach. You can also pitch your own tent within the resort premises but you have to pay ₱200 entrance fee.
How To Get There
From any point of the world, take a flight to Cebu [CEB]. Flights to Cebu City are available from Osaka, Tokyo, Busan, Seoul, Singapore, Xiamen, Taipei, Dubai, Hong Kong, and Kuala Lumpur.
You may also opt to fly to Manila, wherein there are more international flights, and then transfer to a flight to Cebu.
If you are already within the Philippines, commercial flights to Cebu are also available from Bacolod, Busuanga, Butuan, Cagayan de Oro, Calbayog, Camiguin, Caticlan (Boracay), Clark, Davao, Dumaguete, General Santos, Iloilo, Kalibo, Legazpi, Pagadian, Puerto Princesa, Tacloban, Siargao, and Zamboanga via Cebu Pacific Air.
Ferries are also available from almost any point within the Visayas, northern Mindanao, southern Luzon, and even Manila.
From Cebu's North Bus Terminal, hop on a bus (or passenger van) to Maya Port, Daanbantayan, and then pay a fare to Tapilon. Bus fare ranges from ₱190 to ₱220 per way.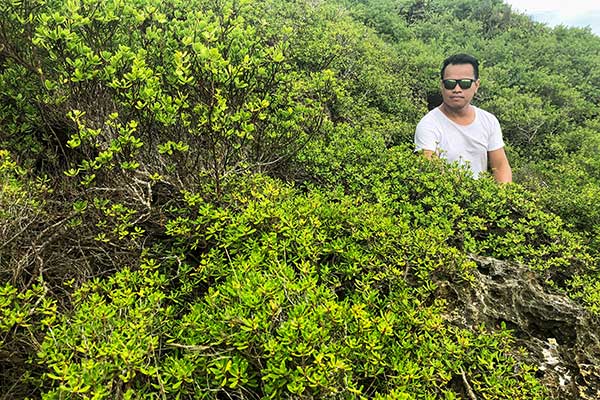 From Tapilon port, hop on a passenger outrigger boat to Carnaza. Trips are available every hour from 07AM to 10AM. But with the recent tourism boom in the island, some boats leave as early as 05AM as long as there are enough passengers. The boat we took left Tapilon at 12:30PM.
You can also charter a private outrigger, which can carry up to 10 individuals for ₱2,500. Larger boats are way more expensive.
Follow the guide in reverse when you return from Carnaza Island to Cebu City, and then to your onward destination.
If you are coming from Bantayan Island, return to Hagnaya Port, and then hop on a bus to Bogo. From Bogo bus terminal, transfer to another bus bound for Maya Port. Make sure that you alight at Tapilon.
From Malapascua, return to Maya Port, and then take any public transport to Tapilon.
From Kinatarcan Island, travel back to Daanbantayan, and then take a trike to Tapilon port.
Tips, Notes, and Reminders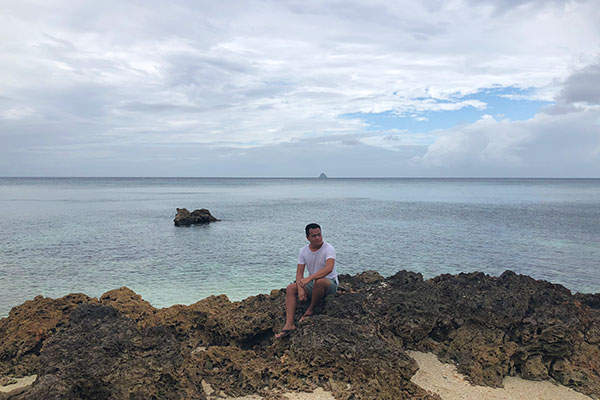 Homestays are available for ₱300 per head. You can ask around when you reach the island. You can also contact Councilor Gigi at +63 918 547 5143 to check if the homestay of his cousin is available.
Eateries and barbecue shops are available near Kailina Beach and the barrio proper.
If you camp at Kailina Beach, you can use the restroom at Psalms Restaurant for free and take a shower for only ₱25. You can also rent tents, pillows, and blankets from them. Charging your gadgets is free if you dine in.
There is a deep well near Kailina Beach where you can wash.
You can move around using habal-habal. The fare is ₱20 per person. You can also commission the whole motorbike for ₱300 for a 3-hour tour. That is good for 2 individuals. However, if you have plenty of time, try walking around, the island is pretty small for a day walk.
You can also rent a boat to La Manok, Dakit dakit, and the rest of Carnaza's beaches for ₱1,500 to ₱3,000, depending on how big you are in the group.
You can watch an amazing sunset from Skull Cove and Kailina beach, while you can wait for the stunning sunrise burst at Carnaza Eco Park and Liog-liog Cove.
Ate Ann, Councilor Gigi's Sister, accepts paluto requests. You can buy fresh seafood, and then have it cooked on your preferred easy recipe.
Cellphone signal is intermittent, and connecting to the internet is a challenge.
BE A RESPONSIBLE TRAVELER OR TOURIST. Always remember to follow and internalize the "traveler's creed": Leave nothing but footprints, take nothing but pictures, and kill nothing but time.
A Suggestion to the Local Government of Daanbantayan and to the Owner of the Majority of the Land in Carnaza
Carnaza Island is, no doubt, a beautiful place. It is a promising destination for sojourners and backpackers. Within the next few years, people will start flocking to island to personally experience its wonders.
Tourism is good for Carnaza. The locals started to engage by providing tour, comfort, and dining services. It is a potential income stream that could benefit the fishing village.
However, when I was there, I saw challenges that need to be addressed immediately. There was no solid waste management program in place. Plastic wastes, such as tetra packs, bags, and PET bottles are almost everywhere. You can see them on wetlands, rock formations, trails, and even under the shallow water that surrounds the island.
I am particularly concern on the trail to Kailina Beach. Part of it was made a mini dump site, and a lot of garbage are scattered in the area.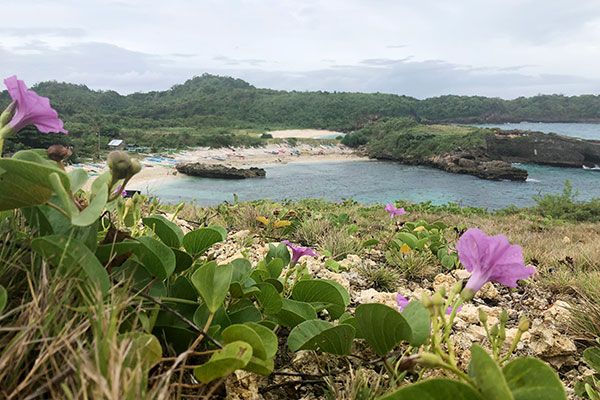 Over the years, if this problem is not addressed, the island will become a huge dump site. It will not only house wastes from the residents, but also from the influx of visitors.
So, Dear Madams and Sirs, please pass an ordinance that will manage the island's solid waste, and be serious on implementing the program. We, tourists and travelers, won't mind paying a reasonable ecological fee to fund the program. You can devote a disposal area for residual wastes, and then transfer plastics and recyclables to the mainland for further processing. Also, don't forget to put up large trash bins near tour hotspots, such as Liog-liog, Kailina Beach, and Skull Cove.
To the owner of the majority of the properties in the island, please support those programs.
We would love to see the island grow as a sustainable tourism destination.