The north-westernmost island of Cebu province is not only known for its desiccated produce. Bantayan, aside from being a dried seafood supplier to the province, is also a desirable location for sojourners.
Bantayan Island, by the way, is a home to three serene and vibrant municipalities namely: Bantayan, Santa Fe, and Madridejos. Most of the islands beautiful beachfronts are situated in Santa Fe.
With multiple white beach fronts dotting its edges, interesting rock formations adorning its cliffs, and mysterious cave pools spread at various locations, travelers won't run out of things to do.
The gentle and serene locality makes the stay a lot warmer too. You will surely feel at home on your entire stay.
Every guest is greeted with a clean seaport. The water around it is seemingly unadulterated. The adjacent beachfront is white and inviting.
Things to Do in Bantayan
Aside from beach hopping, you can also try chasing a jellyfish like what I did when I was on the edge of Ogtong Cave Resort. To give you an idea on the awesome things to do in the island, check the list below.
1. Bike or Motorbike Tour
Tour around the island or visit the serene neighborhood by renting a bicycle or motorbike. The bikes can also bring you to the island's prized beaches and sceneries.
Bicycle rentals will cost you ₱200/8 hours. You can rent a motorbike starting at ₱300/day.
2. Ogtong Cave
The cave is found within the premise of Ogtong Cave Resort. To enjoy the natural pool within the cave, you must pay an entrance fee of ₱200. With such amount, you will not only experience Ogtong Cave, but also the resort's pool and stunning beachfront.
3. Bantayan Island Nature Park and Resort
The resort is an 8-hectare protected nature park. Various species of flora and fauna inhabit the area.
The nature park is also a home another natural cave pool that is situated within Santo Niño Cave. Only 20 individuals are allowed to enter the cave at any given time.
Entrance to the park is ₱200 and the use of jacuzzi is ₱500.
4. Beach Hopping
You may frolic around Kota Beach, star-gaze with friends at Sugar Beach, explore Obo-ob Beach, wade across the shallows waters of Ogtong Beach, or play around the white strip fronting Santa Fe Beach Club.
5. OMAGIECA Obo-ob Mangrove Garden
Walk across the stilt footbridges of OMAGIECA Obo-ob Mangrove Garden, and then have a snap at the famed Camp Sawi sign board. The canopy of the lush mangrove forest provides a relaxing shade for visitors. Makeshift huts and observation decks are also available to make your visit more noteworthy.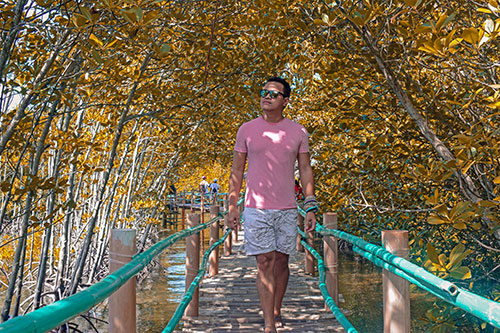 6. Cliff Jumping at Da Cliff
Satiate your thirst for adventure by jumping off the cliffs of Bantayan.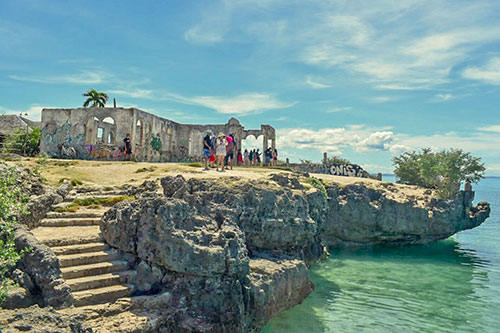 7. Dried Goods Shopping
The island is a known producer of dried seafood products. If you have friends or family members who develop a good liking to this type of goods, then you may buy them some take home presents.
Visit the public at the Municipality of Bantayan for your pasalubong shopping.
Where to Stay in Bantayan
One thing that makes your travel more noteworthy is choosing the right accommodation that fit your lifestyle and budget. Bantayan is a host to posh and classy resorts that cater the most discriminating guests. Utmost comfort and exquisite hospitality is the primary business of these hotels.
If you are on shoestring budget, affordable inns are also available to offer you a comfortable stay.
[xyz-ihs snippet="AgodaSearchBantayan"]
Hoyohoy Villas offers elegant wood villas with balcony, A/C, comfy bed, complimentary WiFi, and other 3-star amenities. Hoyohoy is just one of the few resorts in Bantayan with nice pool. Rooms rates start at ₱4,000.
Address: Roska St.. Talisay, Sta. Fe, Bantayan Island
Contact Numbers: (032) 438 9021 | +63 916 681 8357
Amihan Beach Cabanas Resort boast their classy, private bamboo cabanas standing on the white beach. Each cabana is equipped with A/C and fan, television, complimentary internet, refrigerator, bed with mosquito net, ensuite toilet and bath, and a terrace. The resort faces the popular Kota Beach which makes beach bumming easily accessible.
Address: A. Batobalonos Street, Santa Fe, Bantayan Island
Contact Number: +63 917 682 6613
Sta. Fe Beach Club – You can either choose a cottage for three or a duplex room for two individuals.
Address: Santa Fe, Bantayan Island (near the port area)
Contact Numbers: +63 932 541 2954 | (032) 438 9090
Anika Island Resort is an Agoda travelers choice awardee in 2015.
Address: F. Roska St., Sta Fe
Contact Numbers: +63 917 328 4898 | (032) 318 8402
Ogtong Cave Resort gives you an easy access to its nice beach, swimming pool, and the famed Ogtong Cave natural pool. Being a checked in guest to the resort waives the ₱200 entrance fee.
Address: Pooc, Santa Fe
Contact Numbers: +63 932 433 6282 | (032)438 9129
Kota Beach Resort features elegant beachfront suites and cottages for ₱3,800 and ₱3,400 per night respectively. However, they also offer non-A/C rooms for only ₱900.
Address: F. Duarte Street, Santa Fe
Contact Numbers: +63 948 799 3787 | (032) 438 9042
Yooneek Beach Resort offers both fan and A/C rooms. Rates starts at ₱1,290 (off-peak).
Address: Poblacion, Santa Fe
Contact Numbers: +63 943 676 3303 | +63 925 555 5256
SF Cantina Hotel is budget accommodation fronting Bantayan's Sugar Beach.
Address: Pooc, Santa Fe
Ritzy's White Beach Resort and Restaurant – Fan rooms for two starts at ₱800. Family rooms for 4 starts at ₱3,500.
Address: Talisay, Santa Fe
Contact Numbers: +63 949 005 0585 |+63 977 240 6258

How to Get to Bantayan
Take a flight to Cebu City [CEB]. Direct flights are available from Caticlan (Boracay), Cagayan de Oro, Clark, Davao, Dumaguete, Iloilo, Manila, Legazpi, and Puerto Princesa. International flights are directly accessible from Busan (South Korea), Dubai, Hong Kong, Kuala Lumpur, Los Angeles, Macau, Nagoya (Japan), Seoul, Shanghai, Shenzhen (China), Singapore, Osaka, Taipei, Tokyo, and Xiamen (China).
From Cebu City's North Bus Terminal, board a bus to Hagnaya. The fare is approximately ₱190 (as of May 2019). The bus will take you near Hagnaya port where you can take a ferry or Roro to Sante Fe in Bantayan Island. The earliest ferry leaves Hagnaya at 07AM while the last trip is 05PM. Ticket price is ₱190 as of May 2019.
From Malapascua, return to Maya Port, and then hop on a bus to Bogo City. From Bogo bus terminal, transfer to another bus bound for Hagnaya.
If you are coming from Kinatarcan Island, take the passenger boat the leaves Bitoon Beach at 7:00AM. The fare is 70 pesos per person.
If you are coming from Carnaza Island, return to Tapilon Port, and then hop on a bus to Bogo City. You may need to take a tricycle to Daanbantayan Bus Terminal. From Bogo, transfer to a Hagnaya-bound bus.
Notes, Tips, and Reminders
Upon your arrival, you have to register and settle the 30-peso environmental fee at the tourism office. Hotels and tour operators may require you to present the receipt.
Cellular coverage is decent within the Poblacion area of Santa Fe, Bantayan, and Madridejos.
ATMs are available within Santa Fe town proper and Poblacion Bantayan
Big resorts accept credit card payment.
Transportation is serviced by tricycles. Intertown caretellas are also available for long-haul transfer.
Stay in a resort within Santa Fe. Most of the beaches are located within Santa Fe.
There is bus that brings you directly from Cebu City to the Municipality of Bantayan. Please contact Vallacar Transit (Ceres) for the schedule. If you take this, you have to pay the fare for the ferry separately.
BE A RESPONSIBLE TRAVELER. Always remember to internalize and follow the "traveler's creed": Leave nothing but footprints, take nothing but pictures, and kill nothing but time.
Video Summary
Unang nilathala nuong Hulyo 2016