I could hardly draw the horizon. From my vantage point (at Culasi boardwalk), Mararison Island (also called Malalison) is covered with the draping downpour. According to the locals, it usually appears as floating green mound during sunny days, but that moment, it looked like a mere apparition.
Still hoping for a good weather, I headed to the municipal tourism office to book a tour. A two-way boat transfer is pretty expensive for a solo traveler like me, so I patiently waited for other guests to arrive. Like most of my travels, I usually share costly boat transfer fees with people of the same destination.
Eventually, the rain from the coast made a land fall, and then it started pounding the roof of the non-ceilinged tourism building. It even flooded the streets. I was so glad when it stopped an hour after, and tourists started to come in. However, the clouds did not go away and retained the unconvincing gloom.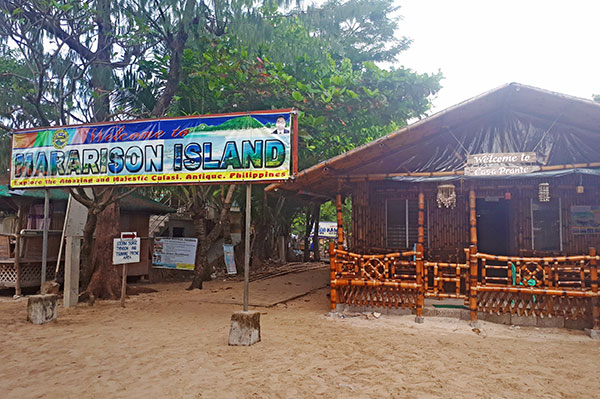 After the 20-minute boat ride from Culasi town proper, we safely landed on Mararison Island.
I immediately looked for a place to stay. I luckily found a closed cottage near the sandbar. The rate was originally ₱500 per night, but I was able to haggle it down to ₱300. I was alone and I was fine without a generator. I only need a place to secure my stuff while I am away and a place to sleep.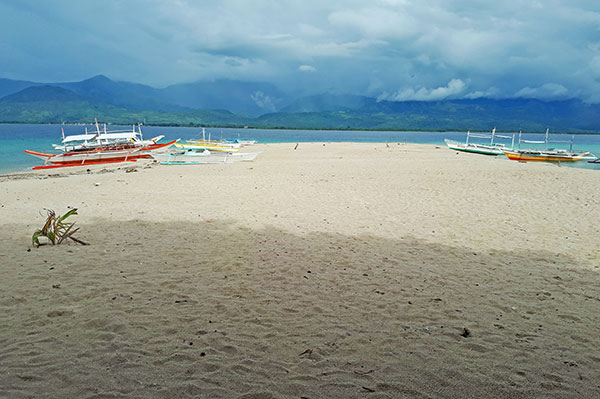 Trekking to Mararison Island's Rolling Hills
Since I arrived right before the sunset, I booked a slot for a trekking tour. I knew I can do it alone, but for community-based tourism like the one practiced in Mararison, I will be very happy to pay the price. The guide is so affordable at ₱200 though. Perhaps, it is not a bad idea to have someone with local expertise to talk with along the way.
Jaysie Rose was the guide assigned to me. She is currently on her third year college, taking up a Tourism course as of this writing. Her unusual enthusiasm, interesting stories, and weird jokes made the trek a lot noteworthy.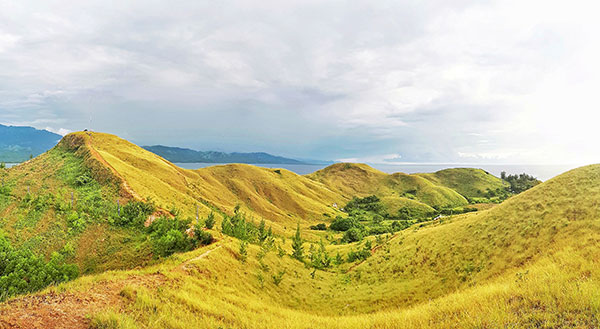 She showed me an amalgamation of nepenthes or pitcher plants. Since that was my first time to see a carnivorous plant in real life, I spent a lot of time taking photos with them.
We then trekked across the rolling hills of the island. The afternoon sun cast a brownish shade of the cogon grass that carpeted the karst massifs.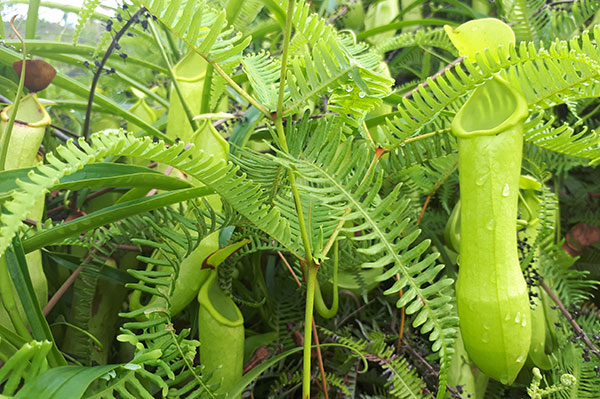 Jaysie also asked me to try the local berry, called tungawngaw. The odd sweetness and astringent taste wasn't really bad. However, it left a purple stain on my teeth and gums.
On the edge are high cliffs. I heard that a guide almost fell when he tried to save a frolicking kid. Luckily, he was able to grasp a shrub that saved him from the imminent mishap. So parents, always look after your kids.
The guide stopped offering tour guide services and settled on steering outrigger boats.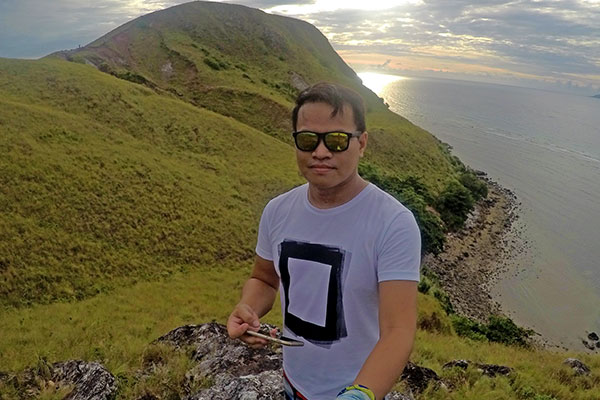 The Legend of Mararison Island
According to Jaysie, Mararison, along with Batbatan and Maniquin, is an offspring of Madjaas of Panay and Canlaon of Negros. Mararison always makes squables with her siblings, thus called Malalison or Mararison, which translates to someone who always engage in word fight. Being a prodigal daughter, she was positioned closer to Panay mainland, so Madjaas can always look after her.
We also visited Enrique de Mararison, a chick resort at the western end of the island.
We trekked to the island's highest peak, and then waited for the sunset. Good thing that the cloud slowly dissipated to let the sun peek.
It was already dark when we return to beach area.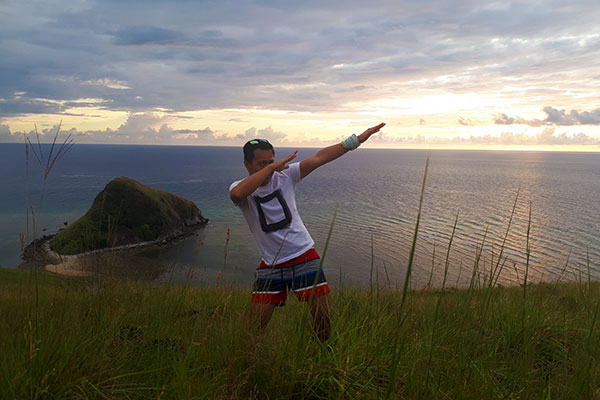 How to Get There
From Manila, take a flight to either Caticlan or Kalibo, hop on a bus or van to San Jose, and then alight at Culasi bus stop.
From Malumpati Health Spring, return to Pandan town proper, and then board a bus or van to San Jose. Make sure that you alight at Culasi bus stop.
If you are coming from Tibiao, return to the highway, and then take a bus or van to either Kalibo or Caticlan. Alight at Culasi bus stop.
From Culasi bus stop, walk towards the boulevard to get to the tourism office. From there, you can book your boat ride and pay the required fees.
Island Fees
₱10 – Terminal fee
₱20 – Environmental fee
₱750 – Pumpboat rental (good for 5 persons)
₱200 – Trekking guide fee
₱50 – Snorkeling gear rental per 3 hours
₱300 to ₱500 – Open cottage rental for 8 hours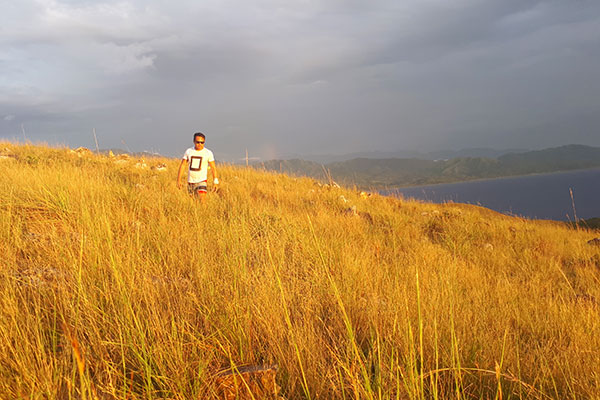 Where to Stay
If you want to spend a night or two in Mararison, you can rent a closed cottage or stay in humble home stays.
While there are many options available, I recommend Tess Homestay (contact number: +63 908 763 6316). The owner, Ate Tess, is very accommodating. While other home stays charge ₱50 per dish as cooking fee, Ate Tess is okay with whatever you can afford.
Ate Tess' daughter Jaysie is a trekking tour guide, while her younger son is a boatman. You can also contact them for a full package.
A standard rate is ₱250 per person a night.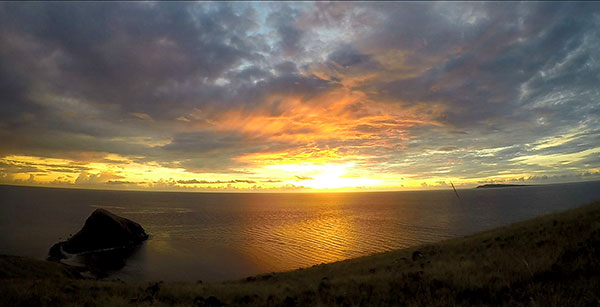 Tips, Notes, and Reminders
Don't skip the trekking tour, it is one of the major highlight of your Mararison Tour. If you want to witness the stunning sunset at the top, make sure that you trek two hours before the sunset.
Don't try to trek alone. Get a tour guide.
Kids below seven years old are not allowed to join the trekking tour.
During low tide, you can cross to Nablag, an adjacent island. Though you can walk around its beach, hiking is discouraged.
As of this writing, there is only one eatery open to serve meals.
Sari-sari stores are available.
You can buy fresh seafood catch. Homestay owners can cook it for you. While some charges 50 per recipe, others like Tess Homestay, charges a small amount, depending on the volume.
Electricity is provided by a centralized generator. As of this writing, it is under repair. Some homestays have their own service generator set.
Cellphone signal is decent.
ATMs are available at Culasi Town proper.
BE A RESPONSIBLE TRAVELER. Always remember to internalize and follow the "traveler's creed": Leave nothing but footprints, take nothing but pictures, and kill nothing but time.
Video Summary
If you have questions or additional information that should be included in this travel guide, please comment them below.