If that deep-blue river in Hinatuan defines "enchanted", then Asik-asik Falls is probably the waterfalls version of it, wherein the cascades drip from a seemingly unknown source. The lush vegetation that covers the entirety of the perpendicular ravine adds mystery as to where the water is coming. You will have an impression of multiple springs sprouting from the rock walls, unless you come really close to it.
Asik-asik Falls does not have the force that defines a majestic waterfalls but it has a mystery that clearly emanates the meaning of enchanted, and, of course, a beauty that defies all others.
Getting there is bit of a challenge though. The eerie atmosphere of Cotabato province, the long habal-habal ride, and the unpaved roads may undermine your plan if you are not 100 percent determined.
How to Get There
If you are coming from Manila, you can take either Cebu Pacific Air or Philippine Airlines to Cotabato City (CBO). Both airlines have daily trips.
From the Awang Airport in Cotabato City, you can take a trike to the city's van terminal and board a GT Express Van to Midsayap. Trike drivers do not observe standard tariff so the fare would definitely depend on your haggling skills, but ₱20 will do, with the trike filled with passengers. Van Fare to Midsayap is ₱60 and travel time may last up to an hour.
If you are a big group and would like to make a side trip visit to the Grand Mosque and other important spots in Cotabato City, you can opt to take a safer PU (local SUV taxi) but this will cost you ₱300 for a group. Direct trips from the airport to Midsayap costs around ₱1000, including the city tour. If you're lucky, your driver will drive you within the MILF territory, passing through multiple MILF checkpoints. If that happens, make sure you have your cameras lowered.
From Midsayap, you can hire a habal-habal to Asik-Ask Falls in Upper Dado, Municipality of Alamada. Habal-habal drivers in Midsayap normally ask ₱1000, round-trip for two passengers. You can haggle its down to ₱800. Travel time is 1.5 hours.
Or, for a cheaper option, you get off at Libungan, instead of Midsayap, and hire a habal-habal to Asik-Asik Falls for only ₱700 for a round-trip of two. Since most accommodations are in Midsayap and you need at least 6 hours to travel to, explore, and enjoy Asik-Asik, you will probably get off at Midsayap and travel the next day to Asik-Asik. You can still avail the cheaper option since Libungan is just 20-peso trike ride away from Midsayap.
There are also vans (GT Express) and buses coming from General Santos, Kidapawan, and Davao to Cotabato City and these will pass both Midsayap and Libungan.
Where To Stay
I suggest you find a place in Midsayap instead of Cotabato City to save time. Here are some available accommodations you can choose from:
White Hut Inn and Resort | 1500 for an A/C room for 6pax | +63 64 2298630 / +63 920 532 9974
Hill Park Inn and Restaurant | +63 64 229 8550 / +63 929 551 0198
Hotel Angelo | +63 64 299 9436
Pioneer Lodge |
Twin Cubs Haven Hotel | +63 918 463 8608
*if you have other information about Midsayap hotels or homestays, please contact me, for me to include them here.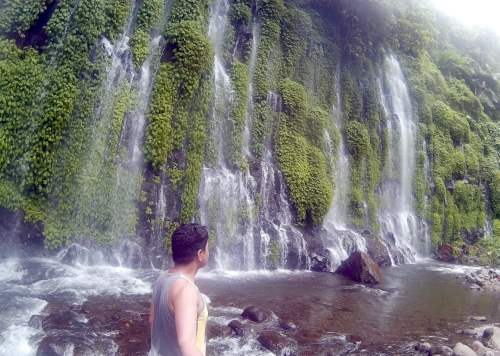 Note, Tips, Reminders
Try pastil, a rice-based local delicacy that is available in Cotabato City, Libungan, and Midsayap markets.
If you stay at Hill Park Inn or at White Hut Inn, you can try lutong-bahay (home-made) all-you-can-eat for only ₱150 at Travies Gastro Pub (TGP) or ₱130 if you visit outside the 10AM-5PM window. Bottomless iced tea is also available for ₱15.
It is safe to spend a night with some drinks with friends and listen to acoustic music at Travies.
ATMs are available in Midsayap while cellular signals are searchable in Midsayap, Libungan, and at the drop-off point of Asik-Asik.
Make sure you leave early morning to Asik-asik Falls to avoid too much sun exposure. Remember, you will be riding a habal-habal (motorcycle).
Asik-asik Falls becomes really populated on weekends.
You can find cheap but tasty breakfast at Arthur's Fried Chicken at Libungan Market. Try their fried chicken and fish tinola.