At one point of his life, Architect Jose Rizalino "Jerry" Acuzar, the owner of San Jose Builders, fell in love with art and culture. With this love and his sizable amount of fortune, he built Las Casas Filipinas de Acuzar, a heritage park that features centuries-old houses from all over the Philippines. Take note, the houses he built are not replicas. He collected the remains, parts, and ruins of these mansions and rebuilt them based on the original design within the Las Casas premise.
The property started construction in 2013 and was only opened to public seven years after. Currently, the park is still undergoing some aesthetic upgrades and construction of the additional collections.
The Las Casas Filipinas de Acuzar, by the way, is located in the 400 hectares of land, near the beach of the Municipality of Bagac, Province of Bataan.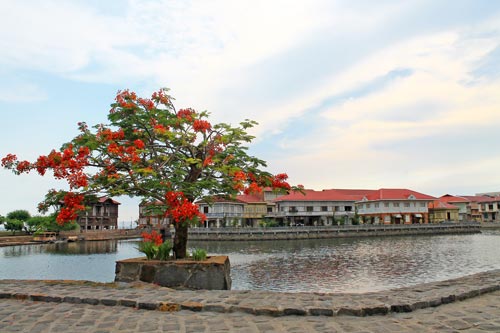 How to get There
From Manila, you can take a Balanga-bound bus. Genesis and Bataan Transit have hourly schedule to Balanga at their Pasay, Avenida, and Cubao Terminals. Fare starts at ₱210, depending on your terminal of departure. From Balanga Terminal, transfer to a jeepney or bus bound for Bagac. These transports leave only when full and the last departing PUV queues at 5PM. The same setup is practiced at Bagac Terminal. Jeepney fare is ₱49 while the bus asks only ₱35. The Balanga-Bagac travel time is around an hour.
You can also take a Mariveles-Bound bus from Manila. Get off at Bataan bus stop and wait for buses or jeepneys bound for Bagac.
From Bagac, you can hire a tricycle to Las Casas for only ₱20.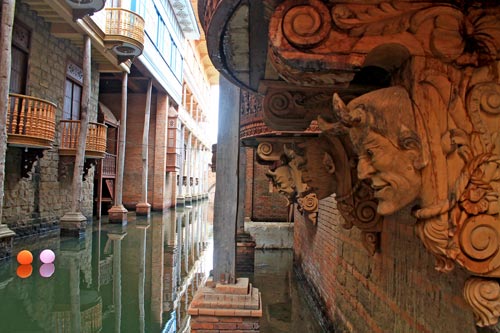 Notes, Tips, and Reminders
The day tour entrance fee to the park/resort is ₱685/person. This includes a guided group tour, welcome drinks, wet towel to fresh you up, and beach and pool access until 6PM.
Las Casas Filipinas de Acuzar utilizes some of its properties as hotel accommodations. The newly opened Hotel de Oriente is a real stunner of the compound. It is the only hotel in the world  that features wood mosaic on its interiors, such as the decorations, walls, ceilings, stairways, etc. Check their discounted rates by clicking here or visit their website. You can also opt to stay at The Plaza Hotel in Balanga.
If you only visit for day tour, remember that the last jeepney or bus leaves Bagac at 5PM, and the last Manila-bound bus leaves Balanga at 7:30PM for Genesis or 08:30PM for Bataan Transit. Contact the bus company to confirm their latest schedule.
Restaurants, souvenir shops, salon, and spa are available within the resort.