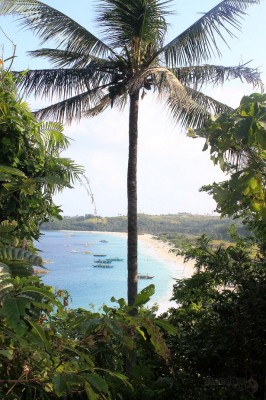 How was/is your first love? I guess, he/she was/is the person you could hardly forget the most (if you're no longer together) or the person that you cherish and love the most (if you both enjoy the married life). Love is at its sweetest if you are each other's first.
I know you can remember well the very detail of your first date, your first kiss, or even your fist sex (Oh, don't raise that brows to me!). I bet you agree that your first was you most remembered and your most talked about?
Seeing Calagaus, Mahabang Buhangin Beach more particularly, felt the same. I was there nearly 2 years ago but the excitement, the experience, and the hype I had in my recent visit seemed like it was my very first. I have no idea if it was because of the new set of companions or because of the unforgettable boat transfer episode. There is only one thing that I am sure of – it really felt like it was still a virgin.
As I mentioned in my previous post, reaching the island wasn't easy. The fear, the boredom, and the heat did not make a good dessert. Promise! Take it from us. It was really bad that it made Chris to throw up, Queennie to turn to purple, and Cess to pray. (I know! I know! I am redundant to these details.  I mentioned these already in my previous article and yet, I included them here again. I hope you won't get tired of these Chris, Queennie, and Cess…more are coming up!).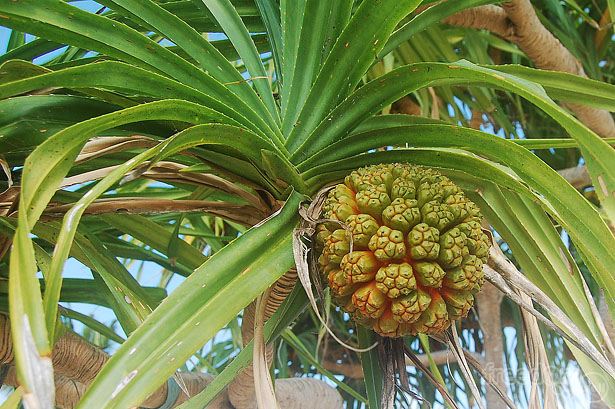 When we finally set foot in Mahabang Buhangin Beach in Calaguas, we all forgot about the bad dessert. We were mesmerized, amazed, tantalized, startled, astonished, etc. I wished I could make "Right-click > Synonyms" in WordPress editor. Yup, I don't make drafts. So, pardon me for some grammatical failures.
After hauling all our stuff from the boat to our cottage, we then cooked for our lunch. We had steamed rice, fried saber fish, sour-stewed Alepes a.k.a. Matangbaka or Tamarong, and diced tomatoes-and-soy sauce salsa. Roderick, on the other hand, had his wheat bread as rice replacement.
By the way, we paid ₱450 for the cottage with a couple's room in it.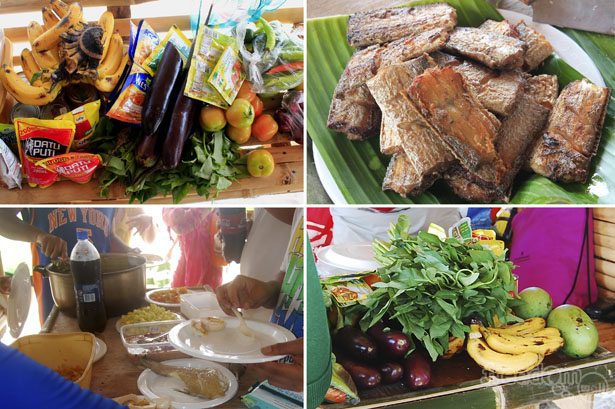 After the sumptuous (yeah, this term is overused) meal, we separated as per our liking or interests. One group unrolled a sheet under the shade to start their informal toast or should I say, brandy session and jammed to their own beats. While Cess, JR, Roderick, and myself explored the neighborhood.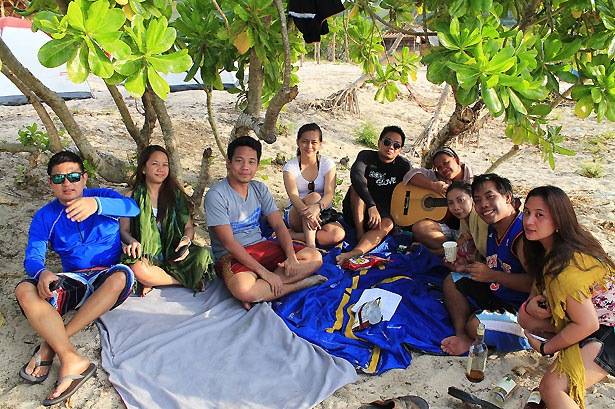 Unlike my first visit, Calaguas is now populated. A new resort was erected, several cottages appeared like mushrooms, and freshwater trade was healthy as ever. The use of comfort room was free but a bucket of water to flush the deposit costed ₱10. If you need an extra bucket, you need to shell out more.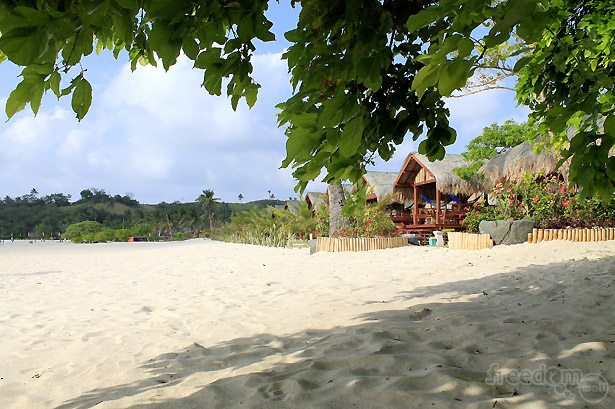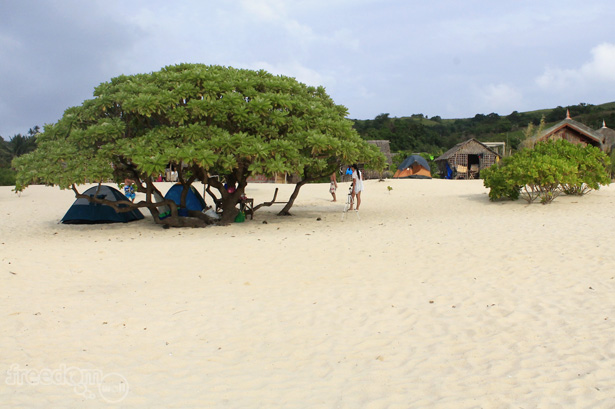 Though a bit crowded, Mahabang Buhangin Beach did not lose its former beauty and grandeur. We experienced the same fine, powdery white sand and the same clear water as it always have.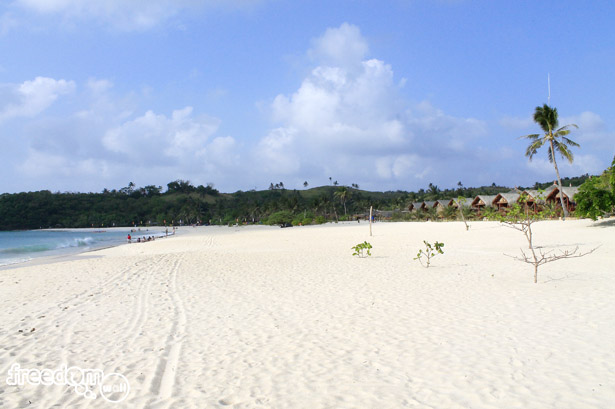 The sunset came and I missed it. I fell a sleep in the swing installed by Roderick in location where the breeze blew freely. Jo Anne woke me up for dinner. Francis' pork rib sinigang was exceptional and everybody seemed to enjoy it even though the rice was just half-cooked. Good thing that no one slept with a bloated stomach.
A lot of things happen that night. Karen tempestuously looked for Francis who happened to sit just right beside her and asked to turn the lights off though it wasn't lit in the first place. Also, Queennie's classic "sorry-and-thank-you-expressions" travelled over the air lanes. I should also not forgot to mention how Boogs "stochastically" walked to pee. Francis and Jo Anne were fair witnesses.
While the rest were busy in the other round of drinking session, I unrolled a blanket as bedding and settled under the bright moonlight. With me were Cess, Jo Anne, Wella, and Roderick. Cess left first to join the drinking group. The Northeast monsoon blew really cold so Jo Anne followed after an hour, leaving me her blanket. Wella left at midnight since she only had her shoal as cover. Roderick and I slept till morning. It was the most comfortable outdoor sleep I ever had.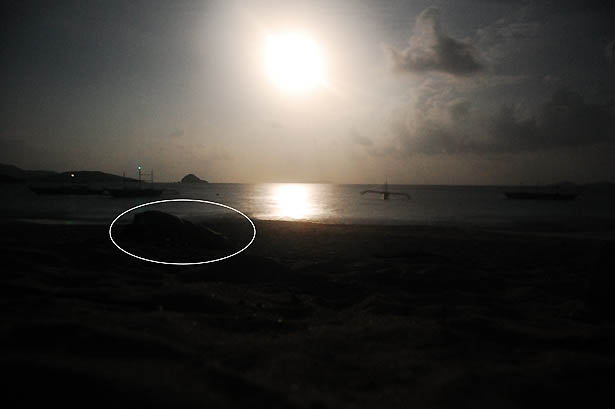 Since I was the one who got up first, I prepared a hot water for everybody. I thought that a coffee is great to heat up our cold stomach before going for a trek.
5 of us said no so we assigned them to prepare the breakfast.
While we were on the early stage of the trail, 3 yielded and returned back to the camp. JR left saying: "Ayoko na! Hindi ako matapang" ("I won't proceed! I am not brave!"). So, in the end, only seven of us reached the summit and saw the beautiful panoramic view of the scenic Mahabang Buhangin Beach and Tinaga Island as a whole.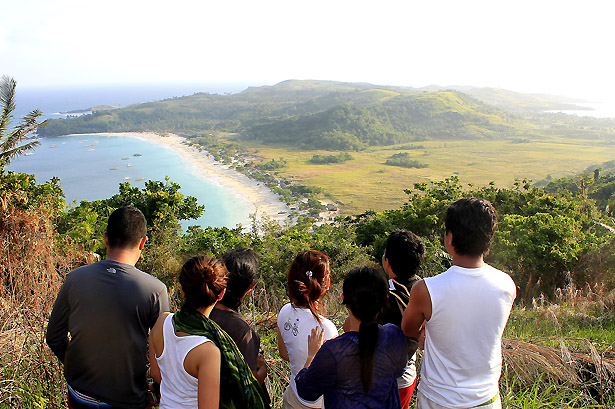 We still had time to spare after the trek so we had some awesome photo shoot. Well, only those seven who pursue the trek were present. We were pretty sure that the rest were enjoying with whatever endeavors they had that same moment.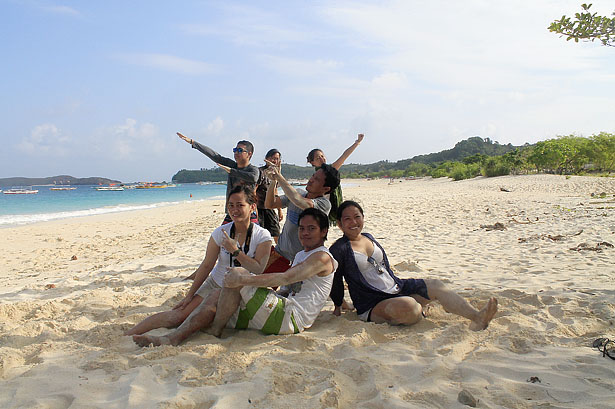 We joined the rest for breakfast, rested a little, and headed for the entire beach-stretch walk. We noticed that the sand in front of Waling-waling Eco Village was a lot finer so we stayed there for our swimming session.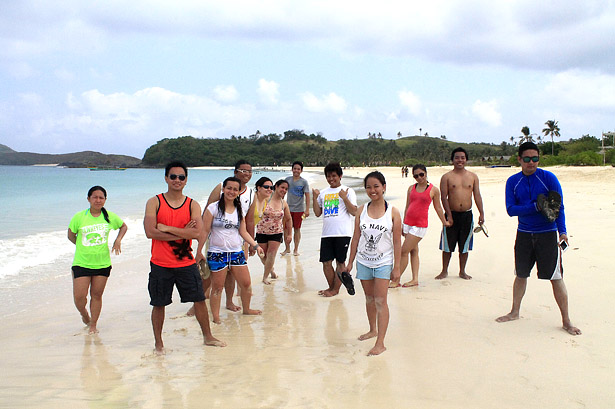 Afterwards, we headed to a rocky portion of the beach. Some of us gave up because of the heat but I proceeded further. To my surprise, what I found was another long strip of white beach, uninhabited, untouched, and equally astounding. To bad, we ran out of time to fully explore it. However, it gave me another reason to return in the future. I am sure that it would feel like another first time.