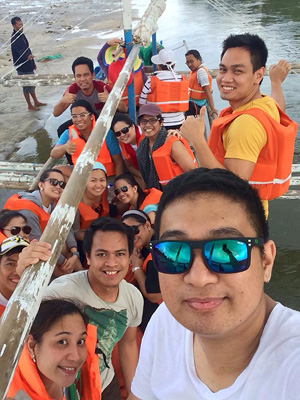 I returned to Calaguas, and I couldn't wait for my sunburn to heal for me tell you what transpired. Would you know why? Because it was another life-threatening adventure. We sailed in a raging sea again, with waves large enough to consume the precious lives of ours. It may not be as huge as the waves we encountered in Anawangin last January 2013, but still, it did give us the same eerie feel.
A friend of our companion offered us to cook for breakfast and had it ready upon arrival in Paracale, Camarines Norte. While waiting for the meal to be served, his father brought us for a little hike. From the hilltop, I noticed that the sea was rough, so I thought the boat ride would not be easy. The breakwaters on the deep means the water surface wasn't really friendly for navigation.
I was expecting that the coast guard would be at the port to stop us. I couldn't just cancel the trip I organized. Thus the advice from the authorities would be much help to persuade my friends not to cross.
Buwis-Buhay Ride to Calaguas
Deep inside, I was raveled between the idea of withdrawing or moving forward. I also wanted to see Calaguas again—the same excitement with what my friends had. However, I couldn't set the worries aside.
There were only three out of fifteen individuals in the group who can swim confidently: myself, Teddy, and Cess. But we cannot rely on Cess. She was already troubled. The boatmen and his two aides probably can, but we also had two aunties on their fifties, and a young boy in the motorized, outrigger banca. All-in-all, we were 21 on that pumpboat.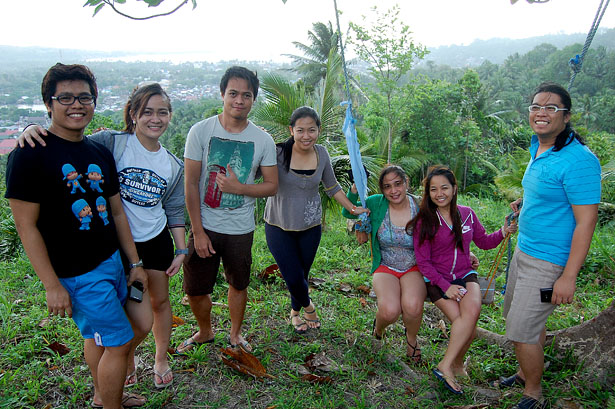 No coast guards showed up, so we continued the trip. The drizzle wetted us, as the chilly monsoon continuously blew. It was a successful "scare-giver".
First Big Wave
When we crossed the first towering wave, the bow almost submerged, and a bucketful of salt water splashed to our faces. I looked around and waited for someone to raise a white flag, and then yield. Unfortunately, no one did.
I asked our boatman if it is safe to continue and he replied yes with a big smile on his face. That was a fighting spirit booster. "Bring us to Calaguas safe, Captain!", I cheered in silence.
The sea became more and more turbulent as we moved farther from the shore. Seawater sprinkled everywhere, leaving no one dry. The waves were not in sync, and were moving in different directions. Others were too steep to cross—breaking into whitewater—even it was so deep. Those were really frightening!
Praying for Safety
I wished that the hull is strong enough to hold the boat in one piece.
Queennie started to turn purple again (as expected). Cess maintained a stiff and firm grip, with her eyes closed as if she was saying a Rosary. Chris threw up. Cookie yelled in fear while the rest just remained silent. Francis, though sometimes smiled and talked, was obviously scared.
Almost halfway to the island, we were finally able to grasp its rhythm. We danced to its bizarre tune on a rather unstable dance floor. The yelling became a sound of excitement. Yes, the team started to enjoy it, Queennie included. Well, we had no other choice then.
A Celebrated Arrival in Calaguas
The water got calmer (which was boring) as we approached the island and we thank God that we had able to survive that rage. We arrived safe and sound with revealing tan lines. We all forgot to put on a sunscreen since it drizzled when we left. We had to accept the bi-tone complexion of ours. It wasn't worth complaining though – reaching the island together was enough reason for us to be thankful.
We were expecting that we had no other company in the paradise, but we were wrong. There were other courageous souls who crossed that unfriendly sea.
It was even more surprising that the weather in Mahabang Buhangin Beach was perfectly fine.
The rest of the story will be posted soon.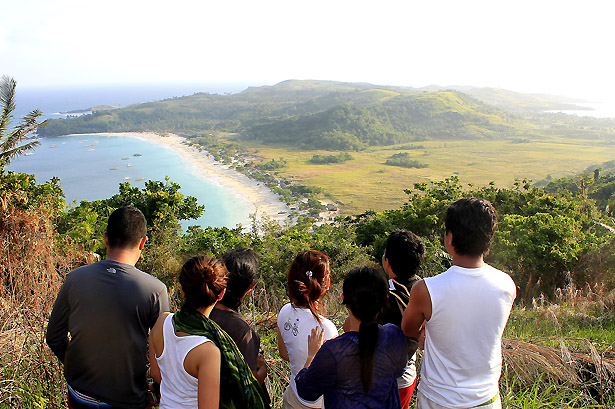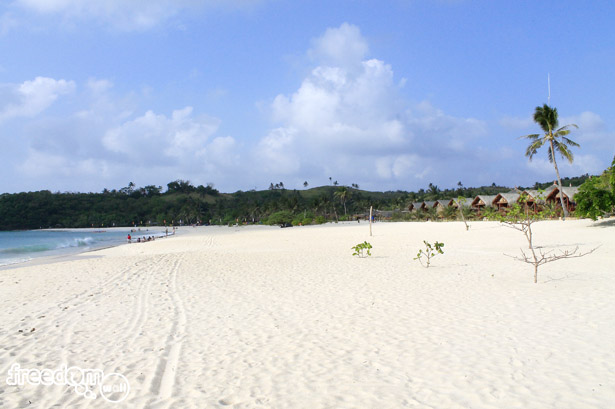 Next story: Seeing Calaguas Again Felt Like it is a First Time