I started to feel dizzy and uncomfortable when the bus became shaky all of a sudden. The clock above the driver's seat ticked to 12 noon. I saw no signs of Lucena yet. Four hours had passed and yet we were still in the middle of a dusty and rocky road. Then I thought, where the hell are we.
I immediately grabbed my phone and hoped that we were located under a cellular coverage. All the worries subsided when I found out (via Google map) that we were in Sariaya, Quezon, a neighboring town. Traffic were just rerouted due to the street works spearheaded by the DPWH.
When I noticed that we were moving really slow and it took 30 minutes to traverse a 2-kilometer unpaved highway, I began to fret. We still had a van and boat to catch.
We reached Lucena Grand Terminal at 12:40PM, however, the van to Mauban, Quezon was located in front of SM Lucena. We remained seated and tried to stay patient. The laid-back driving and the unusual provincial traffic caused us additional delays. Not to mention, the 1-hour ride from Lucena Grand Terminal to SM almost pushed me to my limits.
When we finally reached SM Lucena, I forced myself to cool off and invited my companions for a quickie lunch.
Afterwards, we boarded a van to Mauban, where our boat to Cagbalete Island was waiting. It took exactly 45 minutes to reach the town, thanks to the fast yet safe driving.
'Twas already 3:45PM, hence, I thought the last passenger boat to Cagbalete had already left. At the port, I scanned through the posted rates of private boats and calculated how much more we needed to spend. Luckily, a tourism officer approached us and asked the last passenger boat to wait for us. She re-opened her recently closed office to accommodate our group. Yeay! And I still had a gut to go food shopping. We left Mauban port 5 minutes past 4.
After 45 minutes, we saw an array of colorful beach houses, fronted with clear water and ivory coast. Those weren't our accommodations but the humble abodes of the island's residents.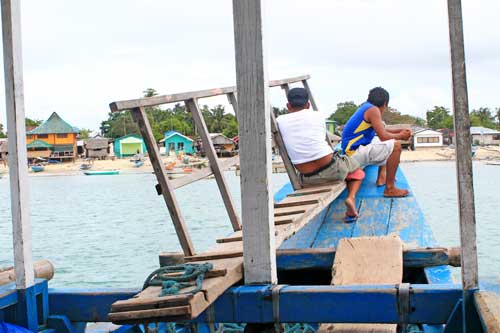 Kuya George of Villa Cleofas greeted us with a great ride. Since I don't advocate the use of animals for transport, I let the tired ones comfortably seat the pulling cart. We were 9 but only 3 were unashamed for the wagon haul.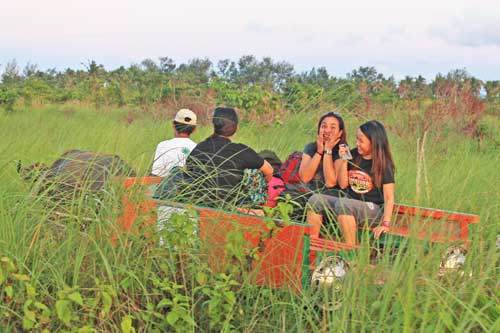 Well, the reason why most of us didn't take the ride was the assurance Kuya George gave us. He said, the resort is pretty close. Yet, it took us a sunset to reach Villa Cleofas. I did not consider it a downside, though, 'coz we won't be able to witness a rare beauty as the sky embellish.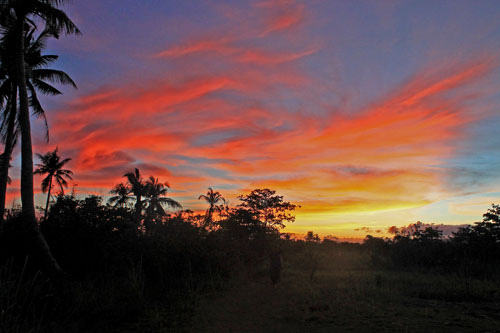 I immediately settled all the fees and rented some utensils when we arrived in Villa Cleofas. Everyone helped as we prepared our dinner. After the overdue meal, we then settled for a long round of drinks, sharing, and laughter. The night was long, literally. The very details of that session are, of course, withheld.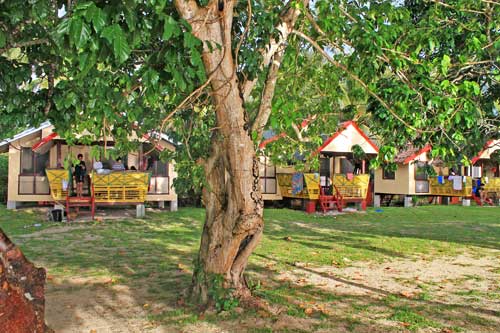 The morning was great. Only few got a hang over. Toppling 3 Emperador and a bottle of lambanog wasn't an easy job – you know what I mean, Cookie, KN, and Queennie. I wasn't aware that lambanog was a fermented grape, as you insisted. That was a new knowledge learned on my part.
Since Janina and myself took the "alipin" (host) roles, we were busy preparing breakfast while the "few" were busy retching in the background.
Ted, who escaped from eternal damnation the night prior, was unsurprisingly active. He was the first to plunged into the deep, fully suited. The rest joined him later.