Quezon Province was my point of interest in the last two months. I spent my pre-birthday beach camp in Padre Burgos with quick visits to some random beauties in the municipality including the neighboring Pagbilao. The week after that, I included Lucban, Quezon in my eastern Laguna road trip. The following weekend, I ventured alone to see the rumored island in the southernmost tip of Bondoc Peninsula, also in Quezon Province. And, just lately, I brought some of my office mates to spend a night in the island off the cost of Mauban.
From that series of trips, I was able to compile some interesting things to do in Quezon Province.
A Peaceful Outreach in Alibijaban Island
First in my list is Alibijaban Island. From all the places I'd been to in Quezon, Alibijaban Island is far more captivating than the rest of the province. The austerity of the rustic living, the authenticity of the welcoming smiles, and the charm of the seemingly unnoticed neighborhood work together to give every visitor an awesome stay and a noteworthy getaway.
There is no beach party, loud music, nor shimmering lights – it's just pure natural encounter.
If you are interested with Alibijan now, see my DIY Travel Guide.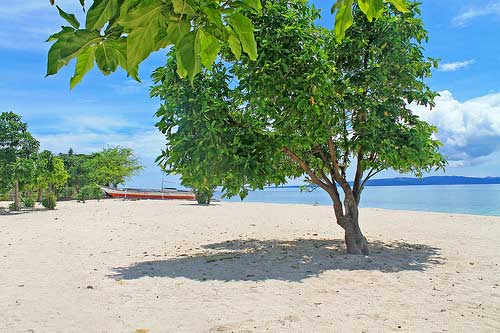 Beach Bum in a Beach so Vast in Cagbalete
At high tide, a great portion of Cagbalete's shoreline is covered, and so, when the tide is low, this portion slowly reveals. You won't run out of space to beach bum. You can build sand castle in a dessert-like vastness and much more space for any beach activities.
For a travel guide to Cagbalete, see this article: "Cagbalete DIY Travel Guide".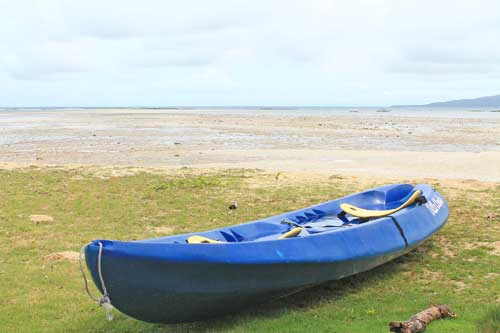 Have an Awesome Beach Camp in Borawan, Dampalitan, or Puting Buhangin
Borawan, Dampalitan, and Puting Buhangin are just few of beaches close to Manila that offer ivory to white beach front. Though you'll be bombed with use and access fees, you can still have an awesome stay if you will not look for what is missing, I mean, if you stop comparing. Just enjoy what is currently plated and make the most out of it with your friends.
Planning to see these humble beach fronts? Please see my travel guide: "Borawan, Dampalitan, Puting Buhangin: Travel Guide"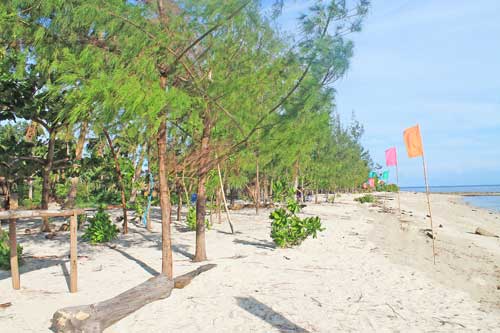 Spend a Moment of Contemplation at Kamay ni Hesus Shrine
Father Joey Faller built a shrine just few kilometers south of Lucban. It houses a convent-like building for religious activities, a chapel, a grotto, a replica of Noah's Ark, a mini replication of the Garden of Eden, life-size statues of Saints, and gigantic status of Virgin Mary and Jesus Christ.
If you've been spiritually lost these days, try to pay a visit Kamay ni Hesus Shrine.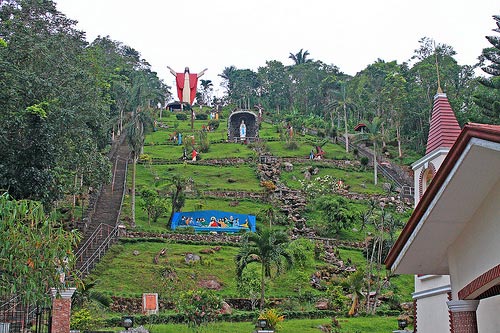 Witness the Architectural Prowess of Lucban and Tayabas Church
Both the Tayabas Basilica and Lucban Church stood trough times and witnessed how both towns slowly do their face-lifts.
Tayabas Basilica, features a very long aisle which dome is decorated with exquisite, pious paintings. On the other hand, Lucban Church boasts an imposing works of art on its ceiling.
Savor the Flavor of the Local Delis
Pancit Habhab is a must-try. You won't regret the 10-peso you spent for this yummy treat.
Aside from habhab, have a piece or two of fried flavorful Lucban longanisa for breakfast and a slice of Rodillas yema cake for dessert, not a breakfast dessert however. For afternoon snacks, you have the option to choose between budin (cassava cake) and fried siopao, or  you can taste both.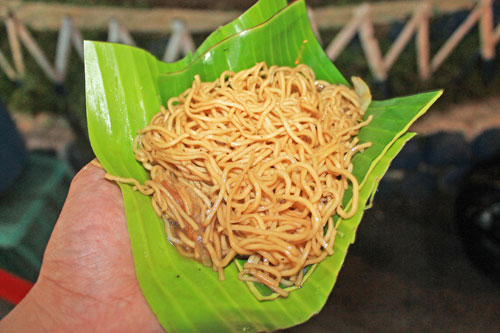 If you have additional suggestions, please leave it on the comments below for other readers to know.