Our Surigao trip's awesomeness did not end with the island hopping in Siargao. On our third day, we navigated three hours from Siargao's General Luna town to Bucas Grande Island to check on Tojoman and Sohoton Lagoons. These two great lagoons are accessible via the municipalities of Dapa and General Luna (GL) in Siargao Island or via the town of Socorro in Bucas Grande Island. Since we reserved our accommodation in GL, we shelled out more for the much longer boat ride.
The Boat Ride to Bucas Grande
Kuya Lito Sr. asked ₱4,000 for the trip to Bucas Grande including the island hopping we had in Naked, Daku, and Guyam Islands the day prior. The boat is good for 10 individuals. Since there were only two of us (myself and Marx of marxtermind.com), it was quite an expensive trip.
I was anticipating to see Sohoton and the fabled Jelly Fish Sanctuary on that trip so I couldn't afford to scrap the idea. Thus, despite the budget constraint, we set sail.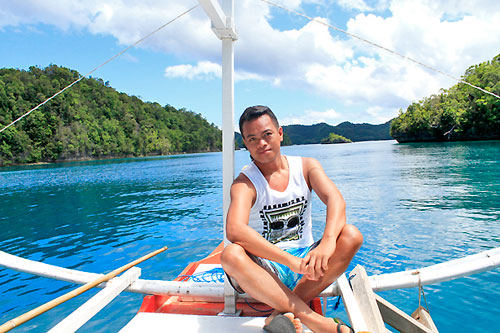 As expected, travel time was 3 hours. It was quite tiring, but we forgot all about the downsides, including the costly boat ride, when we saw the gorgeous floating islands and the vividly clear waters tinted with all shades between blue and green. Not to mention, Marx was asleep half the trip, when he woke up and saw the surroundings, he immediately grabbed his camera and asked me to take a photo of him, like he was awake from the beginning. Of course, I also couldn't let the moment pass – I also have my own taken.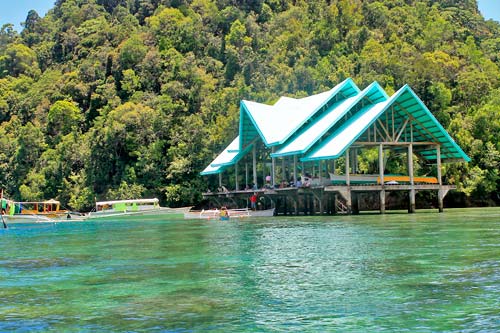 We headed to Sohoton National Park tourist center, which was located just opposite of Sohoton boat station, to register for the tour. We had to leave our boat and transferred to smaller boats designated by Sohoton tourist officers.
Meet and Greet with the Jelly Fishes
First, we paddled to Tojoman Lagoon or more popularly known as the Sohoton JellyFish Sanctuary, a breeding and mating place of spotted jelly (Mastigias papua), a known specie of sting-less jelly fish.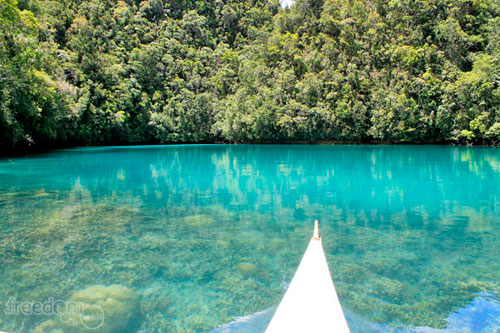 Unfortunately, the month of May isn't a mating season so we didn't encounter even a single bloom of spotted jellies. They were very few and were scattered at a distance. I had to individually approach each one to take one good good shot.
Remember: Don't lift the jelly fish out of the water. They easily dry up and die. Mating season is June, so it is the best time to visit.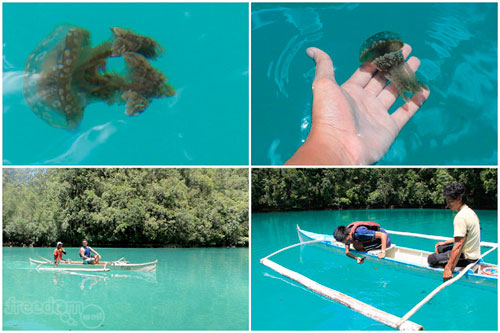 After circling around Tojoman Lagoon, we headed back to the tourist camp and transferred to a motored boat. This time, we were going to cross a cave to explore Sohoton Lagoon, which features an emerald network of islets and verdant vegetation. Well, the entire Bucas Grande Island has the same features.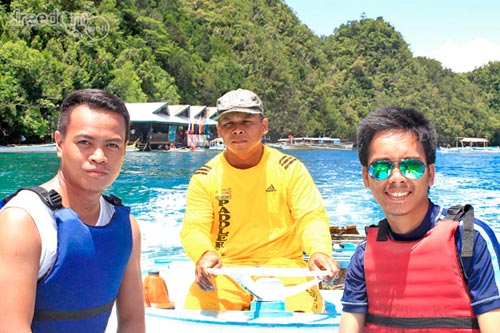 Heads down at Sohoton Cave
Our tour guide gave us a heads up that we'll be crossing Sohoton Cave without getting off our boat to get to Sohoton Lagoon. Though there was a significant distance between our heads and the cave's "ceiling", we couldn't help but stoop. It was like some sort of uncontrollable instinct and defense mechanism. It was probably the reason why they started calling it Sohoton, a Visayan term that literally means "stoop".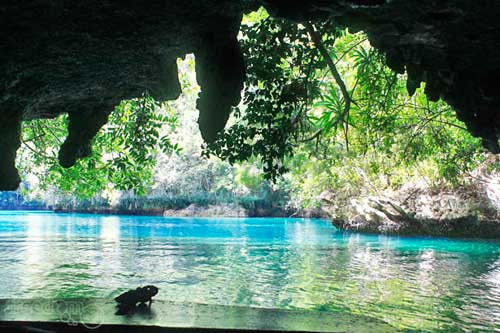 Spelunking then Cliff Jumping
We passed through Sohoton Cave and we still had our heads attached. Yeay! So, we set forth to complete our adventure. Our first stop within Sohoton Lagoon was the Makukuob Cave. Yes, another cave – so, Bucas Grande isn't a good place to hangout for claustrophobics.
Spelunking then cliff jumping isn't a bad idea. I am sure that all adventure seekers out there will agree with me.
I got so excited when I heard that Makukuob Cave offers such thrill. Of course, I did not let that miss.
After the few minutes climb in the dark caverns of Makukuob, we found ourselves standing in the makeshift platform just outside the cave. The only choice to return to our boat was to jump. After estimating the water's depth and found it safe, I dived.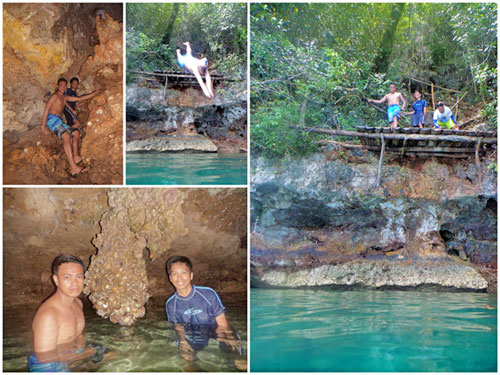 Hearing the Snores in Hagukan Cave
Next, we proceeded to Hagukan Cave, which name literally means "snore". According to the locals, you can hear these snoring-like sounds inside the cave.
For you to get inside, you have to dive and swim across. The oyster shells clinging on the rocks' surface are pretty sharp, hence, take extra precautions when swimming through.
The tide was low when we arrived in Hagukan Cave – but not low enough – so the guides assistance were needed to cross. I am a confident swimmer so I was able to move on my own.
When we got inside, we were stunned and impressed. The water glowed and created a non-irritating natural music like the sound we heard in Cabacungan. It didn't sound like snoring at all.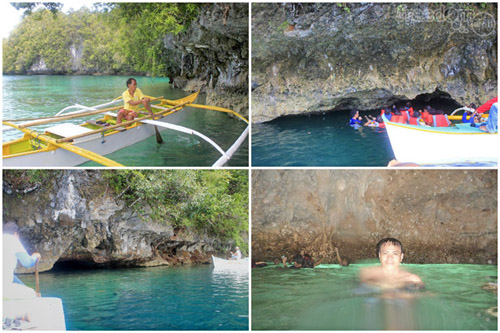 Cruising Sohoton Cave (Video)
When we were lurking in Sohoton Lagoon, we sailed back to the tourist camp. Sohoton Cave was the only way in and out so we had to navigate through it again. Below is the video recorded from that "cruise".
[video_embed maxwidth="500″][/video_embed]