Settled at 1000 meters above sea level, and is sandwiched between Roxas-Matulas and Daguma Mountain Ranges, the municipality of Lake Sebu is unsurprisingly temperate and abundantly vegetated. Springs and rivers from these rolling hills provide continuous water supply to the three important watersheds of the town, namely; Lake Sebu, Lake Lahit, and Lake Seloton.
The home of the indigenous T'Boli, Ubo, Tiruray, and Manobo tribes is also known for its majestic water cascades, mighty rivers, and a mega-diverse ecosystem, prompting the government to develop and promote the town as an eco-tourism and cultural destination.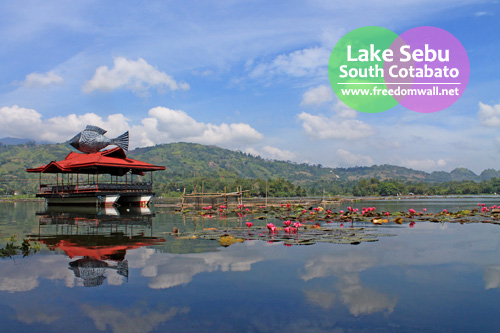 The most sought-after adventure in town is trekking to the seven falls, or taking a zipline ride that hovers over the most breathtaking countryside scenery at a height that is incomprehensible to acrophobes.
The seven falls zipline, if not the on top of the list, is one of Asia's highest.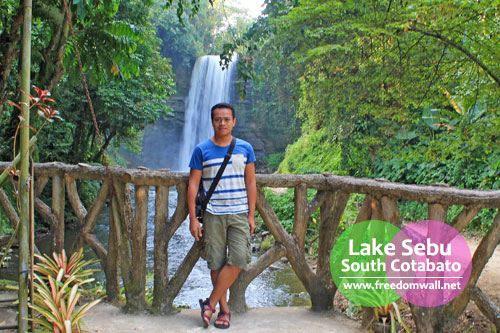 How to Get There (Commute Guide)
General Santos City (GenSan) is the most common dropoff point if you are coming from Manila, Cebu, Iloilo, and Davao. Cebu Pacific flies directly to General Santos from these cities except for Davao which is just 3-hour bus ride away. Philippine Airlines, on the other hand, has daily flights from Manila or Iloilo to GenSan.
From General Santos City's Bulaong Terminal, take a non-stop bus or van to Marbel (Koronadal City). Fare is ₱95 for the Yellow Bus Line (YBL) while ₱80 for the van, and travel time is up to 1 hour and 30 minutes.
From Marbel, transfer to a bus or van to the municipality of Surallah. The fare ranges from ₱28 to ₱35 depending on the kind of transportation you take (A/C, regular bus, or van). The Yellow Bus Line (YBL) is the only bus company that ply the Marbel-Surallah route. Travel time is 30 minutes.
From Surallah's Integrated Transport Terminal, you can either a Van or Jeepney to Lake Sebu which usually leaves only when full. The vans and jeepneys have alternating departure schedule so you don't really have a choice but to take whichever ride is waiting. The fare ranges from ₱35 to ₱40 and travel time is 30 minutes.
However, if do not want to wait, you can hire a habal-habal to take you directly to your accommodation in Lake Sebu. Some ask ₱100 while the others are okay with ₱50.
December 2017 Update:
According to one of our readers, there are Vans that travel directly from Bulaong Terminal in General Santos City to Lake Sebu. The fare will cost you ₱150. Travelling to Lake Sebu is now hassle-free.
Where to Stay in Lake Sebu
You can complete your adventure in Lake Sebu for a day if you leave early from GenSan, however, if you want to stay a night or two, here a list of mountain resorts and hotels you can choose from:
How to Move Around
Habal-habal (or extended motorcycles) are the main transportation in town and almost every resort and tourist destinations in Lake Sebu has stand-by habal-habal. Fare from the terminal to any resort and vice versa is ₱20, from any resort to the Seven Falls Zipline is ₱50. You can rent a habal-habal for day tour for ₱200 – ₱300.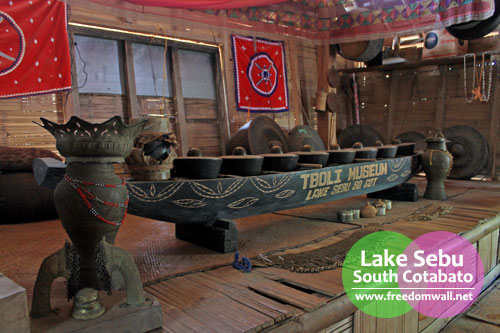 Things to do in Lake Sebu
The Seven Falls (Hikong) – Hikong Alo (passage), Hikong Bente (immeasurable), Hikong B'Lebel (coil/zigzag), Hikong Lowig (booth), Hikong Ukol (wild flower), Hikong K'Fo-I (short), and Hikong Tonok (soil)
Trekking and Zipline Ride – You can trek to see the Seven Falls or experience the Philippines highest zip line ride..
Kayaking/Boating at Lake Sebu – Paddle boats or sagwan are available for rent for you to tour around the lake.
Lake Lahit and Lake Seloton – Note that Lakes Sebu's three lake are not interconnected so you need to rent three boats to cover the three lakes.
T'boli Museum – Unlike any museum, the T'boli Museum is a small Nipa hut (bahay kubo) housing T'boli artifacts such as their traditional musical instruments, tools, and some crafts or works of art. You just to pay a small fee to access the humble museum.
20 ways to cook Tilapia by Punta Isla Lake Resort – Witness and taste how Punta Isla Lake Resort creatively and masterfully created the recipe.
Tips, Notes, and Reminders
ATMs (Landbank, RCBC, and ONB) are only available at Surallah. You cannot find any money dispenser at Lake Sebu.
Cellular signal is available.
WiFi network is available at select hotels.
The town is relatively peaceful.