We were few meters past Barangay Dawis proper when the conductor gazed at me, and then asked in the local language; "You're alighting at Niludhan, right?" – reaffirming that I am not going farther than what I paid for. I shelled out ₱68 as fare from Bayawan City terminal to Sitio Niludhan in Barangay Dawis.
After few minutes, the conductor struck the metal railings, signalling the driver to pull over. Then, for the second time around, he looked at me telling that its high time for me to vacate my seat and disembark. I didn't see it as a rude gesture, though.
I alighted peacefully, but the excitement within me is boiling up. I finally got to see Niludhan.
Seeing Niludhan Falls
I asked the two kids sitting on a makeshift bamboo bench near the bus stop about the location of Niludhan Falls. They pointed me to a walkway that is shaded with palm trees.
I slowly followed the trail. When I heard the sound of flowing water, I searched for it, leading me to a cemented, downward stairway.
After a moment, "There you are Niludhan Falls! I finally got to see you!", I exclaimed in silence, and was completely stunned. I was alone during that visit and did not meet anyone else.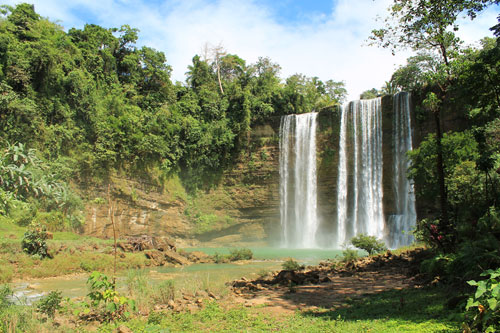 There are concrete umbrella cottages along the river bank but I couldn't find someone to ask any information about the rentals, if there's any. Bathroom facilities are also available but unusable.
I stayed there for while, exploring every details of the waterfalls including the small and thin cascade on the south of the main falls. The area around it is highly vegetated.
The beautiful greens, the harmonic chirps, the oozing rhythms, and the wild landscape work together to give me a really rustic feel. These are the things the normal city-folks would miss.
How to get there (Commute)
From Bayawan City:
Take a Mabinay-bound bus at the Ceres terminal and ask the conductor to drop you at Niludhan. Please be mindful of the Ceres schedule. I think they have trips every hour from 7:00AM – 11:00AM followed by trips every two hours until 3PM.
From Dumaguete City:
Board a Mabinay-bound bus from Dumaguete Ceres Terminal then get off at Paniabonan junction. Wait for jeepneys to Dawis or buses bound for Bayawan and tell the driver/conductor that you are going to Niludhan Falls.
From Cebu, Manila, and anywhere else
Take a plane or ferry to Dumaguete then follow the directions above.
If you want to visit Niludhan Falls after your dolphin watching or Majuyod sand bar visit, return to Bais City proper, and then hop on a bus to Mabinay, Kabankalan, or Bacolod. Alight at Paniabonan junction, and then transfer to another a bus to Bayawan with via Dawis route or any jeepney to Dawis.
If you are coming from Apo Island, return to the highway in Malatapay, board a bus to Dumaguete, and then follow the From Dumaguete City instructions above.
Important Notes and Tips
It's better to visit the falls in the morning so that you can easily find your return ride. Transportation is not that frequent in the afternoon.
The falls forms a majestic curtain during wet season.
There is no cellular signal within the falls vicinity.
Be ready for the rough ride. Some roads aren't developed yet.
Some private groups offer rappelling activities.