Yogyakarta, a host to temples which beginnings are even earlier than the construction of Khmer Empire's Angkor Wat and Angkor Thom, is a testament to Indonesia's rich and extensive history. Aside from the temples, travelers could experience the best of Indonesia's cuisine, night life, and hospitality in Yogyakarta.
It is pronounced and commonly spelled as Jogjakarta. Locals simply call it Jogja /JOGH-jah/.
Yogyakarta does not limit to being a center of tourism. Indonesia considers the region as the leading proponent of the preservation of classical Javanese fine arts and cultural heritage and symbols.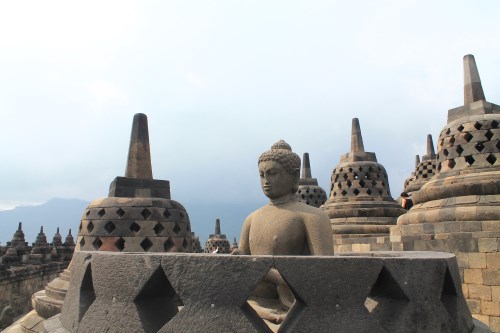 Yogyakarta Travel Guide
If you plan to visit Yogyakarta, the travel guide below may be helpful.
This article is divided into the following sections:
Travel and Visa Requirements
For you to enter Indonesia, your passport must be valid for 6 months from the date of arrival. You must also have a valid return ticket. Some immigration officers may require you to show a proof of your financial capacity.
Visa Exemptions
If you are a resident or passport holder of the following countries, your visa requirement upon entry to Indonesia is waived. You can enter Indonesia without securing prior visa.
Visa-Exempted Countries
Austria
Hungary
Poland
Bahrain
Italy
Peru**
Belgium
Japan
Philippines*
Brunei**
Kuwait
Qatar
Cambodia**
Korea, South
Russia
Canada
Laos**
Singapore**
Chile**
Macao SAR**
South Africa
China
Malaysia**
Spain
Czech Repubic
Mexico
Sweden
Denmark
Morocco**
Switzerland
Ecuador**
Myanmar**
Thailand**
Finland
Netherlands
United Arab Emirates
France
New Zealand
United Kingdom
Germany
Norway
USA
Hong Kong**
Oman
Vietnam**
**Passport holders from these countries can visit Indonesia for the purpose of tourism, education, government duties, business, journalism, and for social and cultural exchange for up to 30 days. The rest are for tourism purposes only.
Visa on Arrival (VoA)
The table below lists the countries which residents and passport holders can apply for a visa-on-arrival (VoA) at any major port of entries of Indonesia. A VoA with 30 days validity is available for US$35.
Countries that are Eligible for visa-on-arrival (VoA)
Algeria
India
Portugal
Argentina
Ireland
Romania
Australia
Latvia
Saudi Arabia
Brazil
Libya
Slovakia
Bulgaria
Liechtenstein
Slovenia
Cyprus
Lithuania
Suriname
Egypt
Luxembourg
Taiwan
Estonia
Maldives
Timor Leste
Fiji
Malta
Tunesia
Greece
Monaco
Turkey
Iceland
Panama
If your country is not listed, visit the Indonesian consulate or embassy in your home country to apply for a tourism visa before you fly to Indonesia.

How to Get There
Yogyakarta's primary airport is Adisucipto (Adisutjipto) International Airport [JOG]. The international flights are limited to Yogyakarta-Singapore [and vice versa] and Yogyakarta-Kuala Lumpur [and vice versa]. The local flights, however, connect Yogyakarta to Indonesia's major airports such as Soekarno Hatta International Airport [CGK] in Jakarta, Denpasar International Airport [DPS] in Bali, and Juanda International Airport [SUB] in Surabaya.
Yogyakarta is also connected to Indonesia's major cities via a train transit system serviced by a government-ran, Kereta API and extensive bus networks.
If you prefer to travel by train to Yogyakarta, you can book your tickets in advance at Tiket.com.
Things to do in Yogyakarta
Journey to the Past at Candi Borobudur
Candi Borobudur is not located within the Special Administrative Region of Yogjakarta but of Magelang Regency. Getting to Borobudur, however, is more convenient if you are coming Yogjakarta. That is why, Candi Borobudur is included in the list of things to do in Yogjakarta.
Also, one of the primary reason why people visit Jogja is Borobudur. Hence, the temple is placed first in this list.
Erected in the 9th century, Borobudur is almost of the same age with Siem Reap's Angkor Wat.
The temple is pyramid like, and is composed of nine stacked platforms or tier. At the top is a huge stupa surrounded with 72 smaller, perforated stupas. Housed in the stupas are seating Buddha images.
Every tier is adorned with relief galleries that narrate stories of religious and cultural significance.
To get to Borobudur, visit a closest TransJogja station, and then wait for a bus going to Jombor. Bus 2A and 2B are the bound for Jombor. If you get to a station that is not a Bus 2A or 2B stop, politely ask the station master on what bus to take and which station to transfer to reach Jombor.
From Jombor, transfer to a minibus bound for Borobudur. Travel time is 1 hour and the fare is IDR20,000 (~US$1.5). From Borobudur Bus Terminal, you can hire a motorcycle to bring you to the temple entrance. The fare is US$5,000 (~US$0.40).
The entrance fee to Borobudur is US$20.
A sunrise at Borobudur invites a lot of tourists because of its stunning display of light as it uncover the mist.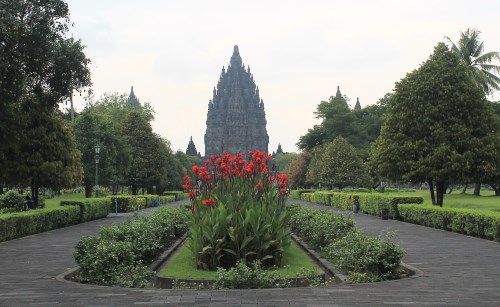 Get a Glimpse of Indonesia's Hindu Beginnings at Candi Prambanan
Candi Prambanan or Candi Rara Jonggrang is a Hindu temple built in 850AD to answer the rising populality of the Buddhist's Borobudur. However, due to the shift of powers, it was abandoned in 930AD. It was then destroyed by an earthquake that struck Central Java in the 16-century.
The reconstruction and restoration efforts lead by the Dutch in 1930 brought back Prambanan to its former heights, making it available for the current and future generations.
Candi Prambanan features pointed towers adorned with reliefs that narrate the stories about the Indonesian society and figures that depict the status of the characters. Legends are also carved to its walls.
To get to Prambanan, visit any TransJoga station within Yogyakarta and tell the station master that you are going to Candi Prambanan. The station master will guide you what bus to take and where to transfer, if needed. Bus routes to Prambanan are route 1B and 1A.
From the Prambanan station of TransJogja, you can walk towards Prambanan temple which is a kilometer away, or you can hire a motorcycle to bring you to the gates of the temple's compound.
The entrance fee to Prambanan is US$17.
Learn the Past of Sewu Temple Ruins
Sewu temple is a Buddhist temple that stands 500 meters north of Prambanan. Though this is reduced to ruins, it is still worth a visit. Sewu Temple means thousand temples which you may find in contrary to its 249 actual temples.
From Prambanan, you can hire a tour bicycle to visit Sewu Temple and the neighboring Candi Bubrah and Candi Lumbung.
Stroll Along the Stretch of Jalan Malioboro
Jalan Malioboro is the center of commerce and entertainment of Jogjakarta. The entire stretch is a host to great bargain finds, food spots, hotels, parks, and other recreational centers. Its true color is unveiled after the sunset. The street is transformed into a vibrant avenue at night. The lights burst into dazzling colors and the locals go out to socialize.
Get Full with Your Food Trip in Jogja
When in Jogja, you should indulge with its traditional delis. Experience the city's food for you to fully understand the culture and ways and means of the Jogja folks.
Gudeg, a sweetened dish made from jackfruit and is usually served with rice (or nasi), chicken (or ayam), crispy beef (sambal krecek), and tahur egg, is a must-try. You can try the best gudeg in town at either Gudeg Sagan along Jalan Dr Herman Yohanes or Gudeg Ibu Lies at Jalan Wilijan No. 5 A-B.
Try everything fried in combo or goreng the "Lesehan Terang Bulan" way in Malioboro. Lesehan is a traditional dining techniques where diners are seated flat on the carpet while munching their yummy treat. Offered in Lesehan are goreng, satay, bakso (meat ball soup), etc.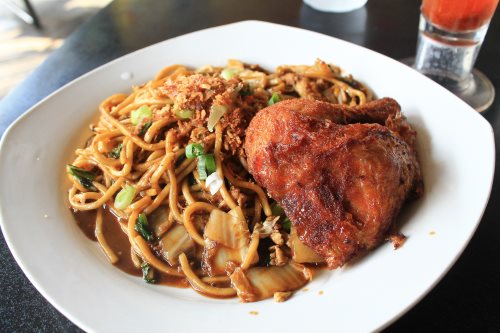 Reflect at Taman Sari Water Castle
The Taman Sari Water Castle is the former royal garden of the Sultanate of Yogjakarta. It is a host to a large artificial lake with islands, bath houses, and pools.
Spend a Night at Alun-Alun
Alun-alun is a great choice if you want to party. Being a top-notch night entertainment district of Indonesia, you can enjoy every music beat and cocktail sip.
You can also bust the local myth by passing between two banyan trees while blindfolded. They said that your wish will be granted when you succeeded.
Pay a Visit to Keraton
Seating at the end of Jalan Malioboro, Keraton stands proudly to boast the exquisite Javanese artistry and craftsmanship. Keraton is a palace complex that serves as the cultural center of Yogyakarta, and is a host to a museum containing the sultanates artifacts. It is also a home of the Yogyakarta's Royal Family.
With your IDR15,000 entrance fee, you can get a guided tour and have a glimpse of its humble beginnings and succeeding stories.
Try Something Extreme by Tubing at Pindul Cave (Goa Pindul)
For IDR60,000, you can go tubing along Oya River at Gunung Kidul. The route passes through the caverns of Goa Pindul. To book a tour, visit Cave Tubing Goa Pindul's website.
Where to Stay in Yogyakarta
Every traveler needs a place to spend the night and to relax after every tiring jaunt. You probably need a luxury resort to make your vacation really outstanding or simply a humble couch to sleep.
To secure your preferred accommodation, book as early as possible at Agoda. 5-star hotels usually go on sale, slashing the prices down to 50%.
Below is the list accommodation options for your Yogyakarta sojourn:
Premium Accommodations
The Kharma Villas – If you travel as a family or in a group of six, then you are well-fitted to The Kharma Villa. This all-villa accommodation offers 5-star hotel services and amenities. They also have transport services for rent for you to get around the city.
Address: Jalan Padma Palagan, Ngaglik, Yogyakarta
The Phoenix Hotel Yogyakarta – The Phoenix Hotel Yogyakarta is strategically located at the city center. Though close to the urban sprawl, it has maintained the privacy and class to every room. The friendly and hospitable staffs is just one of their great aces.
Address: Jalan Jenderal Sudirman No. 9, Yogyakarta City Center
Melia Purosani Hotel Yogyakarta – Melia Hotel is also located at the city center wherein entertainment, food, and shopping districts are walking distance away. Deluxe rooms pegged at 42 sqm, spacious enough for two. The suites are even bigger.
Address: Jalan Suryotomo No. 31, Yogyakarta City Center
Hyatt Regency Yogyakarta – Located in Ngaglik, Yogykarta, Hyatt Regency is on the suburb side of Jogja. A trip to Borodudur would be faster but going to the city center may require you additional transportation cost. Don't consider it a downside because you are well compensated with beautiful landscape, a stunning garden pool, and premium hospitality services.
Address: Jalan Palagan Tentara Pelajar, Ngaglik, Yogyakarta
Sheraton Mustika Yogyakarta Resort and Spa – With close proximity to the airport, Sheraton is positioned to cater business travelers. Each room comes with signature Sheraton Sweet Sleeper bed, a private balcony overlooking a well-landscaped garden, high speed internet access, and other premium amenities.
Address: Jalan Laksda Adisucipto KM 8.7, Yogyakarta Airport
Hotel Temtrem Yogyakarta – If you want to avoid the bustling districts of Yogyakarta then Hotel Temtrem is an excellent choice for you. The hotel is cleverly located in a silent neighborhood while still remains close to the city center. The elegant dining experience and the lovely pool are pretty inviting.
Address: Jalan A.M. Sangaji 72A, Sinduadi, Yogyakarta
Mid-range Hotels
Hotel Neo Malioboro – Located at the heart of the city and just few steps from Jalan Malioboro, everything is close to Hotel Neo Malioboro. You can book a standard hotel room with breakfast for as low as US$37 per night, and that is good for two individuals.
Address: Jalan Pasar Kembang No. 21, Yogyakarta City Center
The 101 Yogyakarta Tugu Hotel – Also located at the city center, the 101 Hotel offers good value for every guest. Each room comes with standard, complimentary hotel amenities. A room without breakfast can be book for US$40 per night for two persons.
Address: Jalan Margoutomo No. 103 (Mangkubumi), Yogyakarta City Center
Hotel Dafam Fortuna Malioboro – They have a rooftop pool so you must experience this when you stay at Hotel Dafam Fortuna.  A deluxe room with breakfast can be booked for only US$33.
Address: Jalan Dagen 60, Yogyakarta City Center
Whiz Hotel Yogyakarta – There is no pool for you to plunge but they have friendly staff, good food, and favorable location which, I guess, are enough compensation. Rooms with breakfast starts at US$35.
Address: Jalan Dagen 8 Malioboro, Yogyakarta City Center
Ibis Styles Yogyakarta Hotel – Experience their rooftop pool and socialize with other guest at their rooftop bar.
Address: Jalan Dagen No 109, Yogyakarta City Center
Budget Accommodations
If you travel on a shoestring budget, homestays and guesthouses are also available to welcome you and to give you the same experience the humblest way possible. You can get a room for a low as US$6.00 per night.
Check the list below and choose whatever you feel suite you.
Hotel Dana – Jalan Sartono No 30 Mj III / 837 Mantrijeron, Bantul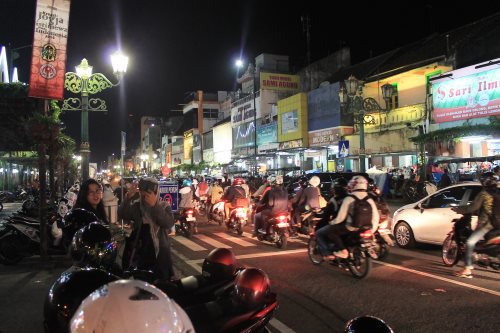 How to Move Around Yogyakarta
By Motorbike
Motorbikes for hire is available at almost every corners in Yogyakarta, and it is pretty convenient if you deduct the language barrier. Some try to do their best in English, nonetheless. The downside, however, is that there are no standard tariffs for this type of transport. The riders would usually ask IDR10,000 (~US$0.75) per way as fare.
You can also rent a motorbike for a day use for only US$20.
By TransJogja
TransJogja, on the other hand, is a BRT (bus-rapid-transit) where you can hop, transfer, and disembark at any designated stops. Almost every major spot in Yogyakarta has TransJogja station (or shelter) including the airport.
TransJogja operates between 05:30AM and 09:30PM. The minimum bus fare is IDR3,000.
Important Tips and Reminders
Nothing is more pampering than the morning chill that blends perfectly with the gentle warmth of the rising sun over a scenery that is so spectacular to behold. Hence, make sure that you sacrifice one of your mornings in bed by waking up early to greet the sunrise in Candi Borobudur.
You can save on entrance fee when you buy the Borobudur-Prambanan entrance fee bundle for only US$30. This will include a small bottled water and a free use of sarong which you need to return after the visit.
Candi Borobudur opens as early as 06:00AM and closes at 05:00PM.
Candi Prambanan accepts guests between 07:00AM and 05:30PM only.
When you visit Candi Prambanan, avail the bicycle tour to get to Sewu Temple and its neighbors, Candi Bubrah and Candi Lumbung.
Candi means temple, jalan means street, goreng means fried, rice is called nasi.
Say "halo" to greet someone. Say "saipa nama anda" to ask his name while start with "nama saya…" and then state your name to introduce yourself.
"Berapa harganya" is very helpful when you go shopping. While "terima kasih" are words used to express your gratitude. If you have issues with the accent, don't worry, English is widely understood.