It was the rain pelting the glass window that disturbed my sweet dream. With a peek, I could see the blurry apparitions of few individuals taking shelter under the well-illuminated sidewalk. I did not bother checking the time. I set an alarm at four thirty, so I returned to sleep, with hopes to gain additional strength.
Day 3 in Taiwan
It was our third day in Taipei. Since we only had 4 days to spend, we maximized every minute we have to explore around. We spent our first day checking museums, parks, infrastructures, and shops. And then on day two, we joined the KKday tour to Yehliuh, a marine geopark; Shifen, where we flew lanterns with our wishes written on it; and Juifen, where we spent most of our time tasting Taiwan's delicacies.
Our third was solely for Sun Moon Lake adventure.
But before I could go back to sleep, my alarm started sounding on. In as much as I wanted to snooze it, I couldn't. We had a high-speed train to catch, and we couldn't afford to get late. We were joining an organized tour via KKday, so as a respect to other guests, we should be there on time as well.
We only had an hour to prepare, and another 20 minutes to walk from FlipFlop Hostel Lab, where we were staying, to Taipei Main Station.
High-Speed Rail to Taichung
The rendezvous is in Taichung that is 170-kilometers south of Taipei. The fastest and the most comfortable way to get there is via the high-speed rail. Since we didn't have the luxury of time, we took it. By the way, we also booked our discounted high-speed train seats at KKday. We just showed the voucher emailed to us along with our passports at the ticket counter, and then, "poof!" we got our special passes.
After 50 minutes of travel time, we arrived at Taichung. We contacted Angel, our Sun Mon Lake tour guide, via WeChat, and then agreed to meet at one of the station exits.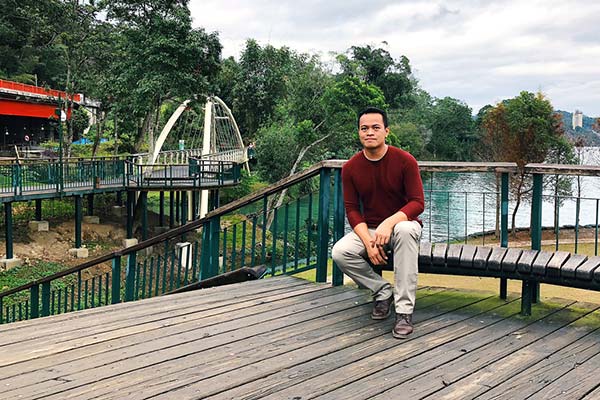 Sun Moon Lake Adventure
Sadly, we were the last one to arrive. Good thing that we weren't late. The group was pretty diverse with guests from Japan, mainland China, Indonesia, and Taiwan. Because of that, Angel needed to speak in three languages; Mandarin, Hokkien, and English.

From Taichung, we traveled around 45 minutes to reach Sun Moon Lake. The lake, by the way, is Taiwan's largest inland water. Swimming is permitted only once a year, and that is during the Swimming Carnival held in time of the Mid-Autumn Festival.
Plum Blossoms near Xiangshan Visitor Center
Our first stop was Xiangshan Visitor Center. Well, not really Xiangshan but the bicycle rental shop that is 150 meters north of it. Part of the tour is a bicycle ride along the scenic lane built solely for paddlers around the area.
Across the visitor center is a small parking area where few plum trees lined along the edge of the narrow passage. We were lucky to see white plum blossoms.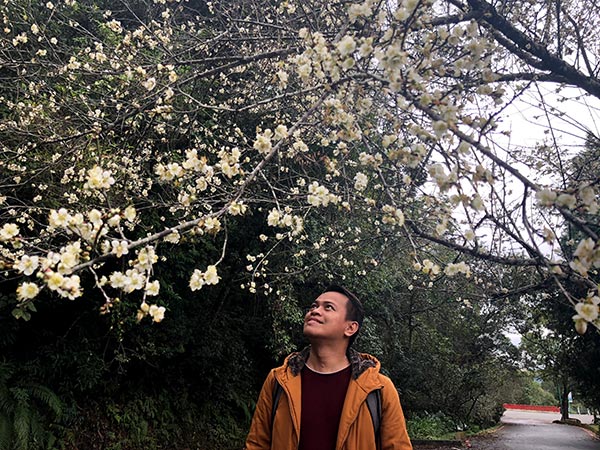 Immediately after the Xiangshan visit, we had our lunch at Asian Restaurant along Zhongshan Road, across Songhe Hotel. It was fun sharing food with strangers.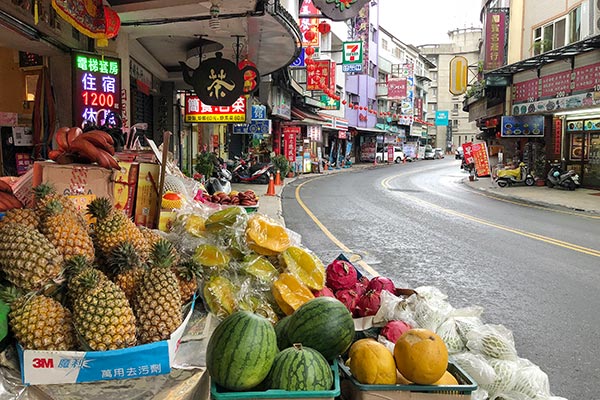 Supposed Yacht Cruise
A yacht cruise was next on our itinerary. So after the feast, we walked to Shuishe Pier, which happened to be pretty close, and then waited for our ride to the opposite bank, Yi Da Shao Wharf.
The supposed scenic cruise turned to a frosty boat ride. It rained really hard that we could hardly see the towering structures around the lake. The helmsman only relied on on-board navigation devices to steer us safely to our next destination.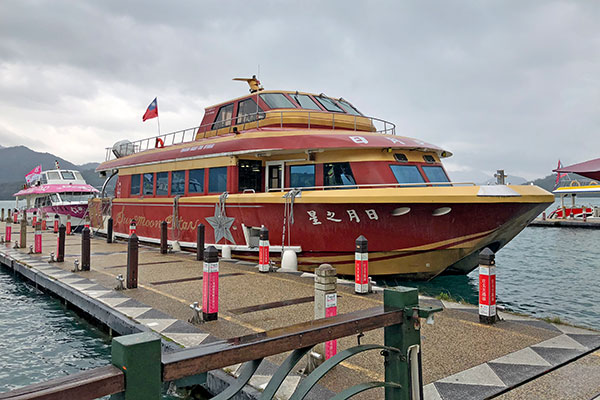 We arrived safely at Yi Da Shao Wharf, but were half soaked.
Cable Car Ride
We headed to Sun Moon Lake Ropeway next, and took a two-way cable car ride. Each car color represents Sun (yellow), Moon (red), and Water (Blue). The latest addition to these cars is Earth (green). We noticed that it has a special rider lane. We found out later why people are very willing to wait on the long line. The green car has transparent floor, making the ride a lot more thrilling.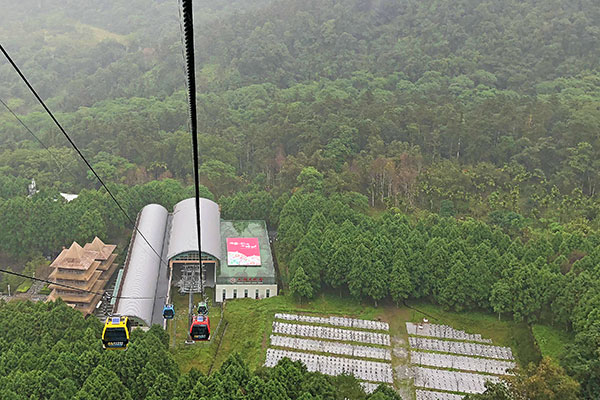 Wen Wu Temple
Wen Wu Temple was our last stop. Built in 1938, the temple was erected to promote the lake as prime tourist destination. Over the years, it did not only attract tourists but the religious as well.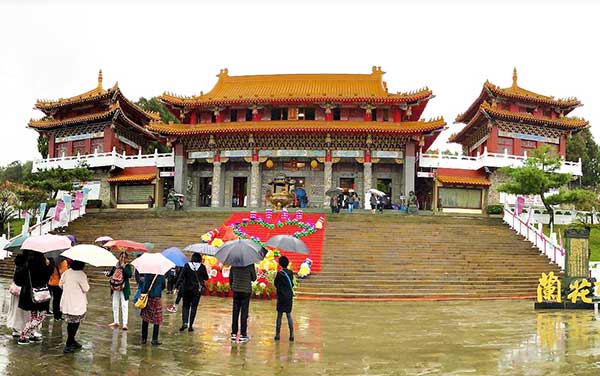 Wen Wu Temple is divided into three different halls. The front halls house the Civil God of Wealth, the God of Literature, and many more. The complex' centerpiece is the main hall that enshrines the God of War and General Yue. Lastly, the rear hall is also known as the Hall of Great Achievements, which is dedicated to Confucius and four saints.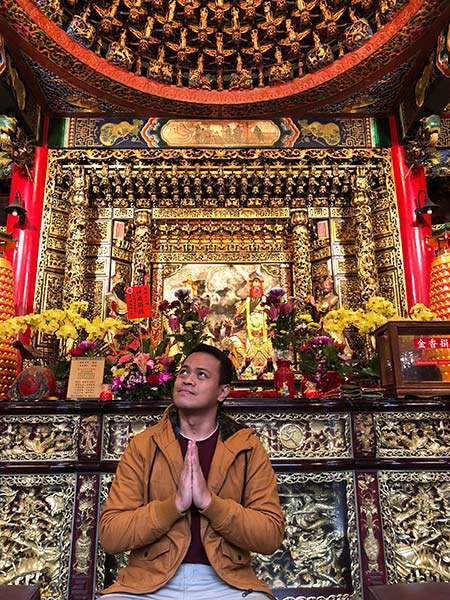 The exterior of the temple is highly inspired from famous Chinese Palace. The details on the walls and columns are carefully and meticulously crafted to great symmetry and sophistication. The altars, on the other hand, are so grand that you'll doubt touching it.
Our Sun Moon Lake tour ended at Wen Wu. Though it rained almost the entire time, we still managed to enjoy it.
We traveled back to Taichung where we boarded a high-speed rail back to Taipei.
Tips, Notes, and Reminders
To save on your travel to Taiwan, check this article: "Where to buy discounted Taiwan attraction tickets, tours packages, and experiences."
November to February is pretty rainy in Taiwan. If you want to enjoy the trip, make sure that you avoid these months.
There's no public transport around Sun Moon Lake, your only option to move around is joining an organized tour. For our case, we booked our Sun Moon Lake Adventure with KKday. Included in our package were transportation from Taichung to Sun Moon Lake, bike rental, yacht cruise, cable car fees, and lunch.
When joining organized tours, make sure that you follow the agreed timeline.