If you have been thinking on how to make the most out of your Boracay visit, this list might be helpful. Boracay isn't just about the beach, parties, or staycation but also a good place for exciting adventures. Check out the following budget-friendly (and some not-so-budget-friendly as well) activities in Boracay and make your stay a lot more memorable.
#1 Beach Bumming (free)
The primary reason why you visit the island is probably to beach bum. In Boracay, you have plenty of options. You can stroll along the entire stretch of the 4-kilometer White beach, spend some private moment in Puka Shell Beach, be equally astounded in Bulabog Beach, and many more. And the good thing about this activity is that, this will always remain free.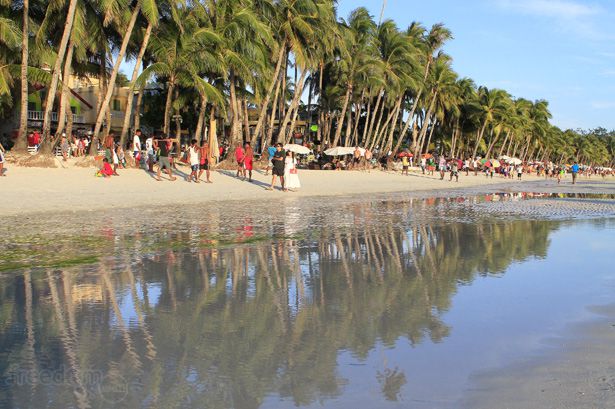 #2 Ariel's Point (₱1,800 includes food and drinks)
Adventurous? Try cliff jumping. Ariel's Point has diving platforms with 3, 5, 6, 7, and 15 meters in height. For ₱1,800, you can enjoy the barbecue buffet with unlimited booze. You can book your tickets at Boracay Beach Club which is located in Station 1 behind Ariel's House beachfront lounge (beside Club Paraw).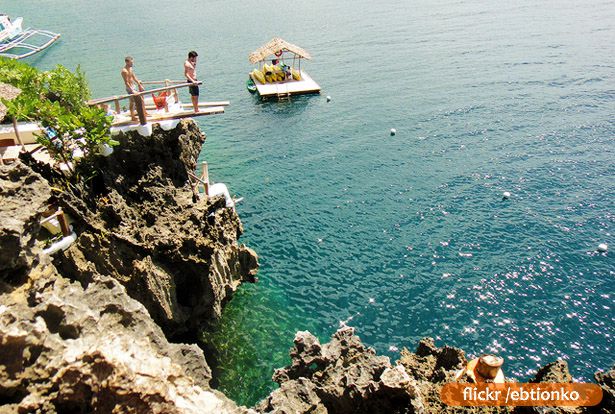 #3 Paraw Sailing (₱1,000 for 1-2 persons)
One of the best way to watch the sunset is sitting on Paraw's akas with your feet wading on the water surface. Regular rates for this activity is ₱1,000 for 1-2 persons or ₱1,500 for 3-4 persons. If you deal with touts with your charming haggling skills, you may end up paying less.

Trivia:
Paraw is a typical Filipino double outrigger sailboat popularly used in the Visayas (central Philippines)
.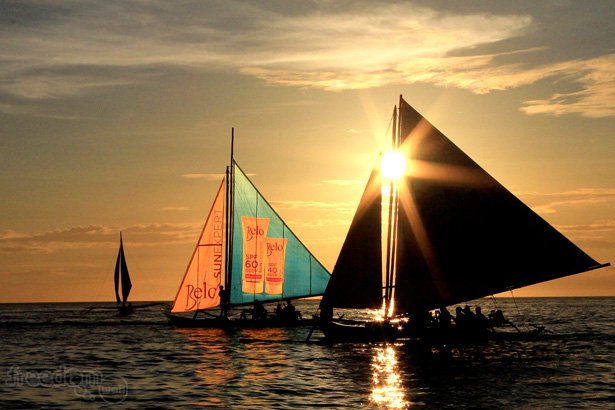 #4 ParaSailing (₱2,200/pax)
How about gliding in great heights? Are you game? Then try parasailing and experience being whisked into the sky. Parasailing also offers a stunning bird's eye view of Boracay's White Beach. For ₱2,200, you can already enjoy 15 minutes of adrenaline rush. The price will be less if you ride in a group (up to 3 persons).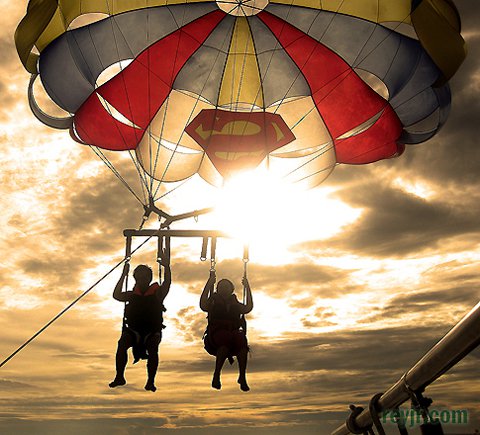 #5 Fly Fish (₱600/3 pax)
Fly fish is exciting and may toss you out into the water if your grip isn't strong enough. An inflatable water sled is pulled by speedboat allowing it to glide and fly vertically. Be wary of the quick  turns to avoid being laughed at when you fall. For ₱600, the gang of three can enjoy this 15-minute exhilarating ride.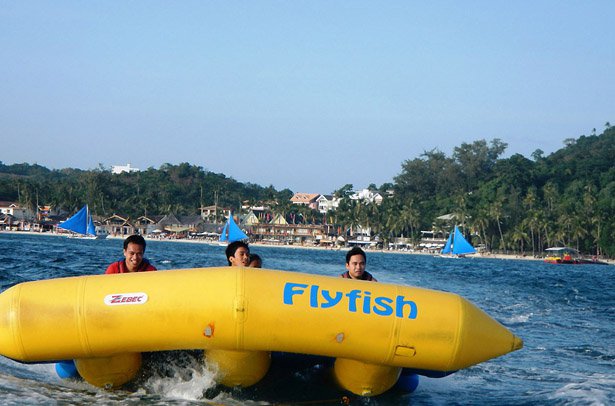 #6 Helmet Diving (₱1,000/pax)
Reef walk and mingle with creatures of the deep with helmet diving. And if you are thinking of getting drowned, don't worry, the helmet is fed with breathable air and there are PADI-certified dive instructors to guide you. Remember, don't forget the hand signs since you won't be heard talking underwater. The rate also includes the CD with your photos.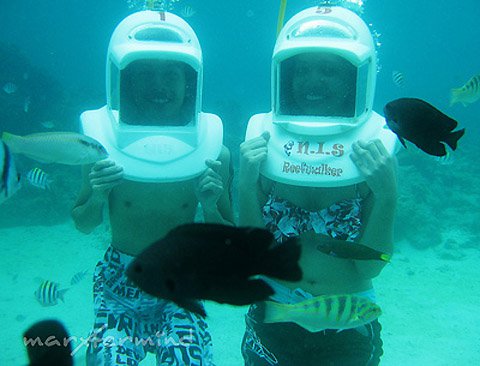 #7 ATV Tour (₱800/hour)
You can just follow the trail or steer uphill along Mount Luho Road to back in this bumpy ride. ATVs are avialable for ₱800 per hour while the buggy car, which offers equally exciting ride, can also be rented for ₱800 per hour.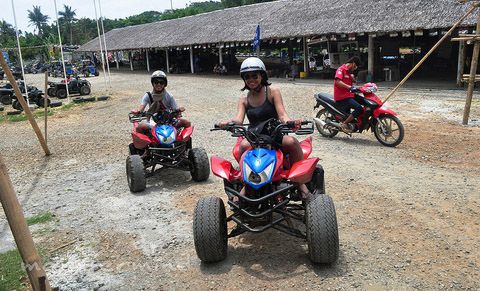 #8 Zorb (₱600/pax)
Imagine being held inside a big bubble (zorb), rolled downhill and smashed into a pool of water? Well, I have nothing much to say about it, just try it yourself.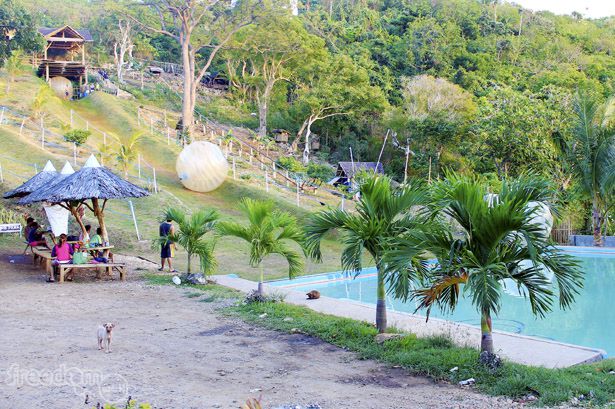 #9 Mt Luho and Ocean Tower Viewpoint
Mount Luho Viewpoint collects ₱120 as entrance fee for you to view the stunning panoramic view of Bulabog Beach and the verdant side of Boracay. But if you want to enjoy equally astonishing scenery without shelling out a cent, then climb up to the Ocean Tower Viewpoint.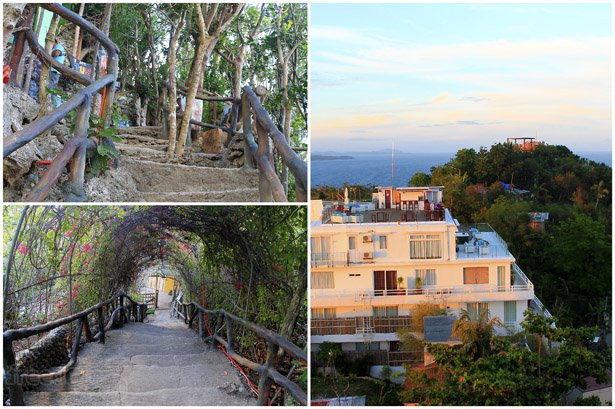 Ocean Tower Viewpoint is also starting some "cheesy" gimmicks. Couples can affix their love locks in view decks barricades.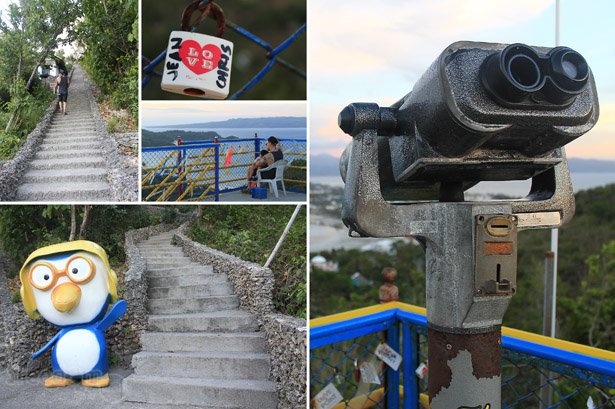 #10 When Lucky, Meet a celebrity (free but by chance)
And if your are lucky enough, you can spot some gorgeous local celebrities as bonus. But this isn't all time guaranteed – just exclusive for select lucky guys like me. (hehehe, kiddin')