It was almost complete, and almost a mishap too. We weren't completely unfortunate though. We finished our Cotabato-Iligan-CDO tour with all body parts intact and, luckily, with less injuries.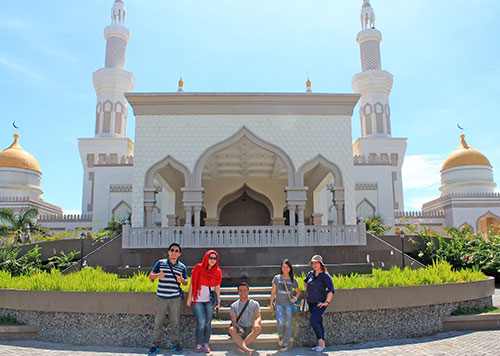 The Creepy Ride from Cotabato to Midsayap
The palpitations started when our PU driver/tour guide in Cotabato Grand Mosque offered to bring us directly to Midsayap and insisted to take the road along the MILF territory. Though we followed all his warnings not to take photos and not to look at them in the eyes with utmost obedience, we couldn't set all the worries aside.
We passed through a narrow street where every intersection was manned with men in camouflage, armed with high-powered guns. Some of them even carried ammunition belts. The green patches on their uniforms indicated that they belong to the Moro Islamic Liberation Front (MILF).
Their seemingly unhappy faces translated to being serious on their posts. They were always ready to apprehend any suspicious element in the area. 'Twas a bit relieving to know that our PU driver is well versed with some local gestures or signals, a way to tell them: "We bring no harm, please let us pass".
Not all of them were grown men. Some were on their teens or early twenties yet they were ready to sacrifice their lives or would even take lives to protect their cause.
Just few blocks from the two MILF checkpoints, we passed the Philippine Army camp where the soldiers were trimming hedges and grasses, cultivating gardens, and sweeping their camp lawns. We found it very ironic that they were just wearing casual uniforms without any ballistic devices. Then we thought, they were probably too optimistic for peace. That calmed us a bit.
Our driver also pointed us the way to the Moro National Liberation Front (MNLF) camps. That time, we begged him to just bring us safely to Midsayap, were we rented a hotel for two nights.
We survived that dark journey, but it wasn't the end of the misery.
The Evening Chill Made Warm
After checking in at out hotel in Midsayap, we went out for dinner. The town was surprisingly peaceful. All-you-can-eat restaurants dotted the highway and were very affordable at ₱130/head for dinner and ₱150/ head for lunch. With local cooking in the buffet table, we felt we were just out for a visit to a friend's house.
We also had an awesome evening chill while listening to familiar acoustic beats at Travies Gastro Pub.
Asik-asik the Majestic
No alarms were needed to wake us up on our second day. After minute preparation, we rented a trike to Alamada, a neighboring town. Asik-Asik Falls, our sole purpose that day, is located at a remote village in Alamada, Cotabato Province.
Habal-habal (extended motorcycle) drivers swarmed us and offered their lift services. They knew exactly where we are heading. Instead of getting confounded, I found it favorable on our side. We could bargain for an acceptable rate. And yep, we did not spend much time for the negotiation. We agreed to the 700-peso round-trip deal. One motorcycle could carry 2 passengers.
We traveled an hour and a half on habal-habal to get to Asik-asik. Half the road is paved while the other half is muddy and rough. There were areas where we had to get off and walked to a spot where the habal-habal can safely maneuver. That was the most butt-wrecking ride ever.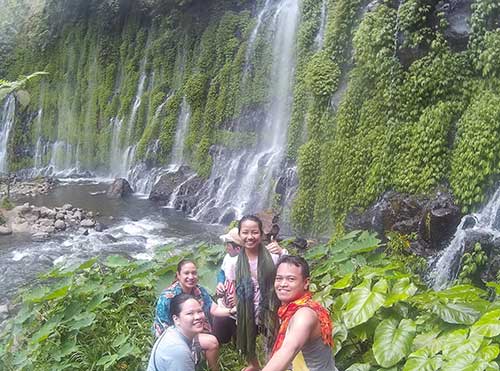 We paid the entrance fee from the drop-off and trekked additional 45 minutes to get to the falls.
When we saw the falls, we forgot every effort we made. It was like enchanted, a spectacle. The waters dripped from the highly vegetated rock walls. The source, on the other hand, seemed unknown.
The current wasn't that strong in the middle area, so we were able to experience the nippy cascade.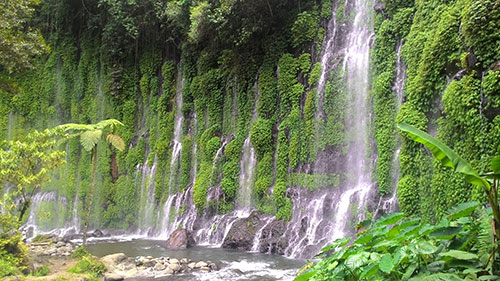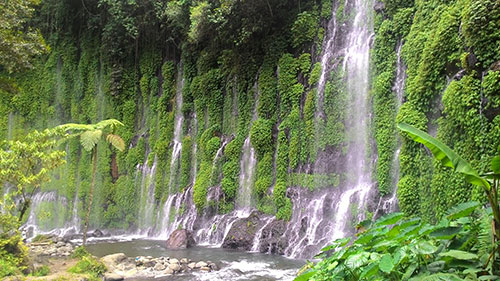 A Careful Confrontation in Cotabato
The next day, we headed early to Cotabato City for a van ride to Marawi. To be honest, I did not like the ambiance of the city. Armed and uniformed personnel were almost at every corner, people spoke a very unfamiliar language, and conversations were a way too close to shouting. The atmosphere felt really thick to breathe.
With the urge of leaving Cotabato early, we hopped on the first van in the queue. After waiting for almost an hour, we noticed that passengers were skipping the van we're on and took the next in line. The two vans next to us got filled first and left ahead. I wondered why, so  I humbly approached the dispatcher and asked if we could take back our fare and transfer to the next van. They were also letting other passengers to transfer, so why not us.
The dispatcher talked to the driver of our van, got back to us, and promised to leave immediately.
After a minute,  another passenger transferred and I found it really unfair. For the second time, I approached the dispatcher, but that time, with an impatient voice. We had some arguments.
All I had were mixed thoughts. I need to exercise my right as passenger without insulting and without uttering anything that could mitigate any further confrontation. Since I was the overall in-charge of the trip, I couldn't afford taking any action that could breach our safety – but we had to leave that place as soon as possible.
A Steamy Procession
After waiting for another hour, they [the driver and dispatcher] were able to drag another two passengers to join us. We were able to leave after they were properly boarded.
We passed through several towns of Maguindanao and Lanao del Sur. Villages were posting array of white flags, a gesture which probably asks to spare them from any armed conflict.
It was then when I noticed that we rode an infamous van. We were moving really slow and took almost 5 hours to travel the 155-km highway. What added to our misery was the A/C malfunction and we were seated on an area where the window could not be opened.
I constantly checked Google Maps along the way, and as we spent more time on the road, we started to accept that we couldn't proceed with our waterfalling that day.
We reached Marawi City past 4PM and immediately transferred to a taxi (a private sedan for hire) bound for Iligan. That costed us another hour.
Pigging Out in Iligan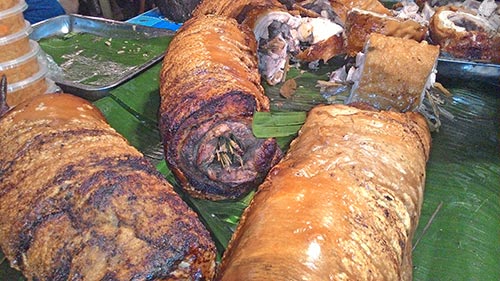 Good thing that Iligan was celebrating some kind of festivity on that visit. So instead of mourning for the lost or unproductive time, we went out, joined the local on their celebration, and pigged out. The street beside the Iligan Plaza was turned to "banchetto" dining and the plaza itself was converted to a beer plaza.
We also spent the night with a tower of beer and some funny chit chats.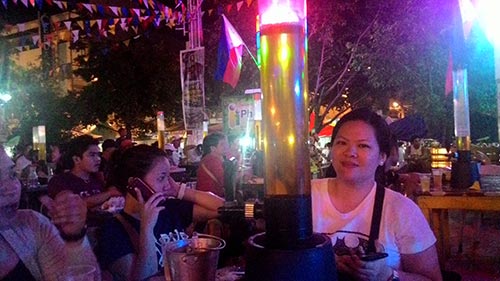 We Found You, Tinago!
The day after, we headed to Tinago Falls. We were completely aware that this area of Iligan get filled with tourists easily so we decided to have the visit early.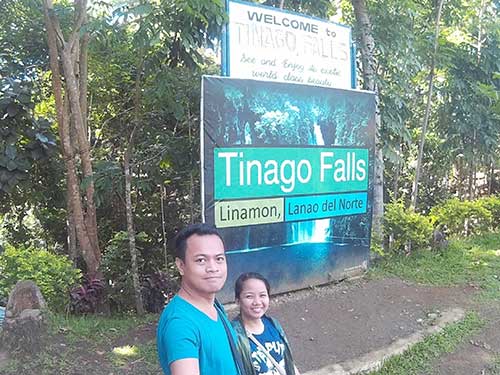 Every great scenery comes with a great effort to see it. Tinago falls is literally tinago, a local term for hidden. Good thing that they constructed stairs for easy access, however, the way up and down could still cramp your legs if you are not fully hydrated.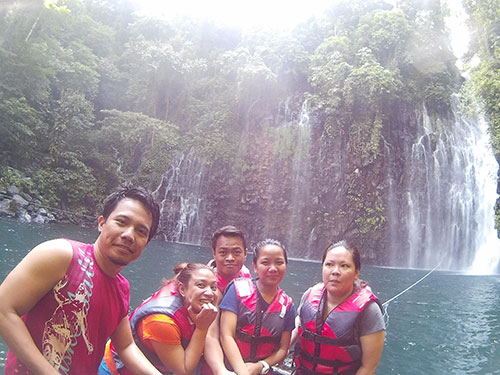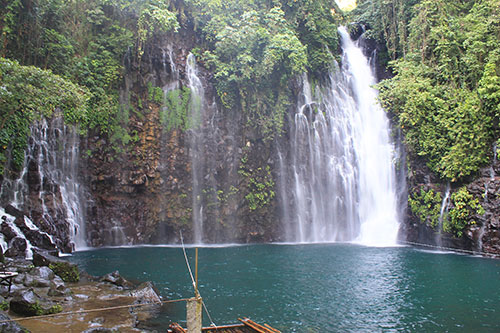 Tinago Falls is more magical than the pictures. The main cascade drops with a lot of pressure creating a deeper pool and stronger current. The smaller ones drip from the walls giving anyone below a good tapotement.
We hopped on a raft and dragged our way to the main cascade. When we were directly below, the guide instructed us to take off the life jackets to fully experience the pampering hydromassage. Some forgot to put it on after.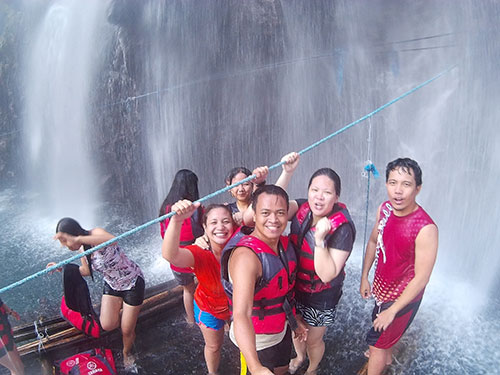 I couldn't scale the depth but I guess it was more than enough to drown anyone. We were directly below the falls and enjoying the moment when the knot snapped, then the raft was immediately dragged away. Three of my friends were holding the rope that time. One managed to release but the other two, who forgot to put on their life jacket, almost fell in the deep and turbulent water under the falls. Good thing that everybody was fast enough to respond the incident. That was almost a mishap.
Meet and Greet with Maria Cristina
We headed to Maria Cristina Falls after Tinago.
Maria Christina Falls and power plant is located within the National Power Corporation compound, along with the botanical and zoological garden.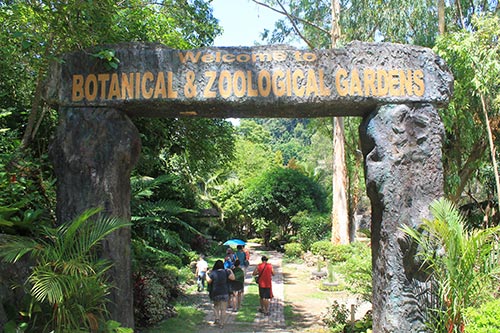 We weren't there to swim but to witness the force of the 320-feet (98-meter) cascade that is responsible of Mindanao's 70% power supply.
Maria Christina drops fresh water at an incomprehensible rate of 130 cubic meters per second – that's too much energy. No wonder, the outflow was too strong, too.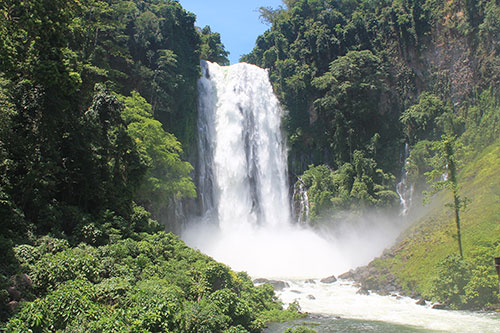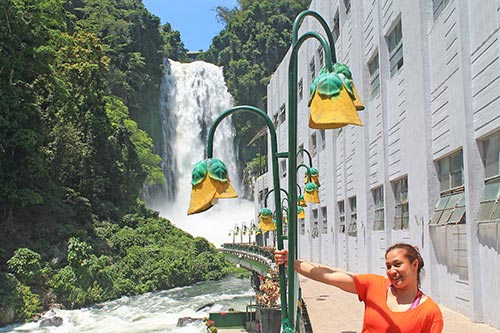 We only visited two out of 7 popular falls in Iligan. I believe the city is a host to more than twenty, which is why it's nicknamed as the City of Majestic Waterfalls.
Before the day ended, we said our goodbyes. It was sad but we really had to go. We headed to Cayagan de Oro afterwards to enjoy the famed Whitewater Rafting.