When I set my eyes on something, I'll make sure to do everything to achieve it. I will only stop if pursuing is really impossible and life-threatening, especially when it comes to travel goals.
That was why, when I set my course to Matalom, Leyte, I set my expectation pretty clearly—that before I cross to Canigao Island, I should experience Hitoog Cave and Karap-agan Falls first. That was the only viable option then, since we had to return to Hilongos early the following day to catch our ferry back to Cebu.
While I was securing our return ferry tickets, my friends were able to strike a deal with a van driver. For ₱1,200, he could bring the 16 of us to Matalom from Inopacan with a stop at Hitoog Cave, and if possible, Karap-agan falls. By the way, we already spent an awesome night in Digyo Island, one of the four scenic islands of Cuatro Islas, before heading to Matalom.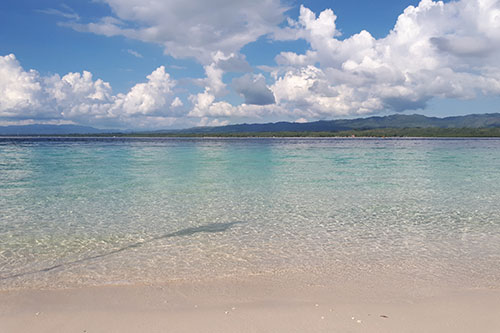 Everything was going smoothly until we passed the unpaved portion of Caridad-Elevado Road. Kuya driver suddenly became distasteful. He asked every person we met along the way about the distance between our location and our destination. The first person answered one kilometer, the second told us two, and the third said it is three.
The last man destroyed everyone's cool when he said that we need to drive four more kilometers. It was quite shady though since the distance between each person we asked is just less than a hundred meters. Kuya, however, believed the last person. He suddenly abandoned the plan, and then maneuvered the van back to Matalom town proper without asking us. That was completely rude! We were about midway, assuming that the Google Maps direction is correct.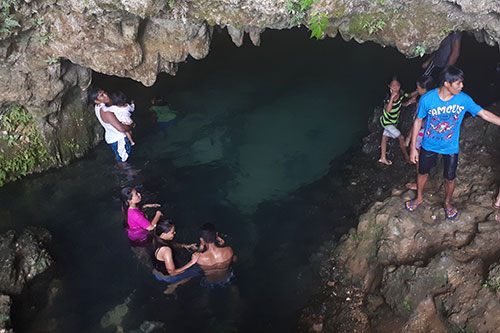 I did not note the driver's contact number because his services are not worth recommending.
Places to Visit in Matalom, Leyte
While the rest of the group somewhat accepted the driver's foul gesture, I was uneasy. I parted from the group, which was en-route to Canigao Island, and then looked for a motorbike taxi or habal-habal to bring me to Hitoog Cave. Luckily, I found one. The driver asked ₱100 for the two-way trip.
Hitoog Cave
From the highway, we traveled along a mix of paved and unpaved road. It was more of a rough ride though.
It is true that Hitoog Cave is more than 4 kilometers away, but that distance was from the highway. When we took the van, we were about midway when the last person we asked told us to drive four more kilometers. That means nobody really told us the right information since the beginning.
Hitoog Cave features a cave pool, which water source is a spring. Fronting it is an array of makeshift cottages and a man-made swimming pool. The swimming pool serves as a catch basin of the water overflow from the cave, channeled using PVC pipes. With the natural and man-made pools, guests to Hitoog can enjoy two swimming options.
However, despite being quite hard to reach, the cave goes jam-packed especially on long weekends.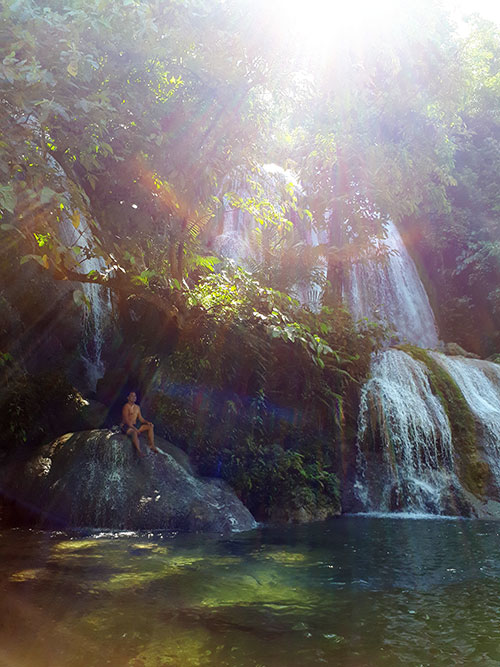 Karap-Agan (Mahayahay) Falls
From Hitoog Cave, my habal-habal driver offered to bring me to Karap-agan Falls in Sitio Mahayahay of Barangay Elevado. Being located in Mahayahay, some people started calling it Mahayahay Falls.
By the way, the falls is closer to the town proper compared to Hitoog Cave.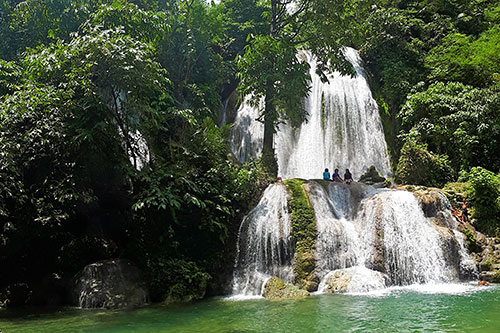 From the road, I crossed Esperanza River twice to get to Karap-agan Falls. Along the way was a stunning amalgamation of greens. The reflection of the foliage on the serene surface of Esperanza created a vision of an enchanting world.
Karap-Agan is a two-tiered waterfall. With safety in mind, I carefully searched my way up to the middle section of the falls. Up there is a deep pool created by the strong pressure of the upper tier. The powerful current and the slippery rocks limited my movements.
Canigao Island
Immediately from Kapag-agan Falls, I headed directly to Matalom port to secure a seat for Canigao Island.
Big outrigger boats transport up to 60 passengers from Matalom to Canigao and vice versa. The tourism office collect ₱105 per person, wherein ₱65 is the two-way fare and the remaining ₱40 is the environmental fee.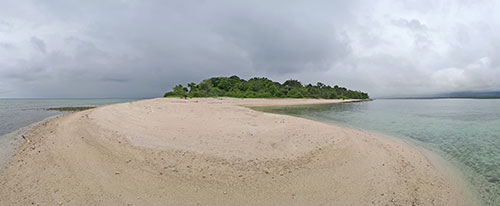 After less than 30 minutes of travel time, I rejoined the group, and then spend another awesome day with them.
How to get to Matalom Leyte
From Manila, take a flight to Tacloban, and then hop on a Van to Maasin, Southern Leyte. Tell your driver to drop you off in Matalom town proper.
From Cebu, take a ferry to either Bato or Hilongos, and then transfer to a trike or jeepney to Matalom. You may also opt to take Weesam Express to Maasin, and then transfer to a jeepney bound for Hilongos.
From Kalanggaman Island, return to Palompon town proper, transfer to van bound for Maasin, and then alight at Matalom. Total travel time from Palompon is up to 6 hours and may cost you ₱350.
From Cuatro Islas, return to Inopacan, transfer to a jeepney bound for Hilongos, board a jeepney or van to Maasin, and then alight at Matalom town proper. Total travel time from Inopacan is up to 1 hour.
Depending on how you design your itinerary, you can take a habal-habal to Hitoog Cave and Karap-agan Falls, and then spend a night in Canigao Island.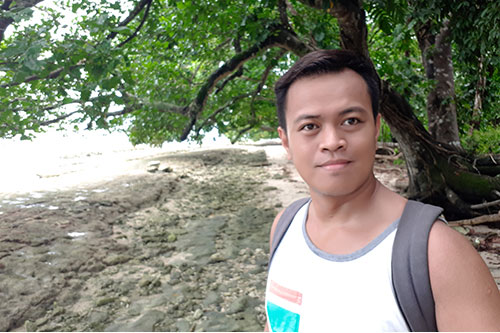 Matalom Fees
The two-way habal-habal fare to both Hitoog Cave and Karap-agan Falls is usually ₱150, If the driver asks more, make sure to negotiate.
Entrance fee to Hitoog Cave is ₱20 per person while there is no fee for you to experience Karap-agan falls.
The boat fare to Canigao Island is ₱65 per person and the environmental fee is ₱40 each.
During lean season, Canigao Island collects ₱200/tent as tent space rental. Cottage rental starts at ₱500 for day use or ₱700 for overnight use.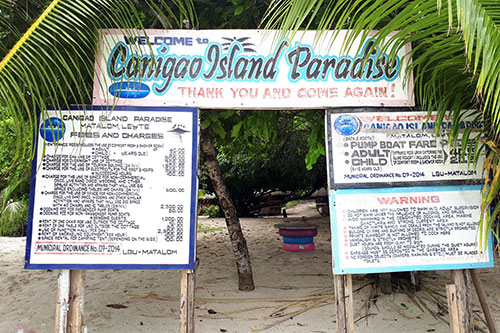 Notes, Tips, and Reminders
You can bring your own food and cook set. However, if you pack light, you can use the common grill area to cook your lunch or dinner. Remember that you will share the area with other guests as well and the island usually goes very crowded on weekends.
Drinking water is sold in 20-liter containers, but I doubt the quality because some taste like it was coming from a deep well source.
Sari-sari stores sell basic stuff, such as soap, shampoo, coffee, fruits, bread, noodles, etc.
The water running on the comfort rooms and showers is brackish. You may find it harder to make your soap bubble.
Cellular signal is available for all networks. Globe offers 4G/LTE reception.
Cuatro Islas in Inopacan is also worth a visit. The jump off area is just an hour away from .
Though not an island policy, I suggest you bring your garbage with you back in the mainland for proper disposal.
BE A RESPONSIBLE TRAVELER OR TOURIST. Always remember to internalize and follow the "traveler's creed": Leave nothing but footprints, take nothing but pictures, and kill nothing but time.
 Original na paglathala: Mayo Desi Siete, 2017