After my tour in Mines View and Good Shepherd's Convent, I rode a jeepney back to the City's downtown (near Burnham Park). I then took a jeepney going to Fort Del Pilar which houses the Philippine Military Academy (PMA). My timing was perfect because it was PMA's graduation ceremony whose Guest of Honour was no less than President Aquino. The jeepney dropped me off near the runway along Loakan Road. There we waited (along with other visitors) for a PMA Bus to pick us up and bring us to the PMA compound.
It was PSG who handled the security of the area and it was stricter according to those who visited the vicinity for the nth time. Those who wear slippers weren't allowed inside and the cameras were inspected and been tagged with PSG stickers. Though we were allowed to take photos, picture taking was restricted in some areas.
When the graduation rites was about to start, I preferred visiting the PMA Museum (10-peso entrance fee is collected) and journeyed the history of the soldier-making school through the visuals and galleries. I then took a peek at the PMA grounds to witness the gathering of 187 cadets who'll be graduating. At the moment, PNoy was accompanied by PMA's Superintendent to troop the line. But before that, I heard multiple gunshots for his honor.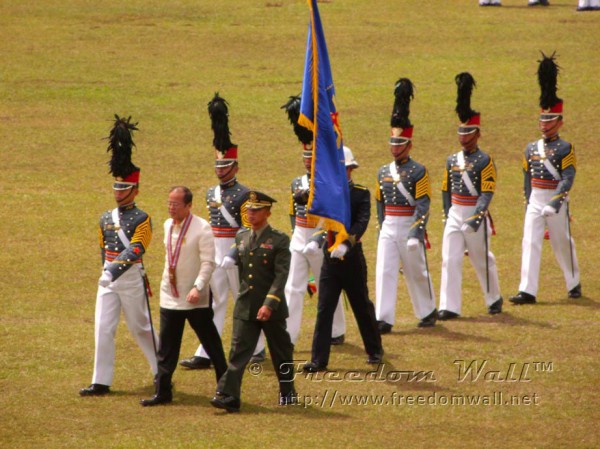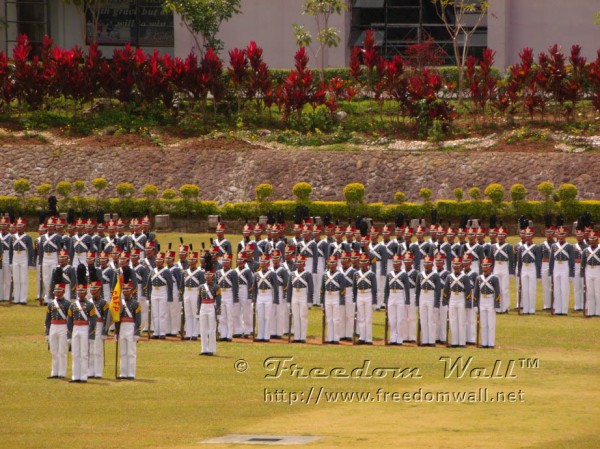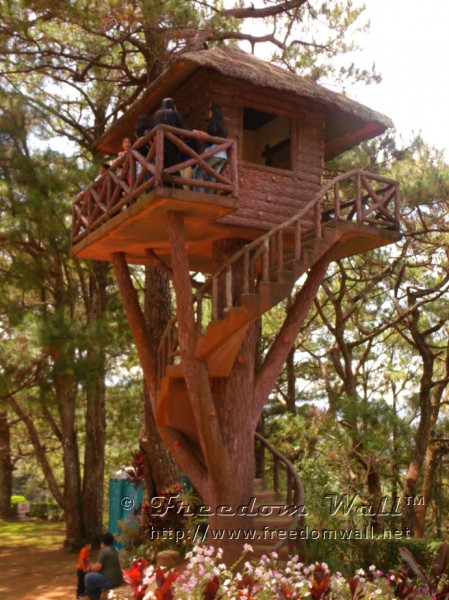 I rode a jeepney back to the city proper and took my lunch at Café by the Ruins. Shrimp and Mango Curry for main course and Strawberries in Yogurt for dessert filled my day. I bought some pastries too for my snacks.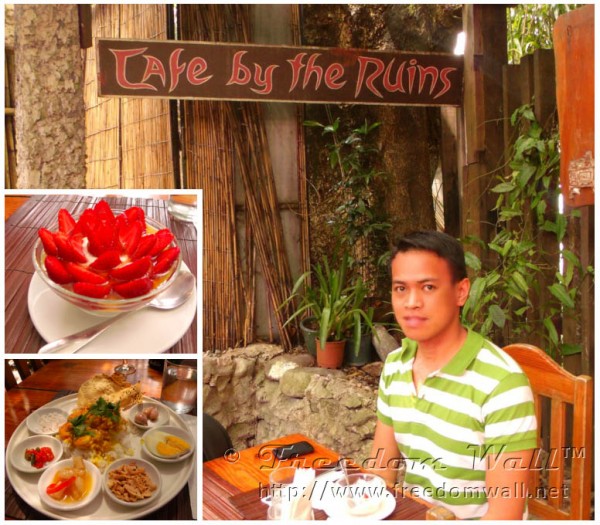 Next stop was Camp John Hay. Reaching Camp John Hay was through a jeepney ride (with BAGUIO-PLAZA-BGH-BARRIO route). Cam John Hay has lot to offer. Aside from being ideal for family picnics because of the beautiful landscape, you can also make some extreme fun.
A site for paintball fight, wall-climbing, and Zipline is found in front on the Filling Station or Le Monet Hotel. When you'll hike further, you reach the Tree Top Adventures which offers a Free-Fall adventure, Canopy ride, Superman, Silver Surfer, and Skywalk. I tried Canopy and I was alone. Can you imagine being hanged on a pine-tree tall high cable alone? Included in the 6-station Canopy is a funicular ride in between three stations and it was 350 pesos worth.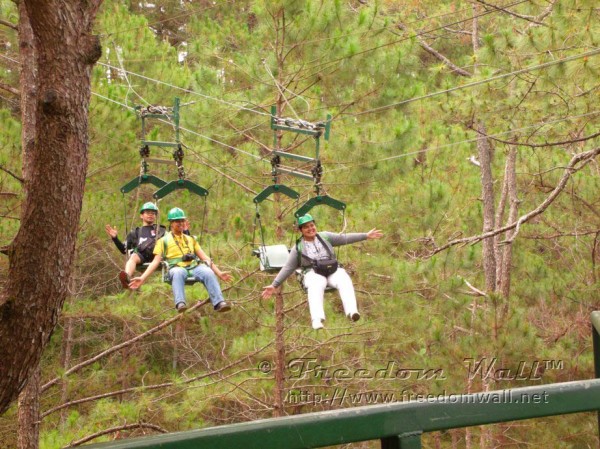 I then strolled down back to Loakan Road and waited a jeepney back to the city proper. The jeepney terminal (Bakakeng Jeepney Station) is right beside the Jadewell Skate Park and in front of Hotel Veniz. I walked a little along Harrison Road until I reached Shagem Street.
I took a jeepney with BAGUIO-PLAZA-QUEZON HILL-TAM-AWAN route to get to Tam-awan Village (Garden in the Sky). The drop off point of the jeepney was few meters away from the village so you have to walk to see it. 50 pesos entrance fee was collected to witness the wonder of the life-size artist rendition of the typical Ifugao and Kalinga huts.
[one_half]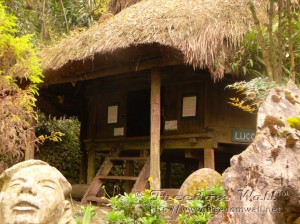 [/one_half] [one_half_last]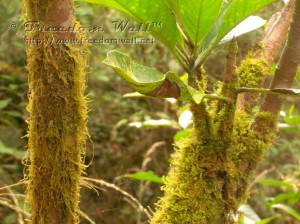 [/one_half_last]
From Tam-awan, I took a short walk back to the drop off point and took the same jeepney route. I got off across Naguilian Road intersection and took a short walk to Dominican Hill Road where I found Our Lady of Lourdes Grotto. It was a 252-still uphill hike to see Virgin Mary's and Jesus Christ's statues. After saying a prayer, I went downhill and waited for a jeepney to the city's downtown right at the foot of the Lourdes Grotto.
[one_half]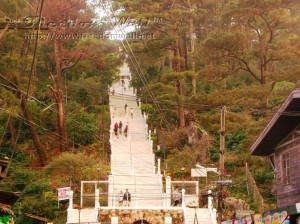 [/one_half] [one_half_last]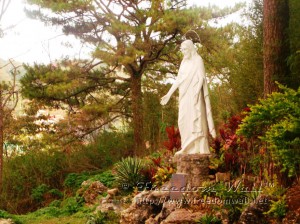 [/one_half_last]
Nearly sunset when I reached Burnham Park. I strolled around and took some shots.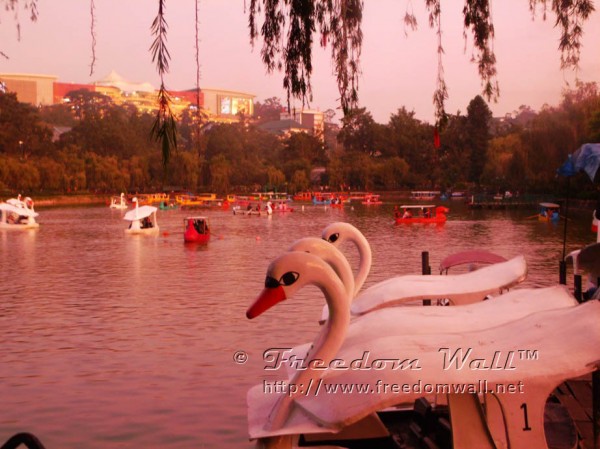 I culminated my one day itinerary with a dinner at SM City Baguio. I also had some coffee before proceeding back to the Victory Liner terminal. I took the a bus that left Baguio city at 12:00AM, Monday morning. I was not able to buy advance tickets so I had to queue along with the loooooong line of passengers waiting their turn to purchase tickets.
It was a very long day for me. I was able to visit 10 Baguio tourist spots in a day. I completed my morning trip at Botanical Garden, The Mansion, Wright Park, Mines View Park, The Good Shepherds Convent, and Port del Pilar (PMA) and I spent my afternoon at Camp John Hay, Tam-awan Village, Our Lady or Lourdes Grotto, and Burnham Park.
What was special in my trip was that, I reached all those tourist sports by commuting with a jeepney (sad to say that I wasn't able to experience the honesty of Baguio taxi drivers). In fact, I spent less than a hundred in my tour fare excluding the bus fare from Manila to Baguio and vice versa. In my next articles, I will publish my one day itinerary suggestion and a commuting guide in Baguio in separate articles.