Visiting Baguio is an expensive trip. A round trip fare from Manila to Baguio will cost you nearly a thousand pesos while the hotel accommodation may cost you another thousand or two. You still have to pay for your meals and of course, buy bring-home presents. Another expense is paying for a taxi fee for your tour, which rates peg at 2,000 to 3,500 pesos.
If you are in a tight budget, you can have a one-day Baguio City tour. I prepared a one day itinerary, which is comfortable enough for your visit. Another way to save on your trip is to commute (by jeepney) when hopping on the tourist spots on your list.
Below is the commuting guide you can use as reference in your trip.
Going to Teachers Camp, Baguio Botanical Garden, Wright Park, The Mansion, Good Shepherds Convent, and Mines View Park
You can reach Teachers Camp, Baguio Botanical Garden, Wright Park, The Mansion, Good Shepherds Convent, and Mines View Park by riding a single jeepney route, the BAGUIO-PLAZA-MINES VIEW v/v route. The terminal is located along Lower Mabini Street.
When you are at the Session Road facing Maharlika Livelihood Complex (SM City Baguio at your far back), walk until you reach McDonalds, turn left, walk a little more, and then look for the jeepneys travelling to Mines View Park.
On your way to Mines View Park are Teachers Camp, Baguio Botanical Garden, Wright Park, and The Mansion, so you can ask the driver to drop you off at the spots you like in between (see the map as your guide). Note that jeepneys in Baguio do not use placards stating all places they'll pass along the way.
What I did:
I did not visit the Teachers Camp. I got off at the Botanical garden, took a short walk to The Mansion, then strolled around at the Wright Park. I waited for the same jeepney along Gibraltar Road (beside Wright Park) and reached Mines View Park and Good Shepherds Convent, which are walking distance away from each other. I rode the same jeepney route when I returned to the city Proper.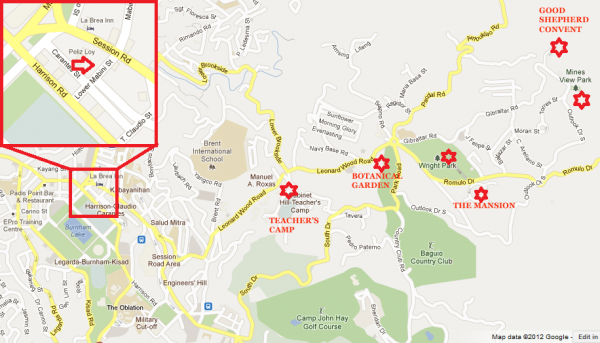 Going to Port del Pilar (Philippine Military Academy or PMA)
The jeepney terminal to PMA is located in across Hotel Veniz. From Session Road, you can turn left at Lower Mabini Street. Walk further and cross Harrison Road then turn right. Turn left right after passing the staircase of the overpass. You can politely ask anyone which jeepney travels to PMA. The jeepney has the route of BAGUIO-PLAZA-KIAS-PMA-Springhills-Apugan v/v.
The jeepney will drop you along Loakan Road beside the Runway and you can wait for the PMA Bus to pick you up. For some cases, jeepneys are allowed to enter Port del Pilar. Ride the same jeepney if you want to go back to the City.
Please see the map below for your reference.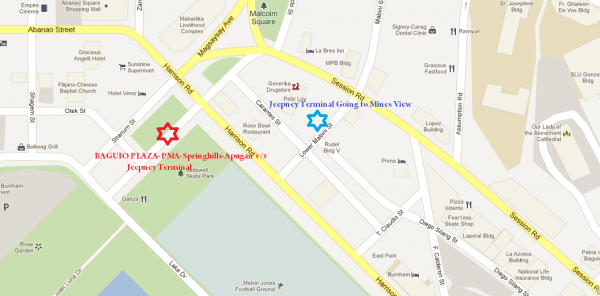 Going to Camp John Hay
At the same jeepney terminal where your ride a jeepney to PMA, ask the barkers in the area on which jeepney travels to Camp John Hay. This bears a route of BAGUIO-PLAZA-SCOUT BARRIO v/v.
TIP: When Camp John Hay comes after your PMA visit in your itinerary, the BAGUIO-PLAZA-KIAS-PMA-Springhills-Apugan v/v jeepney that you ride from PMA back to the terminal will pass Cam John Hay. You can ask the driver to drop you at the entrance.
Going to Tam-Awan Village
From the jeepney terminal that brings you to Camp John Hay and PMA, take a short walk towards Hotel Veniz, and then take the overpass to cross both Shanum Street and Harrision Road. Walk along Harrison Road and Albano Street until you reach Shagem Street then turn right.
A jeepney with BAGUIO-PLAZA-QUEZON HILL-TAM-AWAN v/v route waits for passengers there. You can ask someone on which jeepney is leaving next. Note that the jeepneys drop off point is still few meters away from Tam-Awan Village so you still need a short walk.
The map below will guide you to the location of the Terminal.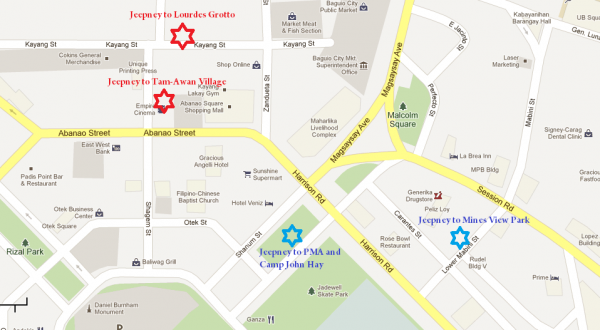 Going to Lourdes Grotto
From Tam-Awan jeepney terminal, walk further and turn right at Kayang Street. You can ask the locals as to which jeepney travels to Lourdes Grotto. But if Lourdes Grotto comes after your Tam-Awan Village trip, you can ride the same jeepney that brings you at Tam-Awan (BAGUIO-PLAZA-QUEZON HILL-TAM-AWAN v/v route) and get off after passing Naguilian Road intersection. Walk towards Naguilian, and then turn left at Dominican Hill Road.
Please see the Map Below.