Negros Oriental's beauty remained a secret to the rest of the country. While most of us flocked to the most popular yet hackneyed destinations, the province's frontiers were less occupied. The locals are randomly coming back and forth to those remarkable sceneries, yet they remained unknown outside the province.
Only just recently, through the efforts of the provincial government, when the province launched a tourism campaign with a tag, "Negros Oriental: fun starts here, naturally". However, the launch was made only in the Dumaguete, which, I believe targeted only the local market.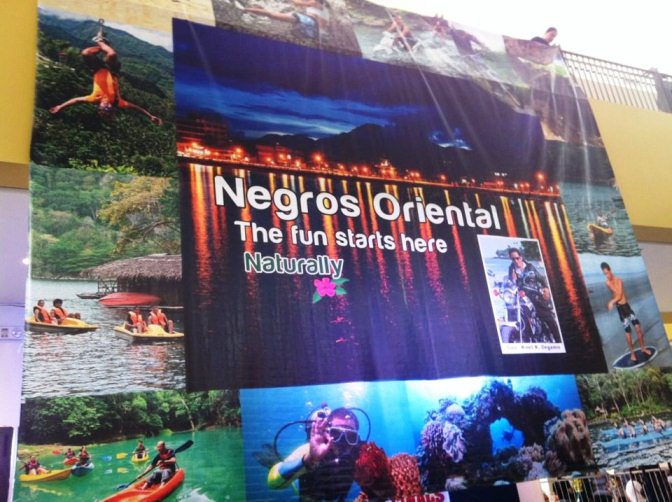 Things to Do in Negros Oriental
If other provinces are marketing their man-made attractions (ziplines, etc.), Negros Oriental offers all naturally-formed or inert wonders. The province has exquisite spaces for your vacation and relaxation with utmost privacy and pampering beauty.
You can also enjoy your scoops of the local delicacies. Savour Tanjay's masterpiece, budbod (banana leaf-wrapped suman), the tastiest in town or take a bite of Bayawan's baye-baye, patties made from ground corn kernels and grated coconut. You may also pay a visit to the famous Sans Rival Cakes and Pastries and relish your appetite with the pastry shop's flagship bakes, the San Rival cakes and silvanas.
Also, festivals are celebrated in almost every towns and cities, which dates are spread all year round.
So, if you have plans to visit Negros Oriental in the future, book a flight to Dumaguete and include the following in your itinerary.
Be thrilled in the Magnificently Floating Majuyod Sand Bar
Stroll along the 7-kilometer stretch of the white sand surrounded with pristine blue water in Manjuyod sand bar. The white sand island can be accessed via a 15-minute boat ride from Capiñahan Wharf in Bais City. The island emerges only during low tide. The native wooden houses built on stilts seem floating during high tide.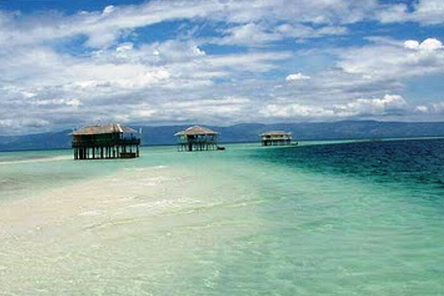 Witness the Whale and the Dolphin Tales in Tanon Straight
Prior to your Sand Bar adventure, allure yourself first with the whales and dolphins as they frolic on the seas of Tanon Straight, offshore Bais Bay, Bais City. This is one of the most successful dolphin-and-whale watching operations in the country which is a must see at 8:00 in the morning.
Unearth the Underground Treasures of Mabinay Caves
According to the locals, there are more than 400 caves honeycombing Mabinay's lower regions. In 1989-1990, the Belgian-Dutch-Philippine Club commenced an expedition and identified only 45. The famous of which is Cayaso, which has a subterranean river flowing through its main chamber. The cave measures 2,222 meters long ranking it as the 9th longest cave in the country. Odloman (still in Mabinay), at 8,870 meters, was recorded as the second longest cave system in the Philippines.
Discover the Depths of Balanan Lake
Balanan Nature Resort is a scenic mountain resort developed around Balanan Lake, a number eight-shaped body of water with 25-hectare surface area. The lake houses a kilometer-long water channel ideal for water sports and a 4-kilometer circumferential trail for trekking adventures. Pools for swimming, kayaks and bancas for boating, and waterfalls for great photo shoots are also available. Balanan is also a host to hundreds of balete trees and atop one of which is a tree house.
Chase Waterfalls at Sitio Niludhan, Bayawan City
With just two and a half hours from Dumaguete, you can see a waterfall stunner. Niludhan Falls features a wide cascade plunging down to jade pool, surrounded with verdant greens. Reaching it may be a bit of a frowner because of the unpaved roads. You will forget all the efforts though, when you see it.
Unveil the World below the Waters of Apo Island
Apo Island Marine sanctuary, one of the World's top 10 diving destination, is heavily vegetated with marine life. The 72-hectare island sanctuary is a home of small, five white sand beach resorts, two mangrove lagoons, and a light house. It is also an ideal habitat to Nemo's cousins, Amphiprion melanopus, which colonized seven large coral heads in the island, now called "Clown-Fish City".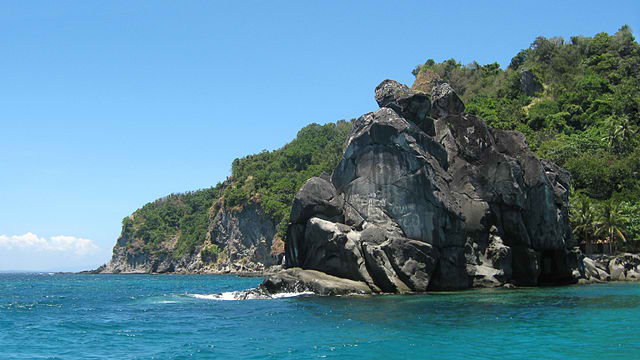 Capture the Elusive Splendour of Twin lakes Natural Park
The huge Lakes of Balinsasayao and Danao, which is surrounded with almost untouched lush greeneries and vegetation, is a home to variety of species. These are volcano craters filled with water. Hiking trails were setup for tourists. Boat rental is available for those who want to spend their time canoeing on its placid water surface.
Aside from the list above, Negros Oriental also houses variety of waterfalls (such as Niludhan Falls of Bayawan City) and river delta systems, scenic beaches, caves, historical fortress, and many others. You may visit Negros Oriental's official webpage to view the quick list of these surprises.