I was born and raised in Negros Oriental and I spent my first 16 years of existence in the province. I finished elementary and high school in a remote but populated village, just 70 kilometers (1 and a half hour ride) south of Dumaguete, Barangay Bonawon.
In 16 years, I can count the instances that I visited the city. It was because I had motion sickness, a normal complain for a typical adolescent like me who seldom travel and just spend the most of his time at home and in school. But high school life demanded me to travel more frequently, not just to attend quiz bees and/or seminars but also to buy stuff or school supplies that can only be bought in bookstores, which unfortunately, were only found in the city.
Getting to Dumaguete, when you take out the dizzy bus-ride from the equation, was so much fun. I'm thrilled of seeing occupied streets, elated of sighting far-fetched sceneries of the boulevard, and amazed of finding stuff-filled stores in almost every corner. Well, that was my definition of wonder at such age. Though I appreciate the exquisitely beautiful greeneries and naturally carved landscapes, I admire more on what is found in the cities.
Reaching Manila last April 2004, to pursue college, dwarfed my appreciation of Dumaguete. I see larger and much industrialized urban environment. I can travel the city with EMU (electric multiple unit such as LRT and MRT) or DMU (diesel multiple unit such as new PNR couches), chill in the much grander malls, meander in a much comfortable esplanade, and hop in the year-long open party places.
Three years after, I set my foot back in Dumaguete's soil and the place remained unchanged.  During that homecoming, I didn't try walking on the city sidewalks, instead, I headed to the bus terminal to make my way home. Nothing was more important that time but to see my family after three years of being away.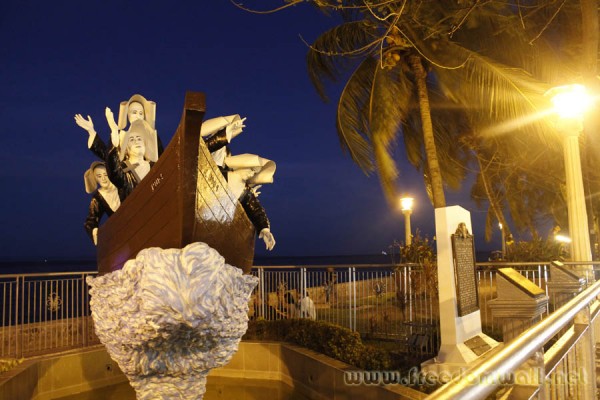 The second time I visited the city (after 2004) was a lot more interesting. From airport, I rode a tricycle and got off in front of Silliman University (near Silliman Hall). It was summer and taking a walk along Hibbard Avenue was a soothing journey. The breeze cut through the leaves of the acacia trees, making those colorful leaves fall like autumn foliage. 'Twas seemingly walking in the isle wherein the towering columns of the trees stands like royal guards giving honor and the leaves are sprinkled at your presence like confetti. It was indeed a place in a city where you can find tranquility.
Going downtown can be done through a cab (tricycle) or by a short walk. Lee Super Plaza along Perdices Street was a popular shopping center where you can find cheap bargain items and signature garment brands. Few blocks away is the Public Market which offers a lot more options for shopping and dining.
Tasting Sans Rival and Silvanas at Sans Rival Cakes and Pastries will truly make you at peace. Munching the sweetest masterpiece of Trinidad "Tita Trining" Teves-Sagarbarria's genius is an subtle experience. You may visit their main branch at #3 Monday San Jose Street or at the Ground Floor of Robinsons Place Dumaguete.
You should not forget to experience the night life too. Rizal Boulevard has lot to offer such as quenching both your party and food cravings. Stroll along the boulevard and try a dip of local tempura, fish balls, and tocino (grilled like barbecues). Tempura in Dumaguete is not a fried, breaded (or battered) shrimp but is more like a fish-flavoured dough (looks like kikiam) but tastes differently. Should you choose indoor party/dining places, you have Coco Amigos and Why Not Music Box in Rizal Boulevard or Barefoot Bistro, El Camino Blanco, and the Compuesto Lounge in the neighboring streets to hop with.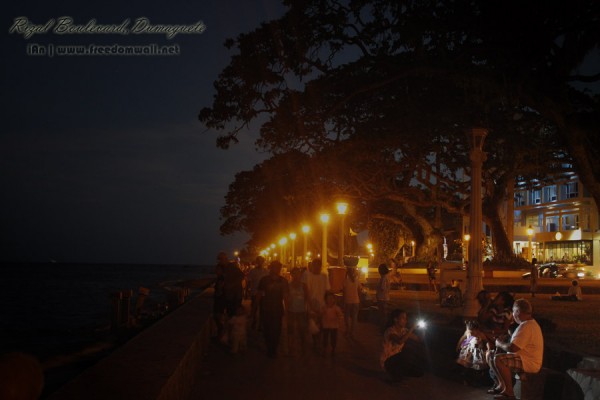 As a "City of Gentle People", you do not need a guide to get to where you want in the city. Ask anyone you meet on the street and he'll surely tell you how to reach the place (provided that he knows where exactly the place is).
After spending almost 8 years in Manila, I started to crave on going back home and see Dumaguete. It is where I can find tranquility, the thing that I do not experience here in Manila. Visit Negros Oriental's capital in November which falls on the celebration of Buglasan Festival or in summer where you can have your side trip before exploring the rest of the province. You can dive at Apo Island's waters, trek to the Twin Lakes Natural Park of Balinsasayao and Danao, swim in the depths of Balanan Lake, unearth the world within the Mabinay Caves, watch the dancing Dolphins in Tanon Straight, and a lot more to discover.
Cebu Pacific flies to Dumaguete from Manila three times daily while Philippine Airlines has two flights daily.