I heard rumors about this sweet cafe at the heart of Baguio City, which is highly suggested for breakfast; the Cafe by the Ruins. Their tsokolate (tablea or native chocolate and carabao's milk blend), bread, and pastries receive exceptional ratings and favorable recommendations.
Holding on all the stories and reviews I'd been reading days prior to travelling to Baguio, I visited the restaurant. I walked toward the cafe with the guidance of Google map. Then, I started to doubt my only companion when it stated that I'm pretty close, but no physical signs could confirm. What I saw is a secretive property that is fenced with bamboo. I walked further, and then found Cafe by the Ruins.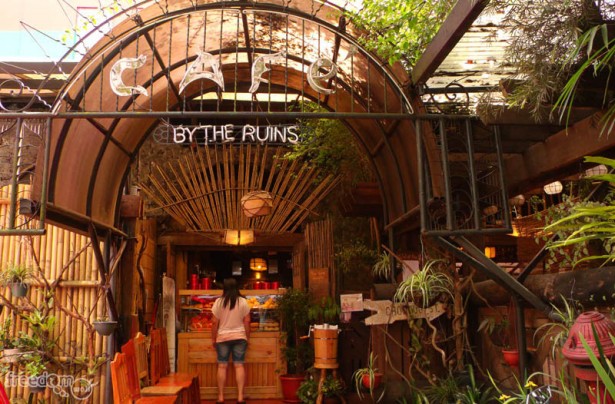 The place was unsurprisingly populated when I checked it in the morning. Thus, I skipped it, despite the effort I spent to reach the establishment, and then looked for another spot to eat.
I proceeded with my morning tour after breakfast, and then returned an hour passed lunch time.
When I started flipping the menu pages, I was intimidated by the published prices. I was alone and had no one to share the meals (and the bill) with. It was a bit pricey. I don't recommend it for solo diners.
Pastry prices were acceptable but I surely won't take just bread and coffee or hot chocolate for lunch!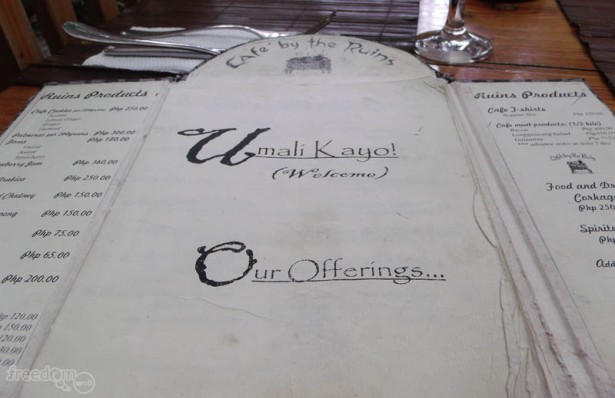 I looked for a platter meal and ordered Shrimp and Mango curry from the list of their house specialties. I wasn't really sure what convinced me to take that dish. At first, I was torn between hundred island sinigang, Baguio's bagnet, and Pinikpikan. But I ended up ordering something that was not among my top choices. Well, since it was already late for lunchtime, my food sensors were probably confused as well.
I also added a bowl of strawberries and yogurt for my dessert.
My bill pegged at ₱415.00 (₱250 for the main dish and ₱165 for the dessert). I forgot about the soda and juices and settled for a healthier option, water.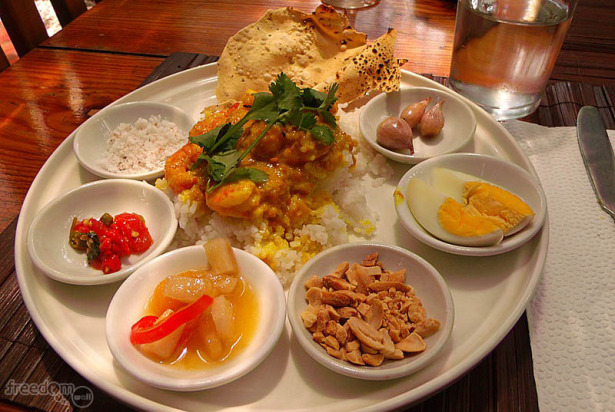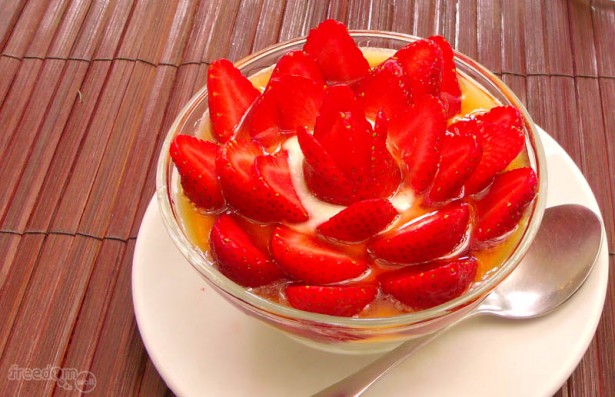 The service wasn't really fast so I kept my eyes busy to temporarily forget my hunger. I noticed that, though Cafe by the Ruins is smack in the middle of the city, it still managed to feature a bushy or woodland-y ambiance. The uneven pavements, wooden furniture, bamboo fences, and ornamental herbs blended perfectly to show a rustic feel of the cafe's al-fresco configuration.
Some sections were lit with candles, which I guess, were specifically designed for couples. I was unfortunately seated to one and started to feel oddly lonely. So before I got too emotional, I called for the waiter's attention to follow up my order.
When my food came, I feasted the yummy and sweet treat slowly and silently. The shrimp and mango curry was weirdly sided with papadum, onions, coconut grates, peanuts, chili, hard-boiled egg slices, and pineapple pickles. I had no idea what were those grated coconuts for. The onions were probably for papadum but I did not like the tandem. Good thing that the strawberries and yogurt gave me a tasty compliment.
Finally, the bill time and it turned out to be my most expensive Baguio lunch ever.