Sumo Sam is not a typical Japanese restaurant. The strokes of kanji printed atop the branding, the "hinomaru" circle on its logo, and the part of the name itself, sumo (a Japanese martial art) are your only clues.
The restaurant's look and ambiance, however, does not feel Japanese at all, despite the presence of some Nihon cultural figures and paintings displayed at the bar. The dining sets look modern and the ceiling lights are pretty contemporary, similar to any "hodgepodge" restaurants out there.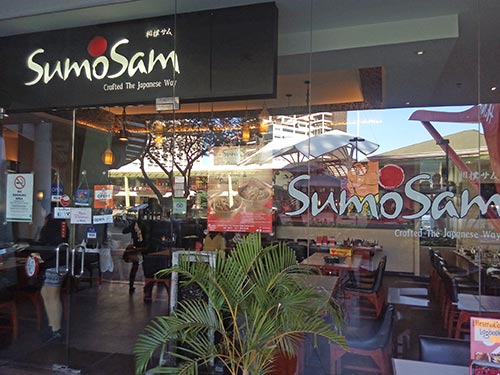 Good thing that the selections on the menu cover a mélange of Japanese cooking. Your options include: sushi, sashimi, me-rui (noodles), donburi (rice bowls), agomono (deep-fried dishes, such as karaage and tempura), yakimono (frilled and pan-fried dishes), nabemono (one pot cooking), and many more.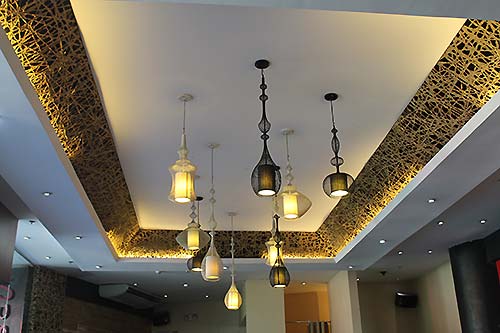 Sumo Sam Starters
For starters, we were served with a plate of assorted sushi and sashimi. The well-prepared plate of tuna sashimi, kani sashimi, salmon sashimi, crunchy tuna roll, dynamite roll, Las Vegas roll, pickled ginger, wasabi, and herb garnish was almost swept after it was served. The spicy dynamite roll was a personal favorite.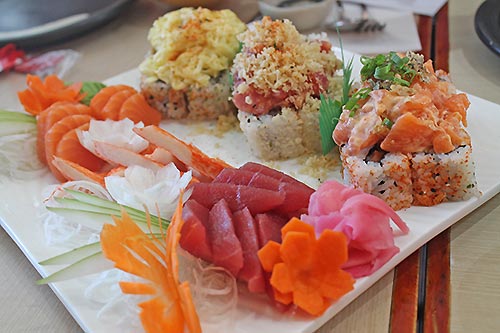 We also had SumoSam's pride salad, which dressing was a bit sweet. The candied nuts seemed out of place though. Its chewy and sticky texture did not compliment to the rest of the salad components.
With the gyoza, squid head karaage, ebi tempura, and red iced tea as refresher, we almost had a complete meal.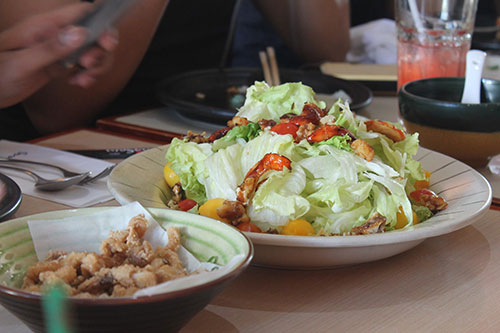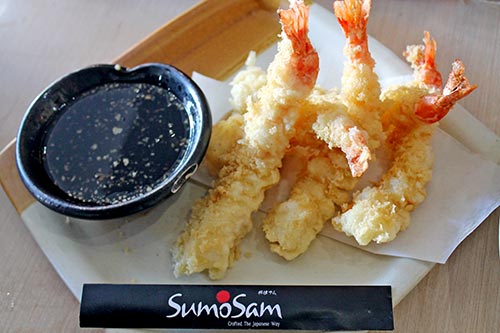 The Hot Pot
In a moment, the restaurant staff demoed us the preparation of sakuyaki bowl. Steamed veggies, noodles, tendered meat, and other ingredients are mixed in a pot. A pre-seasoned hot stock was then poured to the combination. A beaten egg was added slowly while mixing to thicken the soup.
While the preparation looks delicate, the pot did not please everybody. I found the soup very sweet for my plate. The ingredients taste good though, and were very fresh.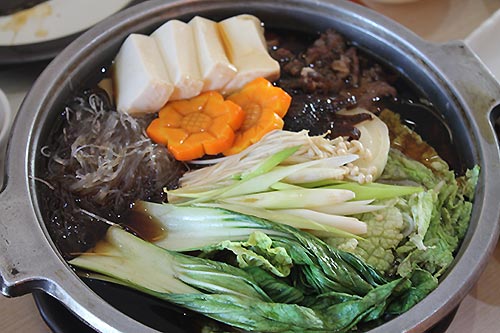 The Sumo Board
We also tried their sumo board. The sumo board is a peer sharing package that includes variety of Sumo Sam's signature dish.
Sumo Sam board options are: The Arena [₱1,399], The Tournament [₱1,399], and Miyuki's Feast [₱1,699]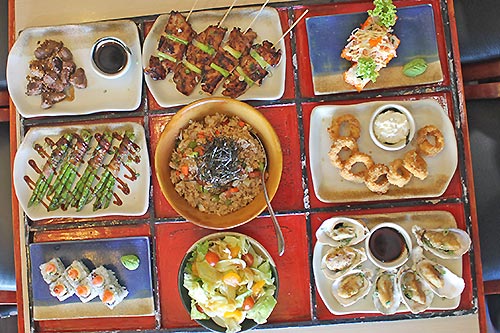 The desserts are also interesting. The banana-chocolate crepe with ice cream is something worth craving.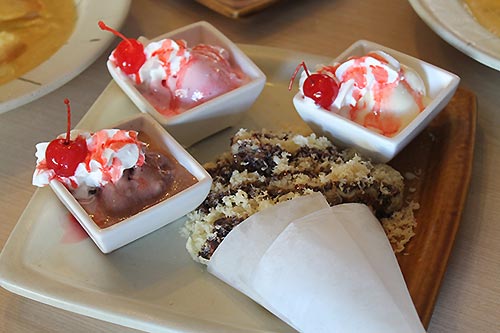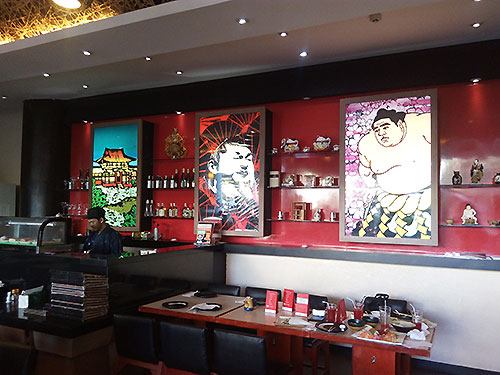 Contact Sumo Sam Cebu
Address: Ground Floor, The Terraces, Ayala Center Cebu, Cebu Business Park, Cebu City
Contact Number: +63 (032) 401 0643
Opening hours: 10AM to 11PM
Facebook: https://www.facebook.com/SumoSamPH/