The simple vertical strokes of orange and red makes a fine and stunning contrast with the ivory walls. The tidy-stalked bamboo trees, the small mead that wrapped the lawn, and the classic-looking set blend perfectly to let you experience a zen feel.
The Reception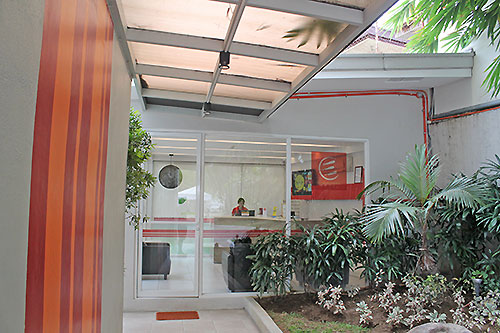 There's nothing flashy in the receiving area. In place of chandelier is a hand-crafted spherical rattan which mesh added an atypical element to the lighting inside it. Two black solo couches seemed out of place with regards to color coordination, but give a comforting acceptance to the waiting guests.
The reception desk is plainly simple, no adornments, but contains helpful information for guests. I like the way they match simplicity with the natural design of their hospitable abode.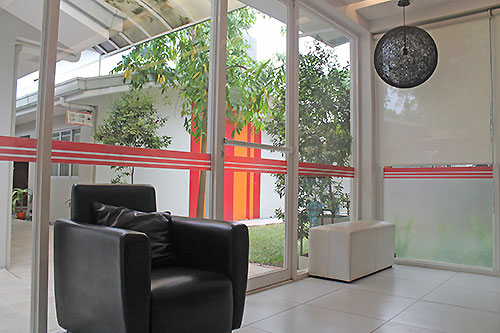 The Accommodating Staffs
Standing behind is lady in her striking orange shirt, which smile shows willingness to offer an assistance. In few minutes, I checked in smoothly. After handling me the keys, I was oriented with few hotel policies, the inclusions of my room reservation, and even the other extra services they offer like airport transfers, rent-a-car, etc. And then, she showed me the way to my room.
The utility personnel around are also very willing to assist.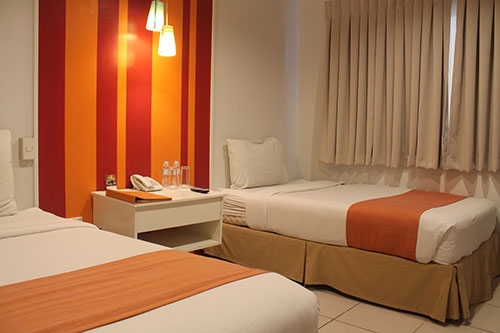 The Green Hotel Design
Escario Cental Hotel does not have a multi-level edifice. Rooms are distributed in a single-level multiplexed building, arrayed in small and secure compound. With this setup, hallways are alfresco, and a need for an elevator is unnecessary, thus reducing the electrical consumption.
The brainchild of the hotel was probably thinking for a green design and carbon footprint reduction.
The Comforting Room
I was given a twin room since no double bed was available during that visit. Each bed is wide enough for two average-sized individuals. Though they market this room for two, it can actually accommodate four. So, if you are looking for a place to stay for your next Sinulog party, then consider Escario Central Hotel as your option.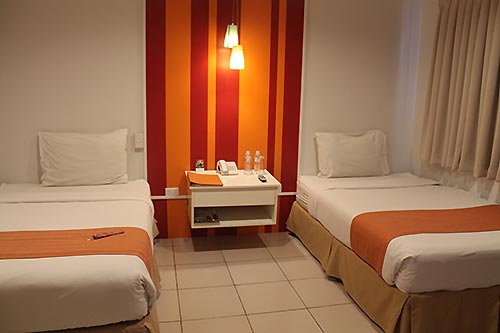 Each room is furnished with comfy spacious bed/s, a reliable A/C, a flat-screen television with international channels, blind curtains (just in case you sleep much on the day), fast WiFi connectivity, a land line, easily accessible universal electric ports, a dresser with hangers, and an en-suite toilet and bath.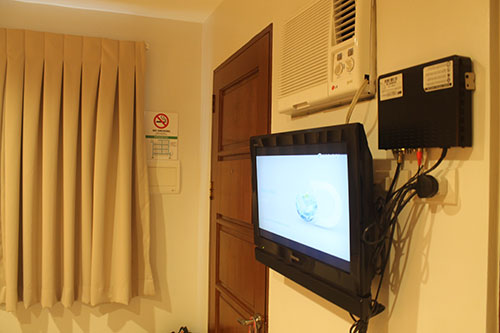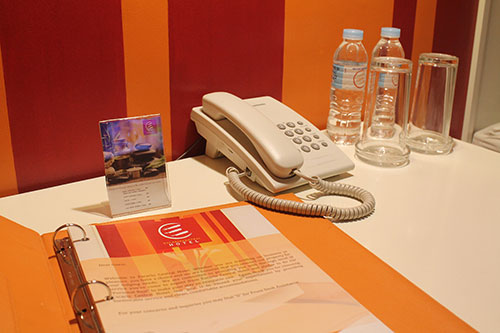 Your booking also comes with some complimentary stuff for your convenience, such as drinking water and toiletries.
The hotel categorized itself as a bed and bath or a two-star, but it offers services and amenities at par to that of premium ones. A testament to that are the comfy bed and the fine linen running through, giving every guest a comfortable sleep and noteworthy stay.
Easy Access to Everything
Escario Central Hotel is strategically located to make everything accessible within a short walk. Access to food and entertainment spots are literally walking distance. A convenience store is also located nearby. The hotel, by the way, is located within the Escario Central Mall complex. Yup, that's a hotel within a mall coumpound.
Since it is located close to a major thoroughfare, every type of transportation to almost any point of Cebu is readily available.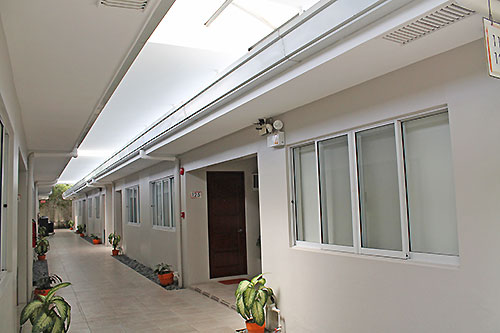 Meals are Serviced by an Established Restaurant
The hotel does not have an in-house cafe or restaurant. But if your booking includes meals, you can avail them at the neighboring Café Sarree.
Café Sarree offers comfort food, a fusion of European, American, and even Filipino dish.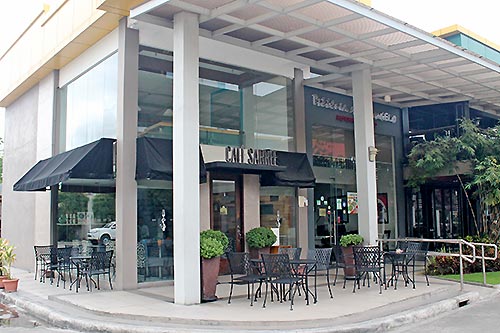 I did not explore much of their menu. And since the bundled breakfast has few options, I settled to daing na bangus, garlic rice, and scrambled egg. It didn't disappoint. The servings are quite a heap so you won't fall short.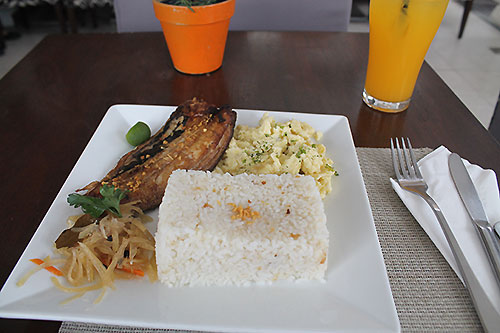 Contact Escario Central Hotel
Whether you wanted a staycation, a retreat, or just a short escape from the city heat, Escario Central Hotel has rooms for you. If you want to experience the comfort and hospitality of Escario Central Hotel, you may book a room online or contact them using the following info:
Online booking: www.Agoda.com/EscarioCentral (click to view the latest rates)
Address: N. Escario Street, Kamputhaw, Cebu City 6000 Philippines
Email: rsvn@escariocentral.com
Landline: +63 (032) 520 2222