It rained the whole day and night and I wasn't really familiar with the place so I preferred to stay indoors. For the entire weekend, I nestled under the reliable roof and above the comfort of my hotel bed. It was a life that I wasn't used to. So from time to time, I went out to check the condition outside. And when I noticed that the weather was still not conducive to outdoor activities, I went back in, turned my TV on, and scanned every channel that might be entertaining.
It was check out time the following day and the drizzles didn't know how to stop. But I got no choice then. I still needed to return to Manila. Well, at least, I could put an end to those idle moments.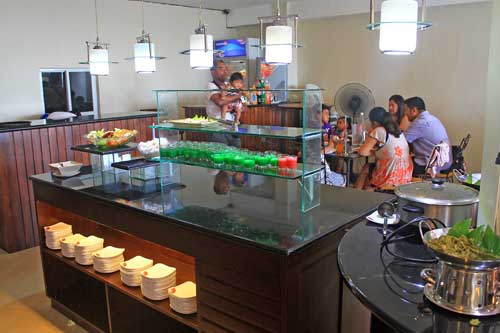 After checking out, I boarded a tricycle in front of Palm Coast Inn and told the trike driver to take me to a place where I could have my late lunch. He dropped me off at Rico's Fastfood and Restaurant. They have interesting menu and decided to give it a try.
When I looked around, I found out that they have much more space in the upper level for eat-all-you-can customers. I immediately went upstairs to see what more they offered.
With ₱140, I was able to try every appetizers, dishes, and desserts in the buffet table. To complete the meal, I added a bottomless iced tea for only ₱50.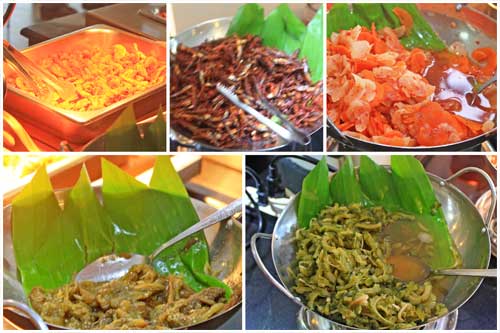 That day, the had bitter gourd (ampalaya) and carrot & radish pickles, shrimps fried to crisps, dried anchovies, grilled eggplant, and house soup.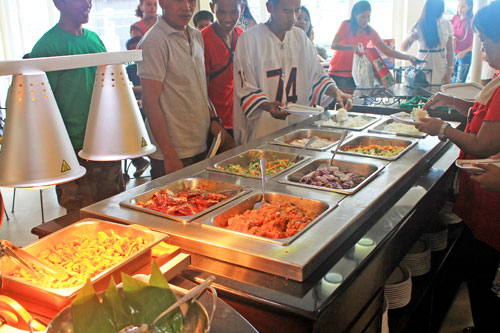 For the main course, they had mixed vegetables, bamboo shoot ginisa, beef steak, chicken afritada, and sliced roast pork in sweet salsa. Later on, they added chicken adobo and crispy daing na tilapia. For calorie booster, I had 4 choices: steamed rice, paella, spaghetti, and palabok.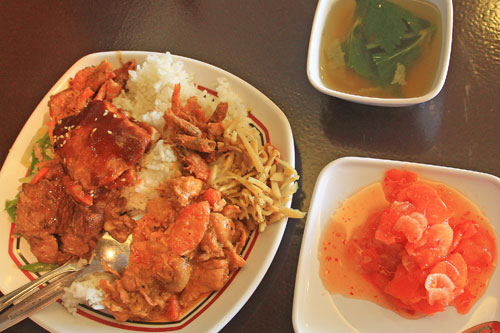 My expectation were low, but I thought that even if I raise it high, Rico's Fastfood and Restaurant will not disappoint. The lutong-bahay concept was even more inviting especially nowadays when most of us seldom taste it.
My favorites were chicken afritada and fried shrimps. I liked their paella but I was already full when I found it, too bad, I only tried a spoonful.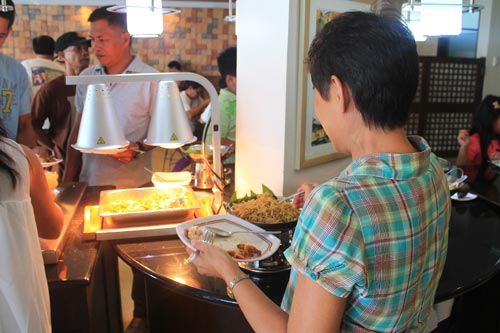 For desserts, they had pandan-flavored gelatin, macaroni salad, and sliced bananas with chocolates. For a health conscious type, though eat-all-you-can restaurant is not a proper place for this blabber, they also served green salad with special dressing.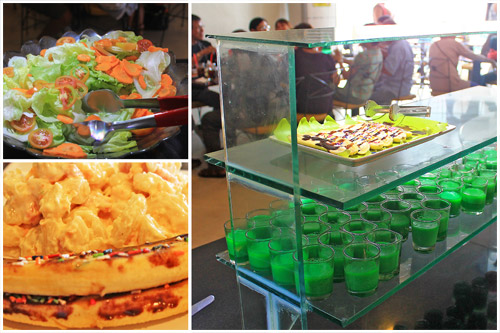 People are also talking about their pancit and bagnet sisig as must-try.
Rico's Fastfood and Restaurant has two braches in Olongapo City. The one I visit was located along the National Highway in Barrio Baretto. I believe they also have a branch in the city proper.