When I booked my seat, I repeatedly asked if the bus will go directly to Nyaung Shwe. I always got a yes. So, despite the troubled compulsion, I took it. By the way, I cut short my Bagan stay to head to Nyaung Shwe and added the lake south of it, Inle lake, to my itinerary.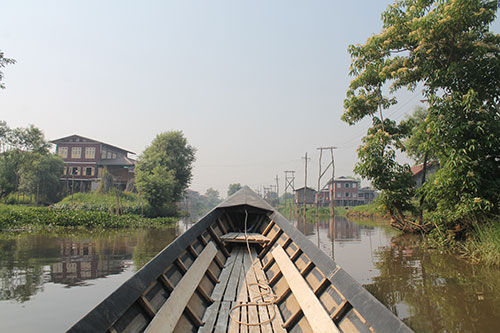 Chilly arrival
'Twas 3:30 in the morning when the bus conductor woke me up, and then told me that I can alight. Though my vision was still hazy and my muscles were twitching, I hastily grabbed my heavy backpack and disembarked.
The full-throttled A/C shrank my flesh to the bones, luring me to a deep slumber. I was somewhat glad when I heard that I'm finally alighting.
However, when I got out, I exclaimed "WTF!" in silence. It was much colder outside. I checked my weather app and it shocked me when I found out the 11°C RealFeel®.
I immediately took out two extra shirts and put them on while the touts were pretty busy discussing stuff. It was only when the cold became a bit tolerable when I fully grasp what the touts were saying.
They were asking if I would like to go to Nyaung Shwe. So I asked them if I am still isn't in Nyaung Shwe. They said yes.
I consulted Google maps, and then, I realized that the damn bus dropped me 13 kilometers away (at Shwenyaung Township) from my ultimate destination (Nyaung Shwe), and then went to a different direction (Taunggyi). How dare!
I remained calm, nevertheless. Then I started to feel the cold penetrating my three-layer cover.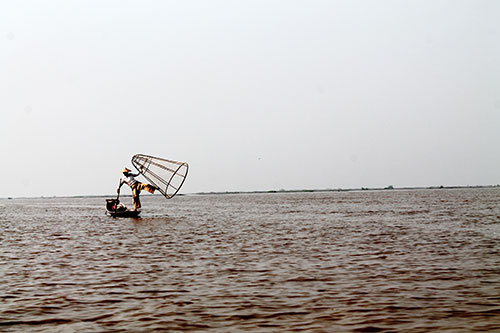 Bargaining for a ride
The touts told me that the taxi fare is MMK10,000 (≈ PHP430). OMG! The bus I rode for 8 hours asked MMK11,000 (≈ PHP475) only as fare. They wanted 10,000 kyats for the 13-kilometer ride? That was ridiculously unfair (in my thoughts).
I looked around if there were ATMs. When I didn't see one, I told them that I do not have enough cash and I had to go to the bank. They said; "Banks closed", which was exactly my point.
I was the sole traveler that time, so I had to wait another damn bus that would drop another loser passenger at that junction.
Later, one of them offered me to share the fare with other passengers and guided me to a cafeteria to have my tea. I did not think that my excuse would work. I was the sole traveler that time, so I had to wait another damn bus that would drop another loser at that junction.
Because the cold is really hurting, I walked around to develop some heat. One tout followed me and offered a motorbike ride for half the price. I was not sure if it is illegal since the taxi drivers kept telling me that foreigners are not allowed to take the motorbike. But I still gave it a go, thinking of the savings and escaping off the cold. It was a good bargain though.
Unfortunately, I had no jacket and any form of protection. I quivered to the bones during the entire ride. I almost peed my pants. Seriously!
The rider constantly checked me out when he noticed I was shaking. He grabbed my hand and told me to hold (on his shoulders). That was sweet!
Fortunately, I endured that quivering, 15-minute ride.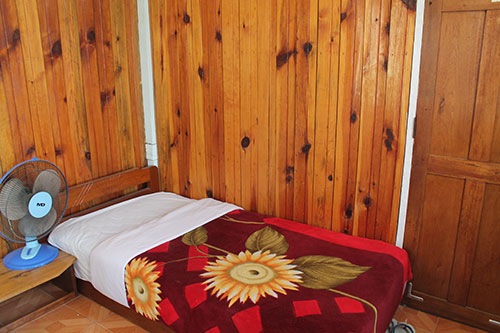 Early Checkin
I knocked at Joy Hotel's door early at dawn. I feel very lucky when they allowed me to check in immediately without extra charges. They served me free breakfast as well.
When I got to my room, I covered myself like cocoon to recover my lost heat. But before that, I told the reception to find me a guide/boatman for my Inle Lake adventure.
Inle Lake boat tour
I started my Inle Lake tour just after sunrise.
Inle Lake is one of the most important watersheds in Myanmar. It is a home of over twenty species of snails and 9 species of fishes that are endemic only to Inle. Migratory birds also frequent the lake. Among them are brown and black seagulls which consider the lake their second home during the string winter (from November through February).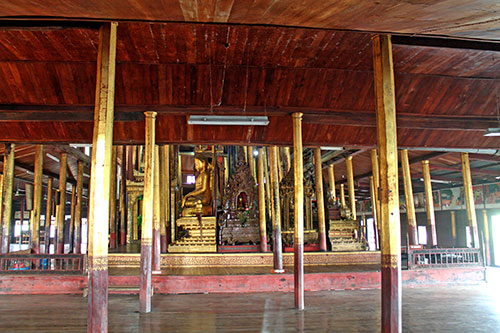 Our first stop was Nga Phe Kyaung Monastery. The massive wooden structure stands on the swampy area in one of the islands floating within the lake. Its wide hall looks like a shaolin dojo depicted on popular Jet Li movies. Huge golden Buddhas seat at almost every corner. The centerpiece seems the holiest part of monastery.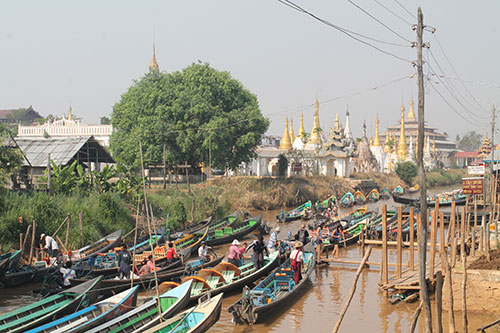 We headed to Inle Lake's traditional market next. I was able to experience first hand on how they make their traditional umbrellas, textiles, laquerwares, and other crafts. Barter change is still practiced on perishable goods. The dry goods, however, always come with a high price, especially if the person who inquire is a foreigner.
Since I am no fan of souvenirs, I did not buy one. Perhaps, any item, even the smallest one, will have no place in my small, cramped backpack.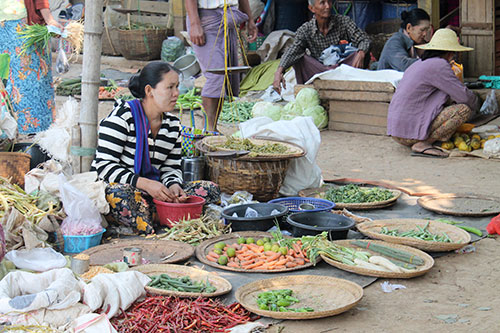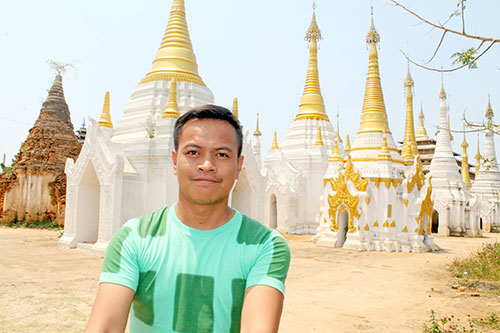 Across the market is an array of interesting stupas. I crossed the muddy pathway just to explore it myself and take a photo.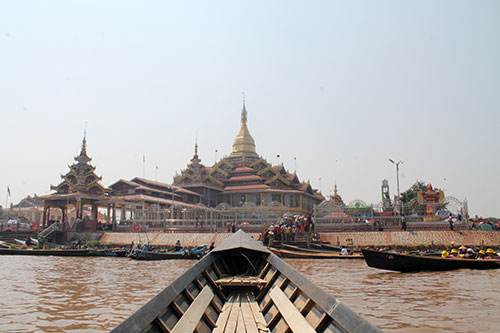 Not too far from the market is Phaung Daw Oo Pagoda (also Hpaung Daw U). The pagoda is a home to 5 gilded images of Buddha. Devotees cover these images with gold leaf making their original forms indistinguishable. Though the temple is open for everyone for veneration, only men are allowed to place gold leaves to the images.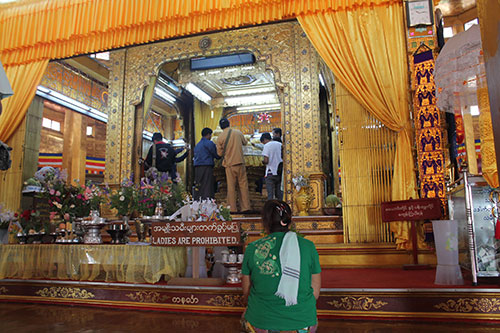 Inle Lake is also a testament to Myanmar's extensive culture, practices, and ways and means of life. Buddhism is the fundamental of all norms. And, despite the number of different races visiting the place, they were able to preserve the traditions that are truly theirs.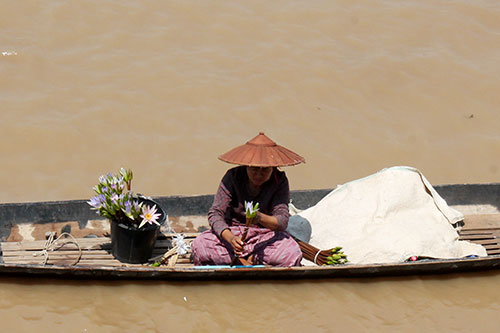 I finished the tour for just half a day. I then return to my room to rest a bit. In the afternoon, I walk around the small town, observing the locals, exploring their food, understanding their social connections, as well as getting involved in the community that seems not foreign to me.