The modern day Siem Reap, a home to 9th-century temples, is an archaeological haven. Antique enthusiasts flock to this humble yet vibrant city to witness the grandeur it once have. Though all that is left are empty structures and rubbles of the angkors (or temples), people from around the world are still interested and curious.
Some scholars said that secrets lurk in every walls and corners of the temples in Siem Reap. The construction techniques and the murals talk about extraordinary assistance that shape these marvels.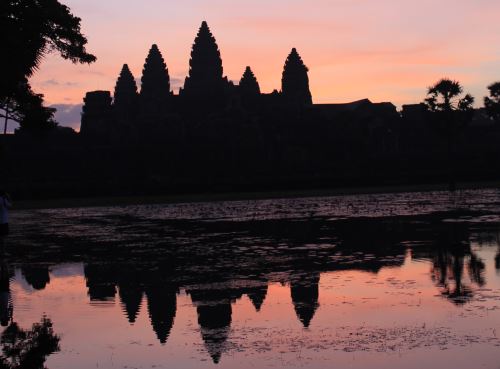 If you would like understand the conspiracies behind the majestic edifices, see the temples yourself and try to comprehend the scale of their genius.
Siem Reap, by the way, is the capital of the province of the same name in Cambodia.
Siem Reap Travel Guide
When you travel to Siem Reap, the travel guide below could help you. This article is divided into the following sections:
Visa Requirements
If you are a citizen of the following countries, you are automatically exempted from getting a visa prior to your arrival in Cambodia provided that your purpose is tourism.
Brunei Darussalam – 14 days
Bulgaria – 90 days
China – 30 days
Hungary – 90 days
India – 60 days
Indonesia – 14 days
Iran – 30 days
Korea, South – 60 days
Laos – 30 days
Malaysia – 30 days
Peru – 30 days
Philippines – 30 days
Singapore – 30 days
Thailand – 30 days
Vietnam – 30 days
For the residents of other countries except residents from Afghanistan, Algeria, Bangladesh, Iraq, Pakistan, Saudi Arabia, Sri Lanka, and Sudan, you can avail a visa upon arrival at the major passport control or immigration checkpoints of Cambodia.
For travellers to Siem Reap, visa-on-arrival is available at Siem Reap International Airport and at the border crossing in Poi Pet [if you are coming from Thailand].
To avoid further hassles and scam, you can apply for an eVisa in advance. Both the visa-on-arrival and the eVisa are valid for 30 days.

How to Get There
The main point of entry to Siem Reap is Siem Reap International Airport [REP]. Flights to Siem Reap are avaible from major airports in China, Japan, Malaysia, Laos, Philippines, Singapore, South Korea, Thailand, and Vietnam.
To search for the cheapest flights to Siem Reap, check this link: Siem Reap promo flights.
If you are coming from Bangkok, Thailand via a land border, you can take a train from Bangkok to Aranyaprathet and then transfer to a tuktuk or songthaew to the border near Poipet.
Proceed directly to the passport control building if you are visa-exempted or if you already have an eVisa. If you still want to apply for a visa-on-arrival, head to Cambodian visa-on-arrival office.
You can also take a Bangkok-Siem Reap bus. Unlike the train, you will have no transportation transfers, thus your exposure to imminent visa scams are contained. You will only need to get off the bus during border checks and pee breaks, and at your final destination.
Nevertheless, if you are still interested in taking a train, check this blog, "The 9-Hour Traverse (Commute) from Bangkok to Siem Reap", for more information.
Things to do in Siem Reap
People visit Siem Reap for Angkor Wat, Angkor Thom, and Ta Prohm. However, aside from the temple run, there are many other stuff that can keep the fun up. The following list will give you an idea on what to do in Siem Reap.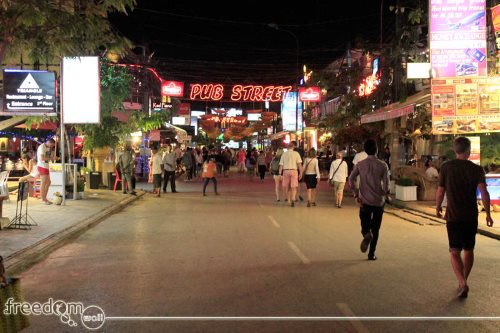 Angkor Wat
Angkor Wat is probably an entry on everybody's bucket list. This wonder holds both historical and religious significance, and at the same time, one great secret. It is a testament to the word's history and is a living witness on how Cambodia and its people survived another thousand years.
The gallery on its walls are crafted up to the finest details, and the positioning of every towers corresponds to some cultural significance.
The Angkor Wat, which literally translates to "Capital Temple", is the world's largest religious monument. At first, it was a Hindu temple but was later transformed into a Buddhist temple.
Angkor Wat is now a national symbol of Cambodia. You can even see it printed at the center of the country's national flag.
The Angkor passes are sold in one-day (US$37), three-day (US$62), and seven-day (US$72) blocks that should be used on consecutive days. The passes includes Ankor Wat, temples within Angkor Thom, the Ta Prohm, and other neighboring temples within Siem Reap.
Angkor Thom
The Angkor Thom, a walled city or complex located north of Angkor Wat, served as the most enduring capital of the Khmer Empire. Within the complex seat the Bayon, Baphoun, and Phimeanakas temples along with the Elephants Terrace and smaller temples. The city has four gates, one in each direction, called gopura.
The Bayon Temple, or Prasat Bayon in local language, is the most noticeable structure in Angkor Thom. It features monumental towers with faces on its four sides – which, according to historians, resembles a lot with King Jayavarman VII of the Khmer Empire. The Bayon Temple also boasts intricately crafted bas-relief and carvings that decorate its walls, windows, and columns. These carvings depict the Khmer's cultures and traditions.
Beside Bayon Temple is Baphuon Temple. It is a three-tiered, pyramid-like temple built in the mid-11th century. This 150-meter by 100-meter monument [base dimensions] has a height of roughly 50 meters, including its tower.
The Phimeanakas, on the other hand, serves as the royal palace. It is another pyramidal structure within Angkor Thom complex which name means celestial temple. Beside Phimeanakas is the royal concubine's pool. You would wish you could travel back in time to see how the king and his women bathe.
The 300-meter long Elephant's Terrace serves as the viewing stand for public ceremonies and as a base of the king's grand audience hall. The leper king's terrace, on the other hand, features interesting reliefs.
Ta Prohm
If you still Remember Angelina Jolie's 2011 film, "Lara Croft: Tomb Raider", then Ta Prohm would be familiar to you.
Ta Prohm, was built according to the style of Bayon Temple, however the four-faced towers are no longer evident. Located in a jungle just 1 kilometer east of Angkor Thom, Ta Prohm offers a picturesque landscape and photogenic ruins. The gigantic roots invading its galleries, walls, and towers is a sight to behold.
Some portions of monument were falling apart due to age. The roots that crippled its foundation also contribute to the destruction of the temple. The good news for everybody is, conservation and restoration efforts were made. Thanks to the Archaeological Survey of India and the APSARA (Authority for the Protection and Management of Angkor and the Region of Siem Reap) for reinforcing the structures. This will inhibit the degradation, which is a great help for Ta Prohm to endure another century.
Siem Reap is not all about temples. Some interesting activities happen at night and here's a list of just few of the things to do in Siem Reap at night.
Tasting Local Delicacies and Exotic Foods
Local cooking includes Thai basil especially the veggie dish. If you love Thai food then you will probably like the Cambodians too.
Hop around the pub street to try some awesome delis. However, if you are adventurous enough, try the exotic food in the local market and streets. Savor the crisps of spiders, locust, and crickets and experience the slime of the insides of the silk worms.
Not to mention, food in Cambodia is pretty affordable too.
Shopping at the Night Market
If you are looking for an authentic Cambodian silk and fabric, then visit the night market. It has plenty of options to offer. You can shop for tees, scarfs, shawls, blankets, and dresses.
If you prefer for accessories, they all have it. And if you want some really memorable souvenir, you can buy paintings and hand-made crafts like mini statues, Buddha images, and Apsara figures, etc.
If you have a meticulous shopper's eye, then chances are great for you. You may find well-made hand-crafts.
Experience Therapeutic Massage
Do you want foot, shoulder, back, neck, full-body, oil or oil-free, fish massage, etc? Name it, Siem Reap has it all. Just walk around the downtown or the old market and you will see a lot of massage centers offering indoor or outdoor therapies.
Massage has become really popular in Siem Reap. Maybe it is because of the vastness of their Angkor temples which costs a lot of working muscles to explore. When the tourists return from their temple tour, they would usually look for places to relax their tired feet and bodies. That is why, massage spas emerge like mushrooms in the area.
You can get a quality massage from a reliable spa for a low as US$1.0 per 15 minutes.
Trying the local bear and Night life at Pub Street
Bars are strategically located in Pub Street. Tourists flock to its sidewalks and corners to find a good place to hang out.
The X Bar, Tuktuk bar, Mezza, and Abucus are the places to check on the list. You can also just stroll around and experience every place you'll found interesting.
Also, don't forget to try their local beer.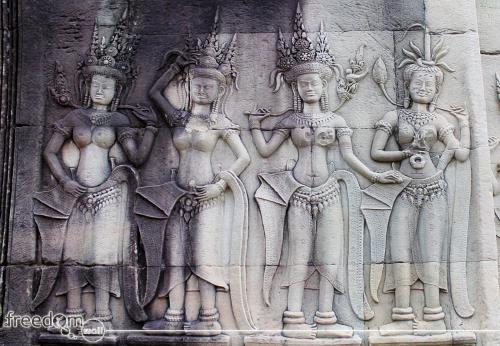 Witnessing the Apsara Dance
With your US$10.00 you can experience the finest of Cambodia's performing arts, the Apsara Dance and feast on the buffet table for your dinner after the show.
The Apsara Dance, by the way, is a traditional Khmer performance performed usually by women [rarely by men] dressed in an elegant, traditional Cambodian dress. Its sinuous steps and gestures narrates myths and religious stories. It is presented in four genres: classical dance; shadow play; Lakhon Khol (all-male masked dance drama.); and folk dance.
If you have plenty of nights in Siem Reap, you must allocate at least one to witness this century-old tradition.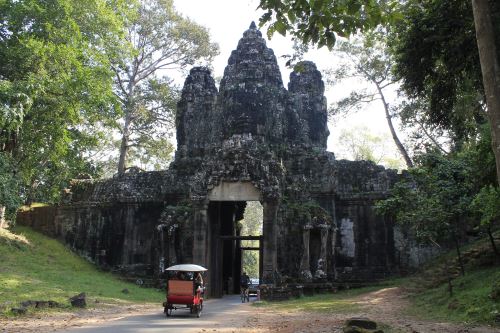 Where to stay in Siem Reap
A day in Siem Reap is not enough. You probably need at least three days to explore the temples and to complete the list of things to do listed above. Thus, you need a good place to spend the night.
Premium Accommodations
Borei Angkor Resort & Spa – A veranda that faces the scenic countryside of Seam Reap is enough reason why you should choose Borei Angkor Resort Spa. The resort boasts to have the best pool in Siem Reap that is free for every guests. Together with the Jacuzzi, sauna, fitness center, free breakfast, free WiFi, free two-way airport transfers, and among all other 5-star amenities, you have nothing else to ask for.
Address: National Road 6, # 0369 Banteay Chas, Slorkram, Siem Reap Central Area
Sarai Resort and Spa – Elegant, modern, and regal–that's how every guest describes Sarai Resort and Spa. All their rooms and suites are sound-proof and these include an airport pick-up, welcome drink with cold towel, welcome fruit platter, breakfast, unlimited WiFi access, free use of the fitness center, and all other deluxe amenities.
Address: P.O Box 93193, Wat Damnak Village, Sangkat, Sala Kamreuk
Victoria Angkor Resort & Spa – One guest quoted that Victoria Angkor Resort & Spa is maintained impeccably down to the smallest details. Located opposite to an unpopulated Siem Reap Park, the resort is picturesque with a lovely garden pool. The restaurant is also outstanding when it comes to the design and food quality.
Address: Central Park, Siem Reap Central Area
La Riviere d' Angkor Resort – Utmost satisfaction is guaranteed at La Riviere. Every suite defines class, privacy, comfort, peace, and hospitality. La Riviere is an all-suite villa resorts with amenities at par with Siem Reap's best. The resort is just a walking-distance away from the city's famed night life district.
Address: Riverside Avenue, Old French Quarter Area
Sokha Angkor Resort – Each room and suite at Sokha Angkor Resort features authentic Cambodian interior design and crafts—when blended with true Cambodian hospitality results to a perfect stay. Every room is furnished with 5-star standard amenities.
Address: National Road 6 & Sivatha Street Junction
Park Hyatt Siem Reap – Contemporary and sleek, Park Hyatt Siem Reap that is. Minimalist is the key. Each room at Park Hyatt is equipped with modern entertainment facilities, fast internet access, spacious rooms and rest rooms and all other inclusions that other 5-star hotels have.
Address: Sivutha Boulevard
Budget Accommodations
Urban Jungle Hostel – A fan room starts at US$6.50 while the air-conditioned room can be rented for US$12. When you have someone to share with, divide the price in two and it will be your expense.
Address: No. 606, Viheachen Village, Svaydangkom
Palm Garden Lounge – Fan rooms with free two-way airport or bus terminal transfers start at US$8.00 for two individuals.
Address: No. 132, St. Tepvong, Next to Phsar Gné
Smiley's Guesthouse – A fan room for two starts at US$8.00 while an A/C room for two is available for US$17 to US$35 depending on the season.
Address: Taphul street, Taphul Village
Long Live Angkor Villa – You can book a decent fan room for US$10 or and A/C room for US$15.
Address: Taphul Road, Svay Dangkum
Asia Happy Villa – Standard fan for two starts at USD10 while air-conditioned rooms starts at US$15.
Address: Taphul Road, Svay Dangkum
Golden Papaya Guesthouse – A two-person fan room can be rented from US$10. A/C rooms for two starts at US$15.
Address: Mondul 1 Village, Phsa Kandal, Siem Reap Central Area
Suggested Itinerary
Day 1
Arrival in Siem Reap
City Tour and Food Trip
Witness the Apsara Dance
Day 2
Wake up early, around 04:00AM, and purchase your Angkor Pass.
Greet the sunrise at Angkor Wat. Be wary of the big crowd.
Get your breakfast
Explore Angkor Wat
Have your lunch
Explore Bayon and Baphuon Temples in Angkor Thom
Go back to Angkor wat and witness its sunset.
Take your dinner
Night out at Pub Street
Day 3
If you miss the sunrise on your Day 2, wake up early this time to finally experience it
Don't forget your breakfast.
Continue your Angkor Thom exploration. Visit Phimeanakas, the Elephants Terrace, Leper King's Terrace,
Head to Thommanon Temple, Ta Prohm, etc.
You already complete your Angkor tour, reward yourself with an awesome lunch.
Have a good rest at your hotel
Return home, head to your onward destination, or spend another night at Pub Street, your call.
Important Tips and Reminders
If you are a confident rider, rent an electric scooter or a bicycle from the town and randomly visit the temples.
The one-day Angkor pass costs US$37 for a day pass, US$62 for 3-day pass, and US$72 for a 7-day pass. You will surely not finish your temple visits in just one day so the 62-dollar three-day pass is a good deal.
Experience the sunrise at Angkor Wat. You have to sacrifice some sleep for this one.
When you go shopping, always ask for the last price. Don't go there early, wait for the markdowns which are probably near midnight.
When you go temple hopping, you can hire a tuktuk for the whole day. They don't have any standard rate. But the US$10 per person per day tuktuk fee is justifiable.
Don't forget to hydrate when you visit temples to avoid spasms. Some temples may require you to climb steep staircases.
US dollars is widely accepted in Siem Reap. For products below USD1.00, you will receive Khmer Riel as change most of the time, however, don't expect that every cent will be fully accounted for.