Where would you spend your next vacation? You are probably thinking of wading across the shallow waters of Boracay, hopping around the stunning islands of Palawan, swimming with the exquisite creatures of the deep in Apo Island, chasing the majestic waterfalls of Iligan, plunging in the top infinity pools of the country, or simply flying around to taste the delicacies of every province.
You can actually do it all, if you have the will. Yes, travelling could be expensive. But if you plan it right, you can get to places you wanted.
You can schedule your travels months ahead and scout online for budget deals. Shopback is a perfect to-go online merchant for online shopping deals. It lists all the deals, promotions, and packages offered by their 500 plus online merchants. Not only that, you can also save more money from shopping your dream travel deals.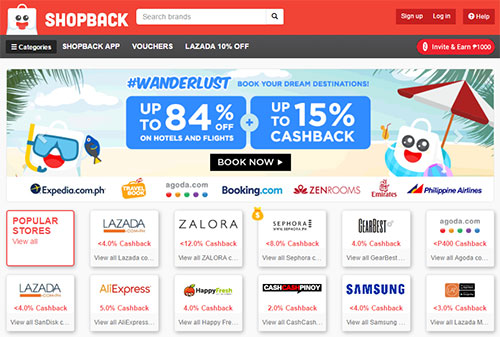 Shopback offers cashbacks from any online purchases you made from their partner sellers online. Among these merchants are Expedia and Travelbook which offer 8% and 4% cashback respectively once you book via Shopback.
Saving on Your Airline Tickets and Tours with Expedia
Expedia is one of the trusted travel merchants globally offering airline tickets, hotels, car rentals, tours, and even attraction passes.
Click here to get access to Expedia deals and voucher codes on Shopback! Browse for the deal you wanted to avail, and then click shop now. Make sure you have read and understood the "Few Things to Note" pop-up page. Shopback will bring you to the Expedia site where you can search and book for hotels, flights, and activities. You can also find rent-a- car deals.
A successful booking entitles you to an 8% cashback. Remember that cashback is not applicable to tax fees, service charges, cancellation, gift cards, and purchases via the Expedia mobile app.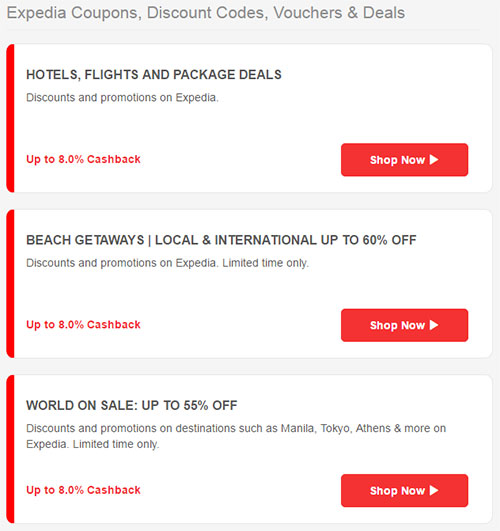 Saving on Your Accommodations via Travelbook
Travelbook specializes hotel and resort bookings in the Philippines. It has more 1,200 partner hotels spread across the country. This means that no matter which Philippine destination you are going, you will always find a comfortable place to stay at Travelbook.
Click here to look for affordable Travelbook deals on Shopback! Choose for the best hotel deals, and then click shop now. Never forget to read the "Few Things to Note". Select your destination and input your check in and checkout dates for you to find your hotel.
Every successful booking at Travelbook coursed through Shopback entitles you a 4% cashback.
Cashback Redemption
You can view the information of your cashback credits at your "My Cashback Information" page in your Shopback account the day after the booking was made. The cash, however, is redeemable only after 60 days. A minimum of PhP300.01 accumulated balance is required for you to redeem your cashback.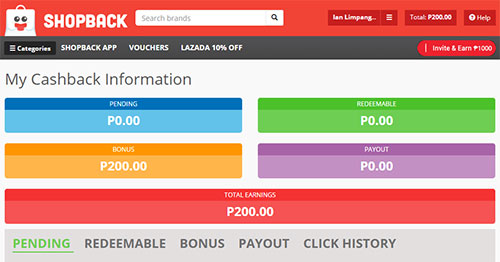 The cash can be deposited directly to your Bank or Paypal account, depending on the payment method you choose on payment settings.
Aside from Expedia and Travelbook, you can also get cashback with your purchases at Zalora, Lazada, Sephora, CashCashPinoy, Agoda, Booking.com, Foodpanda, the SM Store, Samsung online, and many more. Just make sure that you course them through Shopback.
Convenience of Online Shopping
Online shopping has become integral to our lives nowadays. Apart from the convenience of not leaving our doorsteps to get the stuff we need, we will also save a lot of time, which we can spend on other priorities. We can buy groceries, meds, home appliances, personal electronics, and clothes online.
We can also find amazing leisure deals likes the ones from Expedia and Travelbook. Shopback makes online shopping a lot more convenient. It lists almost every popular online merchants in the country and shows you promotional and saving tips. Create your account now to start saving.