Upon our arrival at Yangon's Aung Mingalar Bus terminal, taxi touts swarmed the few travelers who disembarked the bus to offer their services. I was observing the ruckus when I heard two of my co-passengers were going downtown. I approached them if it is okay to share the ride. Luckily, they both agreed.
Kai, who hailed from the US, was somewhat dragged by reluctance. Striking a continuous conversation is not his thing. He remained certain and talked only whenever necessary.
With Kai is Chow from Nanning, China. Both of them met only at the bus. Hence, they were stranger to each other as well. Moreover, getting an awkward moment listening to their engaging chat suddenly fled from the list of my worries.
The Unexpected Friendship
But before we got the formal introduction, I happened to ask Chow first as to where she's coming from. She humbly replied; "China. How about you?".
"Philippines". I answered.
"Ooowwww! Philippines…." She seemed amused but later showed me a blunt face. "You know what, the islands on the south, on South China Sea, they are ours, you know." she continued with an insincere smile.
"You know what, let us leave those matters to our governments. They are doing the best and the most peaceful way possible to solve the issue." My profound answer. "Let us not get involve, okay? Let us be friends". I continued.
"Huuuukay…hukayyy.." she replied with an authentic smile that time.
Since we were seated beside each other in the taxi, she asked for my wechat account, showed the candid photo of mine that she took, invited me for lunch, and even told me to give her a call if I'm going to China.
Escaping the Gridlock
Our driver maneuvered well to escape from Yangon's perilous gridlock. After almost an hour, I alighted the taxi in front of Shwedagon's east stairway, leaving both Kai and Chow. It was a very short acquaintance but Chow continued to keep in touch after that ride.
Immediately after getting off the taxi, a kid approached me in a local language. He insisted that I should buy his plastic bag. When I looked around, I noticed that everybody is engaged in the same business. So I gave him 500 kyats, the smallest bill I had, in exchange for the container.
The Shwedagon Pagoda
I almost forgot that shoes are not allowed inside any pagodas and temples. After the realization, I unlaced my shoes, put them on the plastic back, and tied them on my backpack. Things got handy because of the 500-kyat plastic bag.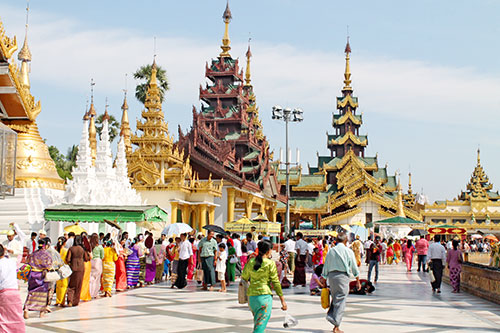 I paid an 8,000 MMK [≈ PHP310] fee to get a closer look of Shwedagon Pagoda.
By the way, when visiting Shwedagon, dress conservatively to avoid offending some of the locals. Shirts with sleeve and at least knee-length shorts would be fine.
Shwedagon is the most sacred Buddhist site in Myanmar, so make sure you abide all the rules and practice respect.
The pagoda is covered with over a hundred layers of gold plates which crown is encrusted with approximately 4531 diamonds.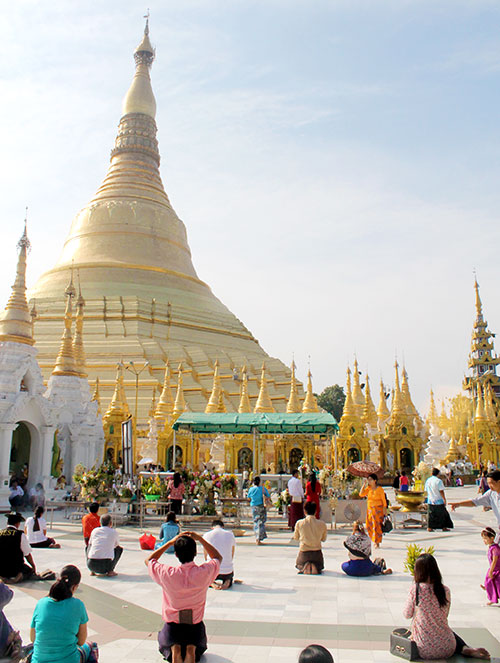 Historians and archeologists insisted that the Pagoda was built around 6th and 10th century of the current era (CE). However, the people of Myanmar believe that Shwedagon has been standing for over 2,500 years, making it the oldest Buddhist pagoda in the world.
Unarguably, the fascinating temples and stupas around it are testaments to its long history and influence.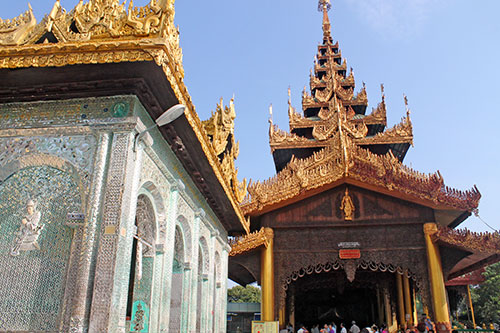 Shwedagon was pretty occupied during that visit. Aside from the preparation to their Thingyan festivities, some were busy with the novitiation ceremonies, or the Shinbyu.
I wrote the details of the Shinbyu on my article about Bagan. You can check it as well.
[Related article: 
Bagan, Myanmar: A Display of Vast Structural Wonders
]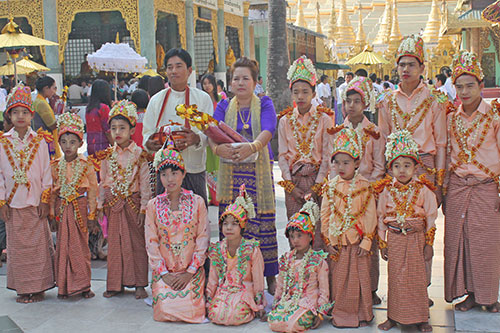 Realization
My encounter with Chow wasn't the usual one. I can relate to her strong sense of nationalism. I do actually feel the same. But instead of making her hysterical by uttering an opposing argument, I chose to side with diplomacy. I was surprise myself, with such reaction.