Being in a foreign country for the first time can be both challenging and exciting. The planning, the budgeting, the itinerary—everything needs preparation. But the excitement of doing new things for the first time is something to look forward to. Here are some suggestions for the fun activities you can do during your stay in the beautiful city of Kuala Lumpur.
Roam around the city on-board the Hop-on Hop-off bus
The main goal when you travel is to see as many of the well-known tourist sites as your travel time can allow. Transportation, however, is definitely one of the main concerns for first-timers. But don't worry, because Hop-on Hop-off Buses are there to save the day.
You don't have to fear about getting lost or confused on what to ride because these buses will bring you to all of the popular destinations in Kuala Lumpur. What makes it more convenient is that, you will pay for a single ticket only. This genius travel hack will surely save you some time and money.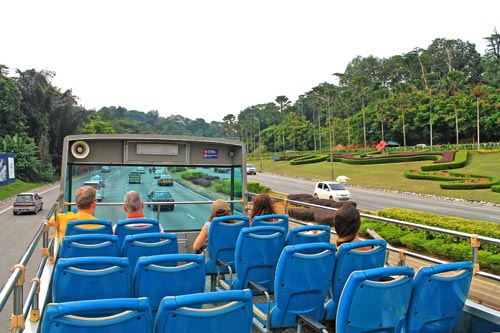 Experience the best Asian food trip
For every travel, local food-tasting is undeniably one of the most exciting and memorable experiences you will enjoy. Savor the delicious mix of cultural flavors in Kuala Lumpur by tasting the best from the Malaysian kitchen, Indian cuisine, and Chinese cooking.
How about experiencing all of these in a single go? Sounds exciting? Withlocals offers a unique, private, and affordable food tour for you and your friends. Your guide will let you try all popular dishes in Malaysia from different food strips in the city. And what makes the tour more awesome is that you can choose the theme of your tour to make sure that the whole experience is 100% you.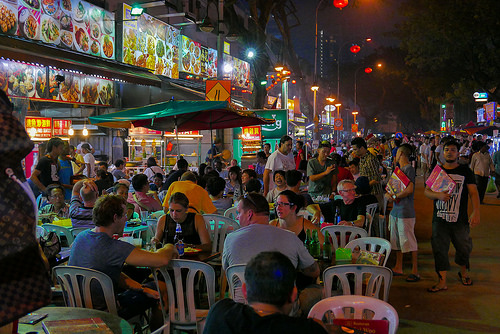 Withlocals, by the way, offers customizable tours for the three relaxing locations. You can spend a day with your own chosen private guide who can take plenty of Instagram-worthy photos for you while sharing their local insights and stories about the places. As an added bonus, they can also guide you to some special hidden gems along the way.
Conquer your fear of heights at Menara Kuala Lumpur Tower
Have you been wanting to defeat your acrophobia but don't know how and where to start? Menara KL, or Kuala Lumpur Tower is the right place for you. The KL Tower is the 7th highest telecommunication structure in the whole world, standing at 421 meters above the ground. Its observation deck, which is 276 meters off the ground, would make you forget about your fear of heights because of the magnificent view of city.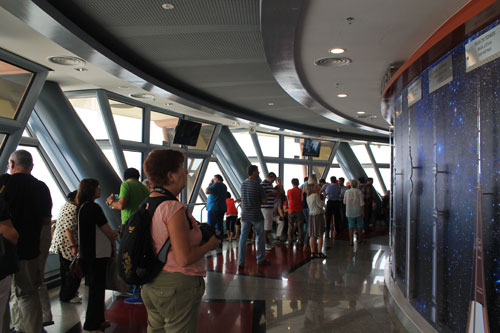 Take your adventure a notch higher by trying the revolving restaurant, Atmosphere 360, which gives you a panoramic, 360-degree view of the whole cityscape while munching on their delectable food.
Go on a nature escapade at Batu Caves, Kanching Waterfalls, and Selayang Hot Spring
If you want to escape the busy city life, have some relaxing time with nature at the famous Batu Caves, Kanching Waterfalls, and Selayang Hot Spring of Malaysia.
Batu Caves is a limestone hill containing a series of caves and cave temples in Gombak, Selangor, Malaysia. It is one of the most popular Hindu shrines outside India. Lord Murugan, whom the shrine is dedicated to, has an impressive giant statue at the foot of the stairway.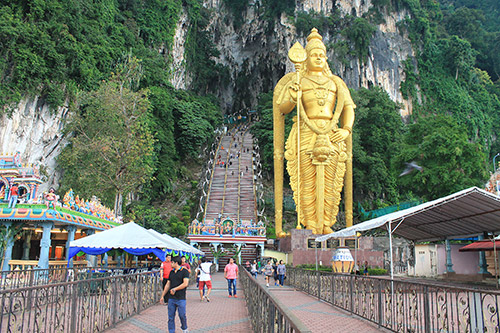 In close proximity to Batu Caves, the Selayang Hot Spring is a natural hot spring. It is a popular attraction among locals who are looking for a place to refresh and relax. The high mineral content in the water is also said to have medicinal properties.
For a complete relaxing experience, don't forget to try Kanching Falls. It is a 7-tier waterfall and recreation park in Rawang.
Bask in the rich history of Sri Mahamariamman Temple
One of the best ways to make a first trip in a foreign place memorable is to immerse yourself with its history and culture. You can go back in time by visiting the Sri Mahamariamman Temple. It is the oldest functioning Hindu temple in Kuala Lumpur and was founded in 1873.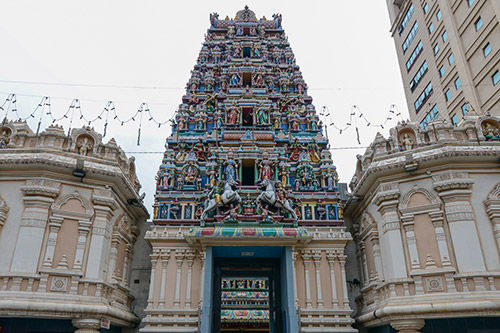 The temple is located at the edge of Chinatown in Jalan Bandar. It is an important place of worship and is now considered as a revered cultural and national heritage site.
Awaken your creative spirit in the Islamic Arts Museum
Every place has its own artistic flavor, and Malaysia is no exception. Located in the heart of Kuala Lumpur, the Islamic Arts Museum is the largest museum of Islamic arts in Southeast Asia, boasting seven thousand artifacts from the Islamic world. Inside are ceramics, ancient glassware, textile, and jewelry of Islamic design. It is divided into 12 main galleries including the Quran and Manuscripts Gallery, the Ancient Malay World Gallery, and many more.
The museum is just a short walk away from the National Mosque, Bird Park, and National Planetarium. These three offer a complete educational package if you are interested to learn everything about Malaysia.
Be an adrenaline junkie at Sunway Lagoon
After basking in the rich culture of Malaysia, spend an entire day filled with adrenaline-pumping activities in its famous theme park. Sunway Lagoon is located in Bandar Sunway, Subang Jaya, just few kilometers southwest of Kuala Lumpur city center. The park has over 90 attractions, including the Water Park, Extreme Park, Scream Park, and Nickelodeon Lost Lagoon.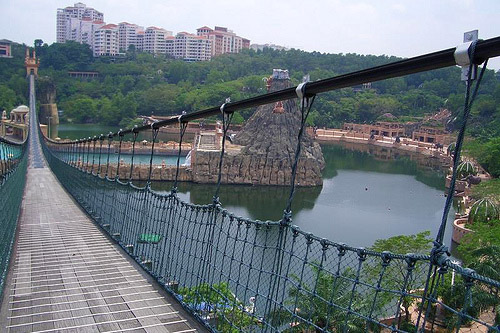 Experience the rustic Vibe smack in the City at Titiwangsa Lake Gardens
The Titiwangsa Lake Gardens is a public recreational park across an area of 95 hectares. Aside from the dazzling landscape, the place contains many fun-filled features including jogging tracks, aqua biking, and canoeing. The park is also close to the National Theater and National Art Gallery.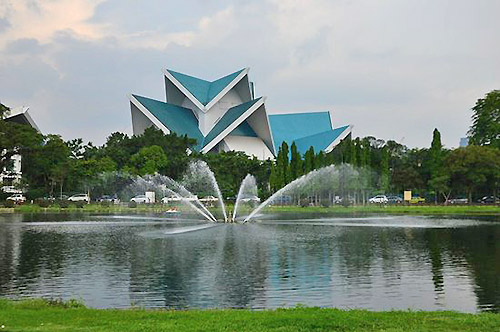 Roll the dice in a casino at Genting Highlands
Genting Highlands, also known as Resorts World Genting, is a mountain resort located 45 minutes away from Kuala Lumpur. With an elevation of 1,740 meters, it can be reached through a cable car system. Genting Skyway is the world's fastest and South East Asia's longest gondola lift.
Resorts World Genting is the home of the only legal land-based casino in Malaysia, Casino de Genting. Aside from the casino, guests can also entertain themselves with round-the-clock activities in different indoor and outdoor theme parks.
For a more laid-back experience, the Genting Highlands is also a wonderful place to trek, star-gaze, or watch fireflies.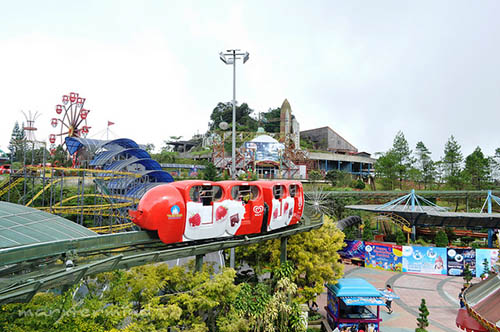 Dramatic Sunset View at Petronas Twin Towers
Are you a sunset chaser? You must have already seen the different types of sunsets in several beaches. Why not try watching the magnificent sunset atop the Petronas Twin Towers to cap your travel? Standing at a height of 451.9 meters, the sunset view is surely dazzling if you watch at the observation deck of the 88-floor twin skyscrapers of Kuala Lumpur.
The two towers are connected by a skybridge on the 41st and 42nd floors, which is the highest 2-story bridge in the world. Another interesting feature of the twin towers is the double-decker Otis Lifts. The lower deck takes passengers to even-numbered floors and upper deck to odd-numbered floors.
Aside from the list above, there are several other ways to enjoy your stay. If you want it more noteworthy, you can check the list of things to do in Kuala Lumpur by Withlocals. Each experience offered can be personalized, and is provided with a local guide. Also, the tour is pre-arranged prior to your arrival. Thus, you will not undergo with the hassle of preparing a detailed itinerary. All you have to do is bring yourself and your happy disposition to the meetup venue.