Touts approached every single individual alighting from every single bus that arrives in Bagan terminal. They offered taxi services with exceptional persistence. The sun was almost up and it was their major selling point—the guarantee of getting you at any available pagoda where the view of the sunrise is stunning.
No other available cheaper transport that time, so I dealt with one to get me to a Pagoda for sunrise, and then bring me to my hostel immediately after.
At the gate just outside the terminal, an outpost was setup to collect tourism fees. A 5-day tourist pass to Bagan Archeological Zone costed me 25,000 Myanmar Kyats (MMK), roughly PHP1,100 [where PHP1,000 ≈ MMK23,000].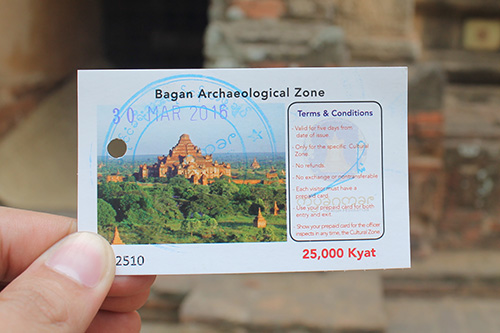 Bagan Archeological Zone Pass Terms and Conditions
The pass is valid for five days from the date of issue.
The pass is valid for select cultural zones. Other zones have separate entrance fee, for instance, Thiri Zaya Bumi Golden Palace collects a separate entrance fee.
The pass is non-refundable.
The pass is nontransferable.
You should bring the pass with you at all times. Inspection officers require you to show the pass before you can enter any cultural zone.
The pass will be inspected when you exit Bagan.
Sunrise at Bulethi Pagoda
My taxi driver brought me to Bulethi Pagoda for sunrise. Normally, Shwesandaw Pagoda is the go-to place. Since it became really crowded, we opted for Bulethi Pagoda which showed us a clear view of the vast plain filled with stupas and pagodas.
The haze disappointed the spectators though. It covered the horizon, partly filtering the supposed awesome sunburst.
We were not on the perfect season by the way. Locals suggest you visit Bagan during winter. That is on the later part of October to early January.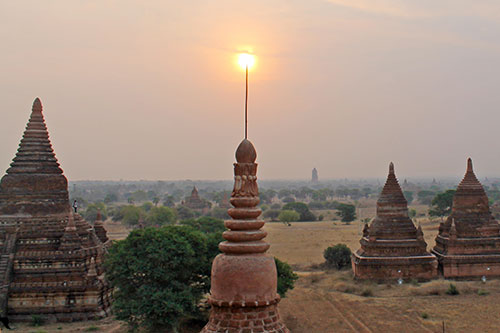 After the sunrise, I headed to my pre-booked hotel, hoping they will allow me to check in early.
To my surprise, I was accommodated warmly and was allowed to take a free breakfast, even though my free meal is not included on that day. So, if you happen to visit Bagan, I recommend you to book a stay at Shwe Na Di Guesthouse. Bathrooms and toilets are shared but the rooms do have A/C, fan, refrigerator, and television set. WiFi is also free.
Shwe Na Di also offers e-bikes and bicycles for rent. They can also arrange a tour for you and even brief you about the town, making it pretty convenient to move around.
The Shinbyu (Shinpyu)
I heard drum beats while I was resting in my room. Out of curiosity, I checked where was it coming. Then I witnessed a colorful procession, known locally as shinlaung hlè pwe. I noticed the young boys on their princely garb, wearing lipstick and thanaka circles, riding a horse while being shaded with a golden umbrella, and are well-escorted.
Later, I learned from a local, that the procession is actually a preparation for Shinbyu or the novitiation ceremony. The young boys under twenty were prepared for monkhood.
After the procession, the boys were received in the monastery. Their heads were then shaven while reciting the bodily defilement reflections in Pali language, in a ceremony called hsan cha. Afterwards, the boys changed their clothes to a white monk robe.
The boys, by then, can stay in the monastery for a certain period or even a lifetime.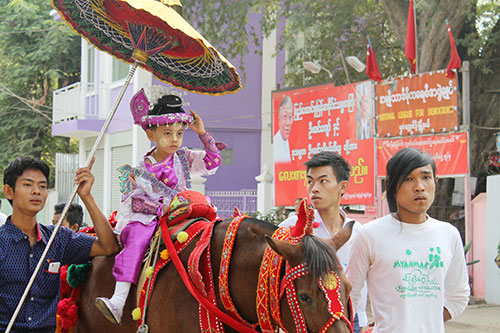 Also part of the procession and the entire ceremony were the sisters of these boys carrying ceremonial boxes. While the boys were being shaved for monkhood, the ladies underwent the ear-piercing ceremony using a gold needle.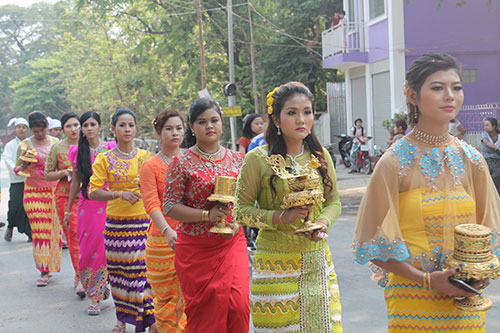 The parents, of course, were in full support with the Shinbyu. They performed respective functions in the entire ceremony.
Bagan Horse Cart Tour
I returned to my room after the watching the festivities to prepare my stuff to bring for the tour.
I paid MMK28,000 (≈PHP1,400) for the whole-day horse cart tour. Yes, that was wildly expensive. But the rider and guide, Tuton, did not make me bored. He is quite informed about the history of his town. He educated me well on Burmese day-to-day life, including his own. And, out of the blue, Tuton also shared information about the poisonous animals crawling on the desertous terrain of Bagan.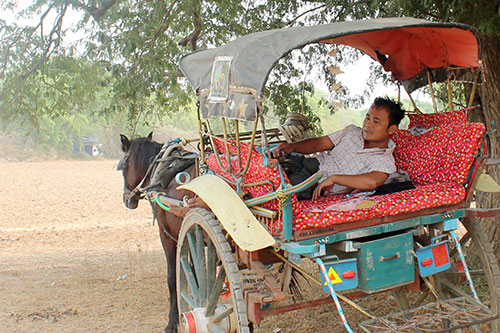 I also tried to ask about the government. Though a bit reluctant, he shared some insider information. He told me that on previous government, talking about the military and politics is a taboo, and you can get arrested. But there were a lot of changes after the election. He saw a lot of improvement since then.
His jokes and puzzle games, on the other hand, are somewhat familiar too.
The Difference Between Pagoda, Stupa, Temple, and Monastery
Tuton also briefed me the difference between a pagoda, stupa, temple, and monastery.
The stupa and pagoda basically look the same with their round and pointed structures. The stupa has a close chamber allocated only for the Buddha but it has no opening or space inside for prayer. The pagoda, on the other hand is a bigger version of the stupa with quadrilateral base and stairways for access to the upper tier. Some pagodas are adorned with multiple stupas.
A temple is a pyramidal edifice, with a stupa on its uppermost tier. It has bigger chamber (or chambers) with several Buddha images. The four major Buddhas faces the north, south, east, and west. If you are observant enough, you may also notice the difference in the hand gestures of the Buddhas. You can also climb at the higher levels of the temple.
The monastery is a box-like structure. You can only see this structure in the inner part of the jungles of stupas, temples, and pagodas.
The Bagan plain has more than 7,000 stupas, pagodas, temples, and monasteries combined. That number does not include the over 4,000 destroyed during the earthquakes in the 90s.
Shwezigon Pagoda
Aside from our chats, Tuton brought me to the significant cultural zones in Bagan. Our first stop was Shwezigon Pagoda. It is a massive golden Pagoda with temples and smaller stupas surrounding it. It has a resemblance to Yangon's Shwedagon Pagoda.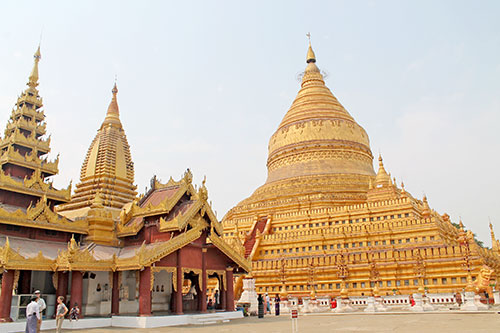 Because it is one of the important religious sites in Bagan, Shwezigon sometimes go crowded. That is why it is a favorite place for souvenir vendors. If you are really good at bargaining, then you can have your shopping there. Unfortunately, the introductory price are mostly sky-high.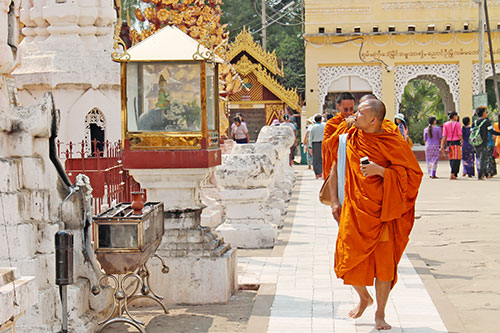 Htilominlo Temple
Htilominlo Temple was our second stop. It is the first temple where I met a tourism officer who checked for my tourist pass. Good thing that I had it with me. The temple is a huge one with multilevel chamber. Unfortunately, access to higher floors is prohibited.
The temple is surrounded with souvenir shops. There are also available food stalls serving snacks.
Upali Thein
From Htilominlo, we stopped at Upali Thein, a known ordination hall in the 13th century. The edifice interiors are adorned with interesting murals.
While exploring the hall, I met two kids who followed me around. They showed me their currency collections. To not disappoint them, I added Philippine peso to their fund.
Ananda Temple
Ananda is another important religious monument. Locals frequent the temple to pray. Some even spend time to sleep along its corridors.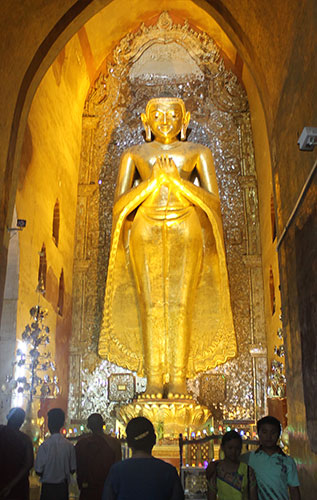 Beside Ananda Temple is the precious Ananda Okkyaung. This small temple houses medieval relics and paintings that narrate part of Myanmar's past. It is quite extraordinary seeing it preserved. Some are slowly fading though.
Ananda Okkyaung is a prized and protected temple, so show some respect when you set foot there. Photography of all form is strictly prohibited.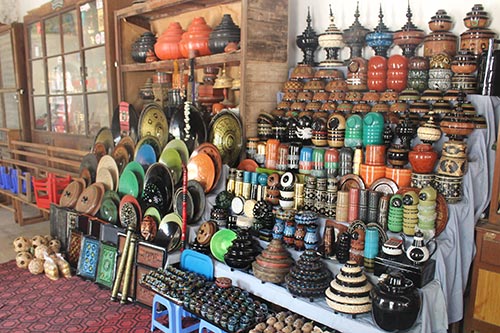 Before heading to our next stop, we opted to take our lunch. Tuton brought me to a nearby restaurant. He refused to join me no matter how much I insisted. Hence, I thought they probably observe some local norms.
I had a 4,000 kyats worth of lunch. My food, which was fried chicken topped fried rice, was sided with chopped/ground chilli pepper and garlic in fish sauce. It sounds an odd offer for an expensive restaurant. What I actually had was the cheapest on their menu.
I also found out that the restaurant serves meal to horse cart guides. Maybe as compensation for bringing guests to their dining tables.
We proceeded with our tour after lunch.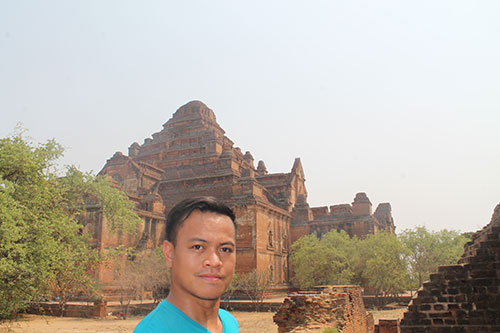 Dhammayangyi Temple
Dhammayangyi, Bagan's largest temple (the "tallest" title is given to Thatbyinnyu), holds one of the dark sides of the royalties. The King who ordered to build the temple massacred every worker, engineer, and designer after the temple was completed. That was for the sole purpose of not replicating the structure anywhere else in the world. Not only that, when that King was still a prince, he murdered his father who was then a king, because he couldn't wait any longer to seat on the throne.
Locals now call the Dhammayangyi temple as "unlucky" temple. And what is more interesting about this temple is that, it is still standing strong. It hasn't undergone any restoration yet. No one wanted to repair it, anyway.
Sulamani Pagoda
According to Tuton, Sulamani Pagoda is the most beautiful Pagoda in Bagan. I couldn't agree more. The exterior adornments observe great symmetry and fine details. The interiors feature interesting frescoes which are still evident until the present times.
Giant Buddhas seat on the four directions which hand gestures differ from each other.
Sulamani Pagoda is a multi-tier pagoda but only the lowest tier is accessible to guests due to safety issues.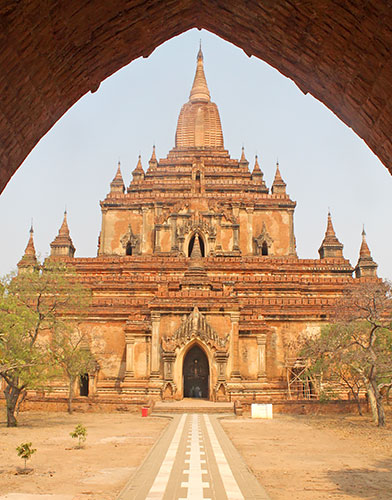 Sinbyushin Monastic Complex
Shinbyushin is the sole monastery we visited. It has temple with adjacent monastery and surrounded with small stupas. The top tier of the temple offers a remarkable view of Bagan plain.
Shwesandaw Pagoda
Shwesandaw is a choice of many for sunrise and sunset viewing, thus it gets really crowded. I avoided the swarm so we visited Shwesandaw in the afternoon, few hours before sunset.
The Buddha images within the Pagoda are crowned with diamonds. Yup, the real ones. That is why they are housed in glass panels with CCTVs watching them 24/7.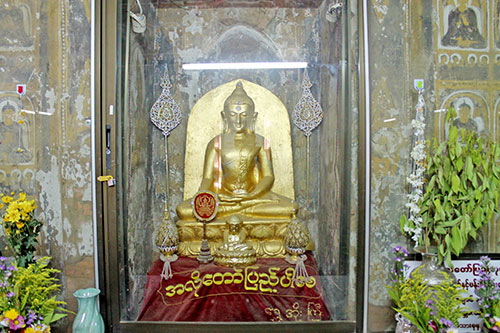 Sunset at Bulethi Pagoda
Tuton brought me back to Bulethi Pagoda to grace the sunset. Since the weather was not cooperative that moment, We missed the colorful sunset.
The experience overall was extraordinary.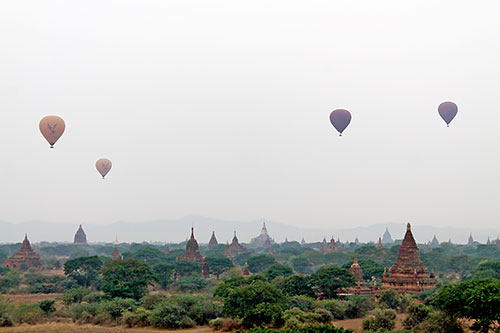 The following day, I visited the remaining temples including Thiri Zaya Bumi Bagan Golden Palace.