After taking a relaxing dip in Cabongaoan beach and enjoying the gleeful hop in Culebra Island, we fared to Cabacungan Cove, the fourth stop of our Burgos+Dasol Pangasinan escape. The cove has rocky shores so we got off at a distance where there is enough space between the boat's keel and the scabrous littoral seabed. We were already wet so we didn't mind taking another drench.
The cove is primarily made of rust-colored rocks. On one end is a small cave where you can enjoy wading to its emerald water or listening to a 'surround-sound' wave splashes.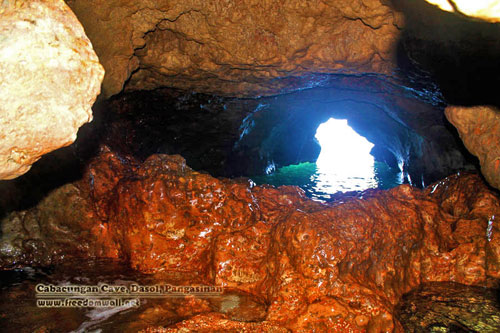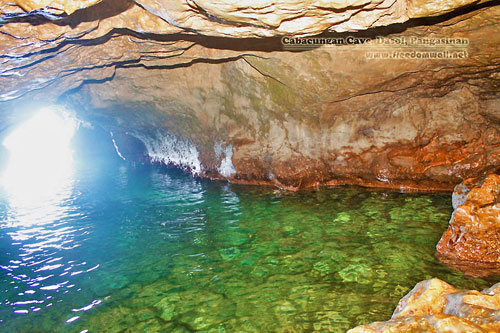 The cave within the cove has multiple entrances. The easiest way is the larger opening on the beachfront and the riskier is on the top wherein you can jump to its pool. If you ask which is better – that depends on your own preference and convenience, however, always consider your safety. There are no life guards nor close medics in the area.
During our trip, non-swimmers were usually left out on the rocks wallowing their feet on the water while enviously watching others jumping off and swimming across the cave. You must a least know the swimming basics to enjoy this kind of trip.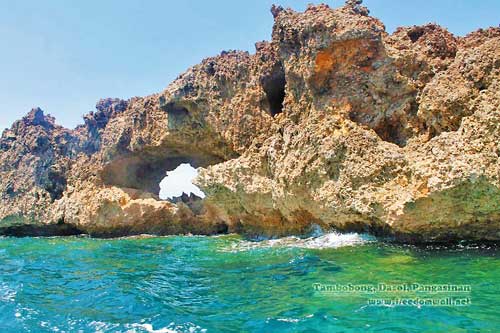 You can reach Cabacungan cove by a short motored boat ride from Barangay Tambobong or Barangay Osmenia in Dasol, Pangasinan or immediately after your hop from Culebra Island. Culebra Island is best experienced during early morning so I suggest to list your tour in Cabacungan Cove after Culebra Island.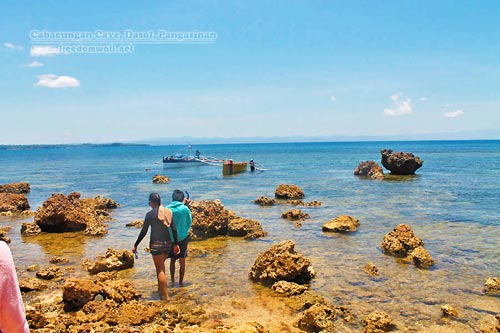 [toggle title="
Read more about our Burgos + Dasol, Pangasinan Tour
" state="opened"]
Exploring the Rocks in Cabacungan Cove
[/toggle]