From Kamay Ni Hesus, I took a tricycle to Lucban Church (a.k.a Church of Saint Louis of Toulouse). It was already past 6:00 in the evening, but I still wanted to see the church and try pancit habhab, a local delicacy. I never thought of the last public transport schedule to my next stop. All I have in mind that time was to complete my three objectives in Lucban.
In a blink, I found myself beside the church. I immediately positioned myself to get a good angle of the stunning facade which got even more majestic at night with the glow of the yellow light. I did not bring a tripod so getting a crisp photograph was a challenge. I made several trials and the results were the same. Luckily, I found one that is a bit acceptable.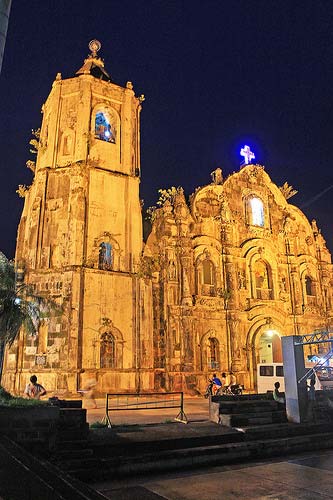 When I entered the church, I promptly notice the imposing works of art on the ceiling. It was decorated with impressive designs that were carefully crafted with trained hands and fine artistry.
The altar seemed emitting a remarkable aura, a vibe that will get you to your knees. Yes – probably if you are religious. I felt it too but I resisted because I am not pious. Instead on bending my knees, I seated in one corner and spent some moment of silence.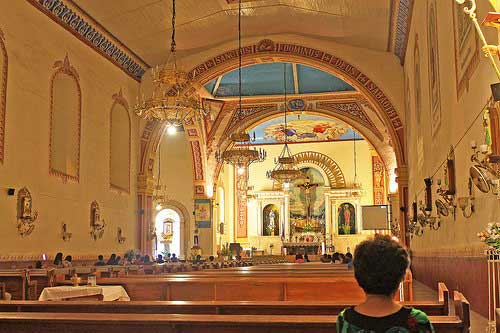 I headed to the convent side and I saw this miniature display of the church facade. I couldn't come closer because of the rope the separated the guests from the display, hence, I couldn't tell what 'twas made of.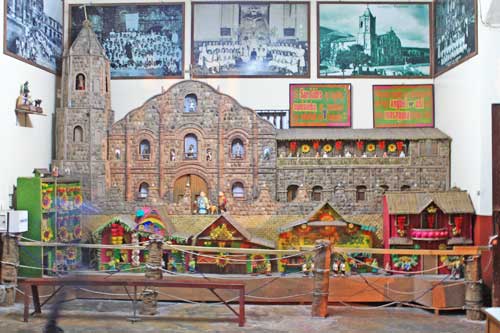 I went out after spending few minutes inside the church. Beside the church's compound were stalls lined along the small parking area. I checked it out of curiosity then I saw people queueing to one of the stalls. To my surprise, they were selling pancit habhab.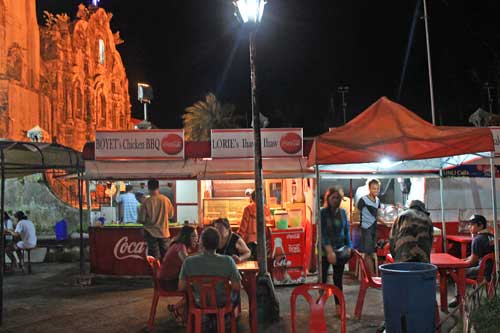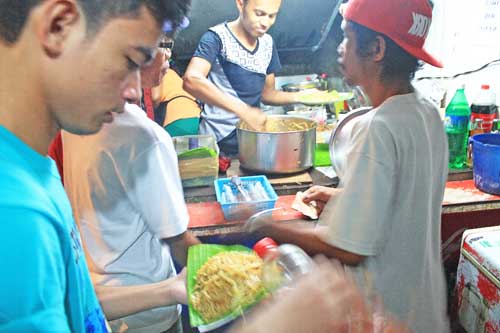 "There you are my third objective!", I exclaimed in silence. With ₱10 per order, I couldn't ask for more.
I completed my three objectives in Lucban that day.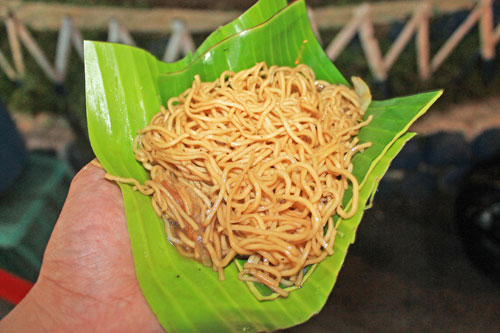 I walked around the city further. Though the streets were narrow, I did not see any traffic jams. People preferred to walk.
I checked the time and I noticed that I overstayed. I rushed to the transport terminal in the market, hoping to find a ride. Unfortuantely, I found no jeepney nor van to Lucena. Though I had an option to stay in a hotel pad nearby, I couldn't afford to shell out more than what I allocated.
I wasn't really unlucky that night. A tricycle driver approached me and offered to bring me to the other jeepney terminal. Yeay! I was able to proceed my next stop.