Standing on Marian Hill of Barangay Simala in Sibonga town of Cebu province is officially called the Monastery of the Holy Eucharist. Locals called it "Birhen sa Simala" or the Miraculous Mother Mary of Simala. They don't give it a new name for no reasons. In fact, many can attest to the miracles or granted prayers after their devotion. Proofs of these miracles are displayed in the walls inside the prayer hall.

I arrived at noon in the Monastery after my early morning visit at Santo Niño Church and Magellan's Cross from Cebu City proper. What greeted me was a swarm of devotees and non-religious travellers who wanted to experience the wonder.
There were great traffic build-up near the entrance, even though it was located in a remote countryside. Parking areas were full and so with the nearby eateries.
The Monastery of the Holy Eucharist (Birhen sa Simala)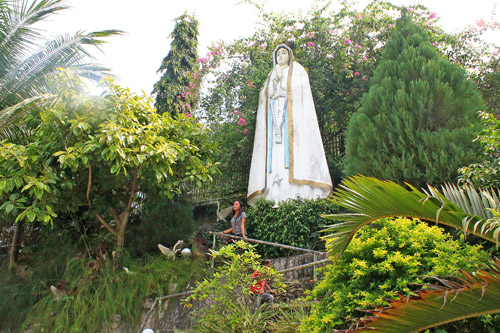 Without minding the noisy crowd outside, I went straight ahead to the Monastery. I immediately noticed the giant image of Virgin Mary that stands on the left side near the gate.
There was a long queue to the main altar and chapel so I headed to see the Stations of the Cross first, which images are life-size and are made of bronze.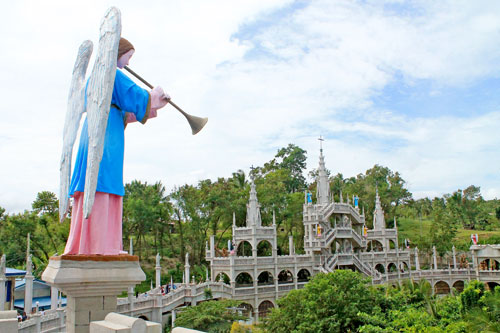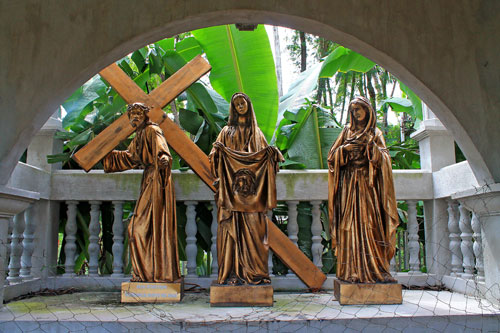 The stations are also built in castle design which made the entire compound look like a palace. The architecture, I guess, also helped on driving people's devotion.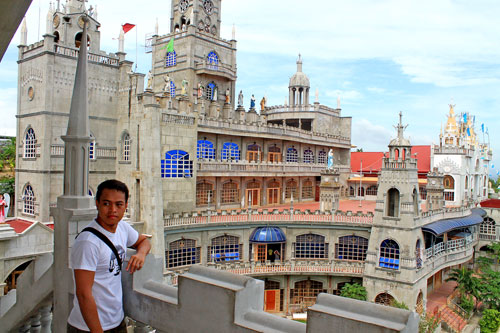 Colored Candles for your Prayers
You can light the following colored candles with it's respective purpose.
Gold: Healing (Good health, Recovery, Spiritual, Family Tree)
Green: Prosperity/Success (Exams, Study, Financial, Business)
Blue: Perseverance (Employment, Career, Assignment, Promotions)
Violet: Achievement (Plans in life, Struggles, Endeavors, Journeys, Voyage)
Red: Love (Utility, Friendship, Engagement, Family)
Yellow: Peace (Courage, Strength, Hope)
White: Purity (Enlightenment, Guidance, Right Path)
Orange: Reconciliation (Sweetheart, Wife, Husband, Enemy, Family)
Pink: Thanksgiving/Happiness/Joy (Spiritual, Physical)
Black: Souls (Forgiveness, Pardon)
Brown: Vocation (Marriage Bond, God's Servant, Single life)
Gray: Deliverance (Bad ways, Things, Spirits)
Cream: Conversion/Faith (Children, Household, Couples)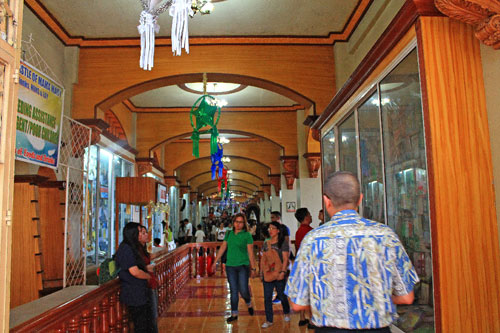 Mass Schedule
Sundays – 12:00 Noon & 3:30PM
Mondays – 12:00 Noon
Tuesdays – 12:00 Noon
Wednesdays – 12:00 Noon
Thursdays – 12:00 Noon
Fridays – 12:00 Noon
Saturdays – 10:30AM
13th of the Month – 10:30AM & 3:30PM
How to Get There (Commute Guide)
From Cebu City:
Take a cab or Jeepney to Cebu South Terminal then Board an Ordinary Ceres Bus To Simala/Sibonga. From Barangay Simala, you can hire tricycle to the Monastery. You can also take aircon buses that ply to Liloan/Santander, Bato, or Dumaguete and tell the conductor to drop you at Barangay Simala. Note that if you take the Bato-bound bus, avoid the "via Barili" route because this will take the Cebu West Arterial Road and will not pass at Barangay Simala.
Another option is the take GT Express or V-hire from Cebu Citilink Terminal. The GT Express van will take you directly to the holy place.
From Dumaguete City:
Board on a Cebu-bound bus at Dumaguete Ceres Terminal then tell the driver to drop you at Barangay Simala junction.
You can also take a bus or multi-cab to Sibulan Pier then a fastcraft or pump boat from Sibulan to Liloan. There are Cebu-bound buses waiting at Liloan port.
From Manila and Everywhere else in the Philippines:
Take a plane or boat to Cebu or Dumaguete and follow the commute instructions above.