Are you travelling to either Hong Kong or Singapore? Then, this giveaway is for you. If you win, we will take care of your 1-day pass in either Ocean Park Hong Kong or Universal Studios Singapore courtesy of Klook.
Klook is an online travel concierge, helping travelers to find and book all sorts of tours, and activities. They also offer discounted tickets and passes to various attractions in Singapore, Hong Kong, Macau, South Korea, Indonesia, Mauritius, Cambodia, and Nepal.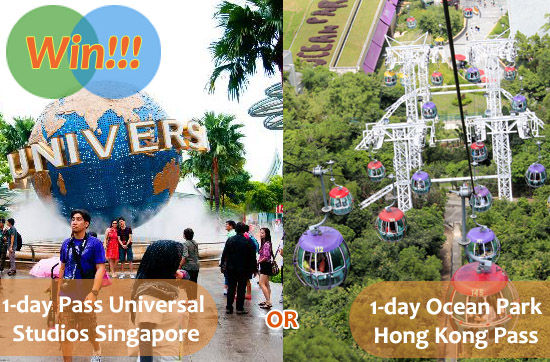 Prize Details:
The winner can choose only one of the following prize which can be used between 07-Jan-2015 to 30-April-2015:

1-day Ocean Park Hong Kong
1-day Universal Studios Singapore pass
Giveaway Terms:
The giveaway runs from 12:00AM 06-Dec-2014 to 12:00 AM 06-Jan-2015 (GMT +8:00).
Anyone above 18 years of age can join (open worldwide).
There will be one (1) winner for this giveaway which will be announced within 24 hours after the end of the giveaway duration.
The winner can only choose one (1) of the options stated in the Prize details.
The prize can be given as a gift.
The winner will be contacted via email and we will asked information for us to book your chosen attraction pass. If the winner chooses to give the pass as a gift, we may require personal information of the recipient.
The attraction pass cannot be rebooked or transferred once confirmed.
How to Join:
Win 1-Day Pass to Ocean Park Hong Kong or Universal Studios Singapore