GCash, Philippines leading mobile payment and finance management platform, launches GCash for Good. It is a pioneer corporate social responsibility program that enables Filipinos to contribute to socio-civic causes at the comfort of their mobile phones.
GCash for Good partners with non-government organizations (NGOs) that champion worthy advocacies, such as in education, environment, health, people empowerment, animal welfare, and many more.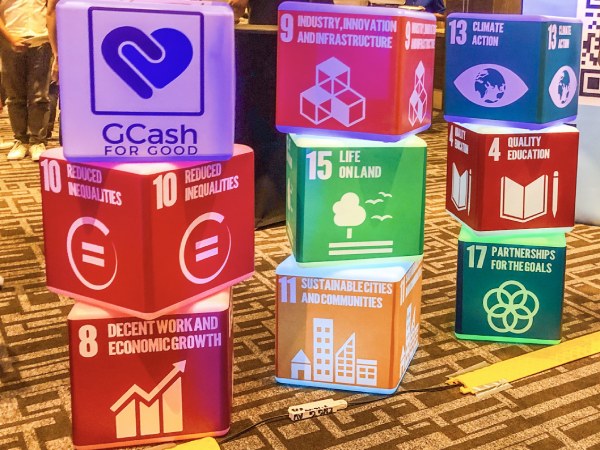 GCash For Good Partner NGOs
Currently, GCash for Good has 35 partner NGOs in Luzon. Among those partners are:
ABS-CBN Lingkod Kapamilya Foundation, Inc (ALKFI)—Commits to build sustainable communities, protect the children and the environment, improve the quality of education and livelihood, and strengthen disaster management and response.
Alagang Kapatid Foundation, Inc.—Promotes and supports humanitarian causes.
Animal Kingdom Foundation, Inc.—Promotes and protects animal welfare.
Benilde SDEAS—Provides support, education, and assistance to deaf children.
BIOFIN—Develops new approach or methodologies that will help fill the financing gap for biodiversity.
Caritas Manila Inc.—Advocates total human development, poverty alleviation, and strong social conscience.
Children's Hour Philippines Foundation, Inc.—Supports projects on child education, health and nutrition, and welfare development.
Fishers & Changemakers, Inc.—Empowers local fishing communities using sustainable technologies and equitable business practices.
Daluhay Daloy ng Buhay Inc.—Advocates on the sustainability of life in the planet.
ECHOsi Foundation—Focuses on enabling community ecosystems to address sustainability issues that impact the environment, livelihood, women empowerment, marginalized group engagement, and cultural preservation.
GREAT Women—A platform that is dedicated for the economic empowerment of women.
Haribon—Promotes biodiversity conservation and development of sustainable resource management strategies.
HERO Foundation, Inc.—Helps orphans of Filipino soldier who died or incapacitated in line of service and duty.
HOPE—Invests in building public school classrooms around the Philippines.
HOUSE Foundation—Works with the goal of giving disadvantaged youths the opportunity to complete their high school or college education while having part-time jobs that teach them professionalism, soft skills, and accountability.
ICanServe—Advocates for early breast detection and provides hope, help, and information to individuals who are diagnosed with the said ailment.
Investments in Loving Organizations for Village Economies (ILOVE)—Develops areas by converging forces and resources to enable the poor and vulnerable communities to economically sustain themselves and maintain ecological integrity.
Kythe Foundation Inc.—Aims at improving the quality of life among hospitalized children that are battling with cancer and other chronic diseases.
Mindoro Biodiversity Conservation Foundation Inc.—Promotes the conservation of the unique and threatened environment, bio-diverse areas, and natural resources of Mindoro Island.
Philippine Dogs and Cats Rescuers Association, Inc.—Helps stray dogs and cats in the country.
Pusod, Inc.—Promotes the management, protection, and conservation of the marine, forest, and fresh water ecosystems of Batangas province and its adjacent areas.
Saret Organic Farmville—A social, inclusive agri-enterprise that works with marginalized upload farm communities and indigenous tribes in the provinces of Aurora, Bulacan, Nueva Ecija, South Cotabato, Cotabato, Sultan Kudarat, and Sarangani.
World Wide Fund for Nature (WWF) Philippines—Works to improve Filipino lives by crafting solutions to climate change, providing sustainable livelihood programs, and conserving the countries richest marine and land habitats.
PhilBio—Enhances the conservation of the Philippines unique and threatened environment, bio-diverse areas, and natural resources by establishing integral conservation and development programs, information drive, and active participation and collaboration with relevant stakeholders.
PHAPCares Foundation, Inc.—Serves as the social responsibility arm of the Pharmaceutical and Healthcare Association of the Philippines (PHAP) that helps improve the health and lives of Filipinos disadvantaged by sickness, poverty, and disasters.
Save the Children—Gives children a good start in life, protect them from violence, and help them learn crucial skills.
The Philippine Red Cross—Provides quality life-saving services that protect the life and dignity of Filipinos in vulnerable situations.
GCash For Good calls on more NGOs in Cebu and the Visayas
GCash targets to increase the list to 100 by year-end. GCash invites NGO partners from Cebu and other nearby cities and provinces to join the GCash for Good platform. The purpose is to create a community where doing good and giving back is open to all.
According to Mr Reyner Villasenor, VP for Corporate Communications for Mynt, GCash for Good is another big step to further develop the GCash app into a more socially relevant and sustainable platform that helps in addressing issues across different levels of the society. GCash is well-equipped to become a springboard for donations to NGOs, thanks to its scale and innovative solutions.
"With GCash for Good, GCash users can use the GCash app to donate to various groups to create an impact on society. This allows GCash to be a more inclusive and open platform that will help create better opportunities for millions of Filipinos. I am calling on all our NGO friends in Cebu and other nearby locales to join us as we spread the power of good through GCash," Villasenor said.
For interested NGOs, some regulatory requirements must be completed before becoming an official GCash for Good partner. This is to ensure that partner organizations are legitimate, and the money that they receive from donations are used appropriately for their respective causes.
During the GCash for Good launch in Cebu, Villasenor also disclosed that that people now prefer to donate online, as this removes the hassle of having to go through long queues and processes, giving them more time to focus on their daily lives.
The "2017 Global Trends in Giving" study shows that 54 percent of individuals prefer to donate online. The study also stated that the total volume of donations made online grew by a strong 12.1 percent. GCash wants to leverage these numbers to mobilize its commitment to social good.
With innovative mobile money technology like GCash, people who want to do good are now empowered with a more efficient experience Any amount will create huge opportunities for organizations that forward different issues. With GCash for Good, users will also have direct access to where their donations go. It showcases a more transparent ad user-friendly interface for anyone to access


Mr Reyner Villasenor, Globe Fintech Innovations, Inc. VP for Corporate Communications
About Globe Fintech Innovations, Inc. (Mynt)
Globe Fintech Innovations, Inc. or simply Mynt is a partnership between Globe Telecom, the Ayala Corporation, and Ant Financial. It provides innovative and first-in-world digital financial solutions to consumers, merchants, and organizations. Its vision is to enable financial access for consumers and merchants by disrupting traditional channels through digital financial technology services.
Mynt operates two fintech companies: GCash, a micropayment service that transforms the mobile phone into a virtual wallet for secure, fast, and convenient money transfer, and Fuse, a tech-based lending company that enables Filipinos to get microloans to business loans without the traditional requirements set by banks and other lending institutions.
For more information, visit mynt.xyz.