Halla Paella's specialty are paellas, as the name infers. However, it was the taste of chipirones that secured a spot in my food memory. I could remember well the distinct flavors of the dip that blends well with the roasted garlic toppings and the fried baby squid slices. The crisp gave a memorable munching experience.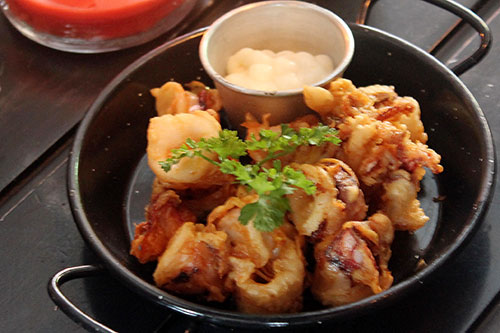 Yummy and Comfort Treat
The food stall also serves chuletas which tastes really scrumptious. The tender pork rib chop seasoned with specially-made sauce leaves an interesting balance of sweetness, saltiness, and spiciness to your palate.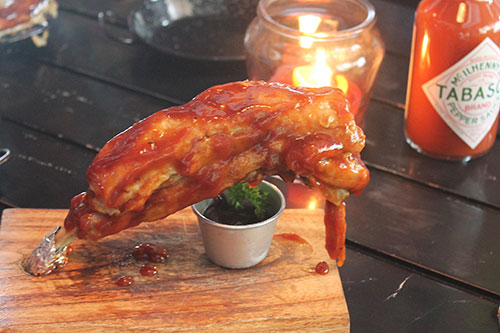 If you are up for a beer with friends, pair it with lengua (beef tongue, potatoes, carrots, mushrooms, tomato sauce, soy sauce, spices), cabeza de camaroń (deep fried shrimp heads), callos (ox tripe stew), cazuela (made from chicken thighs, butternut squash, potatoes, corn on the cob, carrots, chicken broth, hot sauce), and, of course, a plate of chipirones.
Another option for beer is sangria, a Spanish drink that usually consists of red wine, chopped fruit, sweetener, and small amount of brandy.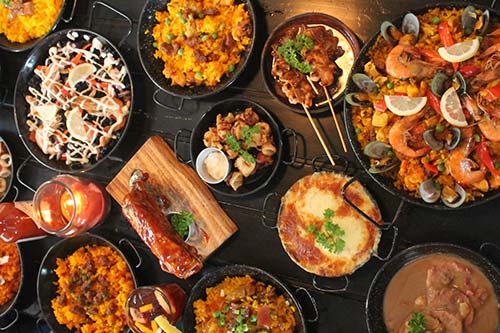 Indulging Paella Flavors
Hala Paella offers six versions of paella. Among them are paella valenciana, negra, chorizo, lechon, pollo, and aligue. The valenciana is the popular seafood paella named after its originating city, Valencia, Spain. The negra version is similar to valenciana but is turned black with a special ingredient, cuttlefish squirt.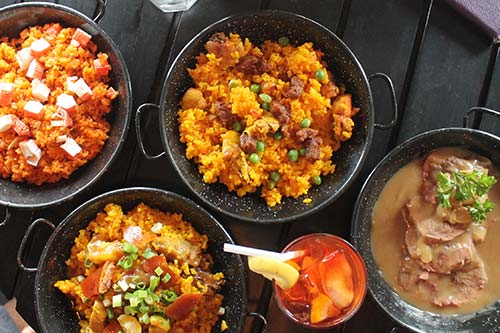 The other versions are named after their secondary components or toppings. Chorizo paella is topped with Spanish chorizo. The lechon paella is infused with a local touch by adding Cebu's famous dish, lechon or roast pig. The indulging aligue paella is flavored with crab fat and meat. The pollo paella, on the other hand, is served with green peas, chicken, and chrizo.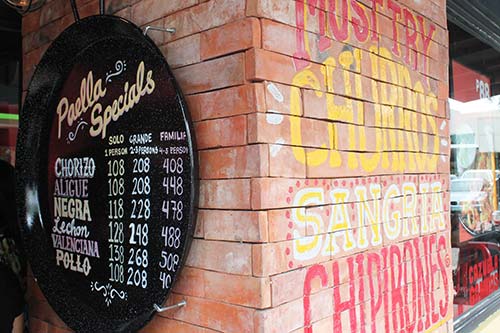 Desserts
For dessert, churros, or dough fritters in chocolate dip, are the best sellers.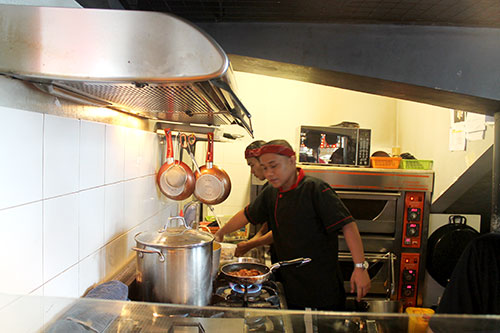 About Hala Paella
Hala Paella specializes in Spanish comfort food such as paella, serving both the original and locally-imbued recipes.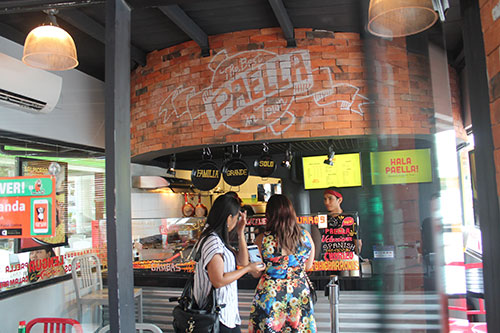 Location: Banilad Town Center (beside Dimsum Break)
Specialty: Paella and other Spanish comfort food
Contact Number: +63 (32) 344 4252
Facebook: https://www.facebook.com/halapaella
Instagram: https://www.instagram.com/halapaella
For delivery, you can call them using the contact number provided above or online via FoodPanda.
Halla Paella will soon open a branch in Robinsons Cybergate.